WhatsApp Chat Lock feature will soon arrive with the upcoming updates for securing individual chat conversations. The new major update from the Meta-owned application will soon allow users to keep the chats private with a secure lock. These new privacy functions on the instant messaging application are still in the development stage and not even available for Beta testers.
The information regarding the new feature arrives on the messaging application just after the latest update which featured one-time playable audio messages. The locking chats feature will work similarly to the unlock feature that includes authentication of fingerprint or FaceID. The new update will take the experience of security on WhatsApp a notch higher.
WhatsApp Lock Chat Privacy Feature with Passcode, Fingerprint, or FaceID Authentication
One of the most credible tipsters for WhatsApp, the WABetaInfo has revealed this new privacy feature update. The upcoming "Chat Lock" feature works as an extra layer of security in protecting the most private chats. The chat which is enabled with the Chat Lock feature requires a passcode, fingerprint, or FaceID authentication to access the conversation.
The feature works very similarly to the already existing Archived Chats option on WhatsApp. The locked chats will move to a different section of the application. The section can secure both individual and group chats made on WhatsApp. The feature will not only locks the chat conversation but even the media and documents that are included in the chats.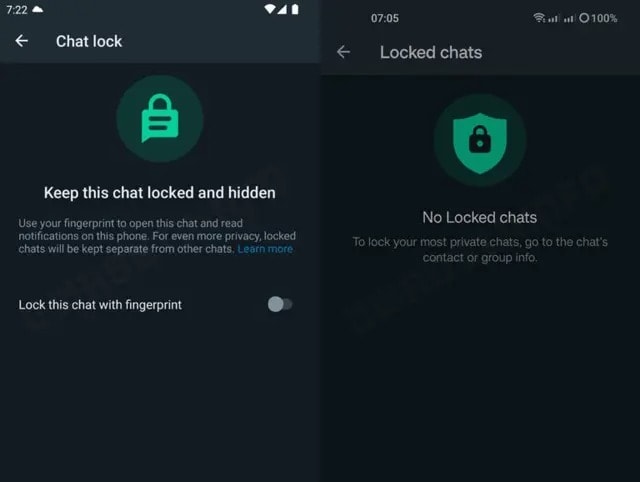 As the media and documents are secured in the chat lock, the files will not appear in the device's gallery section. If anyone tries to bypass the security forcefully, the app shows a prompt to clear off the chat before opening them. Thus, protecting your most private chats from people that you do not want to access it.
Note that the feature is still under the developers' testing stage and is not available for Beta testers as well. The instant messaging platform might make the feature live soon. The update will first arrive on the Beta tester's devices and then on the general users.
The upcoming feature promises the next level of protection for the most private chats. On top of that, hiding the media of locked chats from the gallery. And, clearing the chats in case of authentication comes as a valuable addition. We'll keep you posted once the lock chat update goes live on WhatsApp.