Fed up with mediocre experience while using WhatsApp Web on your desktop? Looking for something to enhance your WhatsApp Web experience? Look no further, we have compiled a list of the amazing Microsoft Edge and Google Chrome extensions for WhatsApp Web.
Owned by Facebook, WhatsApp is a highly popular instant free messaging app. With this social messaging app, users can send text messages, voice recordings, images, documents, maps, video and make voice/video calls. More than one billion people use WhatsApp every single day. That is an indication of its popularity and its usage globally.
WhatsApp is completely free to use and provides a wide range of effective features. The most recent version of WhatsApp offers multi-device support, disappearing messages, and much more.
WhatsApp on smartphones is quite advanced. However, on the contrary, WhatsApp Web has limited features despite new updates appearing now and then. Fortunately, there are numerous Chrome Extensions that one can use to improve the WhatsApp web experience. With these best browser extensions, you can expand the features of WhatApp's desktop version.
Note: The browser extensions mentioned below work for all Chromium-based web browsers like Microsoft Ege, Brave, Torch, Vivaldi, etc.
Best Chrome Extensions to Improve WhatsApp Web Experience
There are several browser extensions available for an enriching WhatsApp Web experience. Take a look at the handpicked Chrome extensions for WhatsApp web and install one or more from them according to your usage.
1. Cooby: Supercharge WhatsApp for Work
The first one in our list of best Chome extensions for WhatsApp web is Cooby. Do you get numerous messages in WhatsApp and find it difficult to reply to urgent ones? For that, using Cooby is an excellent choice.
Here, you can now group your chats into different tabs on your computer. That way, you can locate the chat thread you want with ease.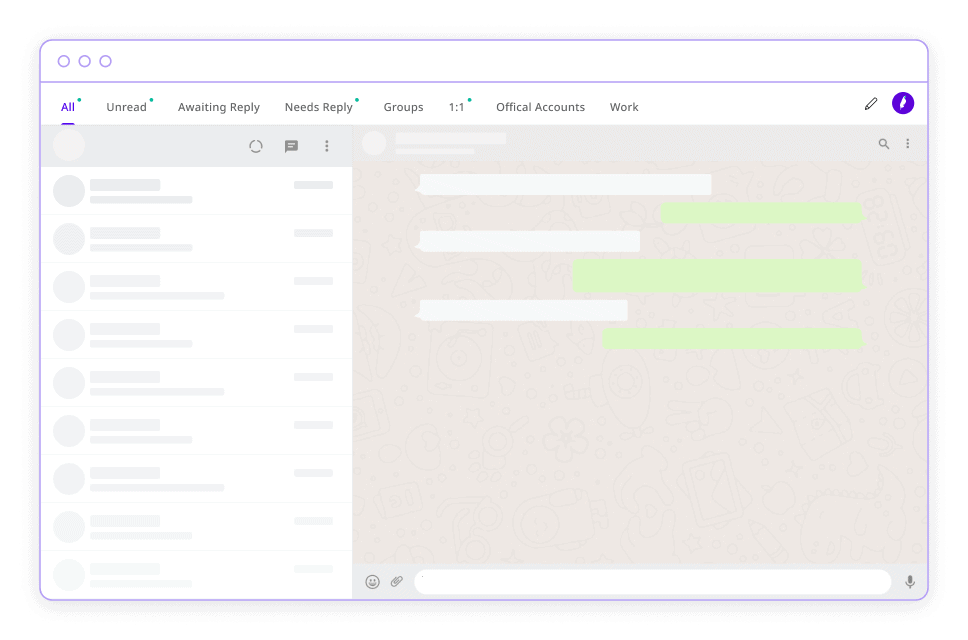 The chrome extension comes with some default system tabs. These include the unread tab, groups tab, awaiting reply tab, 1:1 tab, and needs reply tab. Apart from this, the extension also allows users to create custom tabs.
How will you know that you have unread messages? That's easy! Look out for a green dot on the tabs. That is the signal that notifies users that they have unread messages.
2. Notifier for WhatsApp Web
Is it possible to get WhatsApp notifications without opening WhatsApp Web? With Notifier for WhatsApp Web, that is possible. With the use of the Notifier Chrome extension, you will never miss important notifications. We are sure this would help you to improve the WhatsApp Web experience on the desktop.
If you are wondering about the orange icon with an exclamation mark, it means you have connectivity issues. Make sure that the WhatsApp Web is connected to the phone to continue messaging.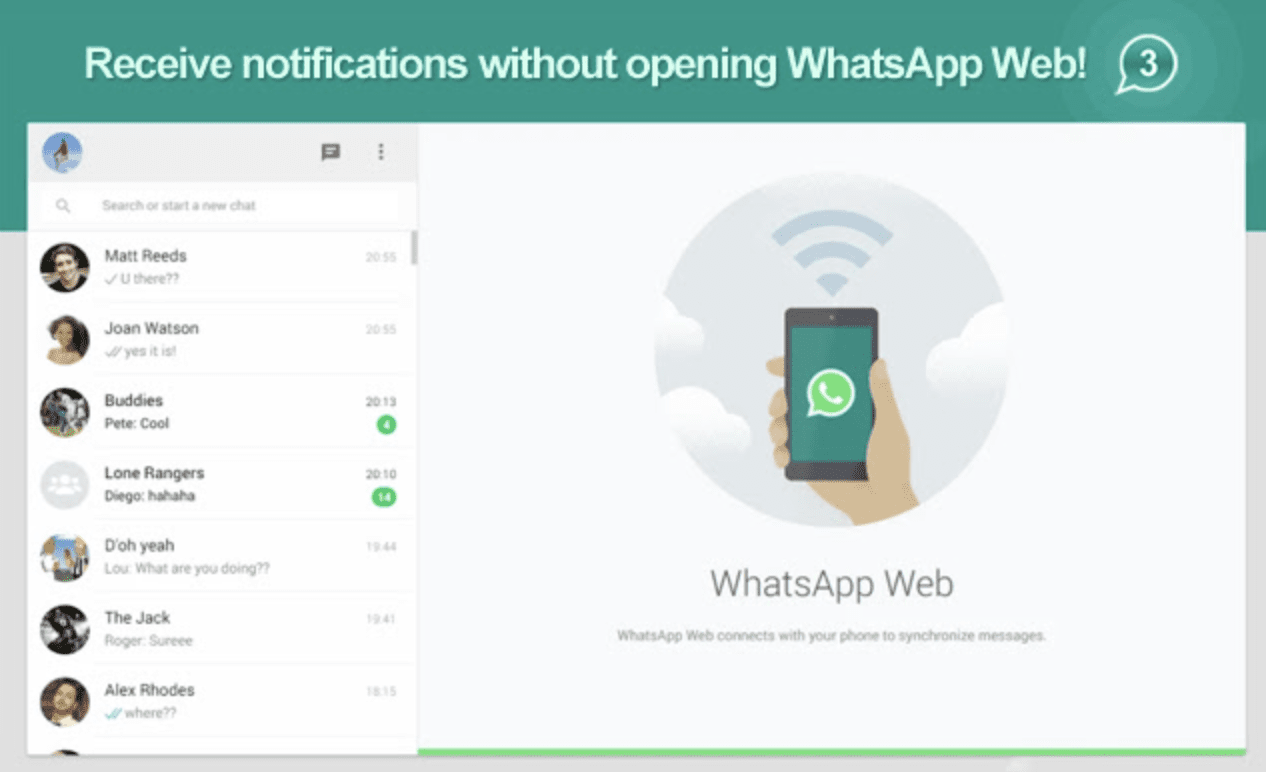 The appearance of a red icon with an X represents that the web session has been opened in a different computer or browser. On the other hand, the gray icon with (…) means that the WhatsApp™ Web is loading.
Install Notifier for WhatsApp Web
3. Green Multi Messenger for WhatsApp
One of the most reliable chrome extensions for WhatsApp Web is Green Multi Messenger. With this, users can access different social media messaging apps such as WhatsApp, Telegram, Line, FB Messenger, and much more using only this extension.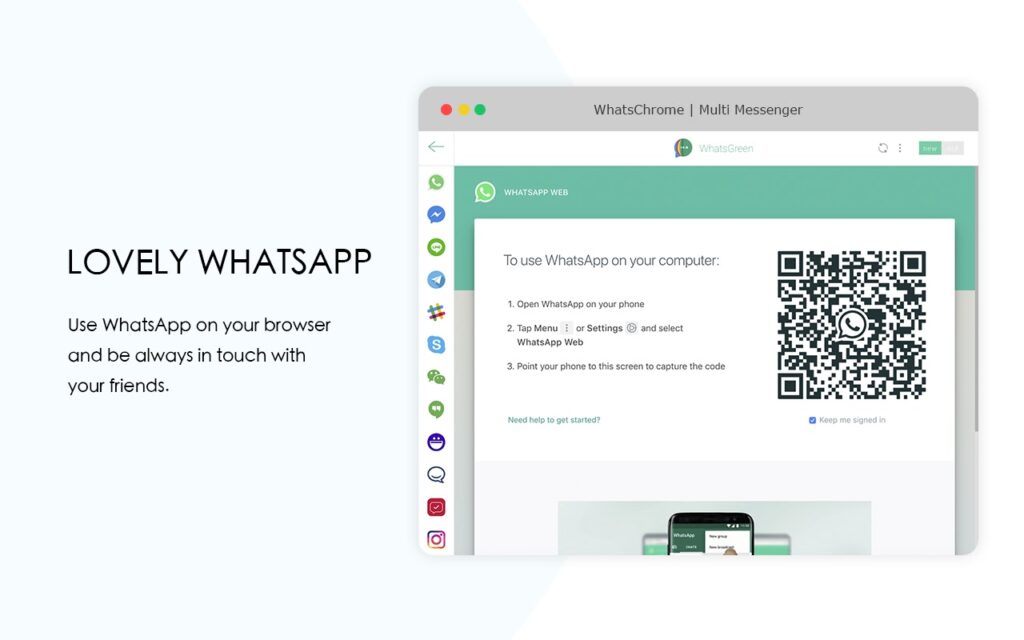 The latest version offers a multitude of features that makes the extension even more appealing. For instance, the pin bar enables users to add valuable messenger services while hiding others for easy access. It is now easy to access WhatsApp Web with many other messaging apps on your desktop without the phone using Green Multi Messenger.
Install Green Multi Messenger for WhatsApp
4. WAToolkit
If you are tired of missing WhatsApp notifications, WAToolkit is the preferred WhatsApp Web extension. Even if you don't have the WhatsApp tab open on the computer, you will not miss the notifications.
WAToolkit adds a WhatsApp button to the toolbar. That way, you can always view the number of unread messages. Hovering over the icon with the mouse will also let you view a summary of the unread messages.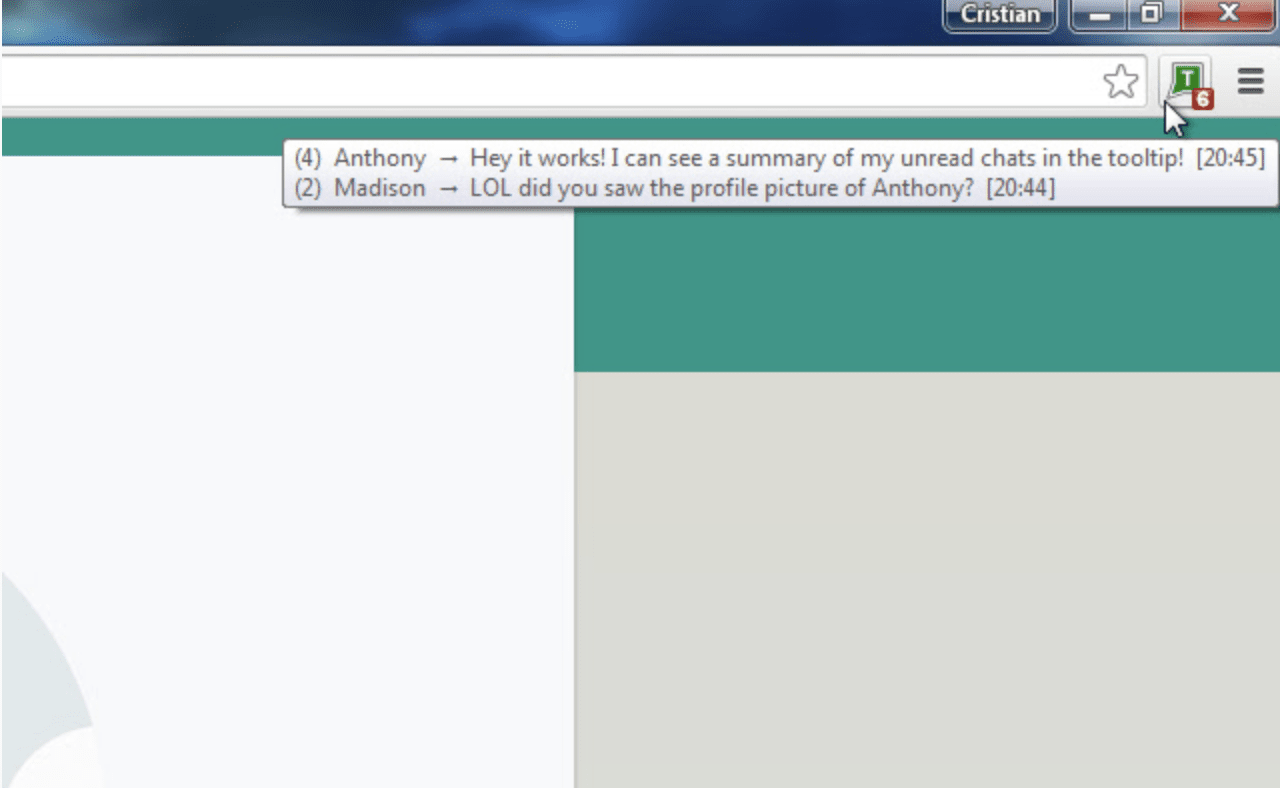 Don't want to see the WhatsApp button? That's easy! All you have to do is to tap on the Hide button. You can enable text bubbles that let you take full advantage of the chat window in both outgoing and incoming messages.
5. WAIncognito
Do you want to be invisible on WhatsApp? In that case, the chrome extension, WAIncognito can help. With features that allow users to disable read receipts and presence updates, it helps you gain the incognito mode in WhatsApp. Now, you don't have to worry about people constantly messaging or disturbing you on WhatsApp.
This chrome extension adds a new menu that allows users to toggle OFF and ON the read receipts feature and the last seen updates. Moreover, the extension also handles the deleted message and restores them after some time.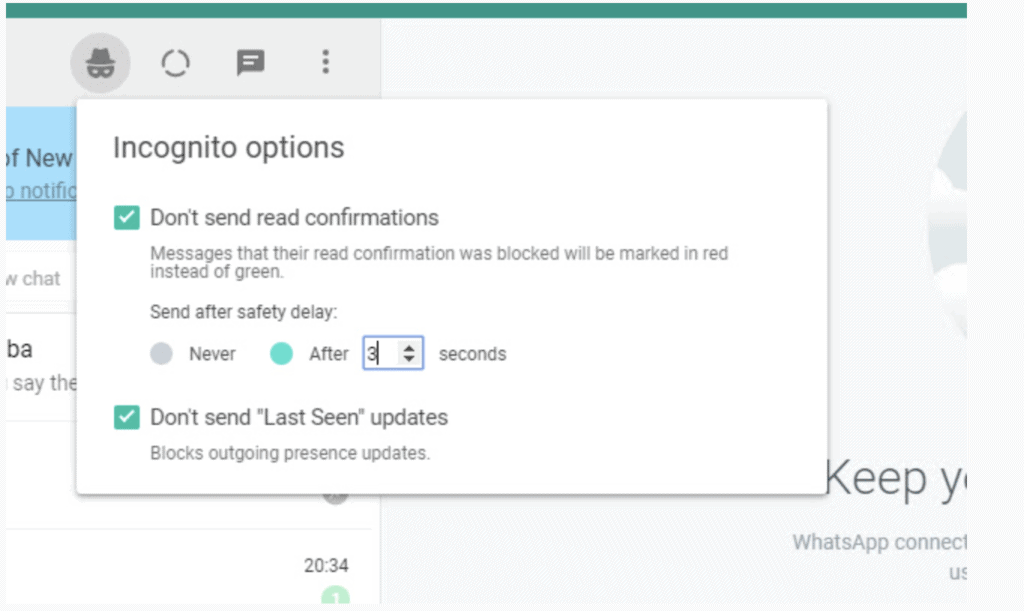 You can also set a timeout. It enables you to send the read receipts automatically after a specific team period has passed from opening the text. If you don't want to send the receipt, you can do it by selecting the Never option.
6. Vepaar – CRM for WhatsApp
If you want to semi-automate your business workflow on WhatsApp, Vepaar is an ideal choice in our list of Chrome extensions for WhatsApp Web. This browser extension offers multiple CRM-based features to help you run your business smoothly. You can build customer profiles, run polls, and create your business page with ease.
Apart from that, Vepaar also aids in saving messages and media while allowing users to send customized replies. It is now easy to connect with your customers on WhatsApp using the Vepaar.
Vepaar assists in the selling of services and products. Besides, with this extension, customers can explore your services or products with ease. After you install the extension, you can schedule a demo to know more about the features.
7. WA Web Plus for WhatsApp™
Another highly popular chrome extension for WhatsApp is the WA Web Plus. It is a widely used extension preferred by thousands of users to improve the WhatsApp Web experience. Different features of this chrome extension contribute to its popularity.
With this extension, users can blur images and messages with ease for privacy. Apart from that, you can view status anonymously while keeping your typing status hidden. Besides, one can pin conversions at the top of the screen and much more.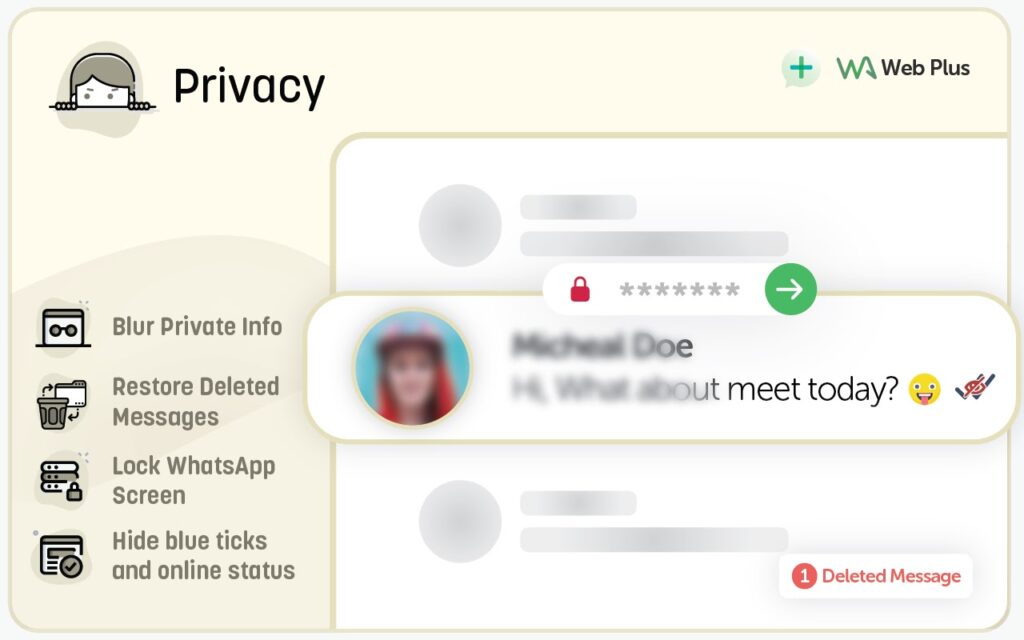 Also, the dark mode is an excellent addition. Use it during busy nights and get on with your business. The extension also offers a wide array of business tools such as multiple message broadcasting, auto-replies, CRM integration, etc.
Other notable features are restoring deleted messages, locking WhatsApp screen, custom chat wallpaper, etc.
8. Contact Saver for WhatsApp
The next one on our list of best WhatsApp web extensions is Contact Saver. If you want to deal with the hassle of exporting and saving contacts from WhatsApp chats and groups, choosing the Contact Saver extension is an excellent idea. Here, users can save contacts, unknown numbers, etc., from WhatsApp chats and groups.
Another interesting feature is that you can now update your WhatsApp status directly while using the extension. The export format of the contacts will either be in vCard or CSV.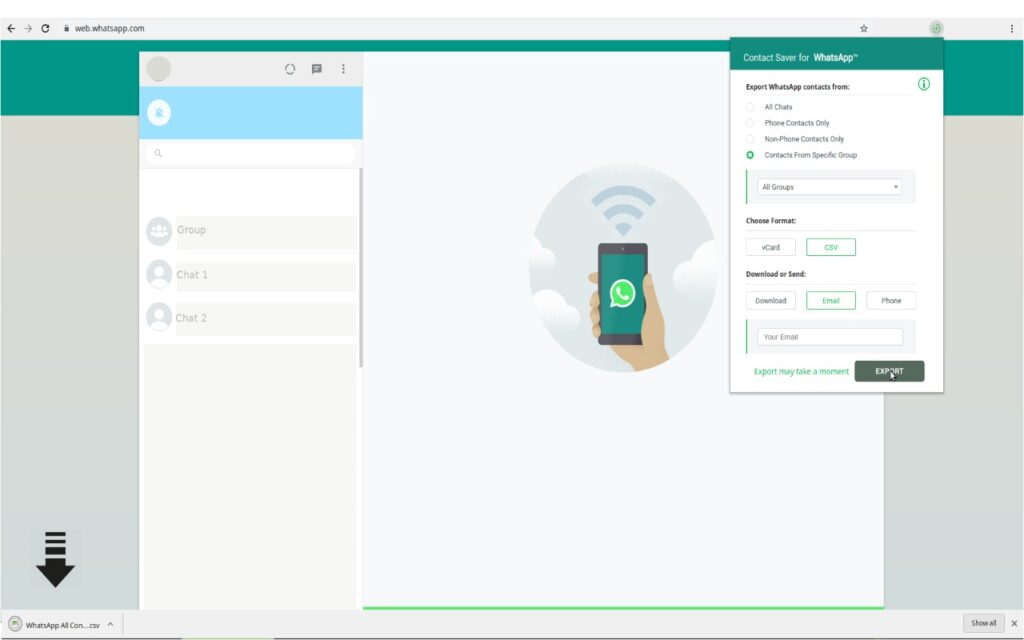 Moreover, you can export the contacts to different options such as computer, phone, and email id. If the name of the contact is unknown, the extension gives a name by adding the letter W just before the phone number.
Install Contact Saver for WhatsApp
9. WhatsApp Translator – Translate Chats
Are you finding it difficult to understand another language in WhatsApp? With WhatsApp Translator, it is now possible to chat with people in other languages you don't understand. Moreover, the extension support 100+ languages. With this translation app, one can continue conversations on WhatsApp with ease.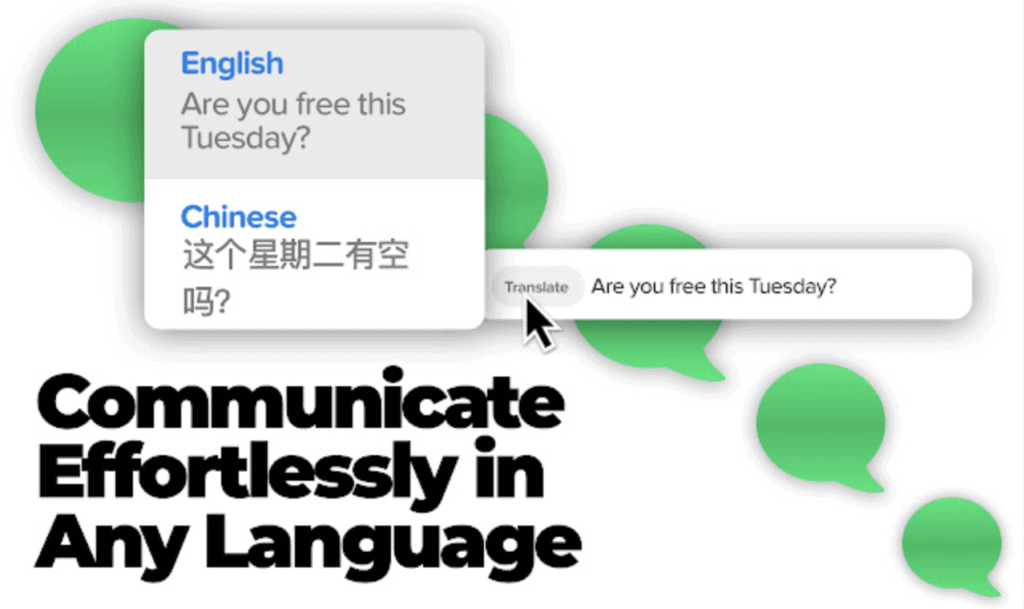 This 100% free translation WhatsApp web extension is easy to use. However, it is available only for WhatsApp Web. The usage of Google Translate API ensures that the translations are as accurate as possible. Use the extension settings to change the language options. Then, all your messages will be translated to the selected language automatically.
To view the translation, all you have to do is hover the message and press translate.
Install WhatsApp Translator
10. Blueticks
For managers, making sure everything is in perfect order is important. In order to help with that, you can try the Blueticks chrome extension. With this WhatsApp Web extension, one can manage tasks, schedule messages for the future, send customized messages, and much more.
Other useful features of this Chrome extension for WhatsApp Web are one can manage templates, send lists, and create campaigns. Moreover, you can also import contacts from CSV. Scheduling recurring messages is easy too.
Sending customers greetings for their birthdays or anniversaries is a great way to develop bonds and this extension lets you do it swiftly in just a matter of a few clicks.
11. Privacy Extension For WhatsApp Web
As the name suggests, the Privacy Extension for WhatsApp Web focuses on protecting your privacy on WhatsApp. To offer more privacy, especially in public spaces, the extension blurs the messages. Hovering the mouse over them will reveal the content.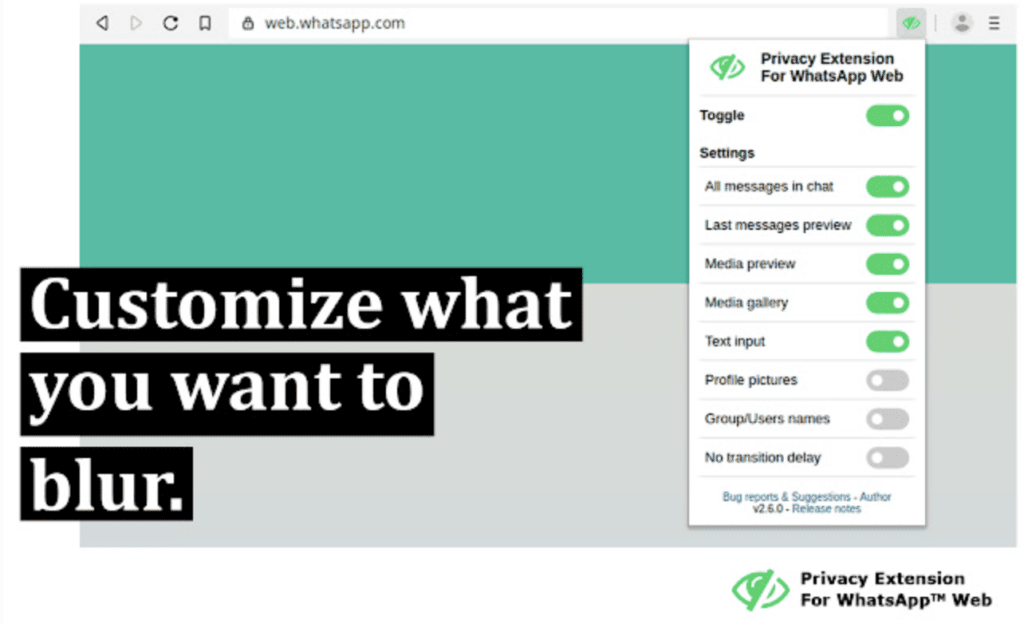 Moreover, you can use various options and decide which elements you prefer to blur for privacy. These include profile pictures, last message preview, all messages in the chat, and media preview.
Another way the chrome extension lends privacy is that it lightens the input field. That means, when you are typing the message, the color is faded. It makes it difficult for others to snoop into reading your messages.
Install Privacy Extension For WhatsApp Web
12. WASender Free Plugin
Want to send multiple personalized messages to customers on WhatsApp? In that case, choosing WASender Free Plugin is a great idea. In the free version, you can pin unread chats to the top of the screen, get unlimited messaging and upload excel sheets. The privacy features are amazing too!
However, you can also upgrade to the pro version to get access to a few more features. These include attachment sending, customized bulk messaging, creation of chatbots, setting time gaps between messages, etc. You can also opt for the one-click instant download for different contact types.
Improve your WhatsApp Web Experience With Browser Extensions
These are a few of the best and most useful Chrome extensions for a better WhatsApp Web experience. I have personally tried each of them and they are completely safe to install and use. All of them provide exciting and unique features that make them stand apart from the rest and surely help you to improve the WhatsApp Web experience. With these WhatsApp Web extensions, you can exploit the different features to connect with friends or to grow your business.
Do you use any other Microsoft Edge or Chrome extension for WhatsApp Web that you think should make a way in our list? If yes, do let us know in the comments section below and we will update our article.