Every year, September is the month when all tech enthusiasts are eyeing on year's biggest release. Yes, it is about iPhone. Apple has started it almost a decade back and continued till date and mesmerized us with every new launch and set a benchmark for others (manufacturers). In 2016, Apple has come up with 2 devices – iPhone 7 and iPhone 7 Plus. Like every year, Apple has made some minor and major alternations for the better smartphone experience. Here are some major changes that you must know about iPhone 7 before buying it.
Bonus: iPhone 7 Plus vs iPhone 7 – Specifications Comparision
Apple iPhone 7 is a pretty good looking smartphone with subtle changes
Here are seven things you must know about iPhone 7. Same to Same, Yet Different. There are subtle changes (modifications) incorporated in the all new iPhone 7.
Camera Lens is Now Bigger
For the last 2 years, we have seen a small metal ring protruding on the rear of the iPhone. This was prone to scuffs and scratches. Now, with iPhone 7, Apple has covered the protruding metal ring by increasing the lens size and merged it well in the body shell. Now, you can get more clear and sharp photos in low light conditions.
Re-designed antenna bands
iPhone 7 has the cleanest rear design ever. Now, there is no Antenna bands running across the back of the device.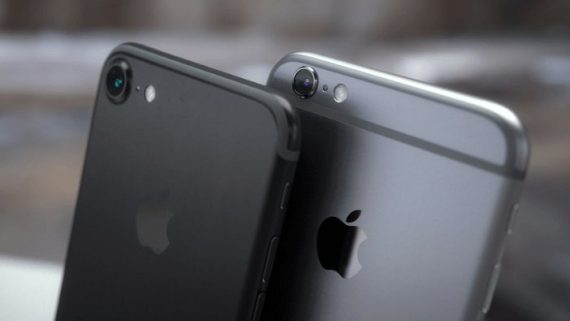 Two New Colors – Matte Black and Jet Black
With iPhone 6s, Apple introduced a new color variant – Rose Gold and all went gaga over it. Now, with iPhone 7, the company has added two new colors – Matte Black and Jet Black. Space Grey has been replaced by Matte Grey. You can find Champagne, Rose Gold and Silver color variant as well. But, there is a catch. Apple has introduced shiny jet black color variant for 128GB and 256GB storage devices only.
Water and Dust resistant. Officially and Finally
Finally. Apple has made an IP67 certified smartphone since its first iPhone. It can survive deep under  water to an extent for a moderate period of time. You can take underwater selfies easily, without any second thoughts. Earlier iPhone did fair well in several water drop test. But now, with official announcement of the same gives more confidence to iPhone users. Several other competitors have already given this feature to their babies. Samsung Galaxy S7, S7 Edge, Sony Xperia Z series are IP68 certified.
RIP 3.5mm Audio Jack
Yes. There is no 3.5mm audio jack on iPhone 7. The company has removed it. Now, you have a single port where in you can charge your device or you can listen to your favorite music. From a user's perspective, this is not a smart move by the company. The headphone jack is replaced by a lightening port. The good part is, Apple has packaged a headphone jack adapter with all iPhone 7.
Stereo Speaker
Apple iPhone 7 is the first smartphone from the company to bring Stereo speakers. Now, the audio output of the device has increased manifold. The output has become crisper, louder and clearer.
No 16GB variant now on…
People are using (abusing) their smartphones these days. When you are on the go, your phone must have all your entertainment stuff including – hundreds of songs, mammoth of apps, and offline videos. A 16GB variant (only 11GB can be used) has been the most debated and rumored feature of the phone with each passing year. Finally, Apple made a point by dropping a 16GB variant. Thank You Apple! Now, Apple iPhone 7 comes in 3 three storages – 32GB, 128GB and 256GB. Imagine, having an iPhone with 256GB of inbuilt storage space. It is surely a great update from the company.
Apart from these changes, a new improved home button, placed on the chin of the phone is also added. The physical press is omitted. You can adjust the sensitivity as well. This surely means long life for iPhone home button. Inside, Apple A10 Fusion chipset is also added. Seamless and lag free performance is guaranteed. The display of the iPhone 7 has become more vivid and sharp.
iPhone 7 Main Features
Precisely, Apple iPhone 7 is obviously not a game changer but with these minor updates and moderations, the phone will definitely stand out among other competition for sure. Apple iPhone 7 price in India has announced. It starts at Rs 60000 for 32GB variant and goes up to 80000 for 256GB.