What we think about
VideoProc
Looking for a simple yet impressive video editing program? Try out the VideoProc today. VideoProc is an easy to use but a fine piece of video editing software designed for processing 4K content on GoPro or iPhone.
Creating videos, uploading on YouTube, and creating a buzz around your brand is the latest trend on the internet today. The users are going to extreme levels to shoot high-speed biking, skiing, surfing, skydiving, and much more to make the videos more entertaining. With GoPro camera, shooting such action-packed videos have come a long way with better stabilization and 4K quality. However, editing and processing powerful 4K video shot on GoPro is still a significant challenge to a lot. Well, not anymore! VideoProc makes it simple and convenient to edit, convert, resize, and process 4K GoPro videos at accelerated speeds.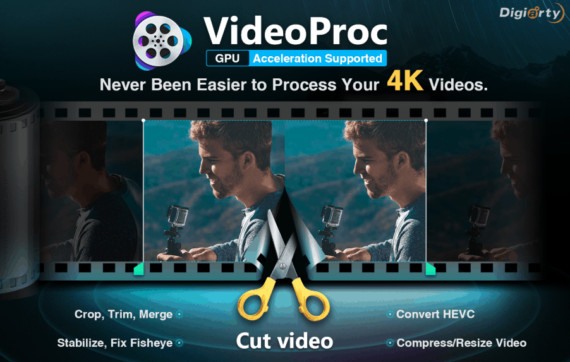 VideoProc is not only designed to work with 4K GoPro videos, but it is also capable of processing Drone footage from DJI drones, videos shot on Android devices, iPhones, camcorders, or any other 4K cameras. VideoProc is the latest entrant in video processing which is designed with a goal to provide an easy to use platform for users dealing with 4K videos shot on action cameras or high-end drones.
Video editing on Final Cut X, Adobe Premiere, or Vegas is most likely preferred by creators globally. However, editing on such premium software is a bit too complicated and needs professional video editing expertise. On the other hand, VideoProc is quite easy to use as you can find tools within the program to crop, resize, convert, merge, and add effects to your 4K videos. VideoProc may be the new kid on the block, but it is developed by Digiarty Software which is a renowned brand in DVD/video software industry since 2006.
Interesting Features of VideoProc
The best thing about VideoProc is its simplicity. Everything you want to do with videos is divided into four sections such as Video Processing, DVD Conversion & Backup, Video Downloader, and Video Recorder.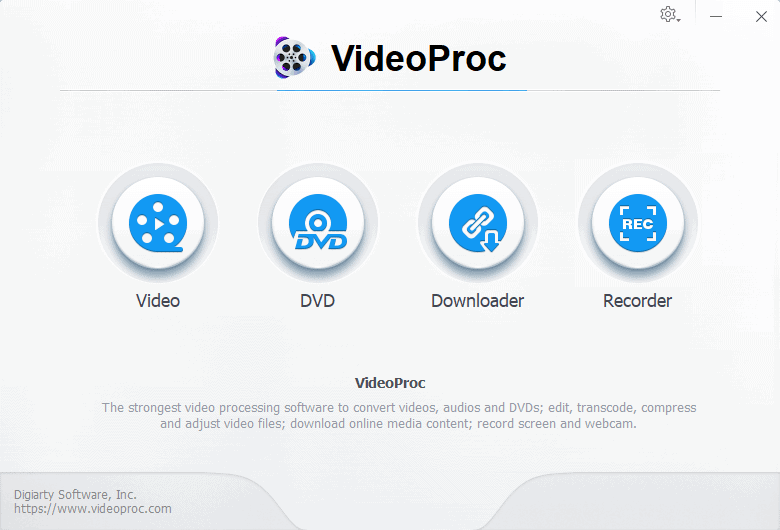 Based on your preferences, you can select a particular option and do amazing things in the videos. VideoProc is embedded with a fantastic list of features that makes this video editing software on par with premium video editing programs such as Adobe Premiere, Final Cut Pro, and Vegas. However, the simplicity and ease of use make VideoProc an ultimate choice as the best video editing tool for everyone.
Here are the fantastic features of VideoProc
1. Simple yet effective video editing tools
There are no complicated tasks during video editing on VideoProc. Just upload the videos that you want to edit and start using simple tools like cut, crop, merge, and rotate to make changes to your videos. You can also add effects such as Grayscale, Mirror, Edge, Painting and Sharpen to beautify or enhance your videos further. You can even fine-tune the videos by adjusting color, brightness, contrast, hue, gamma, and saturation.
Also, you can add subtitles to your videos. You can enable, disable subtitles or export subtitle. You can also add external hardcode or softcode subtitle files. Supported external subtitle files are .ass, .ssa, and .srt. For downloaded movies or TV episodes, you can easily search for relevant subtitles from within the program.
VideoProc understands the infinite uses of video in this digital age and lets you process your videos accordingly. For example, you can crop the videos to eliminate black bars or zoom in to highlight the focal point. On the other hand, you can also expand the video to attain the aspect ratio of YouTube uploading or widescreen playback.
How to edit videos on VideoProc?
Video editing is quite simple on VideoProc. Just select the Video section on VideoProc, and you will find options to add video, music, video folder, etc.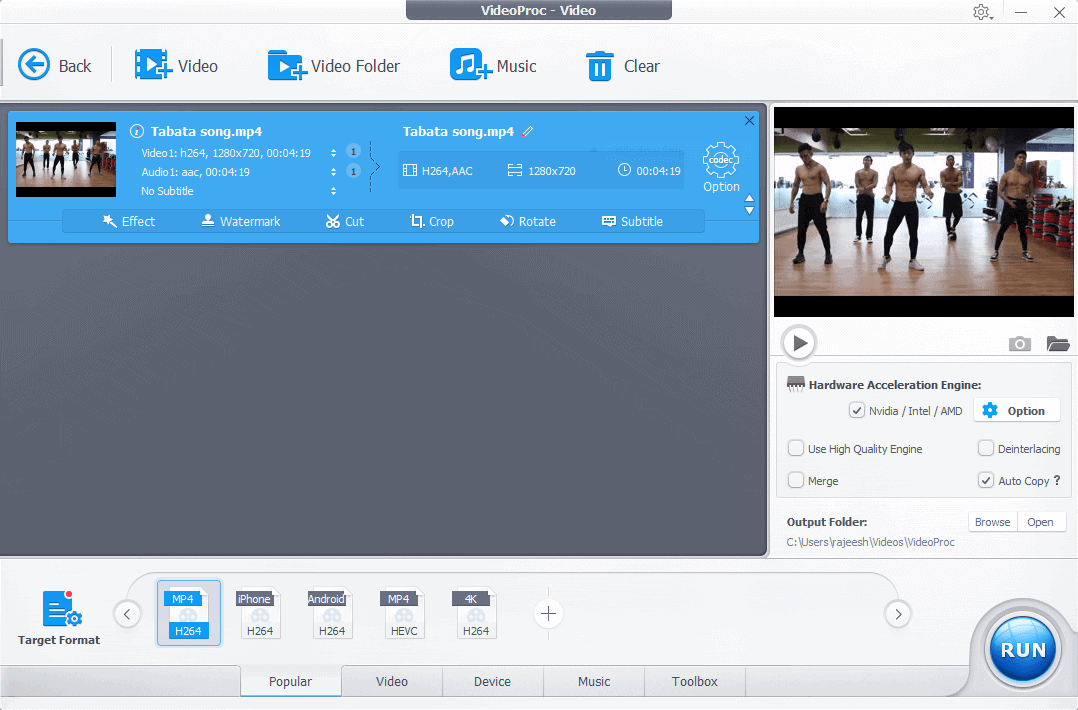 For this example, I want to use a single video, so I selected Add Video option. Once the video is uploaded, you will find various options to add effects, subtitle, watermark as well as cut, crop, or rotate video.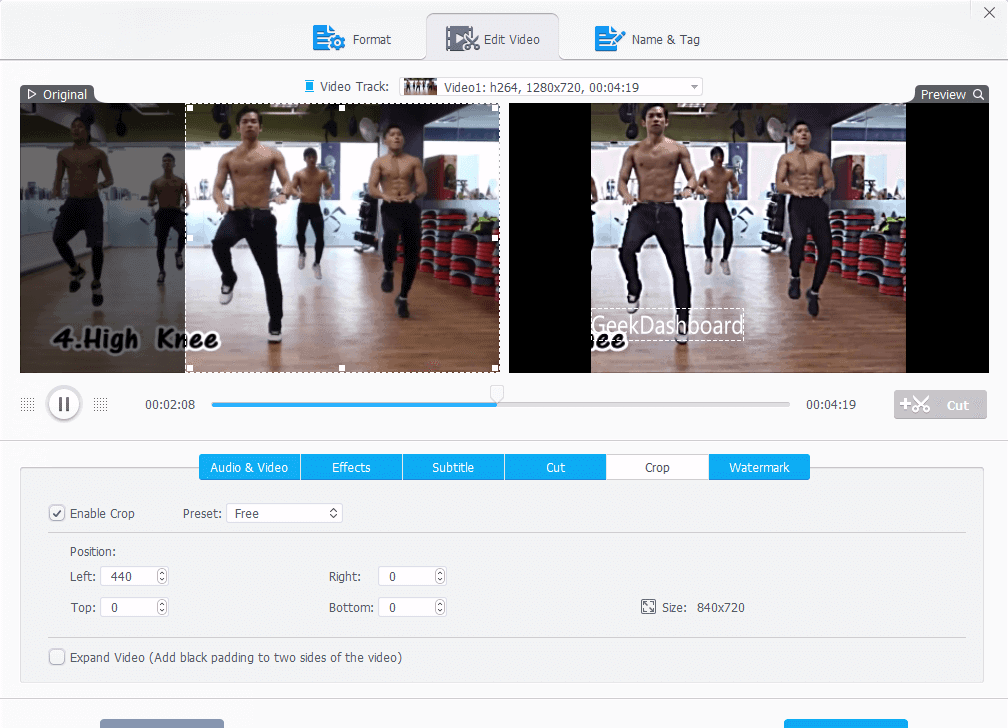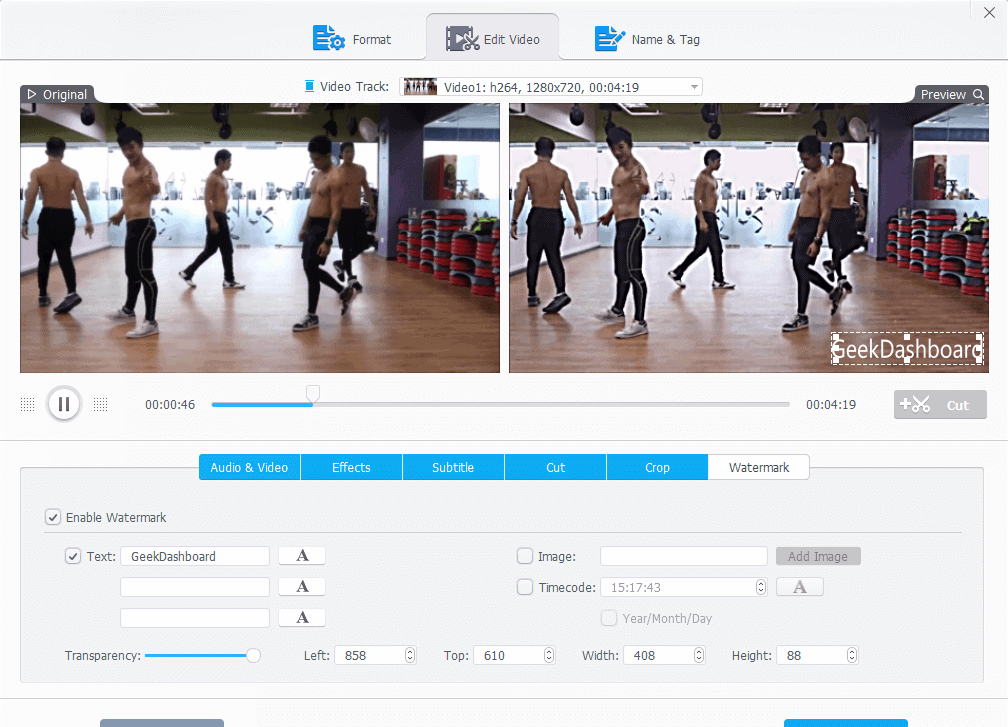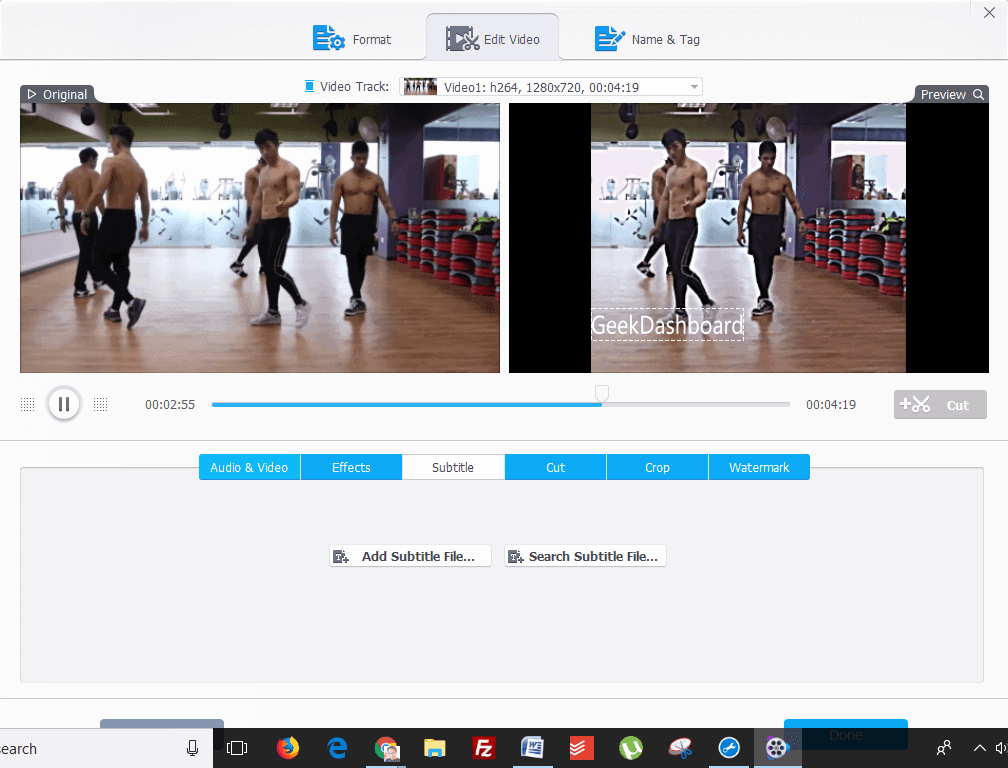 Once you have made all the necessary changes to your video, you can hit "Done" and then choose the output format and hit "Run."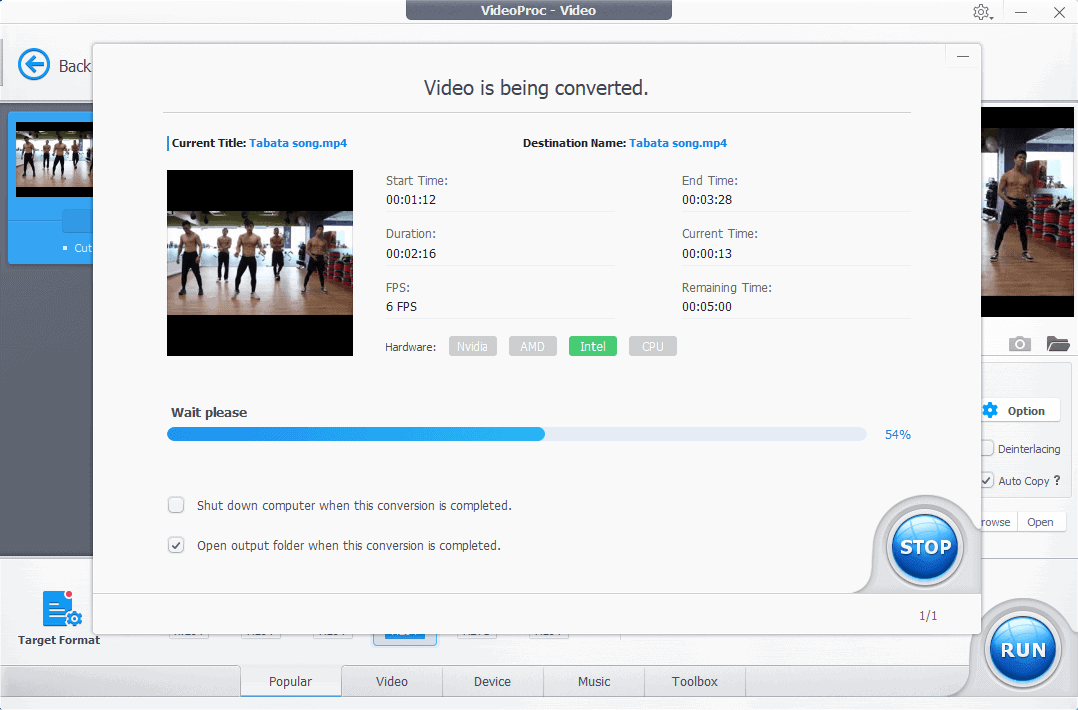 2. Supports 4K video processing from any device
Most of the devices whether hand-held or wall-mounted support 4K videos today. VideoProc lets you process 4K videos shot on any devices. Whether you use GoPro camera or a high-end drone device to shoot high-quality 4K video, the VideoProc software will let you edit, process, crop, resize, upscale, or downscale the videos as per your preferences.
Though VideoProc is ideally designed to process GoPro style 4K videos, the tool is also programmed correctly to edit and process HVEC videos shot from iPhone. Stability is the main factor that enhances GoPro videos, and VideoProc is fine-tuned to handle such videos and smoothen or fix the video shaking without losing the quality. You can also denoise, convert, resize the big 4K videos and make them compatible for YouTube/Instagram uploads.
Watching videos on iPhone will get more comfortable with VideoProc as you can encode MKV, FLV, AVI, WMV, and other formats for viewing on iPhone. VideoProc understands the space limitations on iPhone as well as upload limits on several platforms. Hence, it helps you shrink oversized 4K video to overcome such barriers.
Also, rendering edited videos is super-fast on VideoProc with GPU acceleration. The program is designed to work with Nvidia, Intel, or AMD chipset to power up the rendering process. Hence, VideoProc is capable of processing 4K video with full GPU acceleration which speeds up the overall rendering process
3. High-Speed Media Conversion
Besides editing and processing, VideoProc also offers A-to-B video conversion supporting more than 370 input codec and more than 420 output formats. Such a wide range of conversion options enables complex transcoding demands such as H264 to H265 (HVEC), MKV to iPhone/MP4, AVI to YouTube, 3D to 2D, and many more.
VideoProc also lets you compress large size video up to 90% with the minimum quality loss. You can even upscale or downscale videos as per your preferences. If you want to watch a 1080p or 720p video on a 4K TV or if you want to watch a 4K video on a 2K (i.e., HDTV); you can do both by merely changing the aspect ratio as per your need.
4. Video Downloader supports 1000+ online sources
Downloading videos is one of the best features offered by VideoProc. You can either entertain yourself with downloaded videos or use such videos or audio files to merge with your videos to create a cinematic effect. You can now download videos or music from YouTube, Facebook, Dailymotion, Twitch, SoundCloud, and many other sites. VideoProc supports video downloads from over 1000+ online sources.
You can also record live streams to watch later, so you don't miss your favorite shows, sports game, news, etc. The VideoProc also lets you batch download multiple videos or a playlist on YouTube.
How to download video on VideoProc?
Downloading videos is simple with VideoProc. All you need is a video URL and launch VideoProc program.
On the main window, you must select the "Download" section. You can choose "Add Video" option and add the video URL to start downloading videos.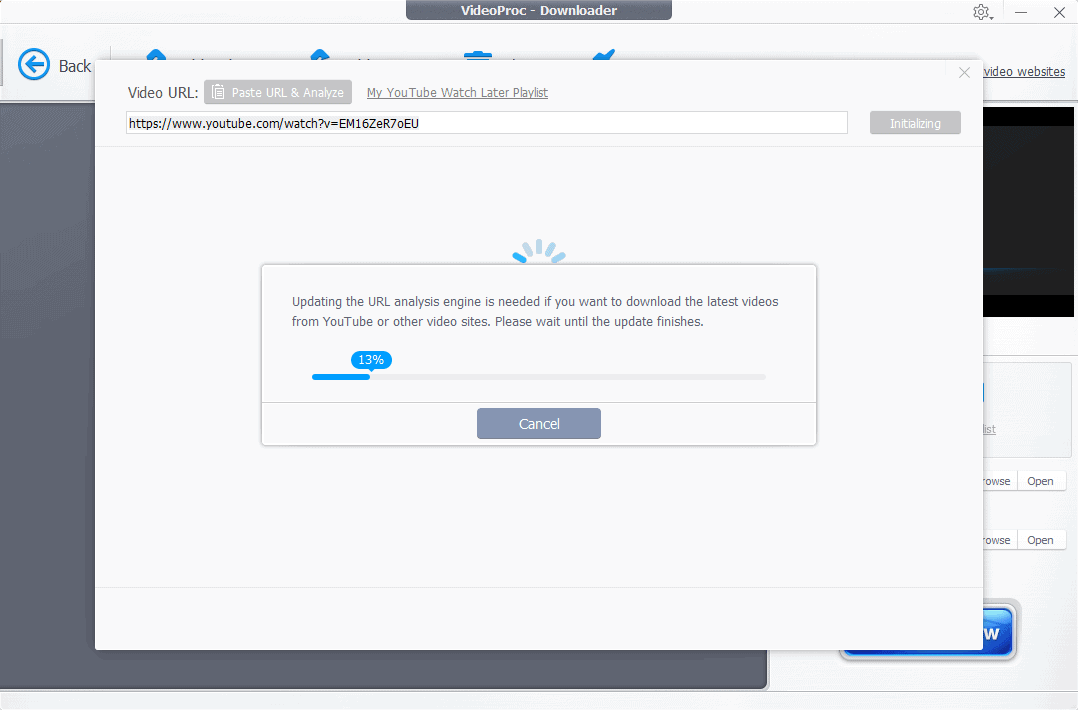 For this example, I picked a Casey Neistat video URL and hit "Paste URL & Analyze" button. The URL analysis engine analyzed the full video in a few minutes. After analysis, the program offered me all the available options to download the video. From a high definition, 1080p resolution to 240p resolution was up for the taking. You can choose the appropriate format based on your preference and hit the download button.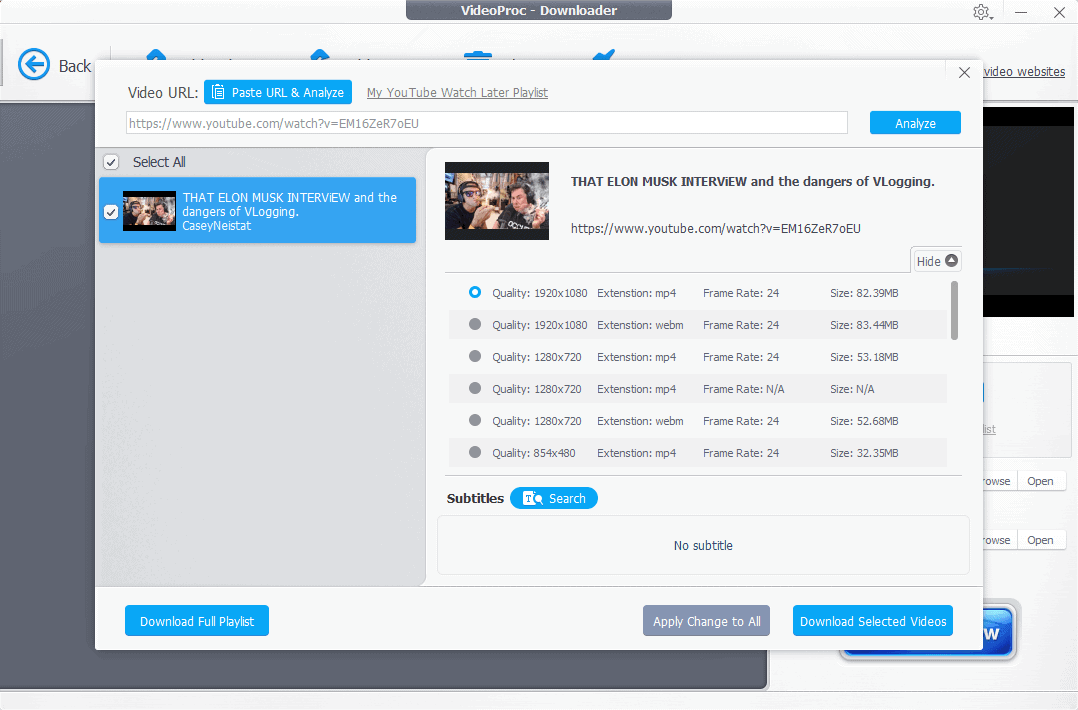 I also checked if the program is capable of downloading a 4K video and tried uploading an MKBHD video from YouTube. And, I was surprised by the result.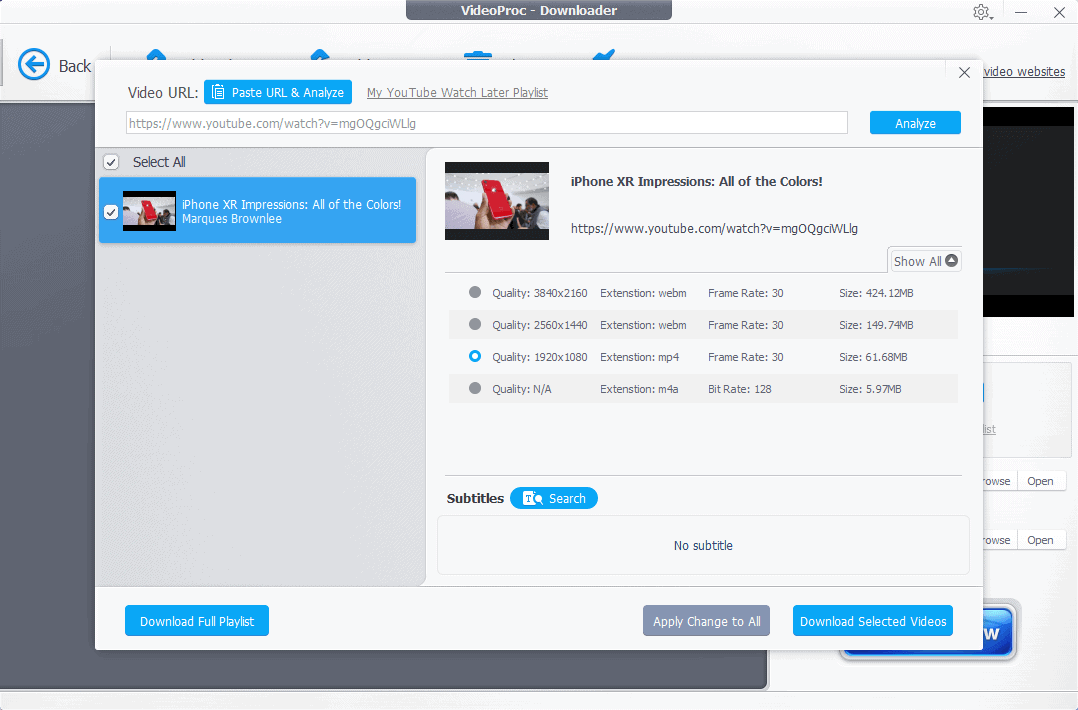 5. Simple yet powerful screen recorder
VideoProc also comes with a screen recording feature which can come handy for podcasters, educators, vloggers, gamers, sports enthusiasts, etc. You can create compelling presentations, record gameplay, host webinars, and stream videos with the help of the screen recording feature on VideoProc.
You can record in three different modes. You can record the screen, record the webcam footage or record both screen and webcam footage at the same time using picture-in-picture mode. For screen recording, you can select the recording area or choose full screen for recording.
Vloggers or webinar hosts can also use the utility tools to draw or highlight any content on the screen or type texts and add voiceover to the screen recording.
How to record your screen?
To record screen, choose the Record option on VideoProc and select the specific mode on your screen recording.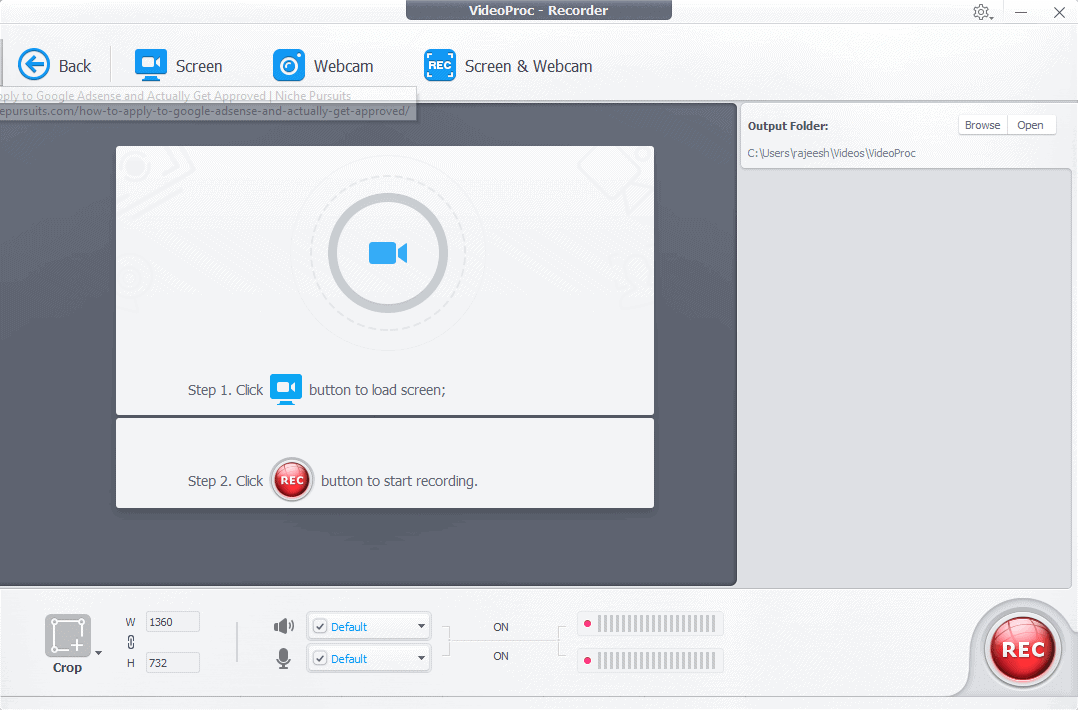 For this tutorial, I picked Screen recording mode. You can now either opt for full-screen recording or record a selected area. As I plan to record a YouTube video, I chose the full-screen recording of a full-screen YouTube video.
Stop the video after the recording is over. The screen recording tool is highly efficient if you can't watch a live event and wish to record it for later. You can also use it to host webinars or make a tutorial video for your viewers.
Our Verdict
All-in-All, the VideoProc video processing tool, is quite handy and easy to use for newbie or budding vloggers or YouTubers. The software is engineered for everyone and doesn't require any high-end video editing skills which are must for editing on Adobe Premiere or Final Cut Pro.
Just try it out once and check the VideoProc video processing tool yourself.
Enter the VideoProc New Release Celebration Sweepstake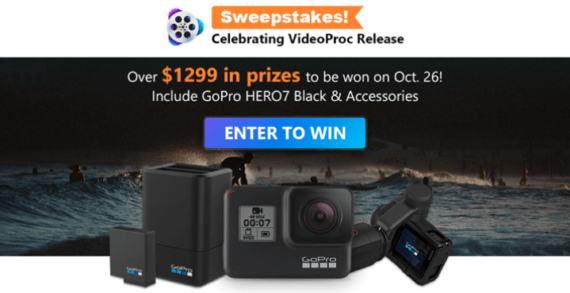 To commemorate the VideoProc new release celebration event, Digiarty Software, Inc. is offering a chance for everyone to win GoPro Hero 7 and Accessories via VideoProc sweepstakes.
How to enter to win GoPro Hero7 and Accessories?
Step 1: Visit the Sweepstakes page here
Step 2: Register with your name and email address.
Step 3: Click "Count me in" button to register first your entry.
You can earn multiple entries to improve your chance to win GoPro Hero7 and Accessories during the event by sharing the event update on Facebook or Twitter. Sharing on Facebook or Twitter will fetch 3 points, whereas following VideoProc on Twitter and liking VideoProc Facebook page will get you an extra point each.
Each participant can earn up to six entries in total. The winners will be picked via random draw with randompicker.com

GoPro Sweepstakes Prizes:
Grand Prize: 1 winner x GoPro Hero 7 Black (USD 399.99 value)
2nd Prize: 2 winners x GoPro Karma Grip (USD 299.00 value)
3rd Prize: 6 winners x GoPro Dual Battery Charger + Battery (Hero 7 Black/Hero6 Black/Hero5 ) (USD 49.99 value)
The winners will be announced on Facebook and Twitter within three days of the draw. All the winners will be notified by email.
Note: The sweepstakes event will end on October 26, 2018, at 11:59 PM EDT and is open to all from anywhere in the world.
What we think about
VideoProc