What we think about
Video Converter Ultimate
Wondershare Video Converter Ultimate is more than just a video converter program. It offers a wide range of features that makes it must-have video tool in the industry today.
Video converter software is the need of the hour today. With so many videos trending on YouTube and the No.1 video sharing platform becoming the ultimate portal for learning, entertaining, as well as communicating, it is a must to have an excellent video converter tool and this time again Wondershare has come to the rescue. Yes, we are going to review Wondershare Video Converter Ultimate to understand whether it is the ultimate video converter tool that you're looking for.
Believe it or not, videos are going to play a huge role in the future, whether it's for marketing, entertainment, networking, or communicating. Many big brands and production companies are already using YouTube as a prime media to deliver their messages or stories to the people.
Wondershare Video Converter Ultimate Review
Being on YouTube, you need a fast speed internet access all the time to watch the videos in premium quality. Well, not anymore! With Wondershare Video Converter Ultimate, you can do things like "Download" videos directly from any video sharing websites, including YouTube. However, these YouTube videos are often created in different formats and sizes.
With different formats and sizes, it becomes difficult to play every video on one device as most devices don't support all file formats. During such scenario, you need an effective video converter tool that is capable of converting a video into a format compatible with your device. Wondershare Video Converter Ultimate is designed to perform this task for you along with some additional features to play with.
Interesting Features of Wondershare VCU
Besides the convert feature, Wondershare Video Converter Ultimate is bundled with a good number of other features which are quite useful in this current digital age.
Let's check out each feature of Video Converter Ultimate:
Convert Videos to different formats
Well, let's talk about the primary feature of the program first. I watch so many movies and motivational videos. However, the sources I download these stuff offer a wide range of different formats. While some of them work with my default media player on Windows 10, a few such as AVI or MKV don't work on it.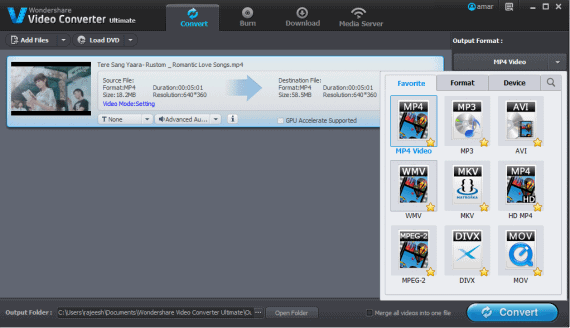 During such scenario, I often look for a video converter tool that can do the job. The first thing I tried with Wondershare Video Converter Ultimate was converting some of the videos to different formats such as MP4 to AVI, MKV to MP4, AVI to DivX etc.
Well, the story doesn't end there. Wondershare VCU can also convert your video files into MP3 audio files as well. Most of the motivational videos are better to listen than to watch and hence I prefer MP3 files rather than video files. With Wondershare VCU, it is quite easy to convert your video file to any other popular video format as well as MP3 if needed.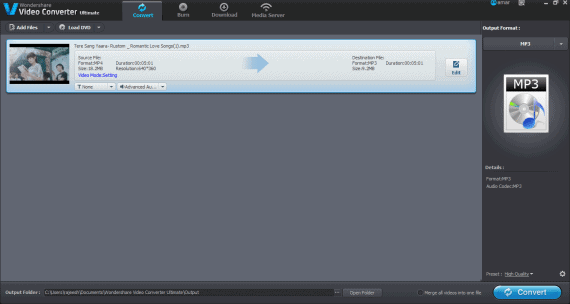 On the top of it, you can also choose latest video formats such as 4K. If you're not sure about the formats, you can also choose to convert the video on the basis of your device. For example, you can choose VR in the Device section to convert videos into a format that's compatible with particular VR devices.
Download YouTube Videos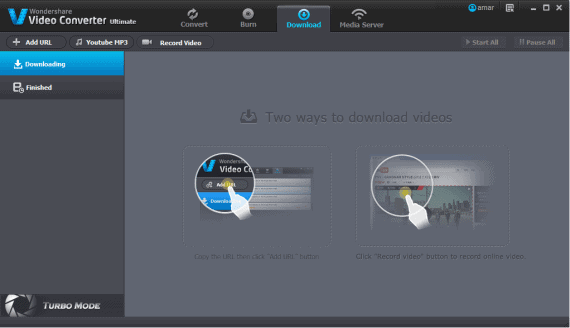 Wondershare Video Converter Ultimate also allows you to download online videos, especially YouTube videos. All you need to do is copy the video URL and click the "Add URL" option in the Download section, choose your "save as"  format and hit "OK" button to start the download. You can choose any format and Wondershare VCU will do the rest.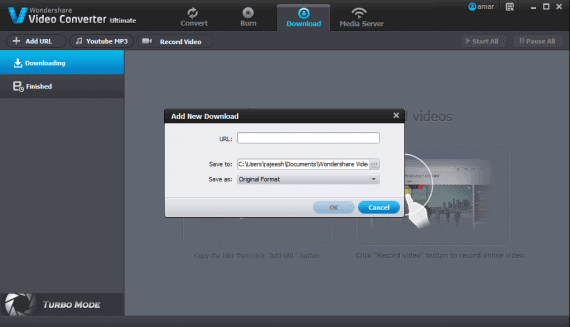 The program will find the video from the URL and start downloading the video instantly.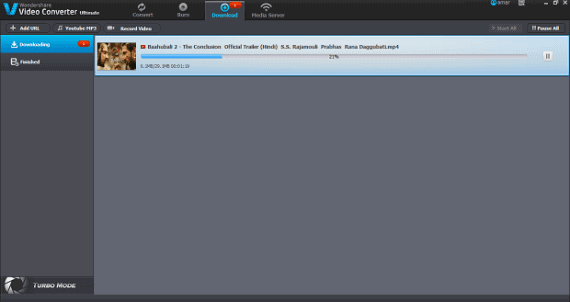 Once the download is complete, you can find it in the finished tab. You can either watch the downloaded video in the default format or choose to either "Convert", "Burn to DVD", or "Transfer to a device" as per your preference.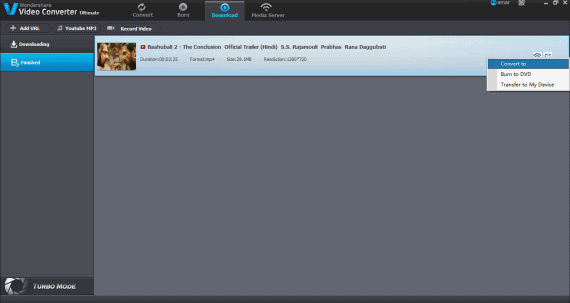 Besides movies and watching motivational videos, I am also a huge fan of music. While you can get almost all the music in the audio format from various different music sites, there are a few songs or music that you hardly find here but on YouTube, either as a background score or a song that you like when you listen but couldn't find as you don't know the title or album name of that song.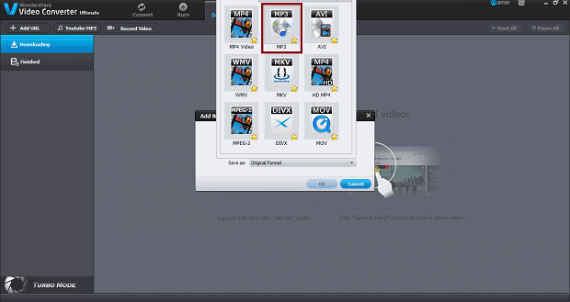 During such scenario, I have no other way but to rely on such videos for the music. However, with Wondershare Video Converter Ultimate, life could be pretty easy. With the help of Wondershare Video Converter Ultimate tool, I can also convert YouTube to MP3 files as well. I just need to copy the YouTube video URL; repeat the above process but choose the output format as MP3 this time.
Edit Videos
Whether you download or add videos directly into Wondershare VCU program, you also get an option to edit those videos. Honestly speaking, it is not as good as the top video editing software around the web, but it can be a great editing tool for trying out some tweaks and effects in the video.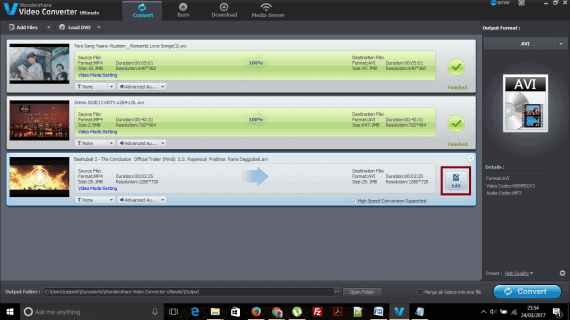 You can use different settings and add effects based on them. You can choose the mode, trim the video, adjust the screen as well as crop the video, try out 20 different effects, adjust simple settings such as volume, brightness, contrast, saturation, add watermark or subtitle for the video.
Burn Videos or Audio files to DVD
Another interesting feature that comes with Wondershare VCU is the "Burn to DVD" feature. With this option, you can burn any audio or video file on your local machine or downloaded files to DVD. All you need is an empty DVD disc. Load it on your system, select the file and start the burn process. It can't get any simple than that.
While I normally used it to burn movies to DVD, you can also use it to burn ISO files to DVD as well. Besides that, you can also change the template settings based on your preferences such as Quality, Aspect Ratio, etc.
Record Videos or Computer Screen
Wondershare Video Converter Ultimate also lets you record the activities on your computer screen. With the help of this feature, you can screencast your monitor and make a tutorial video for either your YouTube channel or blog. You can also use this feature to record a live session whether on Facebook or other media to watch it later.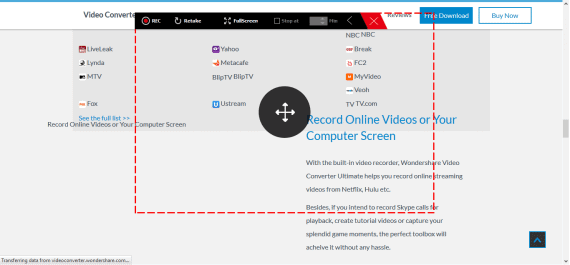 The record feature is quite simple to use because as soon as you hit the "Record Video" button in the Download section, a popup appears on your screen. You can adjust the size of your recording screen as well as move the screen as per your preferences.
Once the screen is set to its appropriate size and position, simply hit the "Record" icon to start recording.
Stream Videos to Your TV As a Media Server
Yeah, you read that correct. The features of Wondershare Video Converter Ultimate aren't limited to your PC alone. You can also use the program to stream videos from your PC to your TV as a Media Server. You can use media streamers like Chromecast, Roku, Apple TV, Xbox 360 or PS3.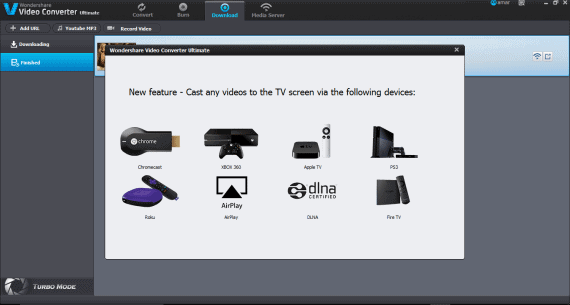 You simply need to make sure that your PC, Smart TV, or media streamer must be on the same network. The best part is that all audio/video formats are compatible and supported.
Our Verdict after Wondershare Video Converter Ultimate
Well, Wondershare Video Converter Ultimate is not just a regular video converter software but it is much more than that as it offers a wide range of tools within the program needed in this digital age. Above all, the program is quite easy to manage and requires absolutely no skills to operate and use it.
With this program, you can convert any video to more than 150 formats as well as convert videos to MP3 as well. You can also use this program to download videos from more than 10,000 sites such as YouTube, Daily Motion, Hulu, Metacafe and more.
If that's not enough, then you can also download YouTube to MP3 just in case if you are interested only in the audio or you can also choose a playlist and download videos in batches at high speed to watch it later at one go. Wondershare Video Converter Ultimate software offers everything that you ever would want to do with a video such as Convert, Download, Edit, Burn, Cast to devices, etc.
It's a one-stop solution for all your video specific needs in this digital age. After the complete Wondershare Video Converter Ultimate review, I realized that Wondershare Video Converter is a must-have program in your computer archive to watch and enjoy videos more smartly.
What we think about
Video Converter Ultimate