Android phones are embedded with a variety of different sensors that turn a simple device into a smart device or what we call a Smartphone. Hackers can use these sensors to log your keystroke, turn on the camera, or record audio. Fortunately, with Android 10, Google has resolved this issue by introducing a new feature that allows you to disable all sensors in Android with one tap.
The sensors on a Smartphone are as important as the sensory organs to our body. Well, they do not have similar functionality as our sensory organs but without them, these phones are nothing but dumbphones. These sensors power important features on the smartphone like auto screen lock, navigation, QR code detection, track location, motion tracking, etc.
While the sensors on your Android smartphone are vital, they can also be turned into a vulnerability. Most apps can use this vulnerability and access data using available sensors such as your location, browsing history, and even passwords.
Even hackers can use this vulnerability to spy on you via your device. Hence, it is important to ensure that your phone is not compromised to hear, see, or sense your location or movement. Earlier, the only way to shut down all sensors was to get root access to change settings & permissions which is tricky for an average user.
However, this vulnerability is now rectified with the Android 10 update and you can now turn off every sensor on your smartphone with a single tap. All you need to know is where to look.
How to stop my phone from spying on me?
Earlier, the best bet to stop my phone from spying on me is to turn off my device's microphones and/or camera sensor(s). However, this is a tricky procedure as I must go through every app and change permissions related to the microphone, camera, etc.
In Android phones, these components are already in action during the start-up as apps like Bixby or Google Assistant always use them. You can always go to the app settings of Google and disallow permissions for both mic and camera.
Simply go to Apps from the Settings menu and select Google. You will see the permissions option where you can choose what permissions you need to allow or disallow. However, changing the permissions may stop the app from functioning.
Also, it is a tedious task to change these settings for each app on your phone. But, after the Android Q update, turning off sensors are easy now.
So, the only question remains how!
Turn Off All Sensors on Android Smartphone and Tablet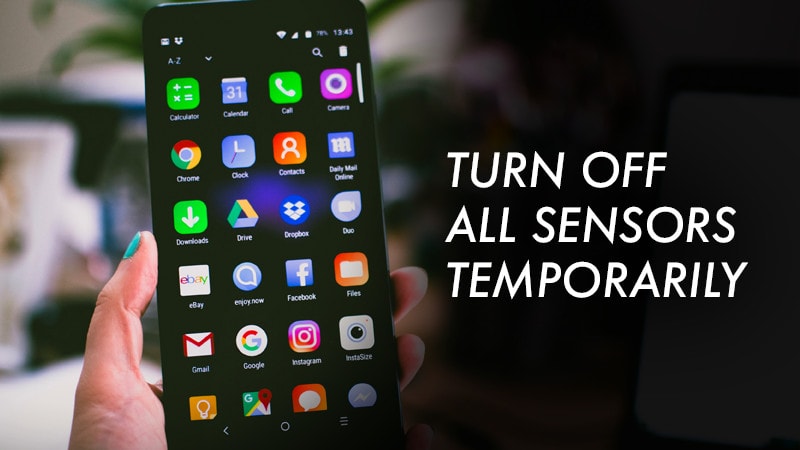 Let me tell you how you can temporarily disable all sensors on Android Smartphones and Tablets.
Privacy is a great concern when every app or device is after your data. Well, controlling the data sharing is not in your hands but turning off the sensors on your Android device is. Turning off the sensors may not be an ideal choice for some. Hence, Google keeps this feature hidden under Developer Options in the Android Q update.
Check out the trick to access this feature and enable it. Once you know the process, it will be easy to enable/disable sensors at will.
Activating this feature will present a hidden Quick Settings tile that can disable all the active sensors at one go. Once you tap on this tile to activate it, all the sensors such as ambient light sensor, magnetometer, gyroscope, proximity sensor, etc. will stop recording data.
If you also turn off the Wi-Fi, Bluetooth, and GPS on your device, you can stop almost any sort of digital spying technique. Here is how you can enable the Quick Settings Title to disable all sensors in Android:
Step 1: Enable Developer Options
Go to the Settings app and choose "About Phone."

Next select Software Information if you own a Samsung Galaxy Smartphone or jump on to the next step.


Tap the "Build Number" continuously for 7 times.

If you did it correctly, you will get a toast messaging saying "You are a developer" or "Developer mode has been enabled".

Enter your PIN if prompted.
You have enabled "Developer options" and you can access it from Settings.
Note: On few Android devices, the Developer Options settings will appear under Settings > System > Advanced section.
Step 2: Add Sensors Off Quick Settings Tile
Go to phone Settings and look for "Developer options".


Tap on "Developer options" and you will find "Quick settings developer tiles".

Tap on the "Quick settings developer tiles" and enable the toggle next to "Sensors Off".

Now, when you open the notification pane, you can find the "Sensors Off" button inside the Quick Settings menu.
Step 3: Disable All Sensors in Android
To disable all Android sensors, pull down the notification pane and activate the "Sensors Off" quick settings tile. It will immediately turn off all the sensors on your Android device including camera, microphone, proximity sensor, gyroscope, accelerometer, compass, and other sensors.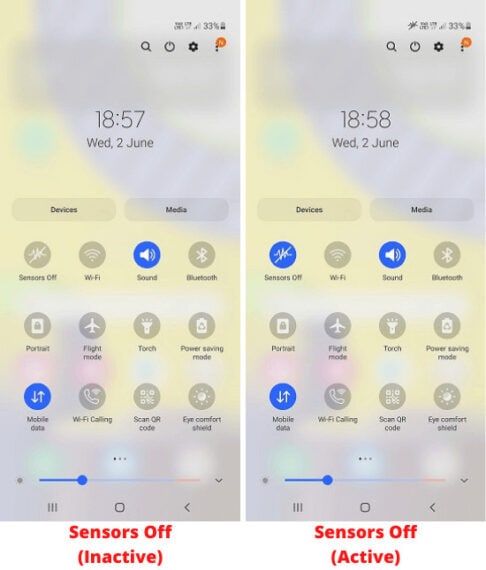 Later to enable the sensors, you can deactivate the Sensors Off" quick settings tile and all sensors will start working immediately as they were before.
Well, now you know the trick to turn off the sensors in Android but there is a catch here. The app features that depend on these sensors will not function properly when the sensors are turned off. If any app or functionality on your device tries to access any of the sensors, it may display an error message and stops working.
However, the rest of the phone continues functioning normally including the mobile network and internet. Turns off the sensors only when you want to strengthen the privacy settings on your device.
Features like Bluetooth, Wi-Fi, and GPS are not affected if you enable/disable Sensors Off tile. These features have separate toggles in the notification pane.
Do not keep this setting permanent on your Android Smartphone!
While turning off all sensors on Android smartphones seems easy now, I recommend using it only when you need it. Keeping the sensors off permanently may result in other apps not functioning properly.
At the end of the day, it is a Smartphone and you got to trust your device to an extent to counter any spying technology on its own.
Things to keep in mind to ensure there is no security breach!
Turning off the sensors can help you to an extent but there are other ways hackers or app developers can access vital data from your device.
Here are some tips to protect your device and data from being compromised.
Never install an app outside the Google Play Store unless you trust the developer. There will be times when you are tempted to download and install apps from external sources. There is a reason why these apps are not listed on Google Play Store. If possible, try avoiding these apps at all costs.
Whenever you install an app, keep a close watch on the permissions the app seeks. Disallow the ones that you feel are not necessary. Only allow them if the app does not install. Most apps ask for permissions that they do not require.

Avoid typing passwords as much as possible. Use Google or Facebook sign-in or signup options or prefer OTP-based access so your account remains safe and secure at all costs.
Use password managers or set different passwords without any traceable patterns while signing up on a platform through your device.
These are some additional tips you should keep in mind to ensure that your device is not compromised, and your data remains safe.
That's all folks!
Disabling all sensors on your Android device can come in handy to take control of your device than letting the device take control of your life. You don't need to keep the sensors off all the time, but it is always wise to have the quick toggle to turn on and off all sensors on Android smartphones and tablets.
Let us know in the comments below what you think about this new option to disable all sensors on the Android Q update!