There is a wide array of budget options to create a good-looking logo. The professional approach and creativity are the main factors that differentiate the design. There are a number of expert design agencies and brand consultants creating brand icons for businesses.
Professional designers use Photoshop or Illustrator to design good-looking logos. However, most of the agencies and professional graphic designers are too expensive for small businesses to hire due to their small budgets. This is where online logo makers come into the picture. If you are new to Photoshop, you either need Photoshop alternatives or good logo maker tools to create the logos.
These online logo maker apps are available to every business and individual mostly for free or at a minimum cost. What is more, everyone can use these tools with ease. There are hundreds of free logo design templates available in these online logo makers.
All you need to do is to pick your choice of colors and other elements including images. With a few adjustments regarding shapes, colors, fonts, and other things, you get a logo design readied for your business in a matter of time.
So, these best online logo makers give you hundreds of options so that you can create your business as per the design idea you have in mind. Also, many such free online logo maker apps are available. You can compare them to find out which one helps you best in designing your logo.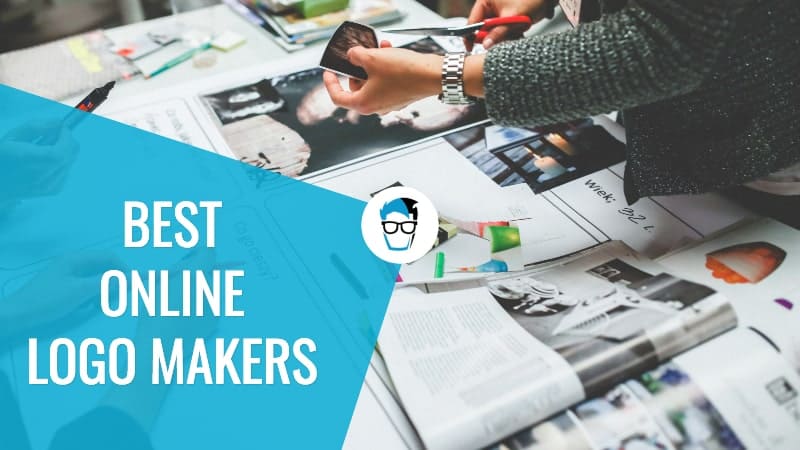 Take a look at online logo makers who have been a cakewalk for the clients
1. Designhill
Designhill online logo maker app is hugely popular among graphic designers to create logos. It is one of the few online logo makers that are AI-powered for effortless design. The tool displays an array of logos that fit into various prototypes. The user will have to select five options that provide the necessary input to the software.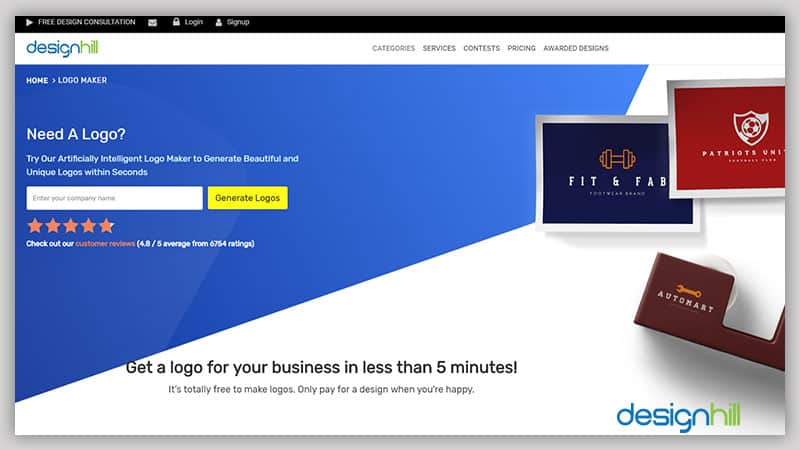 The next few steps would include the selection of the font, colors, and icons. After creating the base template, creativity flows and as a result, you will end with a professional logo.
2. Tailor Brands
Tailor Brands launched in 2014 is a great alternative for the Wix logo maker. You just need to enter your brand name and optional tagline to get started. Then you need to choose your industry to generate logos relevant to your business or profession.

Depending on your taste and choice, you can ask the Tailor Brands logo maker to generate either icon-based or name-based, or initial based logos. In our case, I have chosen icon-based logos with abstract shapes. Now you will be presented with multiple styles of example logos and you have to pick from them to let the algorithm understand your taste and expectations.
Tailor Brand's powerful algorithm will literally generate tens of different logos in a matter of seconds. Now all you have to do it, pick one logo, customize them further if required, and finally download the logo in PNG and vector format.
3. VistaCreate
The online logo maker by VistaCreate, a world-recognized graphic design software used by 8+ million people, is what you need to achieve studio-level quality for your logo without paying a dime or getting your hands dirty.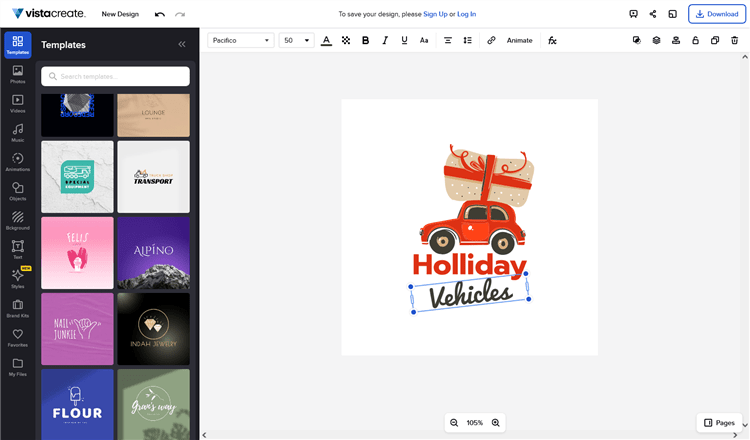 The logo maker ships with hundreds of professional templates you can tailor with a range of design objects, add photos and vectors, change typography, customize the background and apply any tweaks in a no-brainer visual interface to brand your logo. In addition to regular logos, you are free to build animated, circular, YouTube, and many other types of logos.
4. Wix
Wix logo maker tool is useful to designers in many ways. The users are first asked to create an account and enter the name of the brand and tagline. The next step would be in identifying the industry. There are no classifications of the sectors, and the consumers can type what suits them best.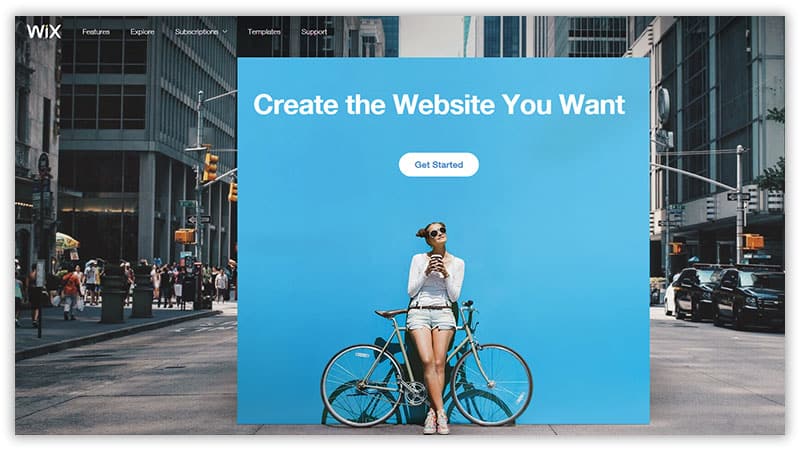 You will have to select three characteristics to describe you and your brand. It is one of those online logo marker tools that give you a lot of logo options. You can select one of the logos that suits your brand and fits your criteria. Once it is done, the application creates the logo options for your brand. You can select the ideal logo design with the ability to make further changes.
5. Design Mantic
Design Mantic online logo maker is a simple and easy-to-handle tool. All you need to do is to enter your brand name and the industry type which they fall into. You can select the broad classification, and can later make changes to it. Such simple online logo makers may be simple, still, they give you a long list of options.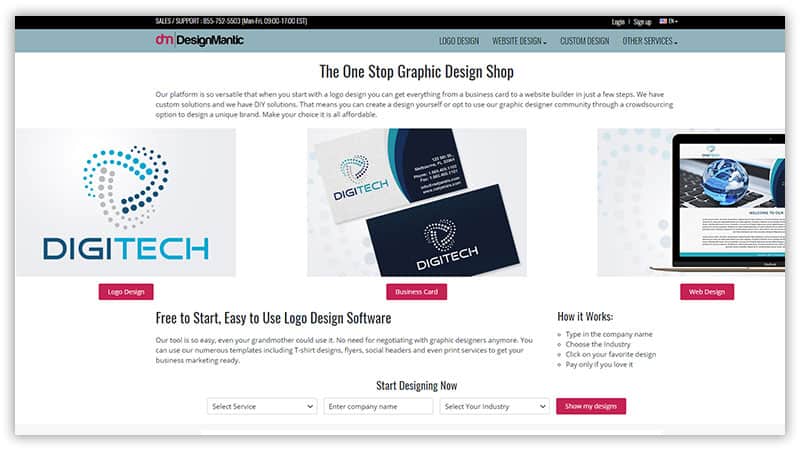 You can choose the closest one and make further changes to it. This can include an addition of a tagline, changing the position of the mnemonic, and the addition of new icons, etc. You can also restart the entire process again if you do not find the result satisfactory.
6. Graphic Springs
Graphic Springs logo maker tool has an elegant outlook. You can create the logo in a series of simple steps. The consumers will have to enter their brand names and taglines. If you have a specific icon in mind for your mnemonic, you can search for that particular element or select as per the industry type.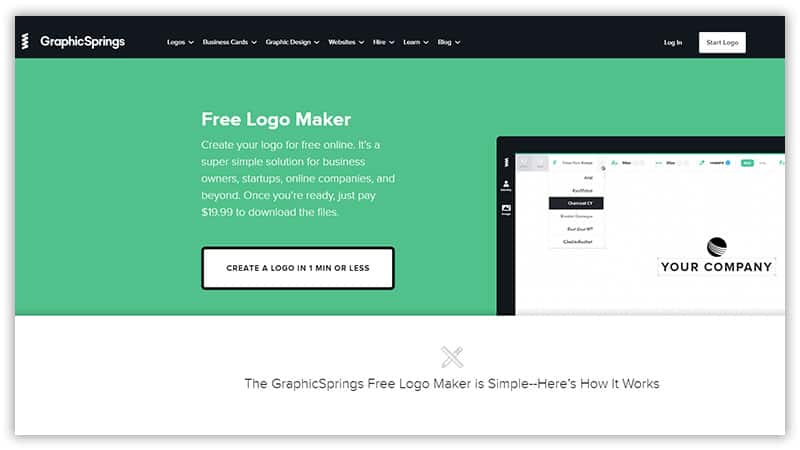 It is amongst the online logo makers that give you various icon options that can be used to create your choice of logo design. The logo can be edited and previewed in multiple collaterals before making the final decision.
7. Canva
Canva online logo maker is another handy tool that graphic designers frequently use to create business logos. The first step in this application is the selection of the type of business entity. This selection is further divided into the kind of profession of the individual. You can also send an invitation to your team members so that you can create the logo as a team.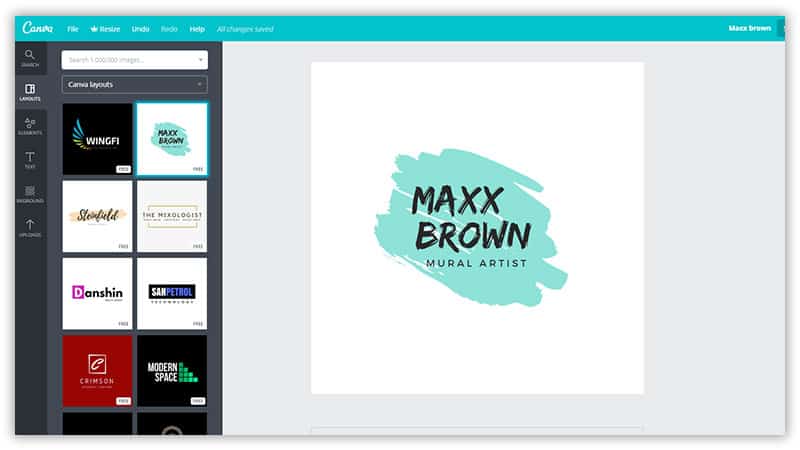 It is also one of those online logo makers whose dashboard contains a wide range of free and paid templates that can be selected and edited. You can preview, redo the whole design before making the final selection.
8. Design Imo
Design Imo logo maker tool is a unique application that allows consumers to make a selection of designs and to make necessary changes further. The first step would be the selection of the industry which helps the application to sort the various models associated with that particular sector.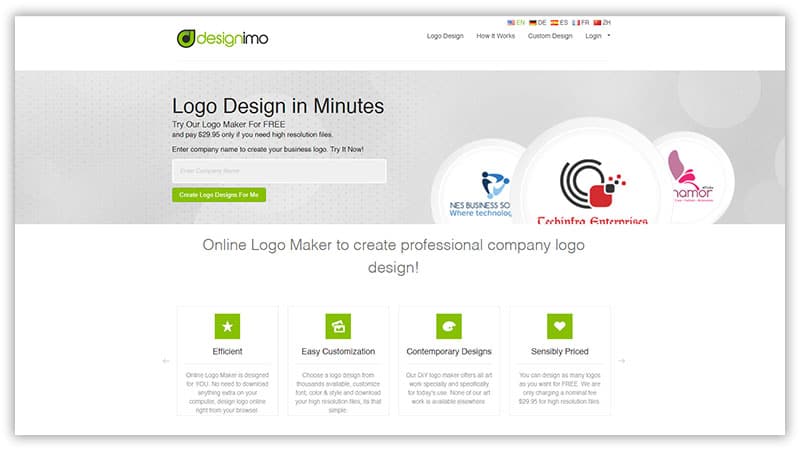 The selected logo can be later edited by changing the color, font, size, and position. This option helps the consumer to choose the ideal design before making the changes. It surely is amongst the most useful but simple online logo makers that come in handy when designing a logo as per specific design needs.
9. Logaster
Logaster online logo maker is a simple yet very powerful tool that helps you in creating a logo for your business along with other branding stuff like business cards, letterheads, invoice templates, tees, coffee cups, and more.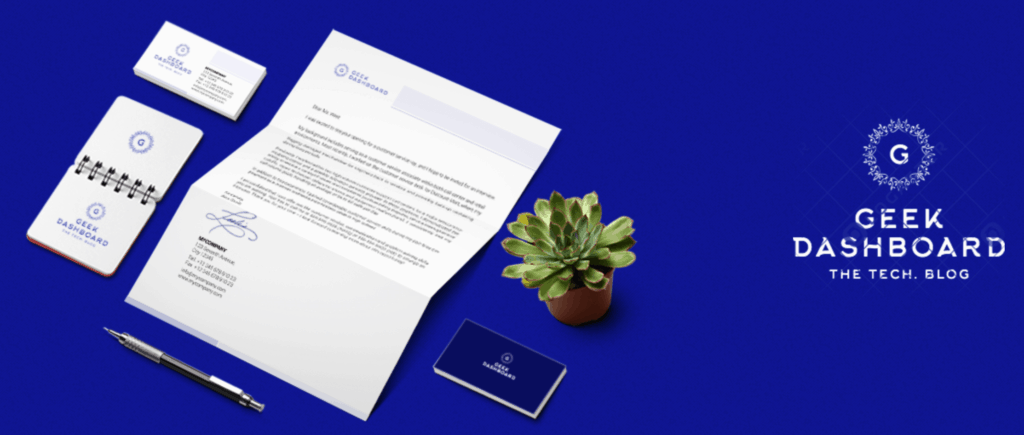 All you have to do is enter your business name and Logaster will automatically design plenty of logos in just a matter of seconds. To narrow down the results, you can filter the designs relevant to your business by selecting niche and color palettes. Do you need a tagline below your logo? worry not! Logaster has an option to include a tagline in your logo.
Once logos are generated, browse through them, pick the one you like the most and download the small size for free. However, you need to sign up and pay a small fee to download the large-size high-quality design of your logo.
Conclusion
In the real world, you might need a keen understanding of a design application with a tinge of branding knowledge. Logo designing is also one of the major sources of income for freelancers. The knowledge of the ideal color palette and the emotions associated with colors is essential to design a logo. However, you do not have to be a design expert when using online logo makers.
While some specific colors are associated with particular industries, some colors are not preferred by the designers. It is no longer the era of favorite colors, where customer perceptions were of utmost importance.
The knowledge required to create your logo is to have basic computer knowledge, creativity, and attention to detail. Most of these best online logo makers offer a bright idea and usage of color and fonts.
They provide various examples which help the consumers aesthetically connect with the product they want. There are numerous online guidelines and blogs available which can help you to attain your goal.