What we think about
Surfshark One
VPN

9
Alerts

7
Antivirus

8
Search

6
Alternative ID

8
Apps and Extensions

9
Pricing

8
User Interface

9
Support

9
Surfshark ONE combines multiple security tools like VPN, Antivirus, Alert, Search, and Alternative ID into a comprehensive package. The user interface and cross-platform availability are great. Overall, Surfshark ONE is a solid choice for diverse security needs.
Most internet users have security tools that help them stay safe while surfing the web. Often, the best security comes from a mix of these tools. But what if you can get the benefits of using multiple security tools from just one service? You may want to consider Surfshark ONE; this Surfshark ONE review will give you all the information to make an educated decision.
What is Surfshark ONE?
Surfshark One is a total security bundle that includes the following set of tools:
Surfshark VPN
Surfshark Alert
Surfshark Antivirus
Surfshark Search
Alternative ID
Note that Surfshark Antivirus is the latest addition to Surfshark's tool set and is only available to macOS, Windows, and Android users. Regardless of the OS, all apps share similarities and come with about the same set of features. We will explore some of these features later in the guide.
What is the Difference Between Surfshark ONE and Surfshark VPN?
This review explores Surfshark ONE which should not be mistaken for the Surfshark VPN program.
While the former bundles many applications, the latter is a single VPN app. The VPN app includes Military-grade encryption, DNS leak protection, a Kill switch, and Unlimited bandwidth. These features can also be found in the all-in-one app Surfshark ONE.
Getting Started With Surfshark One
Getting started with the service is quite straightforward. Once you pay for a subscription, you may use the online service or opt for the desktop app. We explore the payment options and plans later in this Surfshark ONE Review.
Using the Online Surfshark One Service
Follow the steps below to learn how to use Surfshark One as an online service:
Navigate to the Surfshark ONE website on your browser.
Input your credentials and click the Log in button.

Alternatively, click Continue with Google / Continue with Apple button and select your Gmail / Apple account to proceed.
Once logged in, you are greeted with three panes; A left pane containing the navigation menus for its services, a middle pane or dashboard, and a right pane showing a list of completed processes.
This user interface is intuitive and ideal for first-time users.
Installing the Surfshark ONE Application
On your browser, navigate to the Surfshark ONE page, scroll to the bottom, and click on your preferred OS.


Click the download button (in the screenshot below, we use Windows).

Double-Click on the downloaded file to start the installation, then click the Install button.

Once completed, click Finish, then click the Log in button.

Type your credentials and click Log in to have access to the tool.

The interface is divided into three panes; left, middle, and right panes. By default, you will land on the VPN option. A search bar on the middle pane lets you check for quick VPN connection locations, and on the right, you can change VPN locations and use the quick-connect button.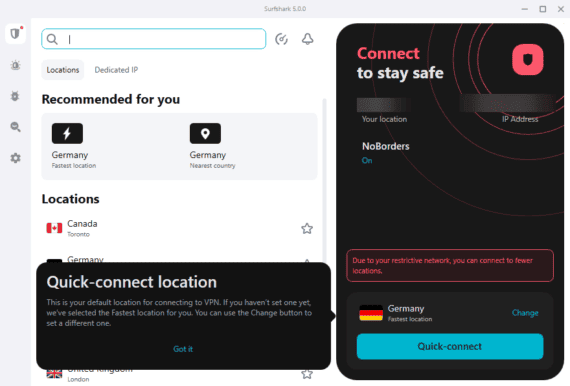 Features of Surfshark ONE
The Surfshark ONE service comes bundled with a complete stack of products to guarantee your computer safety and online privacy. Let us explore some of these products and give you our impressions.
1. Surfshark VPN
Surfshark VPN is one of the more popular tools in the bundle. The first thing we observed during this review is that it offers a great user experience, so even if it is your first time using a VPN, you almost intuitively know what to do.
One VPN feature that stands out is its MultiHop option. This feature lets you connect to multiple VPN servers from different countries. Surfshark offers pre-selected servers, but you can manually choose the servers you want to connect to, thanks to Surfshark Nexus. This gives you full customization and control over your VPN connection.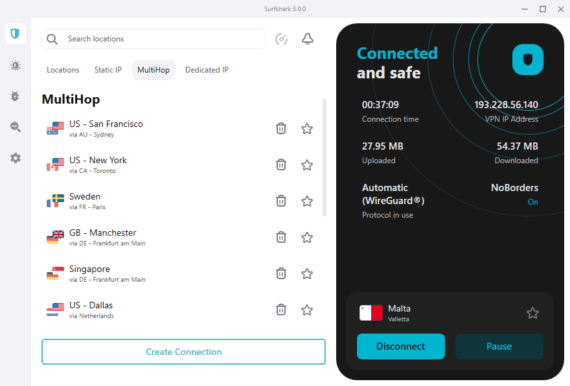 It also offers a Dedicated IP feature. This is an IP address that no one can access, and it will help you avoid blacklisting while remaining completely anonymous. If you enable the CleanWeb feature, it will block ads, trackers, and malware while you are using the VPN.
The VPN also comes with a Kill switch feature which is vital in disabling your internet connection to avoid the rare occurrence of IP leaks. But what we love about the VPN is the customization it offers for apps and services. With its Bypasser feature, you may choose specific apps, websites, or services you do not want to connect through the VPN.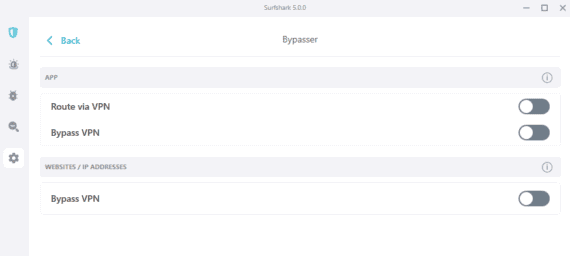 Its VPN offers multiple tunneling protocols, including OpenVPN (TCP), OpenVPN (UDP), Shadowsocks, and Wireguard. The Shadowsocks protocol effectively bypasses heavy censorship, but if you plan to stream or perform other heavy-duty online activities, you may opt for the WireGuard tunneling since it is the fastest of the options.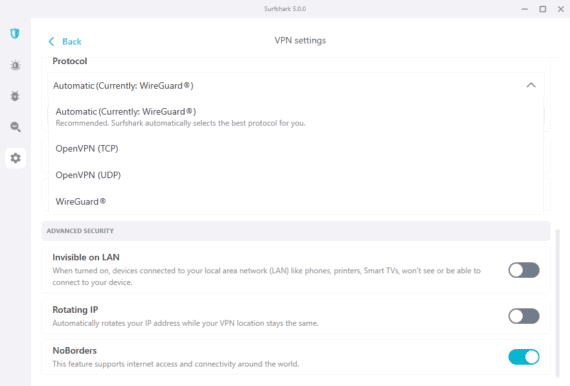 In this Surfshark ONE Review, we found the VPN option reliable and may be one of the major selling points for the tool. Its use goes beyond your PCs, macOS, and mobile devices. You may also use it for Chrome, Firefox, Linux, FireTV, Apple TV, Smart TV, Routers, and Consoles. What we find most intriguing is that with a single account, you may connect on multiple devices without any limits.
2. Surfshark Alert
Surfshark Alert is a security feature that comes with our Surfshark One bundle. This tool safeguards your sensitive information from unauthorized access by monitoring your online credentials and alerting you in case of any data breaches.
First-time users must set up 2FA using an authentication app or an email address. Once set up, it will provide real-time alerts if any of your sensitive information has been leaked or appears on other databases.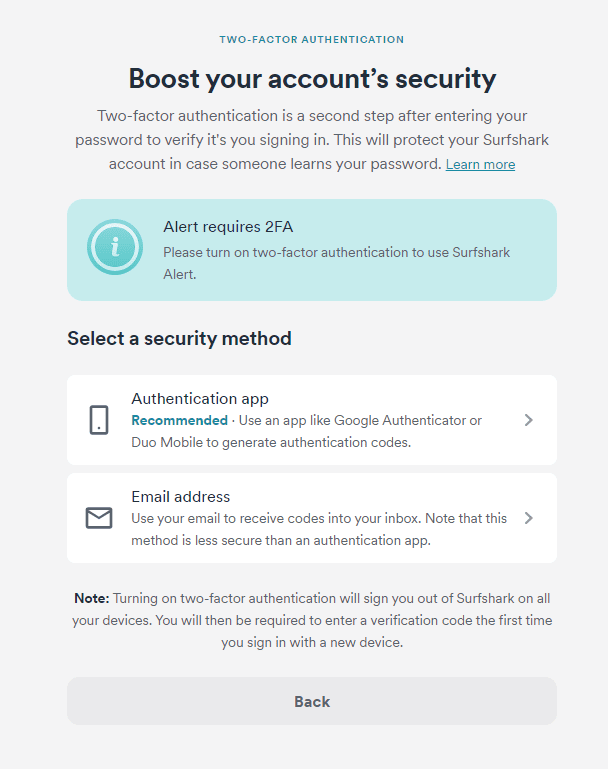 If you click on the email menu, you get an option to enter your email, and once you click Activate, you'll receive a code to verify that email, after which the monitoring will start.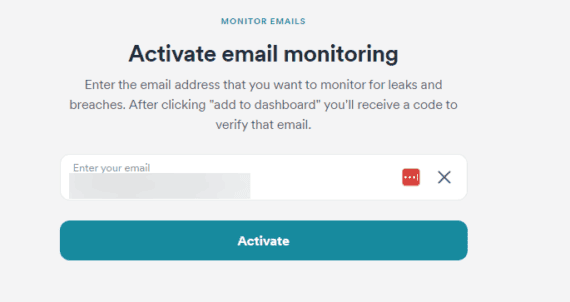 The process is similar for credit cards and IDs. We like how thorough its alert feature is, as you may find breaches that some other services may overlook. The process is also fast; it took us about two minutes to scan for our data. While some competing services tell you that you have a breach, Surfshark shows you the exact data that was leaked.
The feature works for emails, credit cards, and IDs. However, the ID scan is offered to a limited selection of countries, including the US, Lithuania, and Bulgaria.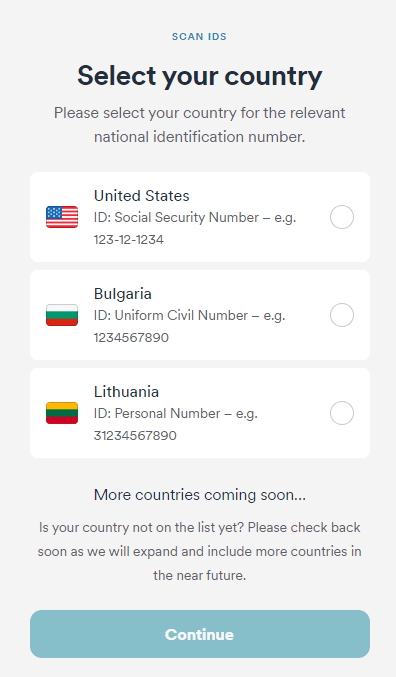 3. Surfshark Antivirus
You should click on the antivirus menu on the left pane to use Surfshark antivirus. If this is your first time using it on the PC app, you are required to make an additional installation. You may start this installation by clicking on the Install Antivirus button.
Note that you must uninstall any other antivirus on your computer before continuing the process.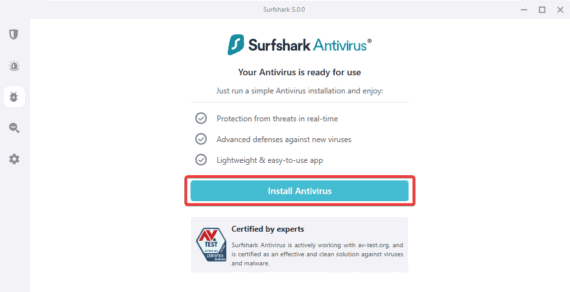 The antivirus gives quick or full scan options on the right pane. The full scan will go through every part of your computer and remove harmful files. We tested it on a 1 TB drive, and it took about 2 hours and 45 Mins to complete and used up 25% of our CPU during the scan. On the other hand, the Quick scan took just 7 minutes to complete.
At the end of the scan, we did not find any false positives, and this is good because you have a strong guarantee that only malware is eliminated during scams.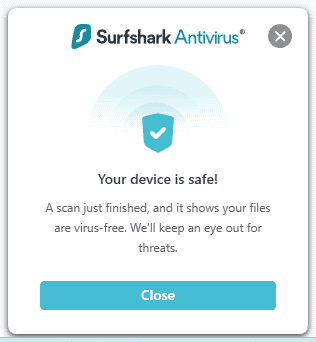 You will be able to edit some antivirus settings on the middle pane. For instance, you may toggle on the Real-time feature. This feature allows the tool to always check and protect vulnerable parts of your computer at all times.
We also love the antivirus feature because it allows customization of the Full and Quick scan options. So, you may set auto scans that run on specific days and preset times. The Quarantine auto-delete feature lets the system automatically get rid of quarantined files after 60 days.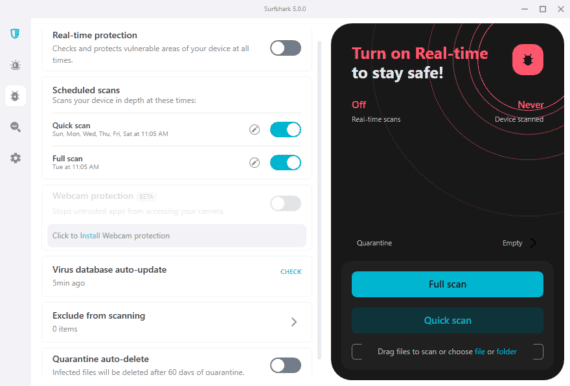 You may also manually update the virus database. We found this useful since an updated database protects against the latest threats. In all, the Antivirus feature of the Surfshark ONE app will compare well against most other antivirus programs.
4. Surfshark Search
The problem with traditional search tools is privacy concerns. With this Surfshark Search feature, Surfshark has provided a way to avoid privacy leaks, as is common with many search tools.
It searches for both video and text but never tracks your search history in the process. The feature also offers users an ads-free and no-logs experience.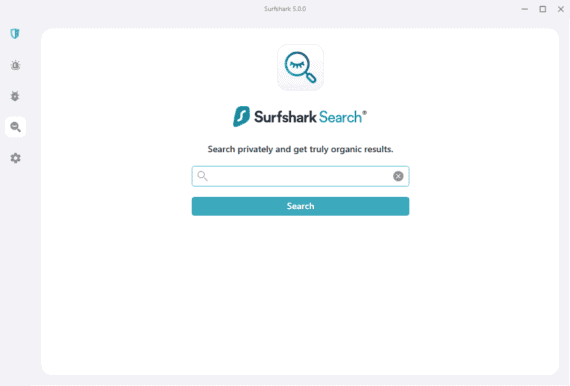 While using traditional search, you may notice that your search is tailored to the region you are searching from. This is possible because they detect the whereabouts of your device. With Surfshark search, you can choose the regions you need your search to come from or allow it to search from all regions.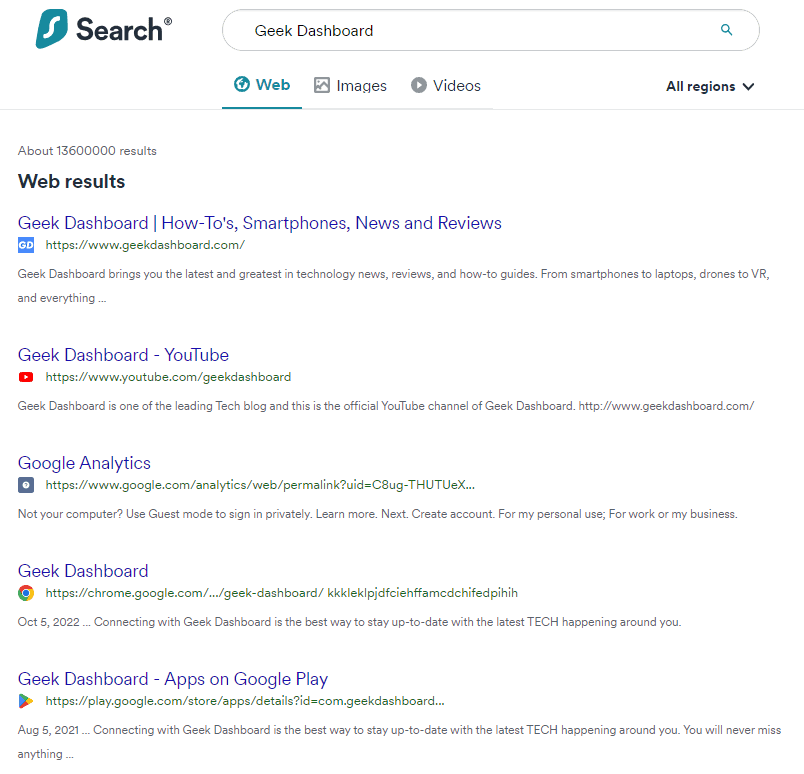 What we loved about this feature is that despite the secure features, it surprisingly brought very good search results on all queries.
5. Alternative ID
This feature is still in BETA, and while it is not available on the desktop app, you can use it with the online service on your browser.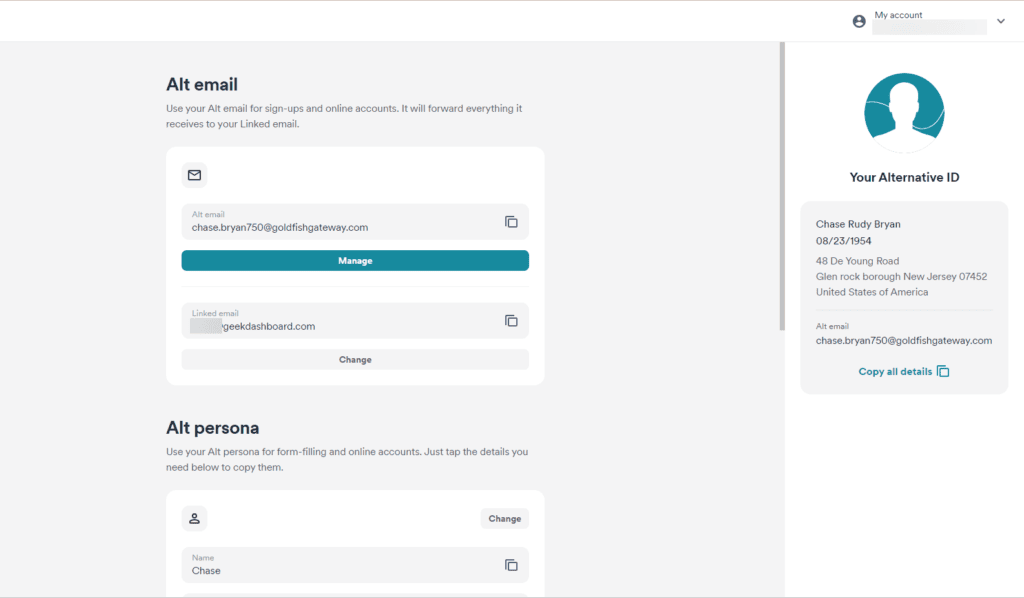 Alternative ID allows you to safeguard your personal information by using a different identity online. This feature enables you to have a separate email address for newsletters or a distinct persona for your social media, complete with a different name and address.
You may choose a randomly generated profile or specifically pick elements like country, gender, state, etc., for your social media persona.
These are the main features of the Surfshark ONE app. The PC and macOS apps are very similar except for some core OS design differences.
Using the Surfshark ONE Android App
We also tested the Surfshark ONE application on Android for this review. For the most part, we got an experience similar to using it on the PC. However, the Alternative ID BETA feature missing from the desktop application is available on the Android app.
To get the Android app, navigate to the Surfshark ONE website, scroll to the bottom, click on the Android option, and follow the link to get a version for your device.

Click the Download on Google Play option, then install the app. Once you log in, you will have access to all its features.

The main difference between the Android and Windows apps is the user interface. But in consistency with the PC app, we found it intuitive and easy to use. The VPN is a standalone menu option, while other features are bundled within the One menu.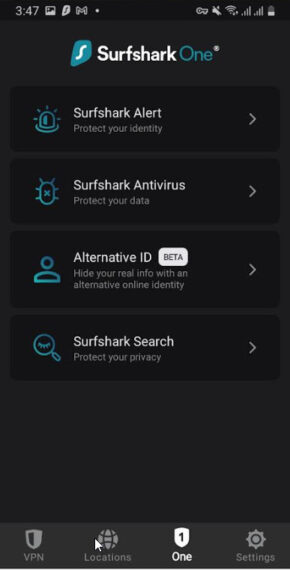 Using the Enhanced Browser Extension
Surfshark offers a Chrome, Edge, and Firefox browser extension that complements its standalone app. If you navigate to the app page on your browser, you will see options to download any of these extensions.

Simply click on whichever you prefer and click the Add button; in our test, we first tried it on the Chrome web browser.

By clicking on the Surfshark ONE extension icon, you will get a window similar to the desktop application. The main features on the left pane include VPN, Alert, Antivirus, Search, and Alternative ID. This interface also offers quick settings options for Ad blockers, Pop-up blockers, Data breach alerts, and Malware alerts.
This page also has a Quick-connect button for the VPN. Using this button will connect you to the nearest VPN server. You may visit the VPN tab to change your VPN server or use the settings menu to configure a new VPN option, just like you would on the Desktop app.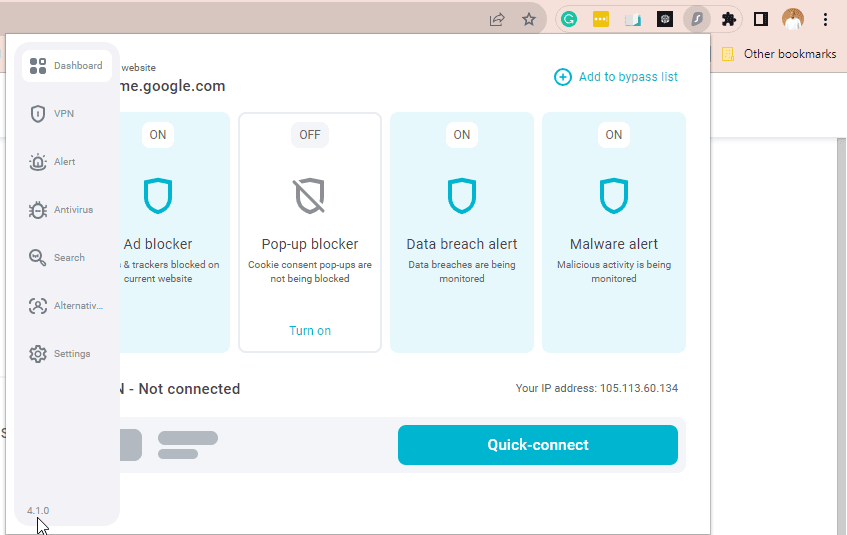 Turning on the Ad Blocker option shows the number of blocked ads on the websites you visit. We love the Data breach alert since it gives you real-time notifications when visiting sites that have fallen prey to breaches.
Surfshark ONE Pricing
Surfshark ONE, at the time of writing this review, had 3 pricing options, monthly, yearly, and 2-year payment plans. The plans are priced as follows:
| | |
| --- | --- |
| Plan | Price |
| 1 Month | USD 14.44/month |
| 12 Months | USD 5.48/month |
| 24 Months | USD 3.98/month |
You may, however, opt for the Surfshark ONE+ plans. The Plus plans come with two additional features, data removal from people search sites and data removal from company databases.
The latter will ensure no company has your email, and you can not be bothered with marketing and promotional emails. Alternatively, you can use Incogni from Surfshark for the same services instead of subscribing to the Surfshark One+ plan
The Plus plan is priced as shown below:
| | |
| --- | --- |
| Plan | Price |
| 1 Month | USD 25.2/month |
| 12 Months | USD 9.1/month |
| 24 Months | USD 6.84/month |
What are the Advantages and Disadvantages of Surfshark ONE?
Pros
Great VPN solution
Robust antimalware protection
Cross-platform use
Excellent privacy breach alert system
Cons
Not all features are available on all devices
The price compared to standalone VPNs is high
Our Verdict: Is Surfshark One Good?
You now have a broader understanding of this service after reading this far. However, we still want to conclude by giving our takes.
It packs many features for the price, and most people will rather cut costs by purchasing this all-in-one app than getting multiple separate applications. From our experience using the VPN, we put this feature at par with most other robust VPN solutions.
The search feature may seem a bit weird, especially for people used to traditional internet searches; however, the actual results are passable and probably come close to other privacy searches.
Surfshark ONE offers great services, and you will enjoy the same user experience across devices and operating systems.
We love to hear your thoughts, so please reach out to us in the comment section, and tell us if this product is a hit or miss.
Frequently Asked Questions
Surfshark ONE is an All-In-One security bundle offering a mix of tools for online safety and privacy. The tools include Surfshark VPN, Surfshark Alert for breach monitoring, Surfshark Antivirus for malware protection, Surfshark Search for private browsing, and Alternative ID to generate an alias for your online identity.
Currently, at the time of writing this review, Surfshark Antivirus is available only for macOS, Windows, and Android users.
Yes, you can use Surfshark ONE on multiple devices without any limitations. You can use the same account on Windows PC, Laptop, Mac, Android, iOS Devices, Chrome, Firefox, Linux, FireTV, Apple TV, Smart TV, Routers, and Consoles.
Surfshark Alert monitors the credentials and sensitive information (which you explicitly provide) for unauthorized access and data breaches. It provides real-time alerts if any of your data appears on unauthorized databases. It can monitor details like emails, credit cards, government-issued IDs, and more.
Surfshark ONE comes with 3 pricing plans: monthly, yearly, and 2-year plan. Additionally, there is also a Surfshark ONE Plus plan with additional features like data removal from online sites and company databases. The price starts at $3.98/month for a 2-year plan.
What we think about
Surfshark One