uBlock and AdBlock are the two most impressive AdBlockers to get rid of annoying ads. People choose uBlock over AdBlock and vice-versa based on requirements. Ads generate income for tech giants like Google, Facebook, etc. Let it be. But we have decided to put a full stop to that. We don't want any distractions, whenever we are surfing or downloading something. Let's dig deep into various aspects of uBlock vs AdBlock and choose the best one to block non-sense ads.
The following are the various differences between uBlock and AdBlock
Detected By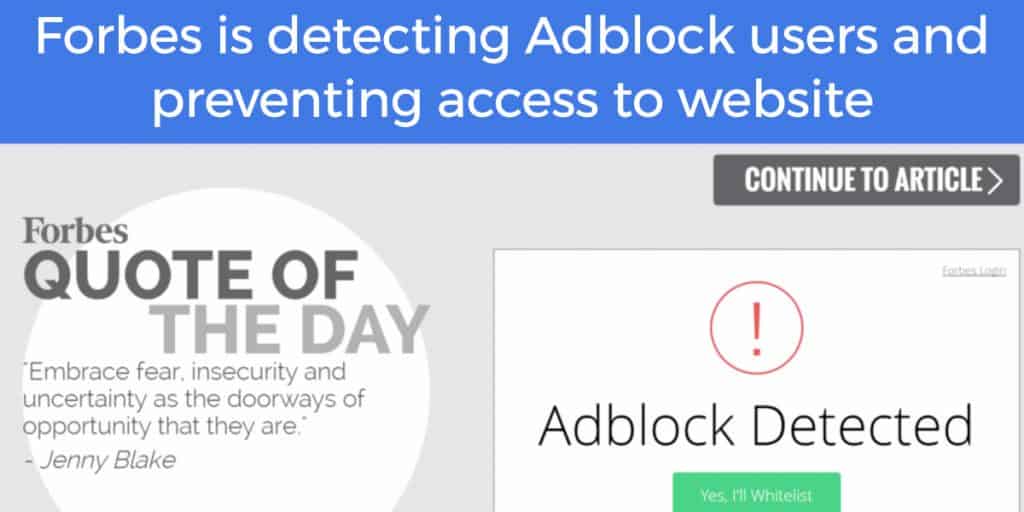 It is very usual that website owners disable the content for using ad blockers. This is a matter of survival for some people. Hence it is highly likely to use AdBlock detector scripts on page load. Can uBlock and AdBlock go undetected? No, it's not. Both of them belong to the category of ad blockers, even though uBlock doesn't mean it completely.
Verdict – Neutral.
Efficiency
Efficiency is of paramount importance to the users. If any adblocker failed to block annoying ads, then it can't sustain in the market. Let's illustrate a simple experiment conducted to measure the efficiency of both the adblockers.
A random URL of no choice is taken for the experiment. Here are the screenshots without any ad blockers, with uBlock and with AdBlock respectively.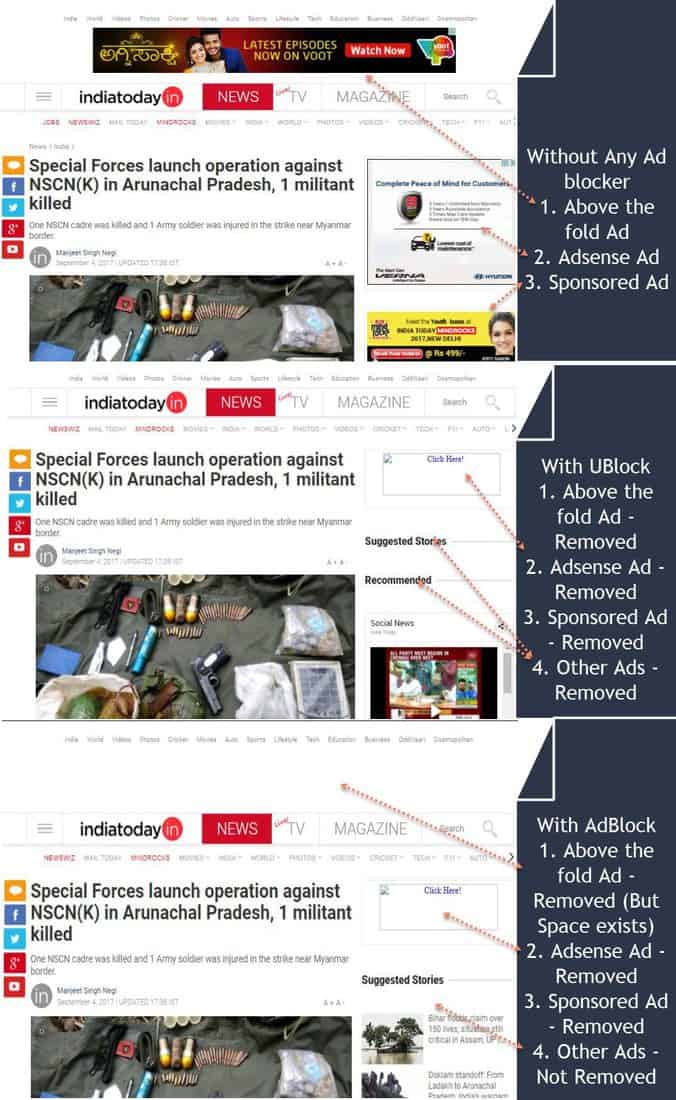 Interesting Conclusions:
AdBlock disabled the above fold ad, but it didn't chop off the space provided for it. But uBlock saved the space.
Adblock displayed the suggested stories column (ads by Taboola, an Ad Network). But uBlock blocked those ads too.
Verdict – uBlock seems more efficient in blocking the ads compared to AdBlock.
Memory Consumption
Memory consumption is the most important aspect of judgment. The task manager of Google Chrome proved that uBlock consumes less memory compared to the AdBlock. The one that consumes less memory helps in achieving faster and better results.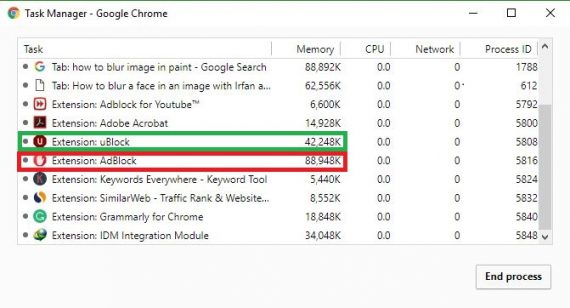 Verdict – In AdBlock vs uBlock contest, uBlock serves better than AdBlock with less memory consumption.
uBlock vs AdBlock – Privacy
Privacy seems to be the paramount importance of AdBlock (as stated on the official website). But uBlock didn't mention anything about privacy on the official site. This seems a bit suspicious, as we can't take anything for granted.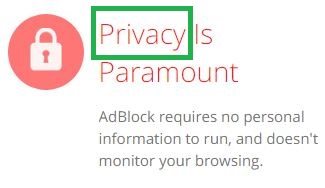 Verdict – AdBlock gets a slight margin in this aspect.
UI – User Interface
UI seems simple in uBlock when it is kept open. But it lacks the details. Most people won't bother about the details. User interaction takes at most priority. While using the AdBlock, pausing and unpausing the ads seems very easy. This is because of the auto-refresh feature of AdBlock. Unlike AdBlock, uBlock needs a click on the refresh icon.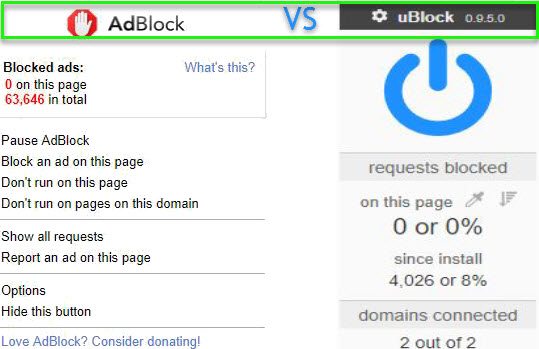 Verdict – When it comes to uBlock vs AdBlock, AdBlock wins the contest without any hesitation.
uBlock vs AdBlock – Updates
Updating itself to the user requirements is one of the decent quality any software possesses. Software without any update will be either crippled or perfect. Having said that, a perfect adBlocker is yet to be available in the market. AdBlock is the only software that is next to perfection as of now with frequent updates and great audience understanding.
The most recent update of AdBlock was found to be on August 14, 2017, while the other was happened to be on June 2, 2015. So as of now, the software that is updated long back seems to be less trustworthy.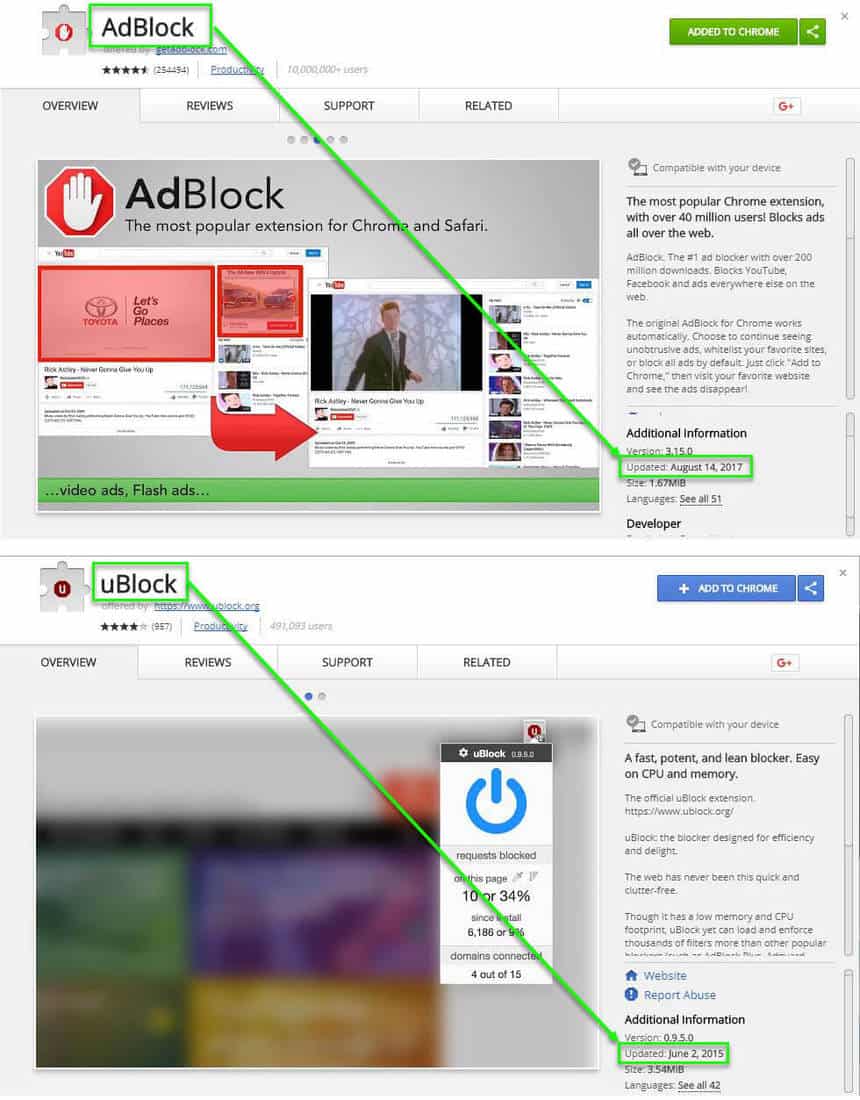 Verdict – With timely updates and massive user understanding, AdBlock is truly adorable.
Settings
As a general user, one may not be concerned about changing the default settings. But as a pro user, one will try to fiddle with the settings. Hence uBlock is the perfect place to optimize the settings, considering the massive options provided by it. AdBlock seems pretty unlucky here.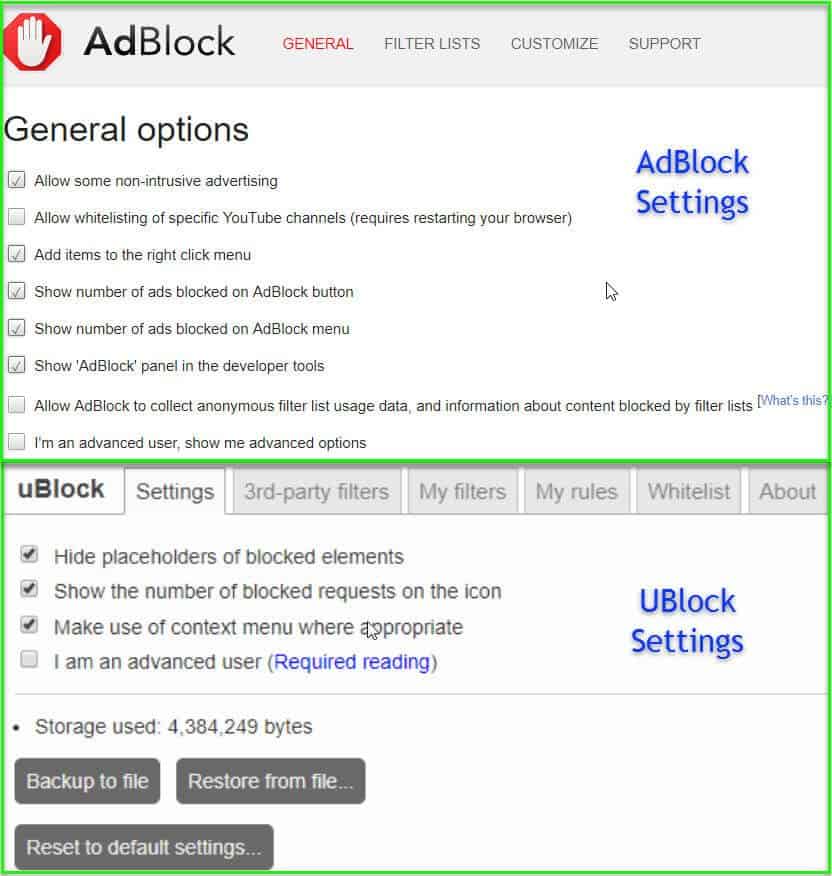 Verdict – uBlock clearly had an upper hand in the aspect.
Availability
Omnipresence is the premium feature possessed by any software. The software which is available on multiple platforms is highly valued and trustworthy. AdBlock is available on various browsers like Chrome, Safari, Microsoft Edge, Opera, and Firefox. The competitor looks mean with its availability on Chrome, Safari, and Firefox.
| Browser | AdBlock | uBlock |
| --- | --- | --- |
| Chrome | Yes | Yes |
| Firefox | Yes | Yes |
| Safari | Yes | Yes |
| Microsoft Edge | Yes | No |
| Opera Mini | Yes | No |
Verdict – AdBlock outsmarts its competitor by a great margin.
uBlock vs AdBlock – Rating
Most of the people are desperate in rating in two situations. One is lost and the other is the gain. Either awesome or awful will reflected on the rating. Since chrome seems to be the most popular browser, the rating on the chrome store happened to be 4.55 stars for AdBlock. Unfortunately, the competitor has 3.8 stars.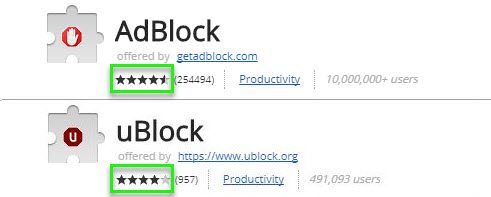 Verdict – AdBlock is loved by the users, whereas uBlock is liked by the users.
Users
The number of users is taken priority when it comes to relevance. Most downloaded and most used software can sustain forever in the market. This is the same with AdBlock. With over 40 million downloads and 10,000,000+ users, AdBlock clearly outsmarts the opponent.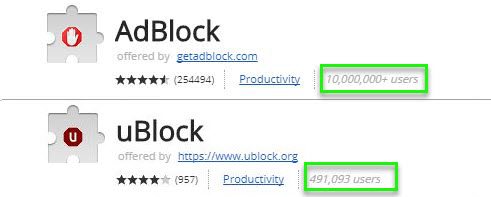 Verdict – AdBlock has the upper hand.
uBlock vs AdBlock – Size
Yeah, Size matter a lot. Anything of lesser size and more productivity is highly entertained. To be precise, the size of AdBlock is 1.67 MiB. The size of uBlock is 2 times greater than AdBlock (3.54 MiB).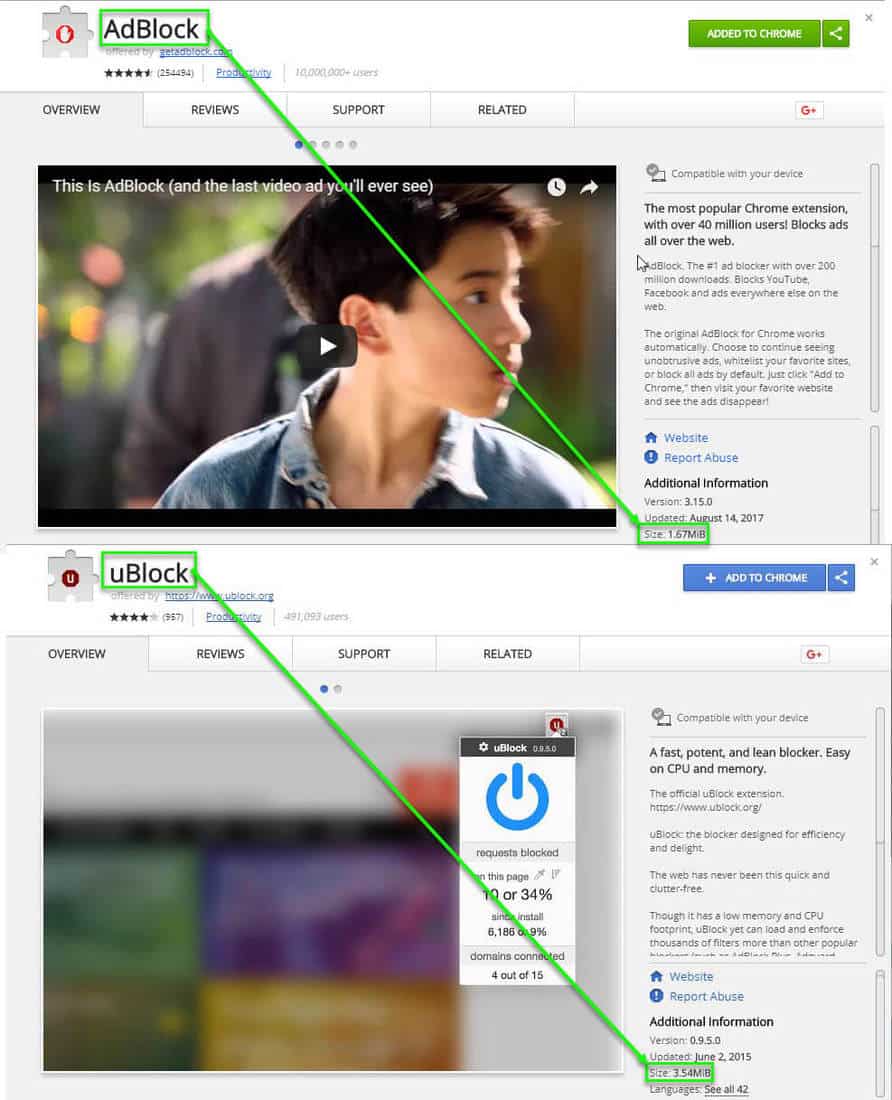 Verdict – The clear winner is AdBlock.
Interesting read: Reddit discussion happened on the recent poll about uBlock Origin vs  AdBlock Plus (conducted by Firefox). Get key insights from way back war between AdBlock Plus and uBlock origin on Reddit.
Final Words
After the complete understanding of the differences between uBlock and AdBlock, let's put an end to uBlock vs AdBlock. With more than seven wins, AdBlock seems to be a standout performer.
| Category | Winner |
| --- | --- |
| Detected by | Tie |
| Efficiency | uBlock |
| Memory Consumption | uBlock |
| Privacy | AdBlock |
| User Interface | AdBlock |
| Updates | AdBlock |
| Settings | uBlock |
| Availability | AdBlock |
| Rating | AdBlock |
| Active Users | AdBlock |
| Size | AdBlock |
Analyzing those critical aspects where AdBlock lost, uBlock seems to be exceptional. Choose the aspects which are critical to you and consider our verdict for that. You must end up this war (uBlock vs AdBlock) and install the one which suits your purpose.