After the advent of Smartphones, Smart TVs, and Smart Homes; it is time to embrace the new trend of Smart Offices. Trade pundits have already declared that the smart offices' industry will cross the $43 billion mark by 2020. It means that the smart offices' concept is picking up hard and fast. Companies, whether small-scale or large enterprises are embracing this new trend and taking the productivity level of the firm to a whole different level. Lately, Tata Teleservices has launched its own SmartOffice technology. SmartOffice by Tata Teleservices is an advanced single box technology which is embedded with exciting features such as Voice, Data, Storage, and Apps.
What is a Smart Office?
Workplaces have drastically changed over the past 3 decades. With the IT boom and the advancement in technology, the productivity rate has increased and the overall infrastructure of the workplaces around the globe have become more technologically progressive and still growing.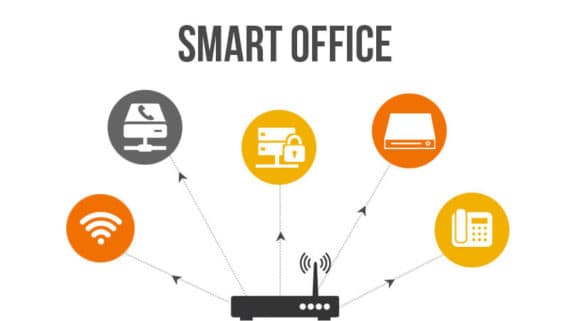 The office tools and equipment are getting smarter as we speak. As the computers and later laptops took the world by storm, the smartphones emergence brought the offices into our palms for the first time. Today, the trend of smart offices is enabling companies to work better, smarter, and faster.
Companies that don't come on board and embrace the new trend of smart office will lag behind by 2020. This is the right time to welcome this change and enable smart office technologies at your workplace as well. Currently, the SmartOffice by Tata Teleservices offers one of the best and promising smart office tools that will take your productivity level to a whole different scale.
Excellent smart office tools can let companies enable smarter ways to perform menial tasks in a better and productive manner. Firms can power up beacons, sensors, and mobile apps to enable smart identity management, logging systems, and simple time management. Such a rise in productivity can help companies grow and innovate to work and progress in the right direction.
Top Benefits of Smart Offices
While adopting the smart office trend can fetch your business a lot of benefits, here are a few important ones that you mustn't ignore. Here's how setting up a smart office can help your business grow exponentially:
Increases Productivity
Better Cost Control
Insightful Usage Analytics
Leverage of Cloud Computing
Developing a Smart Brand
Improved and Unified Communication
Time-Saving
Better Work Environment
SmartOffice by Tata Teleservices – A brief introduction
The basic concept of Smart Office is to offer a smart solution where the company doesn't have to invest in multiple devices for connectivity and other technology-related needs. Multiple devices invite chaos in terms of placement, wiring, configuration, etc.
On the other hand, the SmartOffice from Tata Teleservices brings in a single box that fits all the latest technologies on a single device. With this SmartOffice box, the company can access services such as Voice, Data, Storage, and Apps from a single device.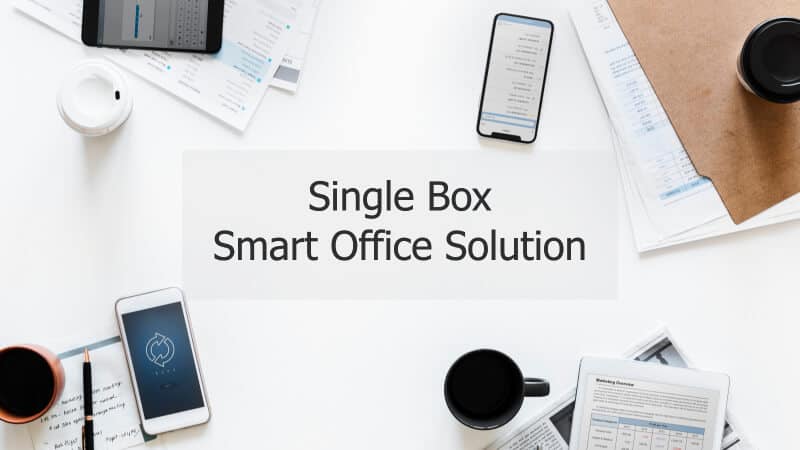 Whether you are starting up a new office or a branch office at another location; all you need is the SmartOffice as it eliminates the hassle of investing in multiple devices and finding service providers for each service needed in an office in this digital age.
Advantages of SmartOffice Solutions
This is the age of smart solutions and a company that doesn't invest in SmartOffice technology is actually losing big in terms of money, time, and resources. Installing or configuring your office space with SmartOffice setup is the wisest thing to do today in order to stay ahead of the curve.
Here are some advantages of installing a SmartOffice solution at your workplace:
1. One-device for all
No need to spend anything extra on multiple hardware as a single unit will work for multiple services. This innovative single boxSmartOffice unit is capable of enabling Voice, Data, and Storage services seamlessly. No need to invest into any hardware thus no risk of obsolesce.

2. Industry's first SLA-backed SIP Trunk for advanced voice connectivity
The major problem faced by companies with VOIP services is the quality of the voice connectivity. The SmartOffice powered by Tata Teleservices comes up with the Industry's first SLA-backed Session InitiationProtocol Trunk which enables advance voice connectivity. Tata Teleservicescommits to maintaining service availability of 99.5% or more every quarter and extends the service credit if it fails to live up to such commitment.
3. Dedicated bandwidth
No need to struggle with shared internet connectivity anymore! SmartOffice by Tata Teleservices offers dedicated bandwidth for eachbox connection which guarantees high-speed internet.
4. Cost Savings
Don't worry about any extra costs or any overheads such as AMC for maintaining the technology infrastructure at your office. SmartOfficeby Tata Teleservices also saves you a good sum of money annually on AMC and other repairs
5. A complete Managed Service
With multiple device setup, you need a repair guy or a trouble-shooter for every service. Well, the SmartOffice by Tata Teleservices is a fully managed service where you have a single point of contact for all your problems related to troubleshooting or service.
Features of SmartOffice by Tata Teleservices
SmartOffice is loaded with a bunch of excellent features that makes the device a must-have technology at every office. A single device with all these amazing features is ideal to convert your office into a smart workplace enabling increased productivity and intelligent resources management.
SmartOffice is an award-winning single box solution crafted to meet all the communication requirements of your businesses. It gets your voice, data, apps, and storage. No more juggling with multiple devices and application providers.
It comes with zero cost state-of-the-art hardware equipment that is an advanced IPPBX that can support up to 96 extensions (32 analog and 64 IP), In-built WiFI, DHCP, Firewall, 8 Port LAN Switch, and USB port and SD card for external storage.

SmartOffice also has bundled audio conferencing services to collaborate with your teams and Toll-Free number to engage with your customer. SmartOffice hardware enables you to record all incoming and outgoing calls. It also have a IVR to greet your callers with your signature message like "welcome to ACB enterprise' rather than boring tring tring. Check our video on SmartOffice equipment for more info on capabilities of the state of the art hardware that you get without spending any extra capex or opex.
You can get office applications like Document management system to create a centralised file repository, streamline workflows and collaborate securely
Since customer is your single most valuable asset and you get a powerful CRM bundled with SmartOffice. It help you to identify, understand, and assist your customers so that you don't lose revenue due to incomplete customer data.

What more, you can also add various IP and SIP based accessories as per your choice
This affordable, reliable, easy to deploy and maintain solution makes it a perfect decision for those looking to start a new office
Also Read: How to view accidentally cleared office notifications on your Android smartphone
1. One box for all Telephone lines and Internet Connectivity
Now, there's no need to get multiple devices or configure router setup for telephone line and internet leased lines. The intelligent and innovative SmartOffice technology from Tata Teleservices can do it for you. The single box SmartOffice is all you need to manage your Telephone lines as well as internet connectivity.
2. Offers support for both IP and Analog phones
If you are managing a modern-day IT-enabled office anywhere in the world, you will know the importance of VOIP phones. SmartOffice is equipped with technology that supports and enables infrastructure for both IP and Analog phones. Such an exciting feature can turn any office into a smart technology hub in this digital age.
3. Inbuilt Wi-Fi, Router, Firewall, and DHCP Server
There's an inbuilt Wi-Fi, a Router, a Firewall, and DHCP Server in the SmartOffice powered by Tata Teleservices. No need to invest in multiple devices anymore when you can get all these advanced gadgets in a single box with simple and easily configurable plug-n-play options.
4. Abundant Cloud Storage
Tata Teleservices understands the demand for cloud storage today and the convenience it offers when you are managing multiple offices spread across a country or around the globe. Hence, it offers 500 GB free cloud storage with each SmartOffice solution. Enjoy for free 500 GB cloud storage and take your digital reach to a different spectrum.
5. Excellent User Interface
SmartOffice by Tata Teleservices features an easy-to-use simple user interface which lets you easily configure and enable the services with just a few simple steps. The simple plug-and-play features let anyone evenwith basic IT knowledge to operate and manage the entire office from a singlebox access.
Over to you!
If you are planning to develop a smart office, then you must invest in the SmartOffice powered by Tata Teleservices to get started. It is currently one of the finest smart office tools which pack all the necessary services in a single innovative box.
Increase productivity at your workplace, manage your and staff's time better, schedule the work systematically and help your clients communicate with your team seamlessly without any technological error or interference. All this is possible now by installing a single smart office tool such as SmartOffice by Tata Teleservices.