After the launch of the much-hyped new swifter and lighter avatar of the long living Internet Explorer, many Windows users were disappointed by the fact that they were unable to run Microsoft Edge browser on Windows 7. Since the release of Windows 10, Windows users around the globe are curious about the new default web browser Microsoft Edge built for the latest Windows OS. However, despite the buzz, Microsoft didn't release any version of their new browser for their previous Windows releases. Many Windows 7 users are trying to get their hands on the new browser and looking for ways to run Microsft Edge Browser on Windows 7.
Windows is, after all, the most widely used desktop operating systems around the globe. Yet, the Windows users never showed the same loyalty towards Internet Explorer, the default web browser on Windows for decades. Having realized that, Microsoft did something unimaginable with the release of Windows 10. They replaced the default Internet Explorer with a whole new, lightweight, faster web browser, Microsoft Edge.
However, this new Microsoft Edge browser is not available for earlier Windows versions, especially Windows 7, despite the fact that Internet Explorer is still available for Windows 10. Considering the fact that not every Windows user has made the shift to the new Windows 10, this move from Microsoft comes as a surprise.
According to StackOverflow's recent "Developer Survey Results 2016", Microsoft Windows owns the 52.02% of the total Desktop Operating System market share, out of which 22.5% are Windows 7 users, whereas Windows 8 users occupy 8.4% of the market share.
Now I wonder why Microsoft wouldn't bring their latest Edge browser on other popular versions of Windows in use. Maybe, Microsoft doesn't want its users to get stuck on Windows 7 ecosystem but upgrades to Windows 10. However, that seems unlikely as it will not be a free upgrade.
So, is there any solution that would let the Windows users run Microsoft Edge browser on Windows 7?
Yes, there's an option and you can use that directly from the official Microsoft website.
How to Run Microsoft Edge Browser on Windows 7?
Well, there's a good news for all the Windows 7 users as there's a way to install the Microsoft Edge browser on their Windows 7 machine without the requirement of upgrading to Windows 10.
To get a taste of Windows 10 and the much-hyped Edge browser, Microsoft has launched Virtual Machine images such as Hyper-V, Vagrant, VMWare, and Virtualbox for its developers. All these Virtual Machine images have pre-installed Windows 10, in addition to the Microsoft Edge browser.
Step 1:
Simply visit the Virtual Machines page on Microsoft's official website.

Step 2:
Choose the Virtual Machine from the drop-down options. In this case, "Microsoft Edge on Win 10 Stable" will be the most appropriate one.

Step 3:
Select any platform the second drop-down option. You can choose any option from the list and a box containing the link to download the zip file will appear on the right side.

Step 4:
Click the "Download.zip" button and the download will begin.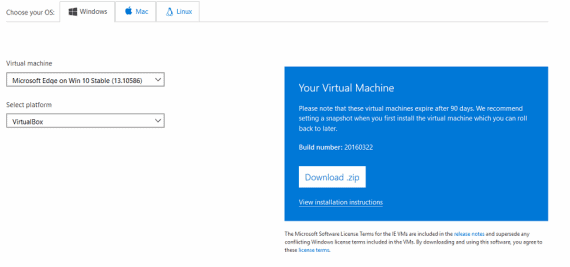 Things to Know Before Your Run Microsoft Edge browser on Windows 7
Remember that, each Virtual Machine image that you find on the downloads page comes with pre-configured Windows 10, in addition to the Microsoft Edge browser. However, each Windows 10 Enterprise edition will be active for a 90-day trial period. This can be extended to 180 days if you save an extra copy of the Virtual Machine image and use it once the initial trial is expired.
You must know that any data saved in the Virtual Machine will be deleted or gone, once the trial period expires. Hence, it is highly recommended to backup your data from the Virtual Machine on a regular basis.
Besides Windows 7, you can also run these Virtual Machine images on Windows 8 or Windows 8.1 operating systems. If you are a Linux or Mac user, you can still run these Virtual Machines on your device by using the right image file from the Microsoft website.
Over to You!
These Virtual Machine images are basically for Windows developers to get their hands on Windows 10 and the all new Microsoft Edge browser. However, regular users can also take advantage of these platforms to try out the new Windows 10 and its latest Microsoft Edge browser.
Considering the fact that Windows has upgraded to the next level, there is no way they are going to release the Microsoft Edge browser for Windows 7 platform. Well, there's nothing to worry anymore as you can run Microsoft Edge browser on Windows 7 easily by following the steps discussed above.
Also Read:- How to fix Critical Error  – Start Menu and Cortana not working in Windows 10
Let us know your feedback and queries while you run Microsoft Edge browser on Windows 7 as instructed in this article. Also, feel free to share if you come across any other way to install and run Microsoft Edge browser on Windows 7 platform.