Easy File Locker from XOSLAB is a lightweight and easy to use file locker software for Windows devices. It helps you hide your important and sensitive files/folders for everyone accessing your system. To view the protected files and folder again, you need to open Easy File Locker with your password and select "Stop Protection" option. Without entering the correct password it is not possible to unhide the hidden files. If you forget the password, you literally locked yourself as this tool doesn't have any option to reset the password. Don't worry, if you lost or forget password, there is still a way to retrieve the files from Easy File Locker without entering your old password.
You might have already noticed, after installing Easy File Locker software, you just need to enter your password twice. It doesn't ask any security questions or recovery email to reset the password if the user accidentally lost their password. This clearly says Easy File Locker has no official way to recover or reset the lost password. Also, developers of this tool didn't care about security and luckily, it is our lifesaver.
We need to just delete one single file and reinstall the software to reset Easy File Locker password without any data loss. It takes you less than 5 minutes to remove and set the new password of your choice.
At the time of writing this article, the latest version of Easy File Locker is v2.2. Developers might fix this security flaw in the coming updates or they might ignore the flaw if it is intentional.
Step by step guide to recover Easy File Locker Password
When you install Easy File Locker on Windows and configure your password, this tool has to store the password somewhere to validate it next time. Technically it is creating ".dat" file which stores your password. Obviously, it is not possible to read it's file contents to view the password. So here is the simple way to reset the password of Easy File Locker and access the hidden files:
Step 1: Delete user.dat file
To reset Easy File Locker password, you need to delete "user.dat" file permanently at C: > Users > Public > Public Documents > EFL.
Right click on "user.dat" file and select "Delete". Once you delete the file, you need to empty the Recycle Bin as well.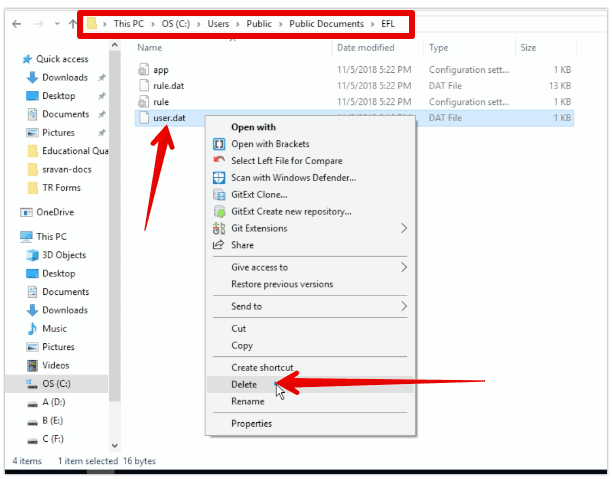 Here "C:" in the above path represents the operating system installation drive. If you install the OS on a drive other than C:, you need to open the EFL within that drive.
On few devices, Public Documents folder will be named as Documents.
Step 2: Reinstall Easy File Locker
Download Easy File Locker and double click on the installer file to reinstall the software. You should NOT uninstall the existing Easy File Locker software. Just install it again by following the basic on-screen instruction to overwrite the previous configurations. Reinstalling Easy File Locker will create a new user.bat file in EFL directory.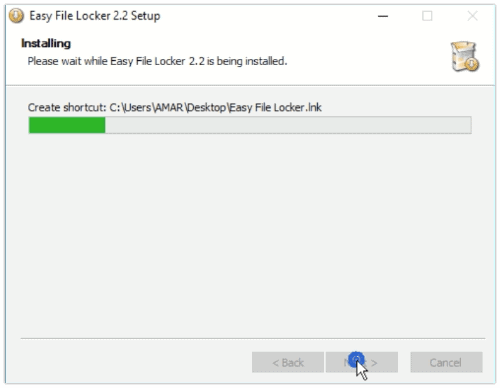 Step 3: Stop Protection to retrieve hidden files and folders
After installing Easy File Locker once again, you need to open the software by double clicking on the shortcut icon created on the desktop. Double-clicking the icon will open the tool and list all your hidden files and folders without entering your lost password.
In order to unhide all protected data and access it normally, click on "System" and choose "Stop Protection".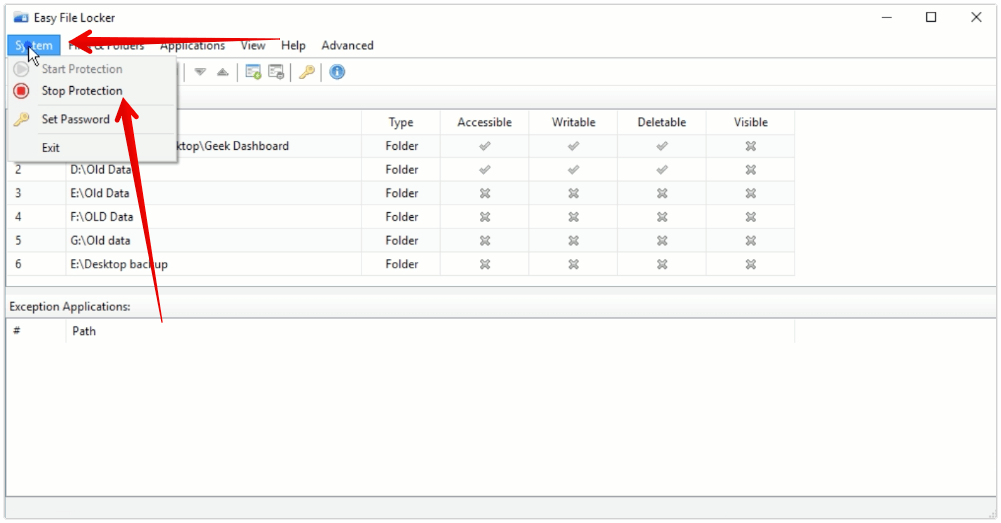 Step 4: Set a new password
By now you got access to your files without entering the actual password and now you need to set a new password. To reset Easy File Locker password, click on "System" and select "Set Password". Enter your new password twice and click OK to confirm the password.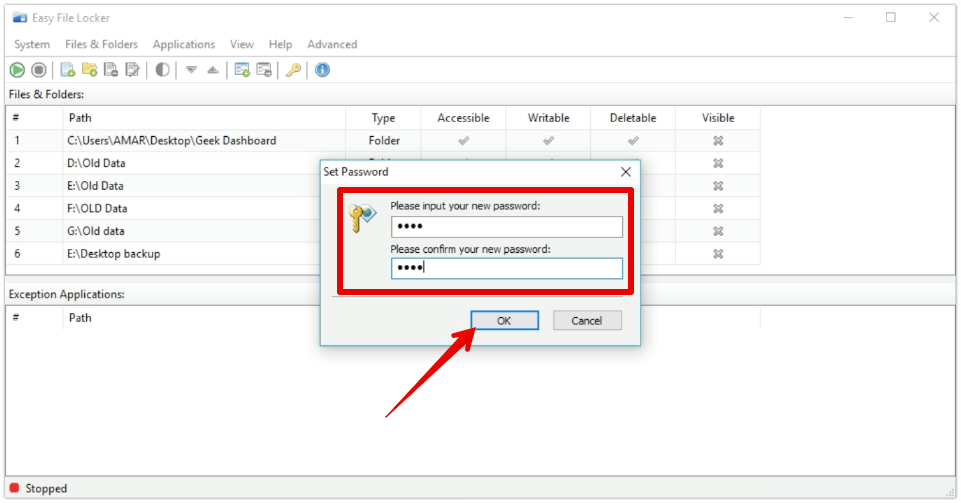 To protect your files again with the new password, click "System" and select "Start Protection". When you start the protection, all files and folders listed in Easy File Locker are hidden for all users including Administrators.
Reset Easy File Locker Password Easily
The above method is tested and proven with Easy File Locker v2.2 on 64-bit Windows 10 operating system. It will also work on older versions of Windows and Easy File Locker as well. If this method to reset Easy File Locker didn't work for you, you can try rebooting your Windows machine in Safe Mode. Once you enter the Safe Mode, all files and folders hidden with Easy File Locker will be shown normally. But you can not edit or view them. To access those files, you need to copy them to some other folder and reboot the device in normal.
Do let us know in the comments section below if you know any other way to view hidden files and reset Easily File Locker password without deleting the user.dat file and booting in Safe Mode.