What we think about
Hetman Partition Recovery
UI

10
Price

9
Support

9
Updates

9.5
Functionality

9.5
Hetman Partition Recovery software helps in retrieving and recovering lost or deleted files. It can search and restore all type of file formats.
Data recovery software is the need of the hour in this digital age. We have almost every important data, whether personal or professional, stored on our computers, laptops or external storage devices. Hence, it always comes handy if you have data recovery software at place to retrieve lost files. So, today we have Hetman Partition Recovery Commercial Edition 2.5 for review. Hetman Partition Recovery software is a product development Hetman Software, a firm that has established a name for itself with quality data recovery products.
Well, if you think the files stored on your hard disk or any other external storage devices are safe, then you are just ignoring the potential risks involved with disk storage. From my own personal experience, I would warn you that there are many random issues out there like ransomware that could end up losing your vital data on your hard disks. Simply storing the files on your system or any external hard drive for that matter doesn't guarantee the security of data. You should also consider taking regular backups of important data. Now, if you are facing some data loss issues and looking for some data recovery solutions, then Hetman Partition Recovery program is undoubtedly one of the best bet out there to recover deleted files easily.
More About Hetman Partition Recovery Software
This program is developed by Hetman Software, which I already mentioned before. The company was established in 2006 and is well known for its data recovery products. Currently, it has branches across four different countries that comprises of United States, Canada, Russia and Ukraine.
Hetman Partition Recovery program is designed to help its users to retrieve their important files which were lost either by accident, during drive formatting or because of malware attacks. Once installed, this amazing recovery software would scan through your storage device whether hard disks mounted on your computers/laptops or external storage drive, and recover each and every file that got deleted.
After recovery, you can save all the retrieved files on a secondary external hard drive without compromising on any data or content loss during or after the process. So, without wasting much time, let's get on to the Hetman Partition Recovery review and see how the program actually works.
Hetman Partition Recovery Review
There are times when you lose your valuable data from your computer or external hard drives because of multiple reasons. Most of these times, if you are lucky enough, then you may find the deleted files in the Recycle Bin but sometimes you don't and start believing that the files are lost forever.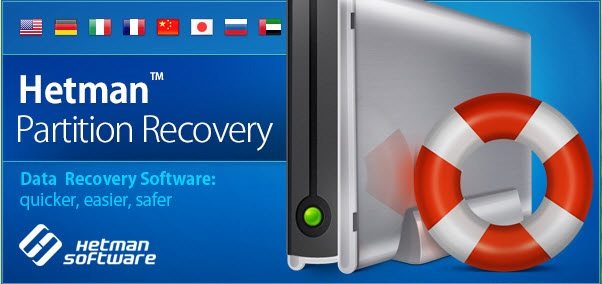 However, if you don't find the files in the Recycle Bin, then you shouldn't be giving up completely on such valuable data because there are several programs such as Hetman Partition Recovery Commercial Edition 2.5 that could be your shining Knight in Armour during such unfortunate scenarios.
Basically, Hetman Partition Recovery program is designed to restore information from any damaged FAT and NTFS disks. The program is well equipped to recover the original file and folder structure of any FAT or NTFS hard drives and helps in retrieving any lost data. Most importantly, this program doesn't just recover files from existing partitions but it is also capable of retrieving all previously created volumes.
The program supports all FAT and NTFS file systems across any Windows platform, including the latest Windows 10.
Important Features of Hetman Partition Recovery Program
Hetman Partition Recovery program offers an array of different features that helps in recovering lost data from a variety of different storage devices based on FAT and NTFS file systems.
Let's look at each feature one by one
Supports Different File Formats
As mentioned earlier, Hetman Partition Recovery software is designed to restore and recover files from any FAT or NTFS file systems. Hence, it covers all the important file systems mostly found on a Windows machine. With this program, the user can retrieve any data loss irrespective of its file format as Hetman Partition Recovery program is well equipped to restore file types such as documents, pictures, media and archives. With the help of comprehensive content-aware analysis, the program can even locate and restore those files that have no trace at all on the disk.
The file formats supported by the program are as follows:
All documents under Microsoft Office or Open Office formats
Any digital picture or raw image stored on the disk
All kinds of presentations or spreadsheets documents
Any important audio or video files from an array of different formats such as MKV, MP3, MP4, MPG, VOB, AVI etc

Also supports important zip archive formats such as ZIP, RAR, etc.
Supports Different Storage Devices:
Hetman Partition Recovery program can retrieve data from any hard drives, irrespective of its models whether it supports IDE, ATA, SATA, or SCSI. Besides hard drives, the program can also retrieve lost data from popular memory card formats such as SD, SDHC, SDXC, micro SD etc. Hence, you can also recover from any data loss on your important mobile devices such as MP3 players, Smartphones, Tablets, Digital Cameras, as well as many other devices using external memory card storage options. Almost every important brand producing memory cards is covered by Hetman Partition Recovery program.
User Interface: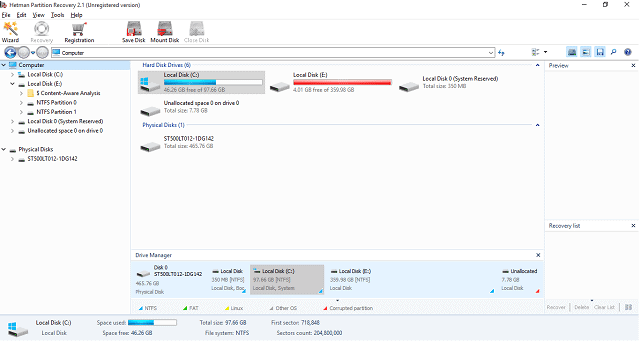 Most importantly, Hetman has been successful in developing a great data recovery program supported by a easier UI. Realizing the fact that not every user is tech savvy, it seems like the team at Hetman Software has given a lot of attention on the ease of use for the program. Once installed and open, the program displays an identical file explorer same as your default file explorer system on your Windows machine. All you need to do is select the particular drive or hard drive partition that you wish to scan for lost files, choose a recovery mode and the program will start scanning the drive to recover those lost files. The duration of the scan depends upon the size of your hard drive, so if it's a large files system, then you may have to wait a little longer to recover your important documents or files.
Data Recovery Engine:
The basic core of the Hetman Partition Recovery program is its Data Recovery Engine. The whole process of recovering and restoring files or disk volume is based on the three set modes powered by the Data Recovering Engine. The first is File System Analysis, where the program will try to collect all the information of the lost files scattered or at times fragmented across the disk and analyze the file structure in order to reconstruct the file and retrieve data.
Next is the File System Scanning mode, where the program uses comprehensive algorithms that allow the program to locate the file systems or their backup copies and helps in rebuilding the original file and folder structure. The third and final mode involves Full Disk Analysis with Signature Search that enables the program to recover irretrievable files using content-aware signature search.
Pre-Recovery Preview:
Once the program has recovered the lost data, it will preview the deleted files in two different modes and the user may choose from an easy to use Visual Mode or an advanced HEX mode to preview the recovered data.

Restoring Lost Files:
Now, there is no set time or duration that you can set to recover the data on your Windows machine or any other external storage device. Hetman Partition Recovery program is designed to recover all possible deleted files and reconstruct the original file and folder structure for its users. No matter how helpful that may sound, at times it could be a hassle because there won't be enough free space available on your system to save the recovered data.
Hence, the program allows restoring all the recovered data on an external hard drive or even uploads the recoverable files on a network location using the FTP protocol. You can also opt for different storage formats such as creating ISO images or burning a CD/DVD disc using the built-in burner feature. Flash drives or memory cards are also supported to store the recovered data.
Our Verdict on Hetman Partition Recovery Software:
All in all, Hetman Partition Recovery program is ideally suited to recover any kind of data loss occurred because of malicious virus attacks, accidental file deletions, disk formatting etc. The software offers a clean and easy to use interface that helps any non-tech savvy individual to make the best use of the software to retrieve their lost data.

Final Verdict
If you are looking for an ideal solution to recover lost or deleted files from your hard drive, then Hetman Partition Recovery program is your best aid. The program doesn't only help in retrieving the lost data but also recover the original file and folder structure helping you trace down all the important data as you stored them. It is undoubtedly one of the best data recovery solutions available out there.
So, if you are happy with the Hetman Partition Recovery review, then I would definitely recommend this program to all Windows users.
Let us know your feedback on our Hetman Partition Recovery in the comments below.
What we think about
Hetman Partition Recovery