It has not been a pleasant morning for Quora users and the company so far. This is because the company has just revealed that they found a security lapse in their system. According to Quora, hackers broke into their system last week and have stolen Quoran users' sensitive data. The figure of the stolen data is estimated for up to 100 Million users of Quora according to the company itself. Now, there is various sensitive information involved in the user's stolen data. This involves the name, email address and password in an encrypted form of the users. However, if the user has linked their social media accounts with Quora then those data could be stolen as well
Quora's response on the hack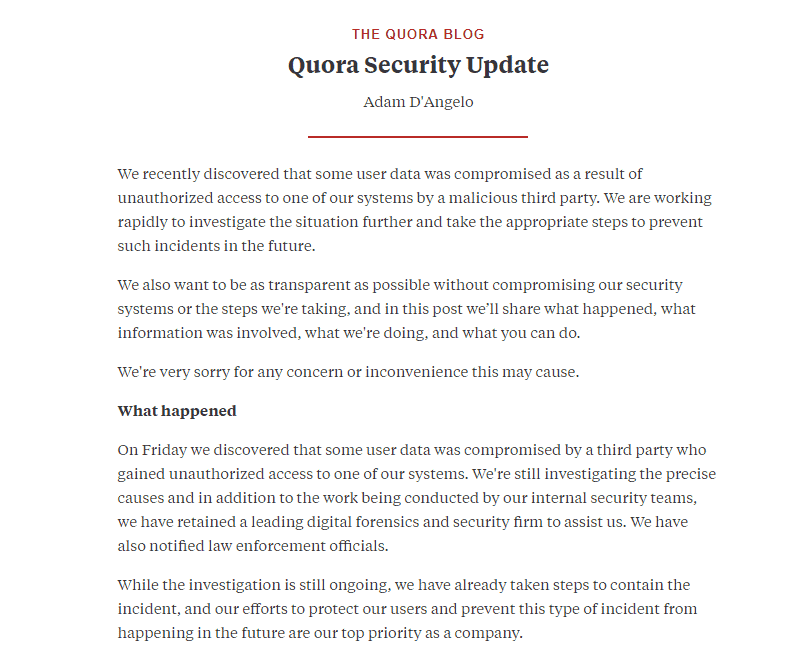 Quora CEO Adam D'Angelo wrote a blog post this morning revealing all about the Quora hack. In this post, Quora CEO revealed that it was found out by the team on Friday (November 20, 2018) that a hack took place on the Quora systems.
Adam D'Angelo further added that The overwhelming majority of the content accessed was already public on Quora, but the compromise of account and other private information is serious. Also, you must have received an email from the Quora team this morning if you are one of the users on this platform.
Now, Quora has not revealed any details about the hackers who got into their systems. Quora has only revealed that "a malicious third party" gained "unauthorized access to one of our systems". As far as the investigation is concerned, Quora has already notified law enforcement and hired digital forensics firm to investigate the hack. Also, the company reveals that their priority currently is to "contain the incident" and prevent a similar incident from happening again.
If you have used Quora anonymously for posting content or browsing for answers than you don't need to worry about this hack. Because Quora has already revealed that they do not store any identifiable information about their anonymous users.
If you are a user of Quora and have received any direct messages, upvotes or answer requests in the past week then it might be possibly sent by the hackers. Also, it is ideal to change the passwords of your Quora accounts as soon as possible.
So that even if your data was compromised, no one can have unauthorized access to your account anymore. It is also recommended that you do not reuse the same password for different platforms and if you have done so, make sure to change them to a unique one for each platform.