Ever since Adobe introduced the PDF (Portable Document Format) to this world, it has refused to go out of fashion for self-evident reasons. Its universal nature in terms of formatting across all platforms has been the main reason for its popularity. It was developed to present documents, including text formatting and images irrespective of the operating system, software, and hardware.
The virtual market is a host to several softwares that are designed to create and edit PDFs. One such software is PDFelement. Recently, PDFelement released version 7, loaded with features and is the talk of the town.
Created by Wondershare, PDFelement has taken the market by storm, being preferred by many over the traditionally used software. Its feature-rich software, affordable price, and availability across all platforms are the elements in its favor. Wondershare is a multinational company having offices in Shenzhen, Vancouver, and Tokyo. It is a fast-growing company that has been mentioned in Deloitte's "Technology Fast 50 China" list for three consecutive times. It was mentioned twice in the "China Potential Enterprises" list by Forbes and now has customers in more than 150 countries.
PDFelement can be used to create, edit, annotate, comment, collaborate, export and organize PDFs. It is a simple yet powerful tool for those who deal with PDFs on a large scale. It can be easily used by novices and is not complicated in the least. Now it offers a limited 50% off discount.
The latest PDFelement 7 contains a myriad of features that are new but easy-to-use. Without any further adieu, let's talk about the changes and important features of PDFelement 7.
1. Upgraded UI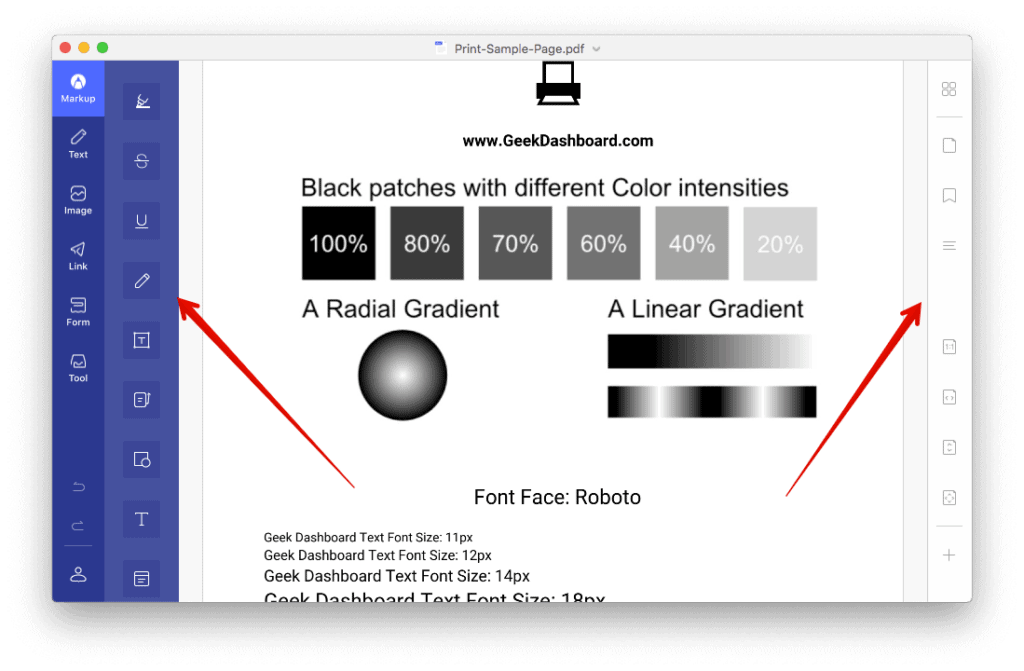 Reimagining a function doesn't necessarily mean its complexity increases and Wondershare has proved this in their latest version of the PDFelement. The UI has been modernized but remains user-friendly as even amateurs can use it with ease. Most of the features are present on the Home screen itself as clickable tiles. This makes it easy to locate the command you were aiming for. Wondershare should be given kudos for the way they have handled this upgrade.
2. Formats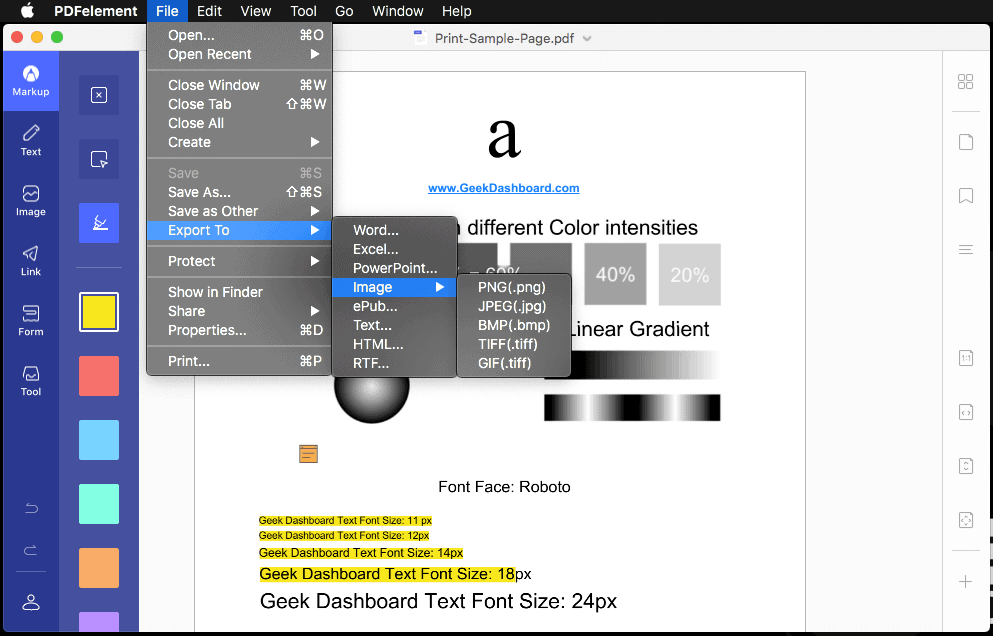 Wondershare PDFelement 7 allows the users to save their PDFs into a variety of formats ranging from excel to HTML. It also allows users to create PDFs from images and text formats. This is a hassle-free way to ensure that the desired formatting is not lost in any way, especially by using third party file format converters.
3. Editing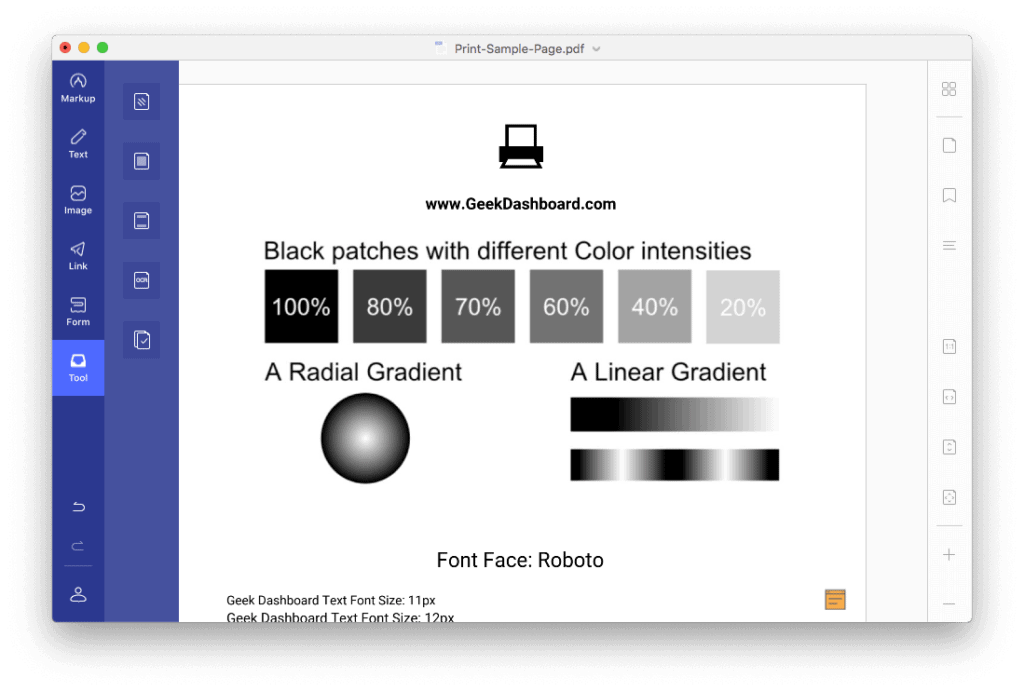 PDFs can be modified directly by adding images, cropping, adding links, watermarking, changing backgrounds and editing text. New tools have been introduced that provide these functions. All of these are located close by without the user becoming perplexed.
4. Annotation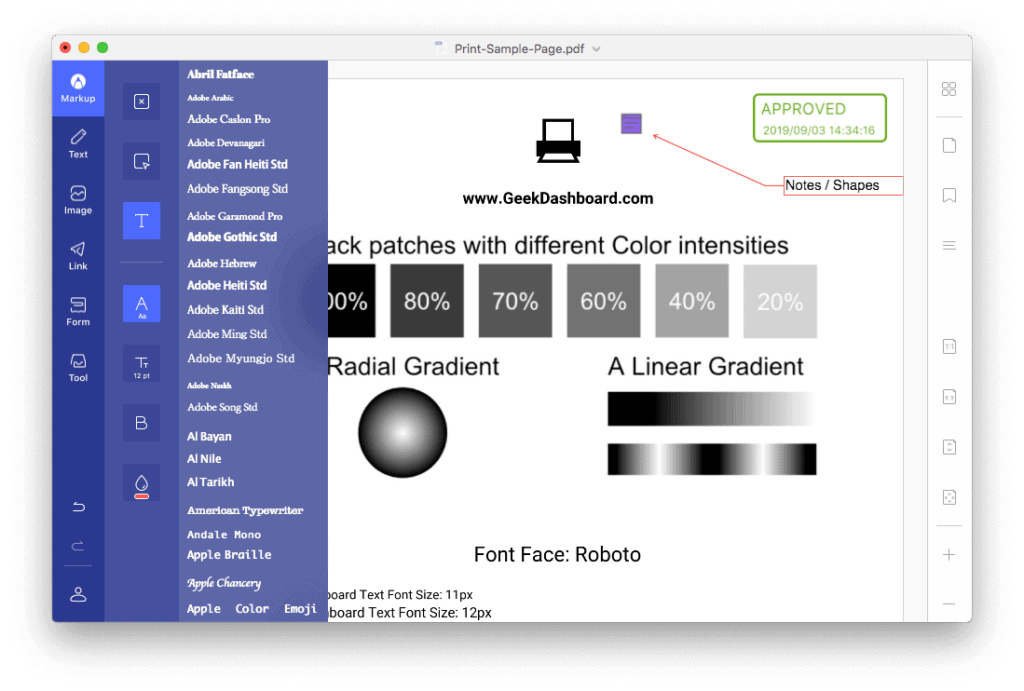 Annotating in a PDF has never been this easy; there are sticky notes, stamps, highlighters, freehand drawing, and signatures. What won me over was the whole gamut of colors, since I love color-coding my notes.
5. Extracting data
I'm sure you must have faced the painstaking task of transferring your PDF data into a spreadsheet manually. Now, you can say goodbye to those woes and allow the software to do this for you. The software does this entire process automatically and enables the user to save the file as an Excel file. This leads to an overall increase in accuracy and time is saved.
4. PDF optimizer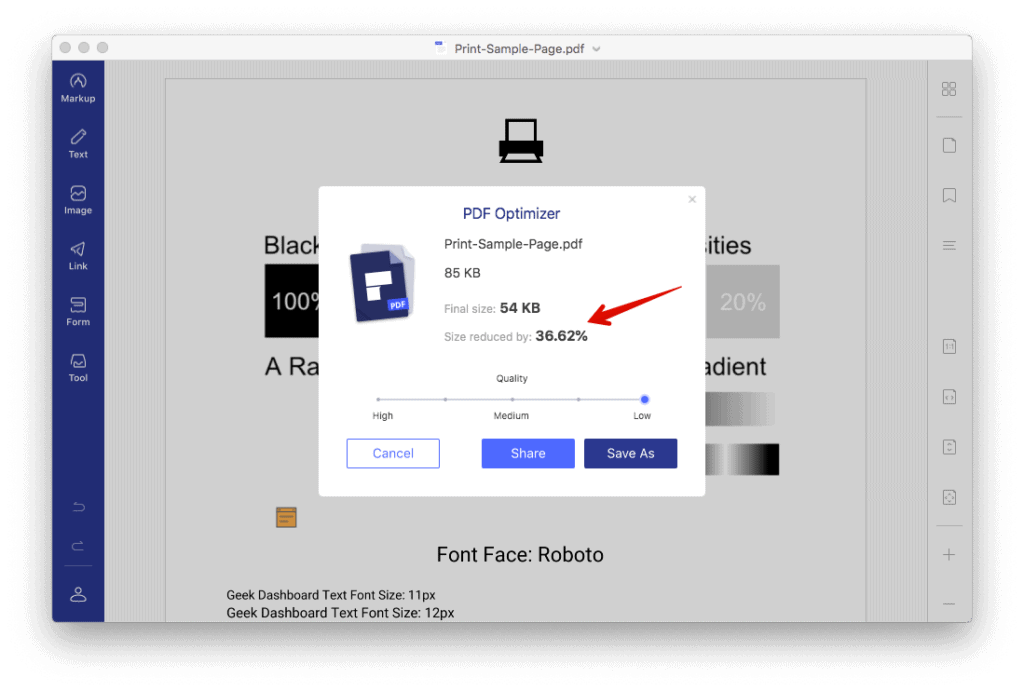 If you are facing an issue with the size of the file as PDFelement 7 allows you to save the data in high quality, medium quality or low-quality form. This enables the user to decide how much space they can allow for the document. This is extremely handy if you are running low on space and are unable to delete anything.
5. Encryption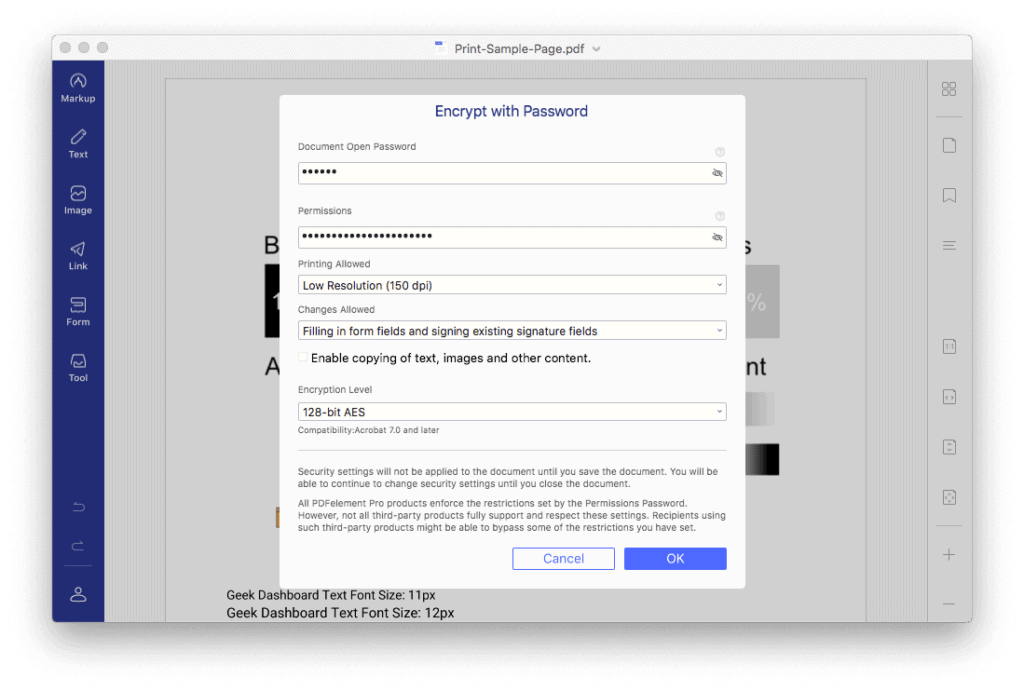 The main issue in using third party online PDF editors is that your data is not secure. If you happen to be handling data that requires a certain level of security, you would desire a software that provides you with the same. It is recommended that sensitive data should be encrypted and can be done with a single click and one password.
6. Camera to PDF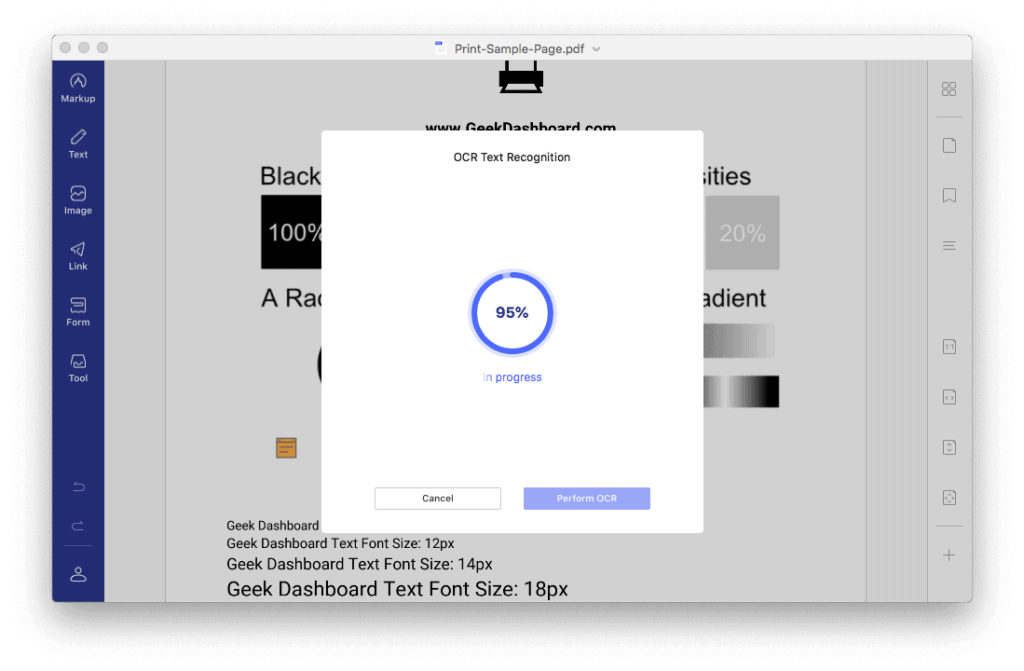 The PDFelement 7 is equipped with a powerful OCR text recognition system that holds the knowledge of about 25 languages. This is helpful when you need to scan documents manually using your phone's camera. The software easily converts paper documents into editable and manageable PDFs in a jiffy. The additional languages come in handy when you need to edit something without having to type it from scratch. The OCR component is available for download separately.
7. Fill-out forms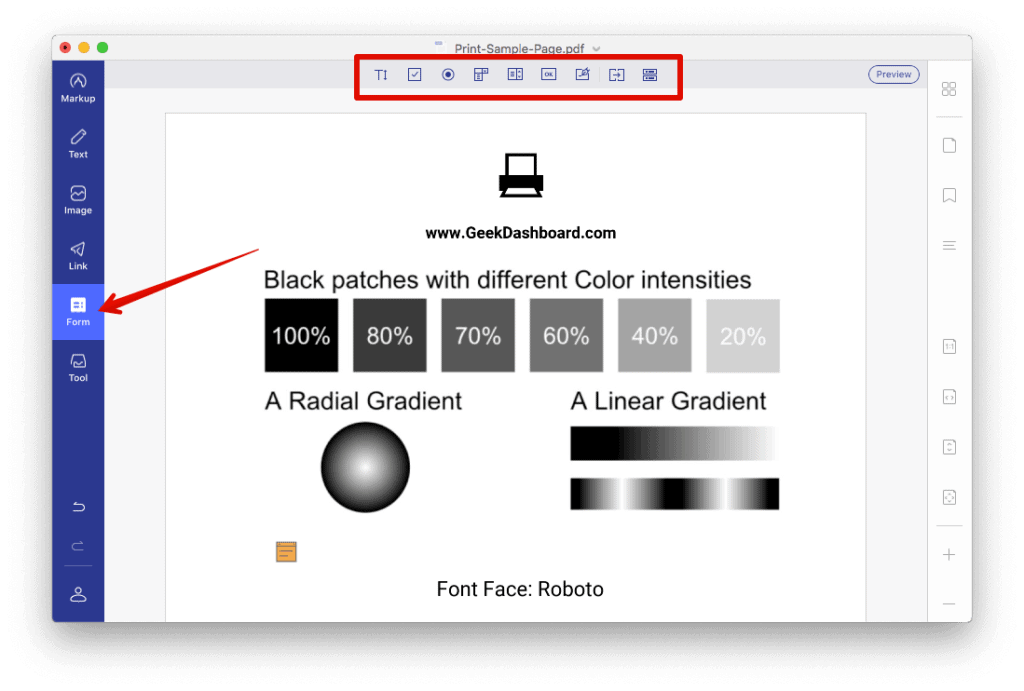 The software allows you to make filling out forms very quickly. This helps make your PDF interactive and eases your work process if you are in a field that continually requires fill out forms. There is no need to print these out separately and can be used on the computer itself by the people filling them out.
8. Keeping track of users
Since this software can be bought for office work and can be distributed among 'n' number of people, it contains a page where you can deal with the permissions granted to your workforce for the use of this software. It becomes easy to provision, track and manage all the users linked to the main account.
9. Improved collaboration
The new software eases the whole process of collaborating with the team as making comments and corrections is more straightforward. There is an entirely different set of commenting and mark-up tools available. It is simultaneously updated in everyone's software. There are fewer mistakes as color coding is also brought into the play, and it is easier to get the message across.
One of the significant moves on Wondershare's part was to not make any substantial changes in the existing features of the PDFelement. The features introduced in Wondershare's PDFelement 6 are well enough on their own and need no changes. However, the new features that have been added in PDFelement 7 are not any less than the existing ones. As already mentioned above, these changes are a beneficial addition. They help in easing the whole process of PDF editing and make it extremely hard to be able to work without it.
Advantages
User-friendly interface
Plethora of editing options
Availability of online document storage
OCR supports multiple languages
Documents can be shared via cloud
Disadvantages
Slight accuracy issue with OCR
Scope for improvement in add text feature
The free trial has limitations
For existing PDFelement 6 users, a 1-quarter license of PDFelement 7 will be given for free provided that they have bought the PDFelement 6 directly from the official website and not through any third party. For PDFelement 5 or PDFelement express users, there is no free license but a 40% off for buying PDFelement 7. PDFelement 7 is a separate software and cannot be used on PDFelement 6. The offer stands for a limited time only.
The complete version of PDFelement 7 is available based on your desktop's operating system and the number of personal computers where the software is going to be used. Users are advised to first try out the PDFelement's trials for the professional and personal editions.
There is no export date for the trial, but there are limitations. Some premium functions are not available in this form. The products are offered with free customer support and 30-day money-back guarantee. The pricing plans are as listed below:
For Windows operating system:
1-year subscription:
1 PC – at $129 ($69 for a limited time)
2-10 PC – begins at $186.12 for 2 PCs
11-20 PC – begins at $980.10 for 11 PCs
Over 20 PCs – by quote
Perpetual license:
1 PC – at $159 ($99 for a limited time)
2-10 PCs – begins at $242.52 for 2 PCs
1-20 PCs – begins at $1,277.10 for 11 PCs
Over 20 PCs – by quote
For Mac operating system:
1-year subscription:
1 Mac – at $129 ($69 for a limited time)
2-10 Macs – begins at $186.12 for 2 Macs
11-20 Macs – begins at $980.10 for 11 Macs
Over 20 Macs – by quote
Perpetual license:
1 Mac – at $159 ($99 for a limited time)
2-10 Macs – begins at $242.52 for 2 Macs
11-20 Macs – begins at $1,277.10 for 11 Macs
Over 20 Macs – by quote
The plan should be decided according to the size of the company. PDFelement 7 works great for start-up companies and freelancers. Compared to the market alternatives for PDF editing software, Wondershare's PDFelement 7 provides the same services at a fraction of the cost. This is the reason for its popularity apart from the feature-rich software.
Looking at the latest PDFelement 7, it is safe to say that buying the complete version is not going to make you regret it as the feature-rich software with an easy-to-use interface is a total win-win for you and your company. Dealing with PDFs has never been more hassle-free.
The smooth functioning software is available across all the major platforms, Mac, Windows, Android, and iOS. In spite of having so many features, it does not leave the user feeling confused and lost. The software gives a smooth and bump-free ride to the user with the easily navigable UI.
It does all this at a fraction of the price charged by its adversaries in providing a business-oriented PDF editor. If you are planning to buy it, do so at the earliest to avail its offer. As they say, the early bird catches the worm.
Pros
Cons
Slight accuracy issue with OCR
Scope for improvement in add text feature
The free trial has limitations
If you are looking for an alternative to Adobe Acrobat, PDFelement 7 is the upgraded power-packed tool for all your personal and professional office works.