PDF is used worldwide and has become the standard file format to transfer documents without compromising on quality or text alignments. From official business purposes to school projects, PDF has proven its use in every scenario. But sharing a PDF file that's too big can be a pain sometimes. Since many file sharing websites and apps put a limit on the size of the document you can send, sharing large files and PDF documents can become hectic. You can either archive it and split it into many parts and then transfer it, or you need to remove less important high-quality images from the document to reduce PDF file size.
These methods are very complicated and require you to edit out important information and may not be suitable every time. This is where PDF compressor software comes in.
PDF compressor software will compress your PDF files, so you can share it using popular sharing methods like Gmail and WhatsApp. Most of the PDF compressor software can compress PDF to 100KB or less which is well below the size limit on most websites.
The powerful algorithms of PDF compression software will compress the images while retaining the quality to reduce the PDF size. They even compress the text size so that it's still readable but takes less space than before.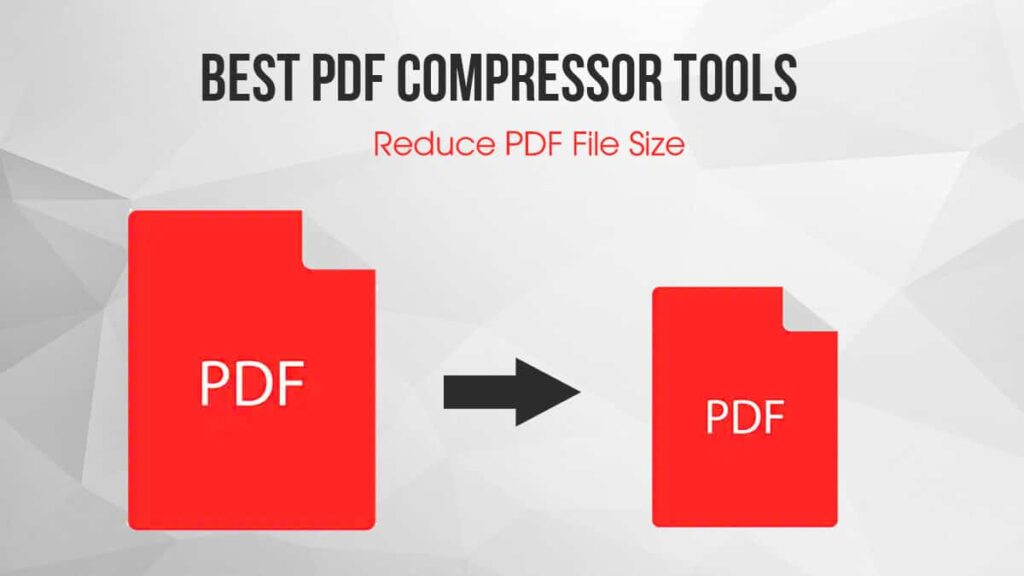 List of PDF Compression Software for Mac and Windows
We have compiled a list of the best PDF compressor software available for both MAC and Windows PC. These software's will help you compress your PDF file to an acceptable size so that it can be shared easily across all platforms.
1. PDFelement
PDFelement is a powerful software that comes as a PDF editor with a built-in special feature to compress your PDF files. It is available for both Windows and macOS. You can compress the PDF by removing images and unwanted texts or you can use the built-in compressor to compress the file without any manual adjustments. The algorithm of built-in compressor works in most of the cases and saves you a lot of time.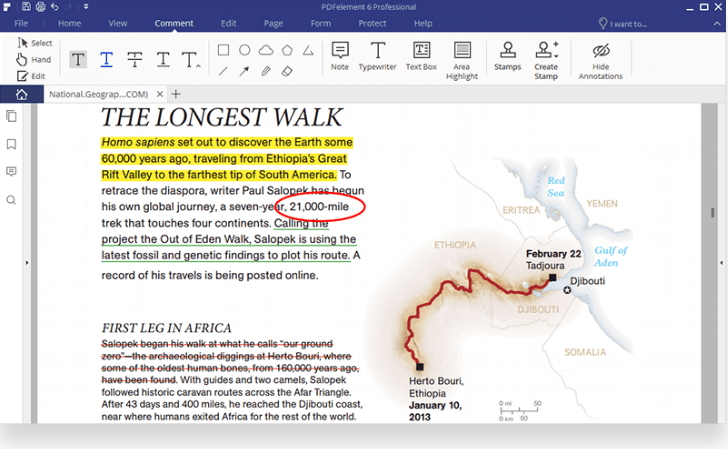 This professional compression tool lets you convert your PDF file to other text formats to reduce the size furthermore if possible. Many file-sharing websites support specific formats and this feature can come in handy. PDFelement comes with many powerful editing features that can let you perform basic to complicated edits, including formatting text size, editing out images and text, changing colors, etc.
It also lets you create your own PDF files and secure them using its own encryptions for safer transfer. PDFelement is a truly versatile tool for all your PDF formatting needs. There's even a free trial for you to get to know about the software before purchasing it.
Pros: 
Powerful editor and PDF compressor
A large array of built-in tools to edit PDF documents
Encrypt PDF files
Free trial
Easy to use
Full-featured software to manage your PDF files completely
Cons:
Limited features in the free version
Download: For Windows and macOS
Price: $89.95 with a free trial
2. PDF Reducer
PDF Reducer as the name suggests reduces PDFs file sizes with very high efficiency. The tool is heavily based on reducing the PDF size and focuses all its power and features in decreasing your file size to an acceptable amount for you to share it easily. It makes the file smaller such that it still can be printed and zoomed in without any loss in quality. It uses several compression algorithms on images and boasts of algorithms that are more robust than anything available in the current market.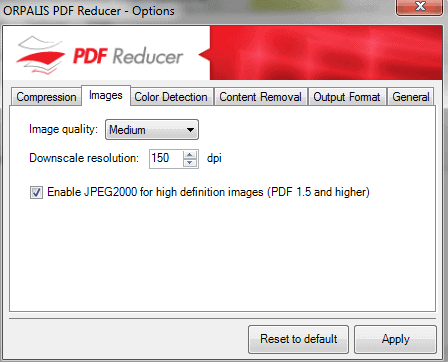 PDF reducer has some unique features like automatic color detection and layout analysis where it can easily identify black text on white background and compress the file size accordingly by analyzing the text. It has a very useful feature where you can view PDFs even before you download your reduced PDF files which can be pretty useful in a business where you need to submit a file as soon as possible to your peers.
All these features come at a price tag of a whopping $199 but the amount of time and work it saves is worth it in our opinion. You can also start a free trial to test the features without having to buy the software.
Pros:
Centered around PDF compression
Employs top of the line algorithms
Good for business use
Cons:
Price can be a bit high for the casual user
Available only on Windows
Download: For Windows
Price: $199 with a free trial
3. Free PDF Compressor
Free PDF Compressor is a very simple and user-friendly software that lets you do a single task, which is to compress your PDF files so that they can be shared easily with your peers. It is the best free PDF compressor software with minimum settings and a basic function to compress your PDF files.
You just need to select an existing PDF file and hit "Compress". A compressed and reduced PDF file will be generated page by page which you can then save it on your computer.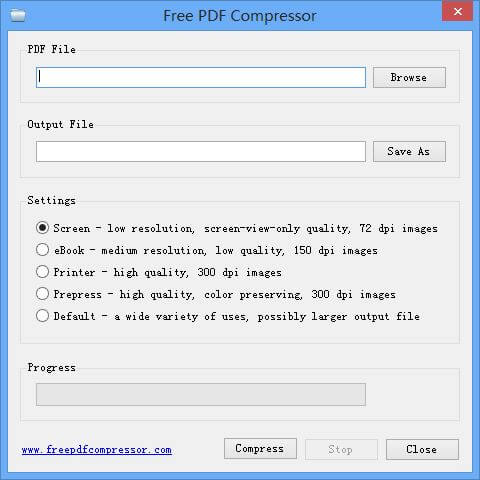 There are 5 different modes available to compress your PDF file. These modes come with predefined settings that help the user to perform compression according to their specific needs.
Screen: It converts your document to a low resolution to be viewed on small screens with 72 dpi images.
EBook: This setting generates a PDF file of medium resolution with up to 150 dpi images.
Printer: This mode produces a PDF with high quality 300 dpi images.
Prepress: Prepressmode reserves the original color of the PDF file and converts images to 300 dpi.
Default: This mode outputs the largest PDF size as compared to all the above methods with little to no change in the original PDF.
You can experiment around to see which mode works best for you and your situation. Since the software is free of cost, you can easily download it and give it a try to check out its compression efficiency.
Pros:
Completely free of cost
Comes with different modes for different uses
Easy to use for beginners
Cons:
Doesn't use complex algorithms
Different modes can be confusing and result in lower compression rates
Not available on macOS
Download: For Windows
Price: Free
4. PDF Squeezer
PDF Squeezer is an application available for Mac machines that compress large PDF documents mainly by compressing images without loss in quality. It cuts out irrelevant data from the file to further reduce down the size. PDF Squeezer is a very small application with a file size of just under 7MB. You can drag and drop the file you want to compress in the main window directly or you can browse your PDF file inside your computer.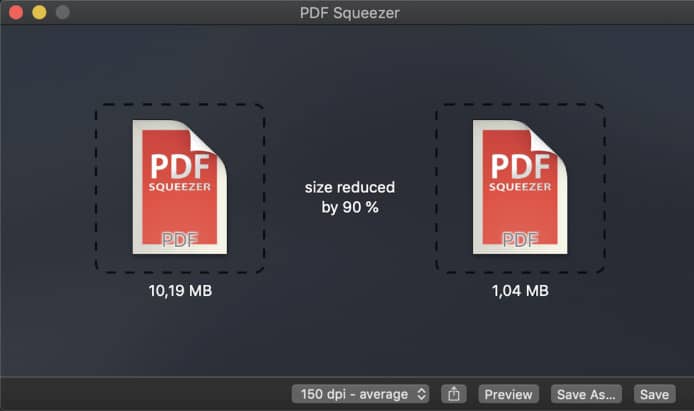 There are many predefined compression filters that come with the software for your use. These filters make your work a lot easier. Instead of wasting your time trying different options to properly compress your PDF files, the recommended default filters will guide you in the correct path for maximum compression. You can even create your own compression filter depending on the file type and your requirements. PDF squeezer can batch compress multiple files simultaneously saving time for crucial compression tasks.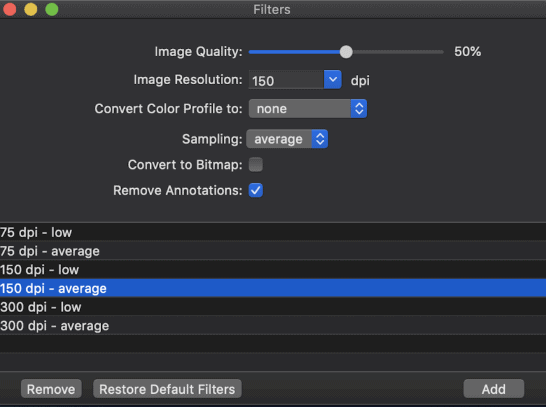 PDF Squeezer can work as a file archiver where it can compress multiple files under a single folder and as a result, you can share them easily across various platforms. A shortcut can be added to your Safari browser for quick compressions on the go, where you can directly compress a PDF file without exiting your browser.
For casual users, you have the option of automatic compression with a one-click compression. This PDF compressor software comes with a price tag of just $4.99.
Pros: 
Quite cheap as compared to the other options in this list
Simple User-Interface
Beginner-friendly
Free trial available
Cons:
Uses simple compression techniques
The free trial is not available on the Mac App Store
Only available for Mac users
Download: For macOS
Price: $5.99
5. PDFOptim
PDFOptim is a very good PDF compression software that is available for both Windows as well as macOS. It has a large number of presets and options to compress your PDF files. The best feature of PDFOptim is that it provides a real-time preview of the original and the optimized PDF in a side by side comparison window. This saves a lot of time as you can easily compare the original with the compressed PDF before exporting it.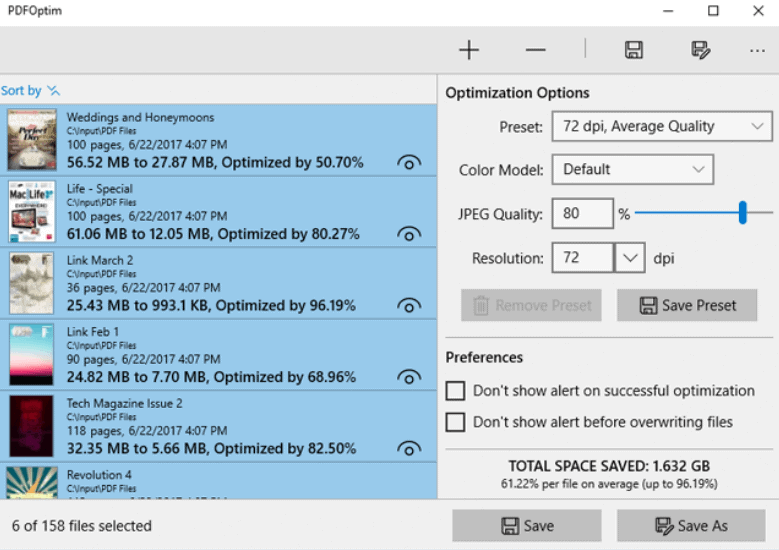 To compress your PDF file you need to add it to the list and then choose a compression filter. Click Replace Original to replace the original PDF file with the new compressed PDF or Export it to create an entirely new file while preserving the original PDF untouched. PDFOptim has powerful image filters that can compress PDF document without any loss in quality.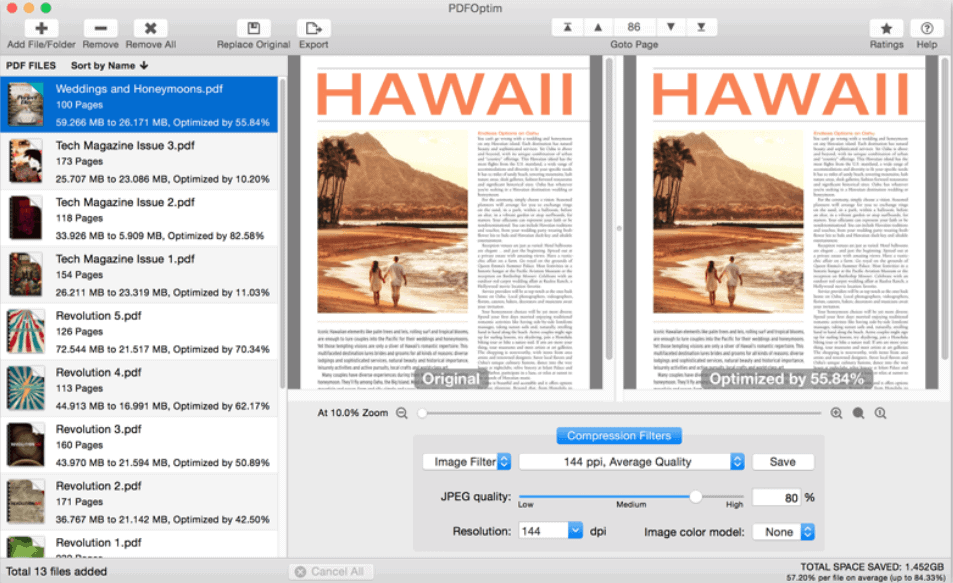 It also features JPEG compression with very good control over quality that can be useful for PDF files that have a large number of images in them. It supports batch processing to save the user's time and effort and can downsample the resolution of your document for a significant decrease in size while still retaining the text quality.
Pros:
Available for both Windows and macOS
Side by side real-time comparison
Robust image filters and compression filters
Cons:
Compression efficiency is not as good
Doesn't have much PDF editing tools
Download: For Windows and macOS
Price: $5.99 for Windows and $2.99 for macOS
6. Online2pdf.com
Online2pdf.com is the free PDF compressor online without any hidden fees and deadlock. This online PDF compressor tool works with any browser and operating system including mobile devices. Apart from PDF compression, Online2pdf provides many other features like merging, simple editing, conversion and can also unlock password protected PDF files.
You can select to up to 20 files together for simultaneous compression. The maximum file size supported is 100MB for one file and 150MB for all files together.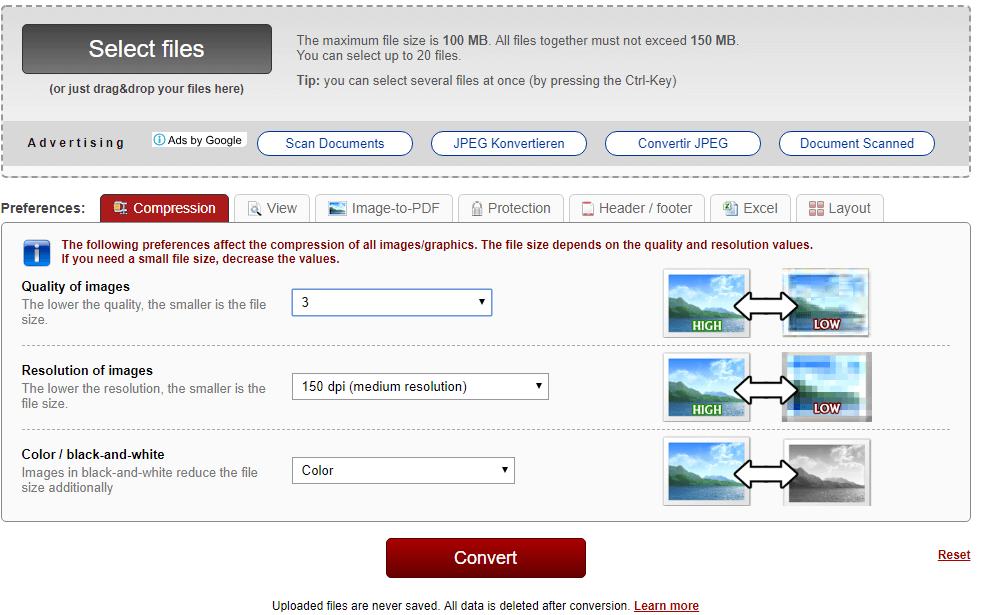 It is very simple to use, all you have to do is drag and drop your PDF documents and click on Compression. It will provide you with 3 compression options. 
Quality of images: Where lower the quality, the smaller is the file size.
Resolution of images: This method gives a dpi range from 25 dpi to 1200 dpi. The lower the dpi, the lower the quality of the image, and the size of the PDF file.

Color/black-and-white: With this mode, the images will be converted to black and white format which will further reduce the file size. This feature is very useful for text documents with no images or with PDF files with flow charts or textual diagrams where the color of the image is not important.
Pros:
Available on all platforms
Compress multiple PDF files to saves time
Easy to use
Cons:
Mediocre compression methods
Required internet every time to compress PDF files
Site Link: Online2PDF
Price: Free
Final Thoughts about PDF Compressor Software
PDF compression software can be quite useful when you want to save bandwidth, transmission costs, and to save storage space. They can help you share your large and important PDF documents easily using various file-sharing applications. Smaller files reduce upload as well as download time without having much effect on quality.
PDF compression comes in handy in all situations, from business to school and even home needs. With the ever-growing popularity and use of the PDF text format, compression software are indeed necessary. PDFelement is the best choice if you frequently work on PDF files and edit them every day. However, if you are looking for a free solution, you should try Free PDF Compressor software for Windows or online2pdf.com tool when internet connectivity is not an issue.