Do you want to prank your friends? Here I got you an online trick which let you surf the internet without having active internet connection. Yeah, you heard it right! To access any website without internet is a tricky method where you can execute in Google Chrome Browser. Sometimes your internet connection may be disconnected for many reasons. So in that case, you can make use of this 'Offline Google Chrome Trick' to visit that specific web page offline. Sounds pretty right? Yeah, it might be! But the truth is, it can be done just by customizing chrome's settings to access the saved cached copy of any websites you visited before. And this post is totally about how to access websites without the internet in Google Chrome?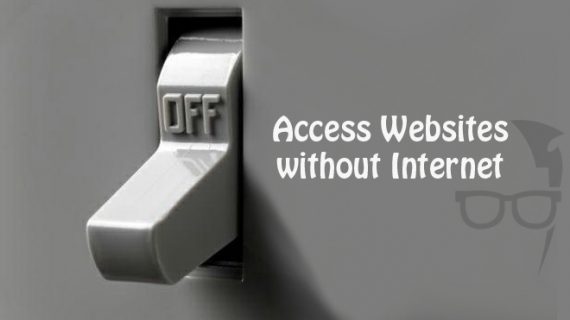 'Show Saved Copy' Option in Chrome?
Why I'm focusing only on Chrome browser? What about other web browsers? Others browsers like Firefox, Internet Explorer are already offering an Offline Mode Option. In Chrome, Offline mode is hidden. So when you change this mode to ON, it will auto-save every web page when you browse with active internet connection. It will save all the stuff in the cache memory.
Here let me give an example If you are staying in a place where there is no network connection and your laptop isn't connected to the Internet. But at that time, you need to open a specific website urgently to make your own discussion. If you open that website in Chrome, then it will show a message "It is Unable to Connect to the Internet". You may get tensed! But no worries. If you know this Offline Google Chrome Trick you can surf that web page easily without having an internet connection. Crazy Isn't?
The main aim of this post is to help the tech savvy and to prank your friends with some cool tricks. This guide will share the step-by-step method to Enable Offline Browsing Mode in Chrome Browser with few clicks. Do you wanna know how? Let's get started.
How to Enable Offline Browsing in Google Chrome?
As I mentioned before, Google Chrome Offline option is hidden in Google Chrome Browser. So you need to tweak the setting to enable the offline mode in chrome. For that kindly follow the given steps below to use Chrome without Internet Connection. And make sure you have installed the latest version of Google Chrome Browser. Or else just download the latest version by going here . Without wasting any time, let's begin!
Step 1: Accessing Hidden Settings
Run the Chrome web browser. In the URL box just type "chrome://flags/" without quotes and press the Enter key.

Step 2: Search for "Show Saved Copy Button"
Now search for "show saved copy button" without double quotes by pressing Ctrl + F which gives you easy search.

Step 3: Enable Offline-Reload Mode
The only thing you need to do is Enabling the option. If you do so, your browser is enabled with chrome offline mode. In short, it allows the users to surf the internet or specific web pages without internet connection. So just click the drop-down menu and choose the Enable: Primary and relaunch your browser.

That's it! Now whenever you go offline, you can access the internet without any issues. And make sure, you have visited that particular page before with an active internet connection and saved in the cache memory. Google Chrome will now work as an offline browser which shows saved copy of web pages from chrome local cache memory. And Chrome browser can store the images, CSS sheets, Javascript and HTML contents only. Other stuff which mainly works on PHP and DB connectivity sites like Twitter, Facebook, Video sites can't be loaded in offline mode. Certainly, you will get some error messages at some places of the websites.
And we recommend you not to change another setting in Google Chrome Flags page until you have knowledge of them. Unnecessary customization may lead to crash the browser. So make sure about it!
This trick will only work if you already opened the website once when you have an active internet connection. Also, note that it will only show the old static data. You can't get the real time data with this feature. This Offline feature will help to read jokes, stories, view code snippets etc. In short it only helps if you need a static data. To access dynamic data, you again need an internet connection.
How to Test Chrome Offline Browsing Feature?
Using Chrome Offline Browsing Feature is very simple which works just like normal browsing on other web browsers. After executing the above steps in order to Enable the Offline Browsing Feature just you need to disconnect your internet connection. Then now its the time to check it! Just relaunch the web browser and open any website which you have already visited before with internet connection. When you do so, it might show some message "Show Saved Copy". Just click that button and once you do that specific website will open without the internet connection. Have some fun!
By following the same procedure you can visit any web pages easily without active internet connection. This is how Google Chrome Offline Browsing Feature works!
Hope everyone have learned this trick about How to Open Websites without The Internet in Google Chrome in just a few clicks. If you are facing any errors or issues, then drop them below. Will get back to you with positive solutions ASAP! Keep visiting for more tricky and informative stuff.