We have been getting the leaks regarding Samsung's next Galaxy smartphones from months now. Earlier, we reported that the Galaxy S10 series from Samsung will have triple rear cameras. Also, it was leaked that the Galaxy S10 and S10+ will come with a cheaper variant.
This cheaper variant will reportedly be named as the Galaxy S10e. This smartphone is seen as Samsung's potential answer to the iPhone XR from Apple. Regarding the Galaxy S10 series containing Galaxy S10 and S10+, we now have the official renders of these upcoming flagships.
This also indicates that the company is all-in-readiness to launch these devices soon. It is also worth noting that Samsung has already revealed that Galaxy S10 series will be launched on February 20.
Samsung Galaxy S10, S10+ will have in-display selfie cameras and triple rear cameras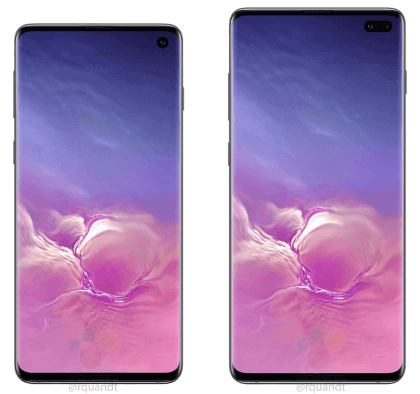 Looking at the official renders, we can clearly see that the Galaxy S10 will have an Infinity-O selfie camera on the top-right. As for the Galaxy S10+, it will have dual selfie cameras which can be termed as double 'Infinity-O' cameras. The presence of in-display selfie camera(s) on the Galaxy S10 series confirm the earlier rumors.
We can also notice that the smartphones will not be completely bezel-less. Because there is a small chin at the bottom on both the Galaxy S10 and S10+. However, the bezels seem to be symmetrical on all the four sides which looks pleasing to the eyes.
Apart from that, Samsung Galaxy S10 series is reported to have an in-display fingerprint sensor. Also, there are triple cameras on the rear of these devices.
Also, Galaxy S10 series preserves the Bixby button on the left. Apart from that, we will know more about the Samsung Unpacked event on February 20. However, we already know that the devices will be powered by the latest processor from Qualcomm.
This is the Qualcomm Snapdragon 855 which was launched by the end of last year. We also reported that the Samsung Galaxy S10+ powered by Snapdragon 855 SoC outscored its Exynos-powered variant.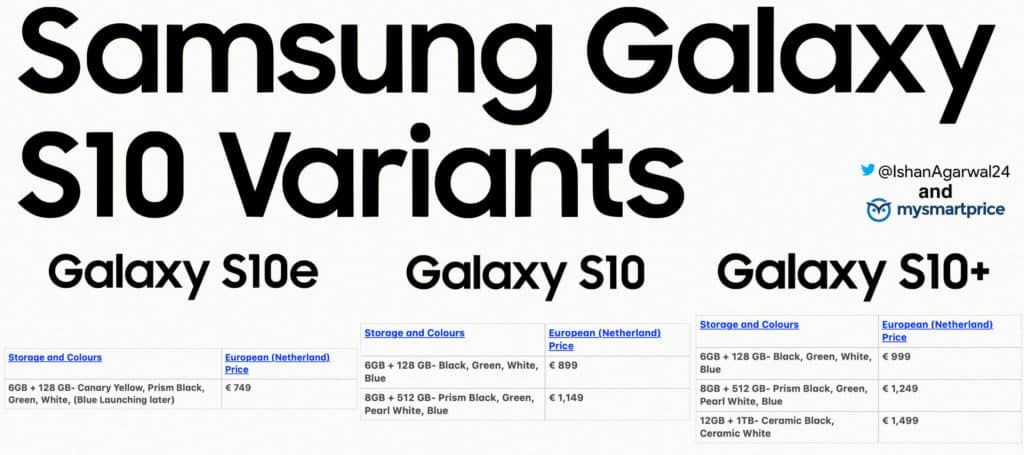 Talking about the Samsung Galaxy S10e, we know that it will be the cheapest smartphone in this series. According to Ishan Agarwal, the device could be priced below $699 in the US.
However, the maxed-out variant of Galaxy S10+ could go all the way up to $1700. This variant is expected to have 12GB RAM, 1TB of internal storage and come in Ceramic White/Black colour variant.