Xiaomi has just made an official announcement on its Twitter handle regarding an achievement by its sales department. This announcement is about the wearable category and its Mi Band lineup in particular. Xiaomi's Indian department has officially sold more than 1 million units of Mi Band 3 already in India.
Mi Band 3 from Xiaomi was announced last year in India and it is fair to say that the product has been successful. Also, we are expecting the company to release its Mi Band 4 in China very soon. Later, the Mi Band 4 should come to India as well which will become Mi Band 3's successor.
Xiaomi India sold more than 1 million units of Mi Band 3 in India
In September 2018, Xiaomi announced its Mi Band 3 in India. Ever since then, there is a lot of demand for the Mi Band 3 in the country. We can also add that the Mi Band 3 was already popular in India since its launch in China a few months ago.
We had seen plenty of Mi Band 3's being imported from Alibaba before its India launch. Now, we know that imported products from China cost a lot less than its Indian counterparts but the import process takes a lot of time.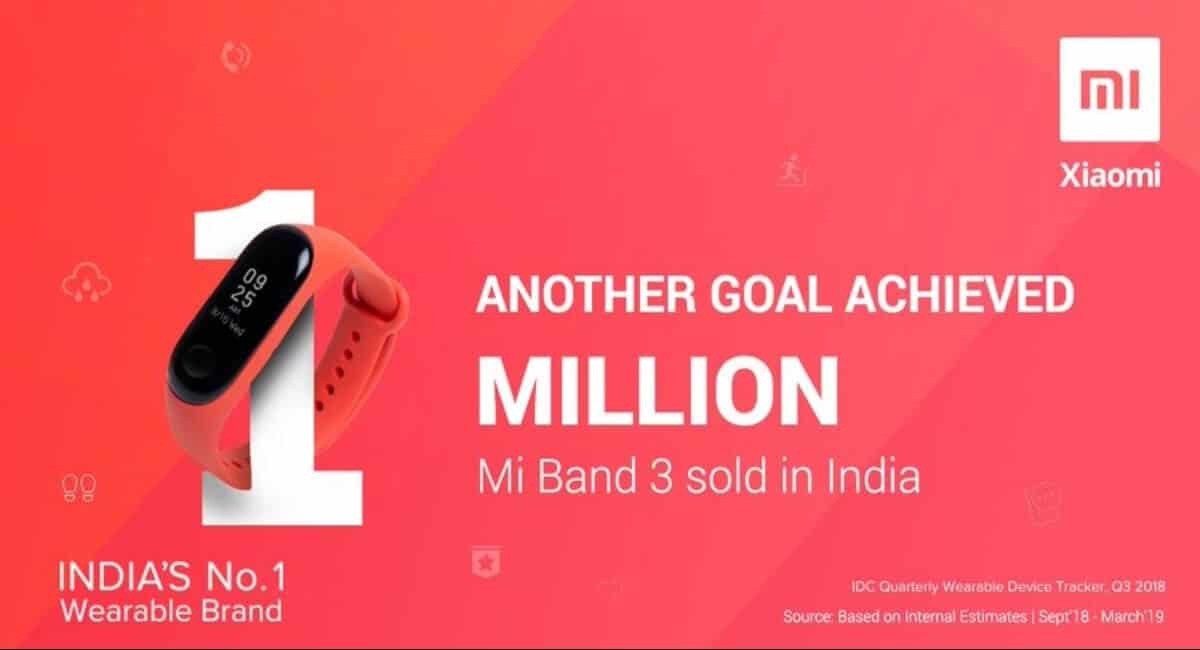 However, the Indian pricing of Mi Band 3 was fairly decent compared to its Chinese price. Xiaomi priced its Mi Band 3 in India for Rs. 1999 ($29) while launching it in China at 169 Yuan which converts to U.S. $25.
In just 6 months since its Indian launch, Xiaomi has already crossed 1 million units of Mi Band 3 sales. It must also be said that the Mi Band 3 cannot be considered a true smartwatch. Rather, it can be perfectly termed as a fitness tracker/smart band.
The one thing that people have loved about the Mi Band 3 is its battery life. As per Xiaomi's claims, the Mi Band 3 should run for 20+ days on a single charge. And as claimed, Mi Band 3 does run for that long on a single charge as per our testing.
Also, the Mi Band 3 has features like heart-rate tracker, steps counter, sleep tracker and more. This makes the Mi Band 3 a very good deal for the price in this segment. We also expect the Mi Band 4 from Xiaomi to be even better than the Band 3.
It is already leaked that the Mi Band 4 will have NFC support which was missing from the Mi Band 3. On the other hand, Mi Band 4 might also have an RGB AMOLED display this time around.