Wondershare UniConverter is intended to assist organizations in streamlining the processes involved in video editing, video conversions, and video compression. Using Wondershare UniConverter, staff members may instantly add personalized filters, effects, and subtitles to videos quickly.
Professionals can modify the bitrate and resolution of videos with UniConverter to suit their needs. Users can add or remove watermarks from videos, and record, combine, and download videos.
Pricing is offered as a perpetual license and on a monthly or yearly subscription basis. Support is provided online and by phone, email, and other means.
When you need to manage your audio library or set a piece of music or audio as your personal ringtone, Wondershare UniConverter is the application you are looking for. It can also compress, convert, burn DVDs, edit movies, and do much more. A cool ringtone can be created using Wondershare UniConverter by converting audio.
Any audio file or MP3 can be trimmed using the tool's AI technology. You may easily input a music library into an MP3 Cutter and then instantly split these audio files into several formats. The files can then be easily exported to your smartphone to set as ringtones.
How to use UniConverter to create personalized ringtones for your Smartphone
This offline solution works great for people who work with audio files frequently and we'll be using Wondershare UniConverter for the offline method. Follow the steps below to quickly create a ringtone for your smartphone.
Step 1: Import the Audio File(s)
The action is pretty fundamental and easy. You need to load the audio clip into Wondershare UniConverter to get started.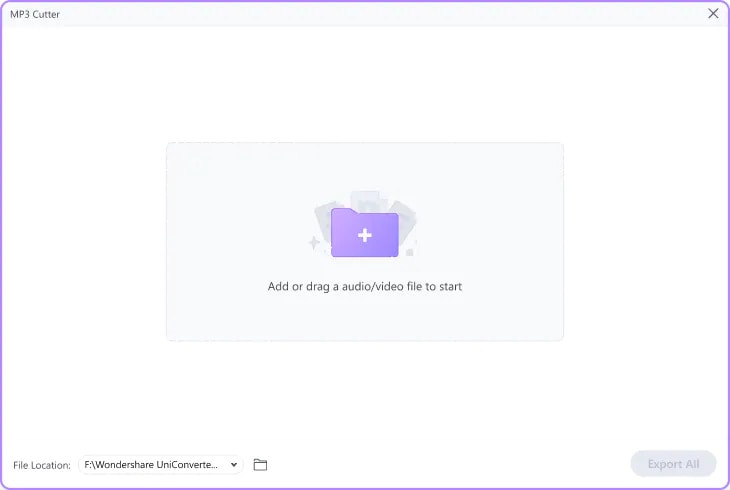 Step 2: Adaptive Audio File Splitting
You have the choice to have your audio file divided automatically. With Wondershare Uniconverter, you may utilize AI to partition an imported music file or list.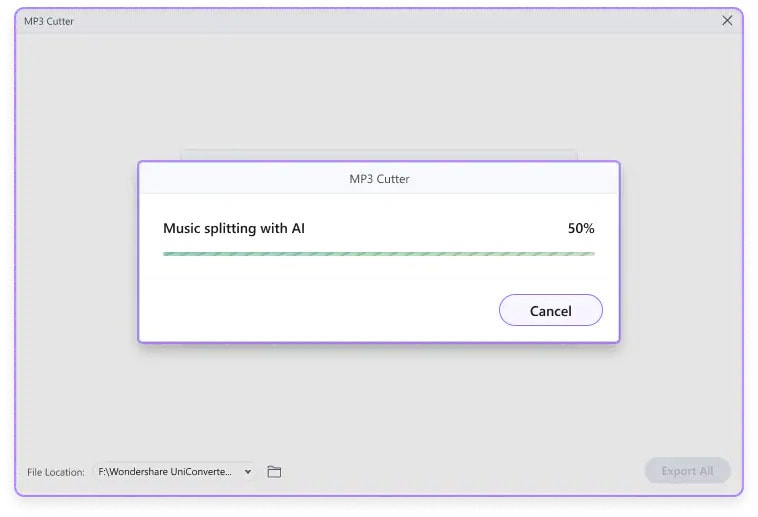 Step 3: Manual Audio File Trimming
Additionally, users have the choice to cut their audio recordings manually. You can select a "Start" and "End" point in the music segment while you listen to it to suit your preferences. Your file can be edited and managed with great detail. After making your selections, you can save the changes by clicking on "Apply."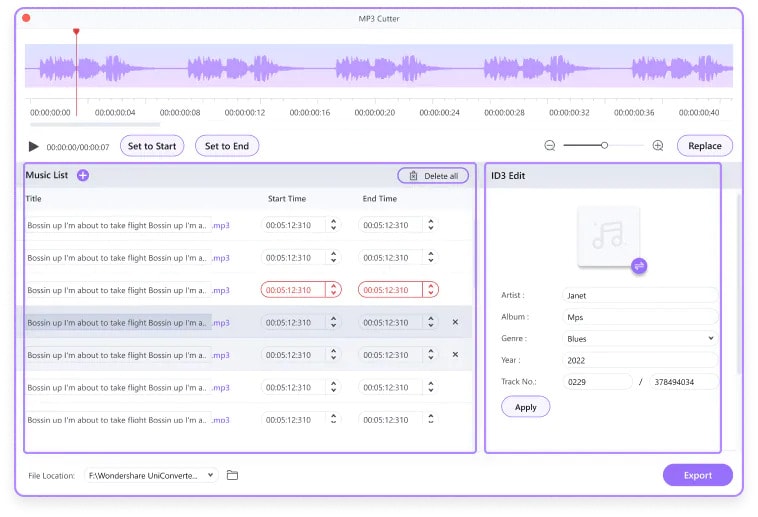 Step 4: Save Edited Audio as Ringtone
The modified audio is now available to export to your local computer. You can copy the audio file to your smartphone and set it as a ringtone.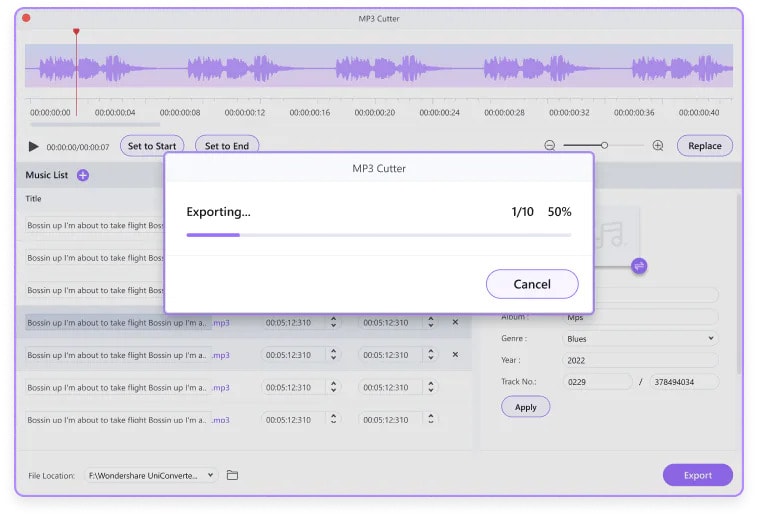 Comparable converters are 90 times slower than UniConverter.
Your ringtone might be in one of more than a thousand different formats.
Audio files can be converted in bulk with Wondershare Uniconvertor.
It is even possible to improve the audio quality.
The user interface is straightforward and user-friendly.
The full version of Wondershare Uniconvertor can be used for a modest price, but there is also a free version available.
Wondershare UniConverter is available for both Windows and Mac devices.
How to use Media.io to Create Ringtones for Smartphones
With the help of Media.io online ringtone maker, you can create ringtones of your choice for any Android or iPhone device. It provides simplicity in addition to letting you choose the ringtone of your choice. It is compatible with a variety of audio file types, including MP3, WAV, FLAC, AAC, and M4R.
Additionally, Media.io's unique feature allows you to make a custom ringtone from a variety of films, including MOV, MP4, DAT, MTS, and VOB. You can even extract audio from a YouTube video using this free online video converter. There are options for fade effects, song trimming, and saving audio in the formats of your choice.
Here is how you can make use of Media.io to create ringtones for your Android and iPhone devices:
Step 1: Upload Audio File(s)
Visit Media.io on your favorite web browser to access the ringtone maker. To select an audio file to edit from your local audio library, tap on "Choose Files." You can also import your audio files from Dropbox, Google Drive, and YouTube.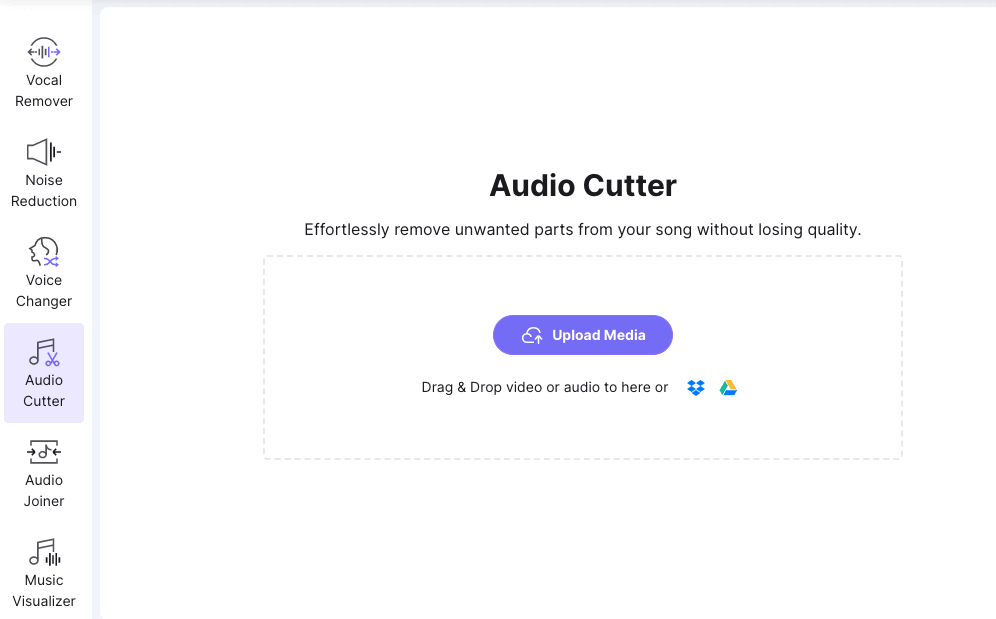 Step 2: Cut the Audio File
The audio file start and end durations can be simply reduced by adjusting the trimming bar from both ends. To trim precisely, you can also make use of the 'Start' and 'Stop' timings fields. You can use also use the "Fade in/out" effects to make the output more professional.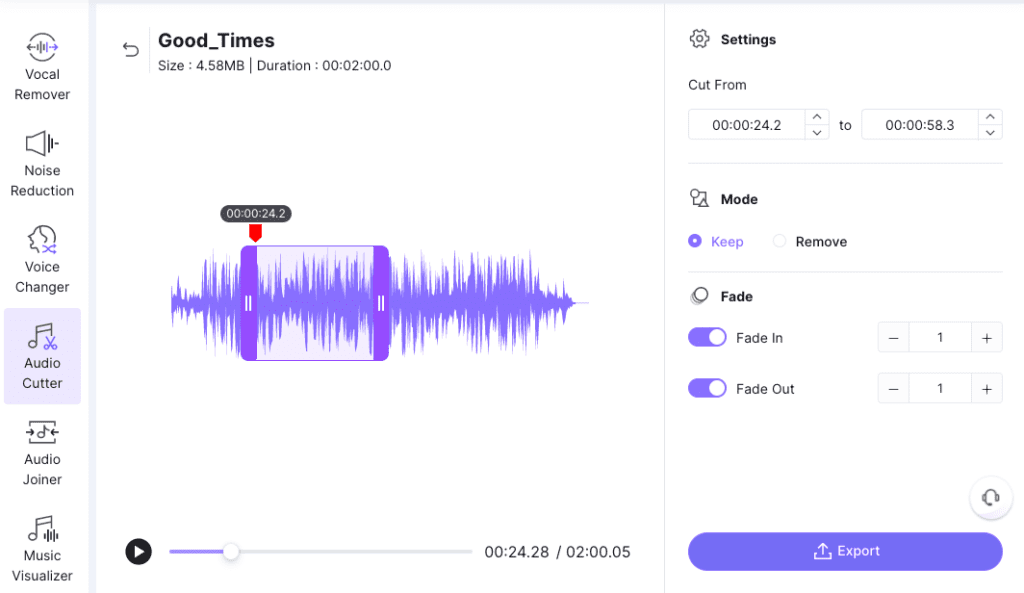 Step 3: Export Audio File
The final step is to evaluate the freshly updated file before choosing "Export" to produce your ringtone.
Media.io Features
Take the Vocals out of Any Song: Any song file of your choice, in any format, can have its vocals extracted.

Modify the Audio Using Various Sound Effects: Your ringtone can have effects added that you choose, and the audio can fade as desired.
Audio and video background noise can be eliminated: For better ringtone quality, you may easily reduce background noise from the video or audio you have chosen to use as your ringtone.
Final Verdict
To create personalized ringtones and get rid of the default ringtone that came with your smartphone, use an online ringtone maker. You can get an immediate result of your choosing by using tools like Wondershare UniConverter and Media.io, which are simple to use.
With these contemporary techniques, your ringtone can be as distinctive as your taste and personality. Moreover, these applications are 2 of the best ringtone maker available in the market. So try them and experiment as much as you can.
Also, by now we know how great these applications are if you intend to use them for the purpose we are talking about. The different kinds of things you can do are awesome, you can remove vocals from any song, you can also change your voice with diverse sound effects, and most importantly, you can also remove background noise from video and audio.