What we think about
iSkysoft PDF Editor
UI

9
Price

9.5
Support

9.5
Features

9.5
Security

9.5
iSkysoft PDF Editor is a one-stop solution for all your PDF related needs. The premium PDF Editor tool lets you create, edit, and convert PDF documents easily and securely.
In this world of digitization, PDF format is the most widely accepted as well as considered as the most secured document format globally. Hence, Word, Text, PPT, and Excel documents are most often converted to PDF in order to maintain the originality as well as add a new layer of security to the document. However, there are times when you need a tool that would let you manage, create or edit PDF simple and fast. And, here's where iSkysoft PDF Editor for Windows comes into play. Let's check out iSkysoft PDF Editor Review on Windows platform.
iSkysoft PDF Editor Review
Now that you are aware of the PDF editor tool to go for, let's get on with the iSkysoft PDF Editor review. Well, iSkysoft PDF Editor is a simple and user-friendly tool that lets you edit any PDF file with ease, create a PDF file, as well as convert a PDF file to different document formats.
For this review, I have used the latest version of iSkysoft PDF Editor and found some excellent features of the software that would make you fall in love with your PDF documents.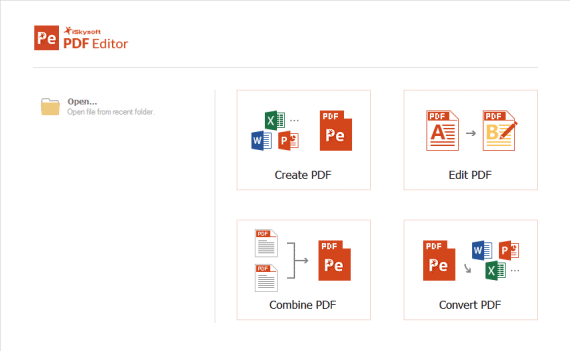 Excellent Features of iSkysoft PDF Editor
With iSkysoft PDF Editor Tool, editing a PDF file is as easy as a Word document on your Windows PC. This PDF Editor tool provides you an array of different menu options that is not only limited to edit the text but also allows inserting images, graphics, link, as well as watermarks to give a personalized effect to your PDF output.
Editing PDF is now easy
PDF editing can be a hassle if you don't have the right tool. Most tools will need you to convert the PDF to a Word Doc or other editable format and then convert the document back to PDF. Whereas, the iSkysoft PDF Editor software lets you edit a PDF file similarly as an MS Word doc file or a text notepad. Simply load the PDF file using the "Edit PDF" box on the dashboard and choose the respective PDF file and start editing. With a large menu of different options, you can also insert image, watermarks, or hyperlinks within the document.
With the edit feature on iSkysoft PDF Editor, you can perform the following actions:
Edit Text: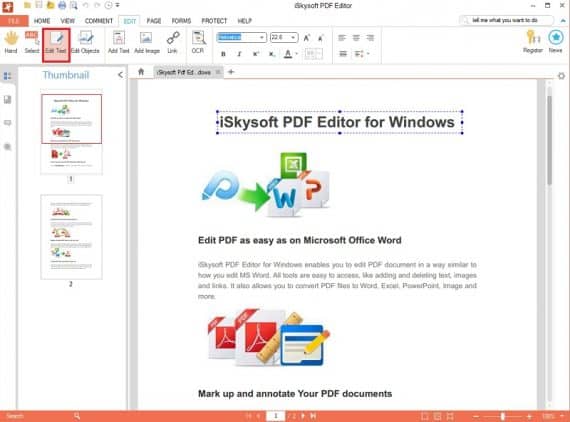 Open the PDF you want to edit on the iSkysoft PDF Editor dashboard. To start editing text, click "Edit Text" on the dashboard menu and then just click the text. The text will now become editable. You can follow the same procedure to edit the text throughout the PDF.
Add/Remove Images: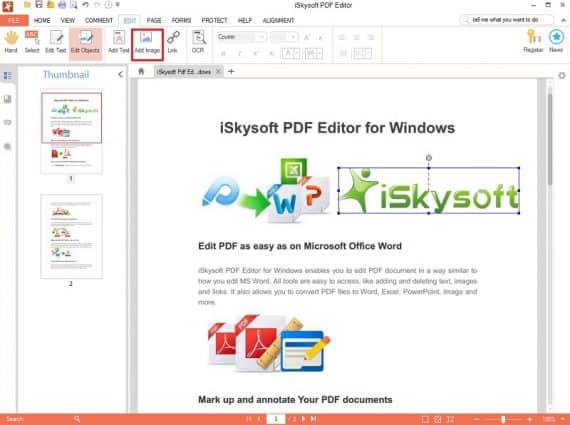 You can follow a similar procedure to add or remove images from your PDF file. To add a new image, simply click "Add Image" from the "Edit" on the Dashboard menu and choose the image file from your computer and the image will be imported in the PDF document. You can also move the image to the desired place as well as resize the image by moving the borders around the image. You can also remove an existing image on the file by using "Edit Objects" option and selecting the image and pressing "Delete" from your computer.
Edit Pages: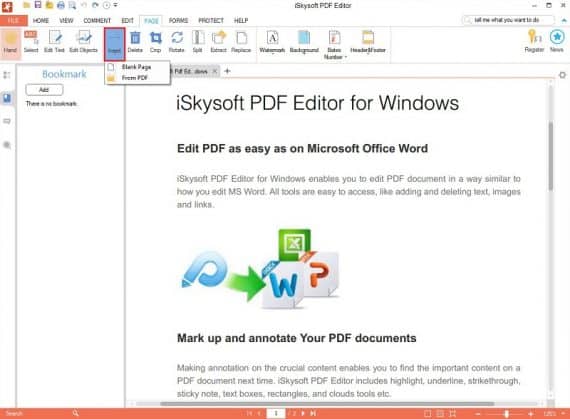 To add or remove pages from your PDF file, you can simply go to "Page" tab on the Dashboard menu and click "Insert". You can either add a blank page or add a page from another PDF file.
Combine, Compress, and Split PDF:
Sometimes you have multiple PDF files in the form of a presentation or report that you want to combine. At times, you may want to split a large PDF file with multiple pages. Well, you can do all that with iSkysoft PDF Editor.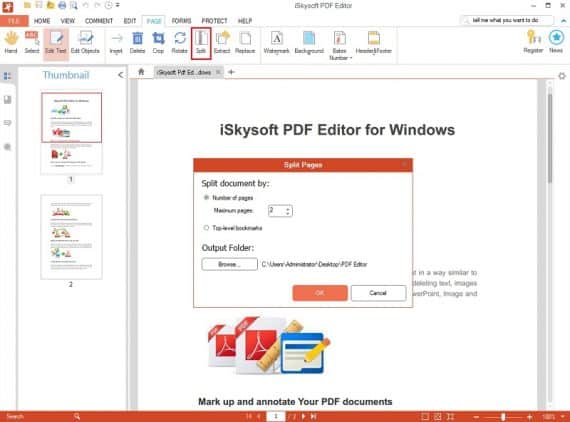 To split the PDF document, simply go to "Page" tab on the Dashboard menu and click "Split" option and a new window will open asking for instructions on how to split the document. You can set the maximum number of pages and the PDF editor will take it as the reference point for splitting the document. For example, if you set 2 as the maximum number of pages for a 50 pages PDF, then the software will split the document into 25 different parts.
To combine different PDF files into one document, you can simply click the "Combine Files" option on the "Home" tab of the Dashboard menu and add the different files you want to combine from your computer and start the merging all the files into a single document.
Convert to/from PDF with just one click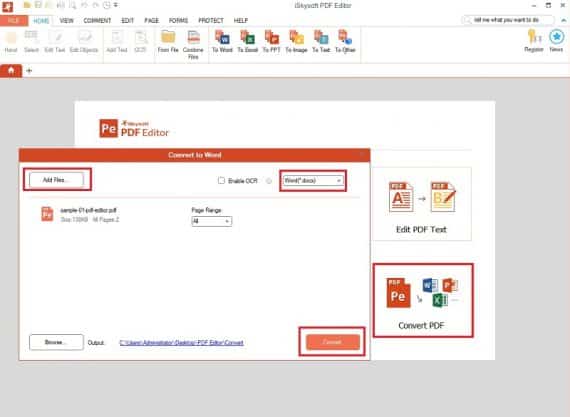 Now convert any document into PDF like a boss with iSkysoft PDF Editor. As mentioned earlier, a PDF document is the most widely used document format and it always scores high on a professional level when you send important documents such as CV, Invoice, Research Analysis or Report in PDF format. With this tool, all you need to do is select, "Create PDF" option from the dashboard and browse the file that you want to convert into PDF. That's it. You can convert Word, Excel, PPT, text notepad, etc. into PDF with ease.
In addition to that, you can also convert your PDF file to different formats ranging from Word, Excel, PPF, Image, Text, or others as per your convenience.
Filling out forms is no more hectic now!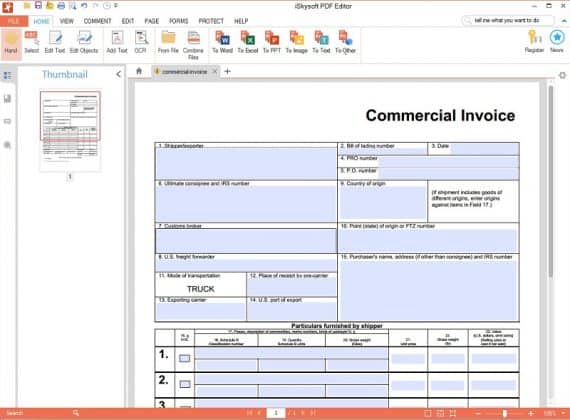 Does your work require you to fill out forms every single day? If yes, then this is the ideal tool to save you from all the hassle. Now, you can simply use your computer or mobile phone and easily fill out the PDF forms with ease. Either scan the form as PDF and edit the PDF using editor tool or use the PDF form available on the web or as a soft copy on your machine and fill the forms in a faster and simpler way. In addition to that, you can also import/export PDF forms data to accelerate the overall PDF forms filling process.
Use Markups and Annotations to highlight your documents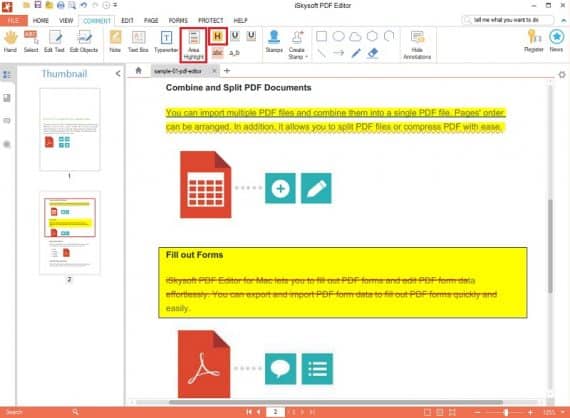 Markups are the best way to highlight your documents to make them look more lively and descriptive. With iSkysoft PDF Editor, inserting comments, highlighting major sentences, as well as drawing shapes or lines is like a piece of cake. You can easily add comments or a sticky note using "Comment" feature to guide the people who will be utilizing the doc in the future. You can also use the highlight feature to draw the attention of the user using "Text Highlight" or "Area Highlight" button. Other markup tools include creating circles, squares, or other shapes using the "Drawing Tool" from the dashboard.
Utilizing these markup tools wisely can breathe new life into your document, which would otherwise look too simple and boring.
Ensure security of your documents
As mentioned earlier, the reason for the wide usage of PDF documents is the extra layer of security. But, with the iSkysoft PDF Editor software, the security layer can be easily breached. Well, there's a great feature available in this software that would easily solve this problem. Using the options under "Protect" tab on the dashboard, you can protect your document fully using a password or simply protect some of the features within the documents as per your preferences.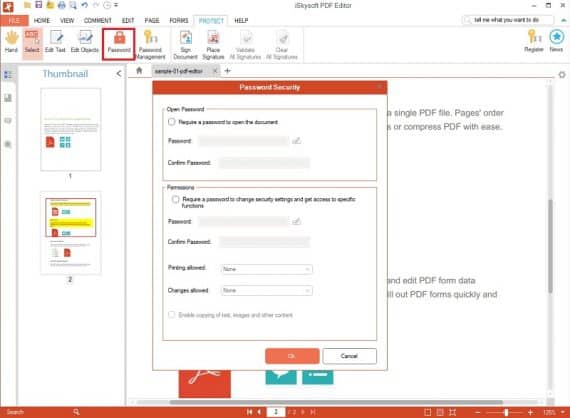 You can also use the "Redaction" feature to redact certain elements such as sensitive text or copyright images in order to protect the data from any kind of misuse. You could also digitally sign your documents for extra protection. With a consolidated encryption integrated within the software, all the PDF documents on iSkysoft PDF Editor remain completely safe and secure.
Safely share the document with others
While you can easily create, edit, convert, or combine PDFs with iSkysoft PDF Editor, it also allows an easy and safe passage to share the document with other from within the dashboard. With this feature, you can safely share the PDF document with others by simple integration with services like Dropbox, Google Drive, Evernote, or direct Email.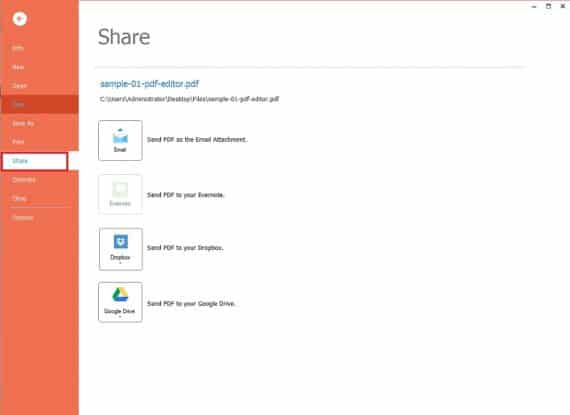 Simply click on "File" on the top-left corner of the dashboard and a menu of different options will show up. Click on Share and find different ways to share your PDF document with others quickly and securely. If you don't prefer the digital way, you also get the option to print your PDF with customized options as well.
Our Verdict after iSkysoft PDF Editor Review
Well, I have used many different PDF Editor Tools in the past, but the PDF Editor from iSkysoft Studio stands out for its user-friendliness and simple UI. It gives you the same look and feel as any program in the Microsoft Office Suite and hence, the Windows users will find it remarkably easy to use and manage.
Most importantly, this iSkysoft PDF Editor tool performs the job so neatly and efficiently with a load of other additional features that once you use it, there's no way you will want to replace it with any other premium PDF Editor tool on the market.
Final Verdict
I recommend iSkysoft PDF Editor to everyone, who is troubled with finding the right tool or program to create, edit, or convert PDF files. The best feature about the iSkysoft PDF Editor tool is that it embeds all the major functions in a single suite. The program is designed after understanding the queries and the problems that most of us have when it comes to PDF files.
This program is ideal for everyone, whether a team at a corporate firm, a work at home professional or a student looking for an ultimate solution to all their PDF needs.
What we think about
iSkysoft PDF Editor