What we think about
IOTransfer 3
Looking for an iTunes alternative? Your search ends with IOTransfer 3 which is much more than an iPhone management program.
If you are looking for an ideal way to transfer data from your iOS device to PC without involving iTunes, then you can always try IOTransfer 3.
IOTransfer 3 is a complete iOS management program available for Windows users. Besides offering a simple iOS management tool, IOTransfer 3 is also bundled with video downloader, video converter, and Air-Trans features.
About IOTransfer 3
IOTransfer 3 is an iPhone manager program developed by IOTransfer Studio. Designed in 2006 as an iTunes alternative, the IOTransfer is serving iOS device owners for more than ten years now. Recently, they have released the 3rd version of the program which is not only designed to manage or backup iPhone data but also help with various other multimedia utilities.
Here's a detailed IOTransfer 3 review to help you understand the program better.
IOTransfer 3 Review
IOTransfer 3 is a tool designed to help the iOS device owners in getting out of the Apple ecosystem. While Apple is known for its amazing devices, it is also highly criticized to restrict its users within the iTunes setup. Hence, iTunes alternatives are immensely popular among the iOS device owners as such programs break them free from the clutches of the Apple ecosystem. One such program is IOTransfer 3.
To understand and verify the authenticity and quality of IOTransfer 3, we decided to conduct an in-depth review of IOTransfer 3 and explore this exceptional iPhone management program further.
Excellent Features of IOTransfer 3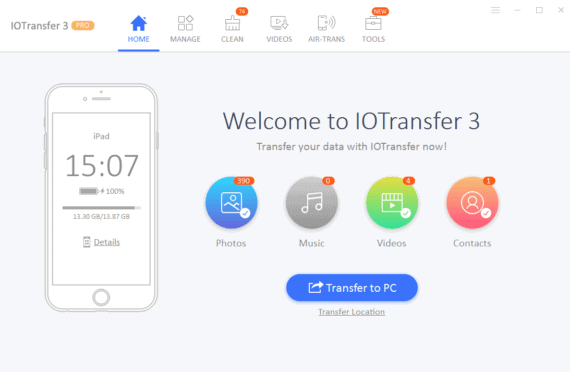 As mentioned earlier, IOTransfer 3 is not just an iTunes alternative. It comes with some exciting add-on features which make IOTransfer 3 a complete iPhone management program.
Here are all the fantastic features bundled with IOTransfer 3
1. One-Click Transfer
IOTransfer 3 is designed as an alternative to iTunes, and hence the primary function of this iPhone management software remains files management. These files include your photos, videos, music, contacts, apps, voice memo, and other data stored on the iOS device.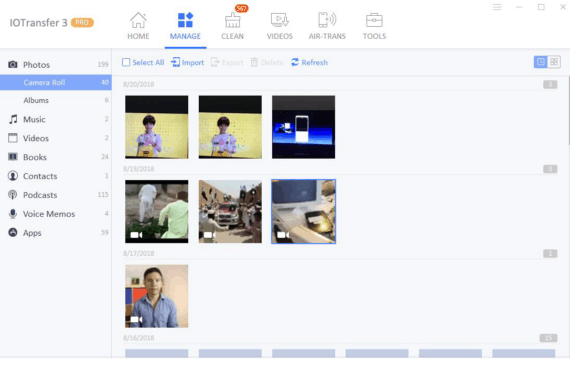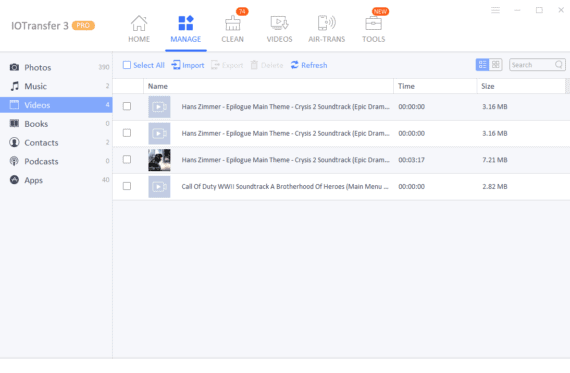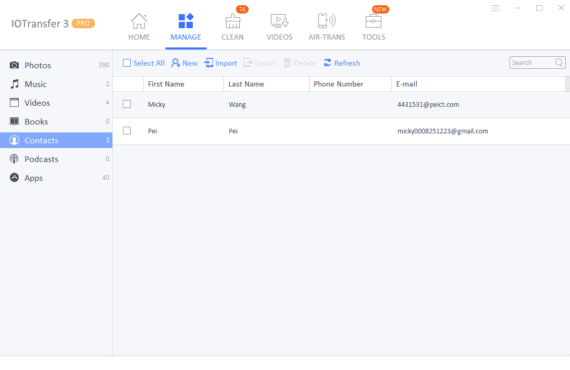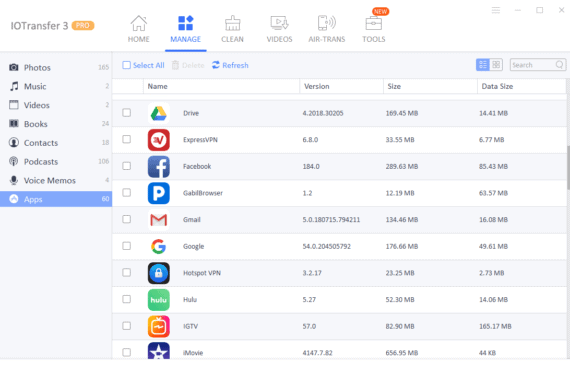 You can use the one-click transfer feature on the IOTransfer 3 to move all the files from your iOS device to a Windows PC for backup.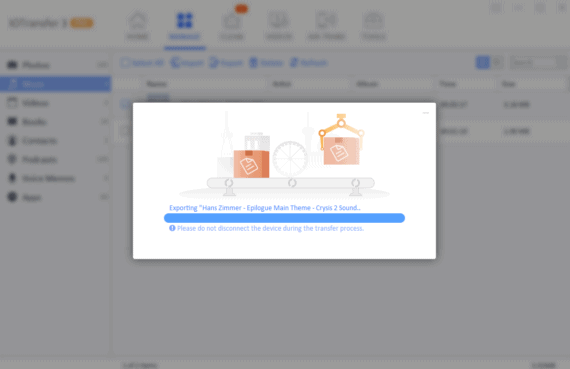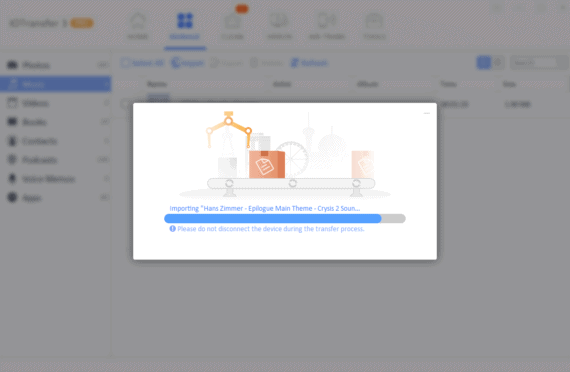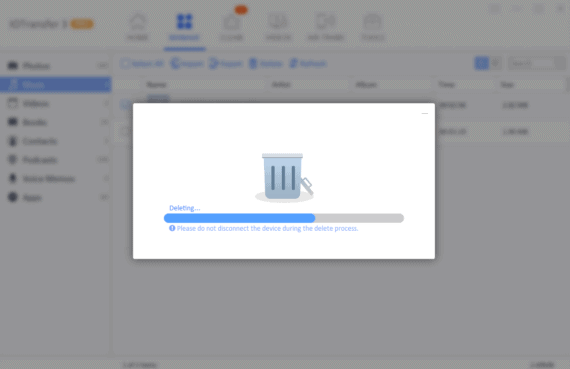 You can also manage or transfer files between multiple iOS devices as well. On the IOTransfer 3 dashboard, you can also view all the files and data on your iOS device. You can also choose to delete or bulk delete any album to free up space on your iOS device.
2. Video Converter
A quality video converter tool can do wonders for your digital life. You can enjoy high quality, large video files on your PC but the same data can block a lot of your space on an iOS device. Well, you can easily convert such files to a compressed version such as 3GP or other formats with the help of IOTransfer 3.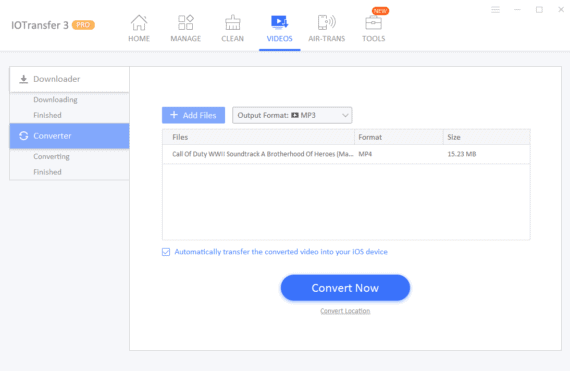 Just choose the video file and add to the video converter module on IOTransfer 3. Choose the output format from MP4, MKV, FLV, 3GP, MPG, WMV, AVI, MOV, HEVC, 3G2, or VOB. You can use the same video converter module to convert a non-compatible iOS video file to a compatible iOS video file and transfer the processed file automatically to your connected iOS device. Besides video, you can use this module for audio conversion as well. The program supports MP3, AAC, OGG, WAV, M4A, AC3, FLAC, and MKA.
3. Transfer files wirelessly
If you are fed up with the use of cables for data transfers, then here's the Air-Trans feature on IOTransfer 3 to help you transfer data to and fro your iOS device wirelessly. Just install the IOTransfer AirTrans app on your iOS device and hit the "Start Transfer" button on Air-Trans section.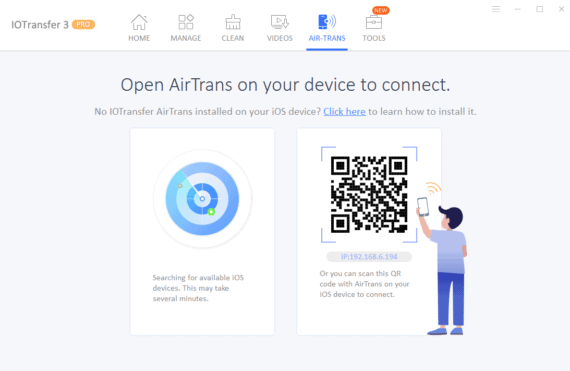 The Air-Trans module on the IOTransfer 3 will scan for a nearby iOS device with IOTransfer AirTrans activated. If the scanning is taking a lot of time, then you can also scan the QR code from the IOTransfer AirTrans app on your iOS device to speed up things. Once connected, you can efficiently manage, backup, and transfer all your iPhone data wirelessly.
4. Free up Space with Easy Clean
No matter how massive your iPhone or iPad storage is, you will always run out of space after a while. It becomes necessary to clean up space and get rid of the unnecessary or unwanted files which stack up your iOS device. With IOTransfer 3, cleaning up and freeing up space on your iPhone or iPad becomes safe and straightforward.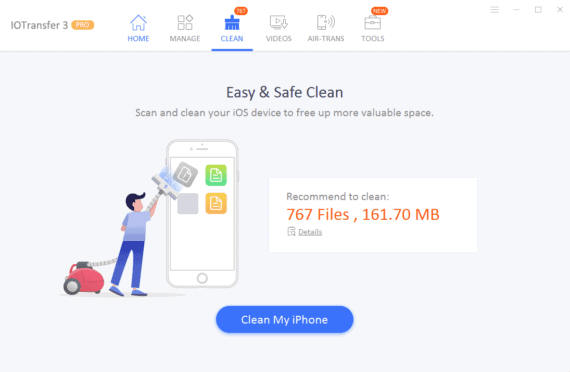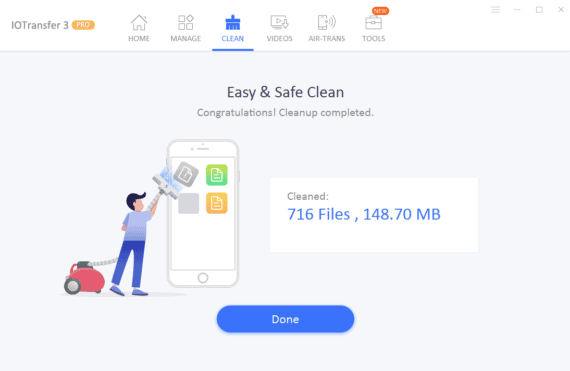 While you can always delete files that you no longer need, there are still a lot of system files or logs which are no longer necessary. These are junk files which generally stack up most of the storage space on your iOS device. With the smart iPhone clean up feature on IOTransfer 3, you can quickly get rid of all such junk files, temporary files, cache data, cookie data, crash logs, etc. with just one-click. 
5. Instagram Photo Downloader
Well, most of you may have tried to download Instagram photos but failed. It is not a mystery that it is tough to download Instagram photos but not anymore. The Instagram photo downloader on IOTransfer 3 will let you download pictures with ease. Go to the "Tools" section on IOTransfer 3 and choose Instagram downloader module.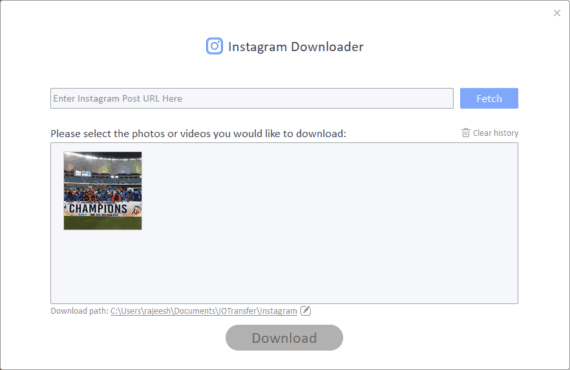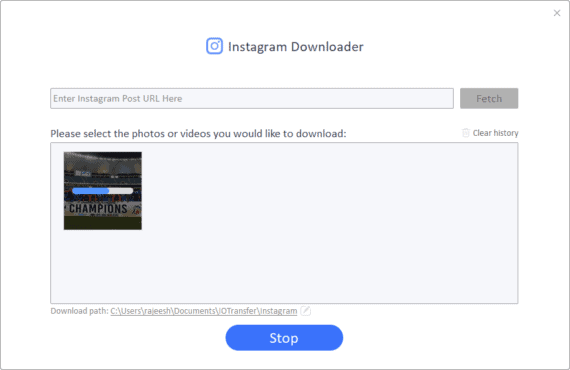 In the new window, you will see a box to paste the Instagram post URL. Just copy the Instagram post URL from the web and add the URL in the box and hit "Fetch." The Instagram downloader tool will fetch the photo or photos from the post URL, and you can click the "Download" option at the bottom to download a single photo or photos from the post. You can also download Instagram videos from the same module. If the Instagram post URL has a video, you will be able to download that video in the same manner.
Our Verdict
IOTransfer 3 is a go-to iPhone management program for any iOS device owner who feels restricted with the iTunes setup. After the detailed IOTransfer 3 review, I can deduce that IOTransfer 3 is an excellent iTunes alternative for all the iOS device owners who are looking for something more than just an iOS management tool.
You can either back up your entire iPhone or iPad data, transfer files to and from your iOS devices, or clean up some free space on your device with just one click. Besides the file management module, you can also use this program to download videos from significant video platforms, convert audio/video files to other iOS compatible formats, as well as download Instagram photos and videos seamlessly. 
All-in-all, the IOTransfer 3 is a complete iPhone manager program and true iTunes alternative for Apple users. If you're still not convinced with our IOTransfer 3 review, then feel free to try the program for free before making the purchase. 
What we think about
IOTransfer 3