Huawei has been achieving new heights in the smartphone industry every year. Last year, we saw that the smartphone industry had the worst year ever in terms of sales. Despite that, Huawei still managed to grow more than 200% year-over-year in 2018. This shows that Huawei has become the leading smartphone brand from just being a competitor. We also know that Huawei has been innovating a lot with their smartphones.
In 2018, Huawei released the Mate 20 Pro and the P20 Pro. Also, it is not long before we see the Huawei P30 Pro get launched officially. Because Huawei will launch its upcoming P-series flagship at the MWC 2019 next week.
Talking about Huawei, the company is planning to launch another new smartphone, reveals a new leaked image. This will be the Huawei Mate X which seems to be a foldable smartphone. Also, it is rumored that Mate X will also be Huawei's first 5G smartphone.
Huawei Mate X Foldable Smartphone with 5G support launching at MWC next week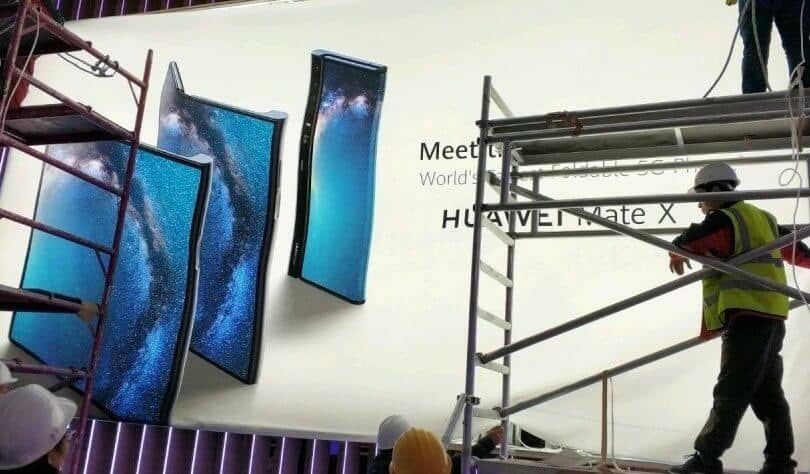 We can clearly see from the image above that Huawei's foldable smartphone is launching soon. Now, it seems to be an image captured from the billboard which means that the marketing for the smartphone has already started. From the billboard, we can see that this smartphone will be named as the Huawei Mate X. 
Also, the image says that this will be the World's first foldable 5G smartphone. Up until now, we have seen the Samsung Galaxy Fold which is a foldable smartphone. But we have not seen any smartphone with 5G support yet.
Now, we know that 5G support is not an entirely new concept in 2019. This is because Samsung is expected to launch its first 5G smartphone very soon. Also, OnePlus has announced the launch of their first 5G smartphone at the MWC 2019. However, OnePlus' 5G smartphone is expected to be the OnePlus 6T with 5G support.
Talking about the Huawei Mate X, we only have the billboard image as of now. However, it can be seen that the Huawei Mate X has a different design than the Samsung Galaxy Fold. The leaked image was first posted on Weibo and then made its way to Slashleaks.
Huawei Mate X's camera setup is not clear from this image but it is expected to have a solid camera too. Nevertheless, we can expect to see the Huawei Mate X in action as early as next week at the MWC in Barcelona.