It is not uncommon to casually perform the wrong gestures on your smart phone's screen and accidentally lose data that is very important. You must have lost a photo that means a lot to you, or the contact of someone very important and once that happens, they are gone for good. Not any more. Dr.Fone, from Wondershare, is a software that has been designed to recover lost data from all your apple devices. Dr.Fone is a simple software that will guide you step-by-step to recover deleted photos, contacts, text messages and many more from your iPhones, iPads and iPod touch. And, if you've lost your phone or, if your phone is not in a condition to help recovery, you can recover data from iTunes and iCloud backups also.
Its installation is pretty simple and once that is done, it will guide you through the steps. It will scan your phone for the lost data and recover it. Simple, no?
Recover Data from iPhone, iPad and iPod without backups
Most of the mobile user won't develop a habit of maintaining regular backups of the device.  Not matter it is an Android device or a PC. It is always suggested to backup your PC as well. In worse case if you are unlucky with backups, still you can recover data from iPhone, iPad, iPad. Yeah! you can recover data from iPhone without backup too.
Simple Tutorial to Recover Lost data from iPhone
Download/Purchase (Link is at the end of article) Dr.Fone from Wondershare
Run and Install by following on-screen instructions
Plugin in your Apple device
Click Scan
Once it finished scanning, you can
Recover Deleted Text Messages from iPhone, iPod, and iPad
Recover deleted Contacts from iPhone, iPod, and iPad
Recover deleted Images from iPhone, iPod, and iPad
Recover deleted Videos from iPhone, iPod, and iPad
Recover deleted Call log from iPhone
Here are a couple of useful things you need to know about Wondershare's Dr.Fone.
Data that can be retrieved using Dr.Fone
You can retrieve lots of lost data like contacts, messages, notes, call history, reminders, calender and even WhatsApp history. Also, Camera roll, Photostream, voice mail, voice memo, App photos etc., can be recovered from your iTunes and iCloud backups.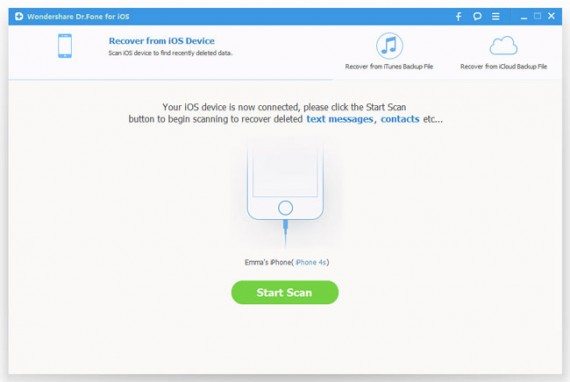 Selective retrieval
Don't need all the files that you lost? Now, you can recover only the files that you need. Before retrieving, you can preview all the lost file and then, select only those files that you need and retrieve them. This will save you some valuable time and also memory. This feature sets Dr.Fone apart from iTunes, since this cannot be done on iTunes. And it actually is quite helpful.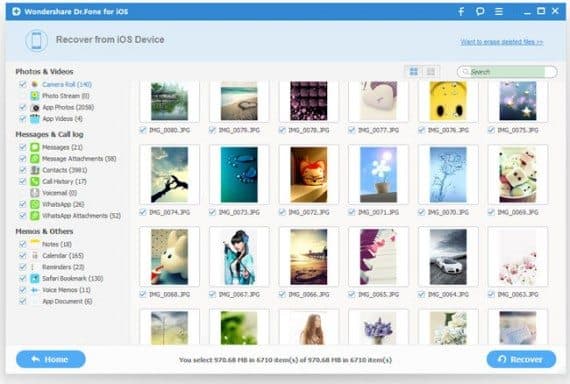 To make it more feasible, Dr.Fone is available for both Windows and Macintosh platforms.
Here's the guide that will walk you through the process.
Technical Specifications
Windows
| | |
| --- | --- |
| Operating System |  Windows 8.1/8/7/Vista/XP |
| CPU |  1 GHz(32bit or 64bit) |
| RAM |  256MB or more (1028MB recommended) |
| Hard Disk Space |  200MB or above free space |
Mac
| | |
| --- | --- |
| Operating System |  Mac OS X 10.9 (Mavericks), 10.8(Mountain Lion), 10.7, 10.6 |
| CPU |  Intel Core 1GHz or faster |
| Hard Disk |  1G or more |
Supported Devices
| | |
| --- | --- |
| iPhone |  5S/5C/5/4S/4/3GS/3G |
| iPad |  Air/iPad mini with Retina Display/iPad with Retinal Display/iPad mini/iPad 2/iPad 1 |
| iPod |  iPod Touch 5/iPodTouch 4 |
Also see: How to Manage your iOS Devices under single roof
Pros:
– Recovers lots of lost data
– Available on Windows as well as Mac
– Guides the user for easier usage
Cons:
– Expensive
– Doesn't recover everything (text messages sometimes fail to recover).
Want to transfer data from your iPhone to another phone? This is what you are looking for, then.
Download Trail Version of Wondershare Dr.Fone
Conclusion
To err is human. And to rectify such errors, technical ones, Dr.Fone acts as a great tool. Everyone of us have accidentally lost important stuff from our phone. But now, we needn't fret, since we've got some really useful software. The only thing is that it costs around $70 but then, there is some data that is priceless. If you badly want to recover some lost data and don't mind spending a few bucks for it, here is the door for you. You can also try out the trial version(it has got limited features).