Nokia is still releasing their mobiles with Symbian Operating System while other mobile manufactures are leading this mobile world with Android and Microsoft Windows Operating systems. Everyone knows Symbian becomes old and irritating. Symbian mobiles are dead slow and does not support more applications. Due to this reason many Nokia Symbian users are shifting to other operating systems. Keeping them a side, we can increase Symbian mobile speed by flashing it with higher versions. Updating phones software is not a simple task. It include many important and dangerous steps. As I am using Nokia 5800, now I'm showing how to flash nokia 5800 using JAF. Nokia 5800 is an awesome mobile with almost every features included. If we flash that Nokia 5800 we can use it even better. Well, do you know how to flash Nokia 5800 using JAF? if your answer is no then you are on the right place.
we can Flash Nokia mobiles by using third party software's like JAF and Phoenix. But i recommend to use JAF for safer rooting. Don't worry about rooting. This is a complete tutorial explaining how to flash Nokia 5800 using JAF.
Even you can flash other Nokia mobiles using this same procedure. Okay, well! let's go to the topic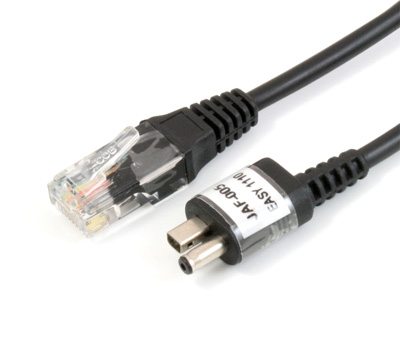 What is Flashing
Before flashing your mobile, first know about flashing. Flashing is only way to re-install or update Phones software using third party software like JAF.
Why you need to Flash your Mobile
Reasons for flashing mobiles are many. Many people flash their mobiles expecting
Increase in Phones speed
Expecting more applications
To update phones software and many more
How to Flash Nokia 5800 using JAF
Now I'm here to explain How to flashing Nokia 5800 using JAF with latest version 21.01.101. Flashing process can be done in three simple stages
Download Required stuff
Download all software's mentioned below and Install them (Works only on Windows)
Downloading Required Firmware
Before Downloading your phones firmware, check your current firmware version and Phone's RM. This can be checked by dialing *#0000# from normal dialing pad

Now open Navifirm and wait until data loads. Now select your Phones model in products tab including RM and select firmware version you need to flash your mobile. (In this case Nokia 5800)
Download all files to C:Program Files/Nokia/Phoenix/Products/RM-XXX  
Replace XXX with your phones RM. In my case my phone RM is 356 so, i created C:Program Files/Nokia/Phoenix/Products/RM-356. If this directory does not exists in your computer, create it manually
Do You know: Nokia Releasing their First Android Mobile, Nokia N1 – Full specifications

4. Be careful while selecting firmwares version. Always select higher version firmware. Flashing with lower    versions may brick/damage your phone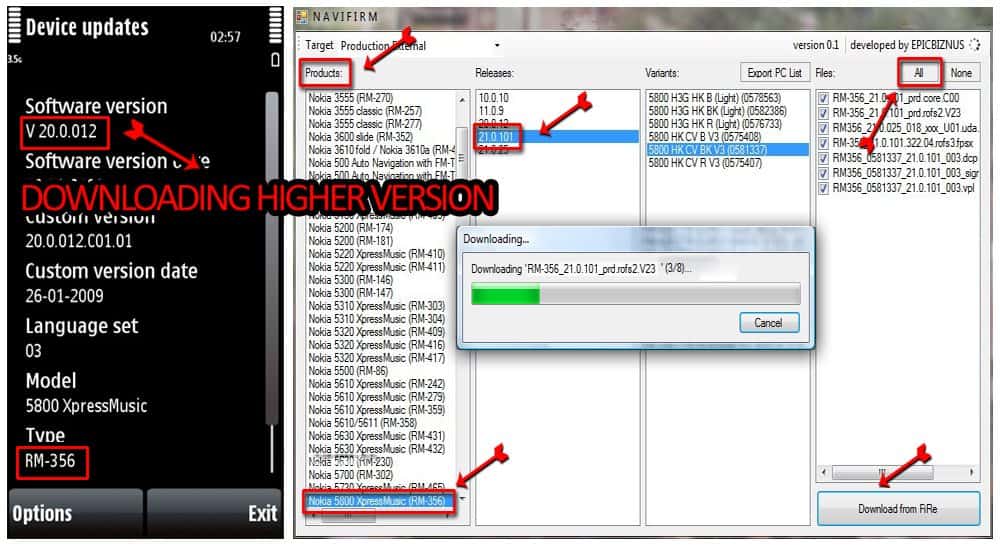 So, Lets Flash your Mobile
Before flashing your phone, Backup important data like contacts, Messages etc
Replace/overwrite JAF_ NOKI4MODELS.INI file in C:Program Files/ODEON/JAF
Open OGM_JAF_PKEY_Emulator_v 5.exe and tick Random PKEY Raskal SN, JAF (main) and click GO. Wait for few seconds and an error popups notifying  "BOX DRIVER NOT INSTALLED", ignore it and click ok, JAF will startup automatically
When JAF starts navigate to BBS tab and tick Manual Flash, Normal flash, Dead USB and untick  CRT 308. At last click use ini and wait for few seconds. Entire Nokia phone models would open in new window and select your phone exactly including RM (Most Important Step)
If everything goes fine MUC, PPM, CNT, APE Variant buttons turns green
Now, switch-off your mobile and connect to computer using Data cable
Click Flash, Ignore warning and click Yes
Flashing process would starts and shows a message PRESS POWER ON NOW. Now, press and hold Power button for just for one second

That's it, take a cup of coffee and your computer do the remaining process.
Optional Steps
After flashing Nokia mobile 5800 or any other, Remove the phone's battery and replace it again
Reset your mobile by dialing *#7370# to remove any bugs (if present)
Precautions
Never flash any mobile with lower version software
Charge your phone battery completely (at least up to 50%)
Never disconnect the mobile from computer while Flashing
Flashing is not a easy process, any wrong step leads to brick your phone. So, try this at your own risk