Google Play Store is probably the most famous and biggest apps and games store. It house not only games and apps but also features movies, songs, as well as eBooks. With over 2 million apps and its database growing each day, the Play Store is a behemoth and a haven for Android users with all their favorite apps and games lying underneath their fingertips. You might have not thought of Google Play Store alternatives much, as it already houses almost every app available. Almost.
There are still quite a few apps that cannot be found on the Play Store. This could be due to a number of reasons. The app you are looking for may not adhere to Google's strict uploading policy. It might not complete every single one of Google's checklist that they use before uploading an app on the Play Store. The app also may not be available in your region and sometimes you might need the APK version of the app for easy sharing with your friends.
There are a lot of alternatives for Google Play Store that can help you find the app that you need even if it's not easily and readily available on the Play Store.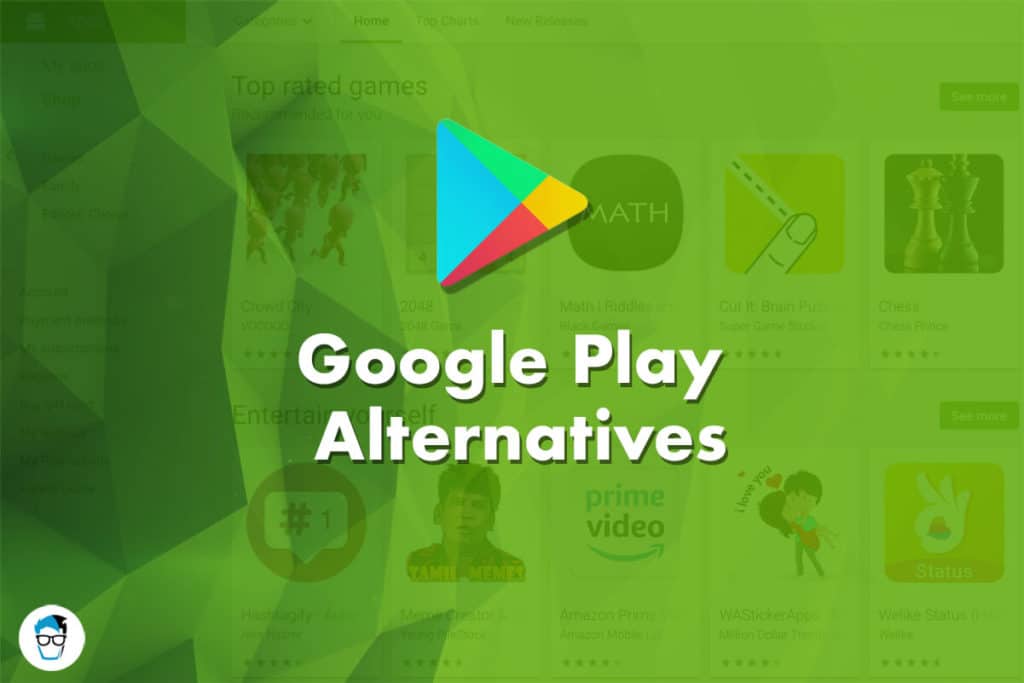 10 Best Alternatives for Google Play Store
Here's a list of the best Google Play Store alternatives that you can use to download the app that you were looking for and could not find it on the official Play Store. In this list of app stores, there are some services that even allow you to download the APK file of your app or game.
But before using these Google Play alternatives, you need to allow your smartphone to install applications from unknown sources.
Make sure you download the APK files only from the trusted sources. Installing unknown and untrusted APK files might harm your device if they contain malicious codes. Be cautious when you enable permissions for the apps which you downloaded from unknown sites.
For Android Oreo 8.0 and Lower
If your device is running on Android Oreo or lower version, you can easily enable Unknow sources option in just 2 simple steps.
Go to

Setting

and then tap on Security.
Enable the option titled "Unknown sources"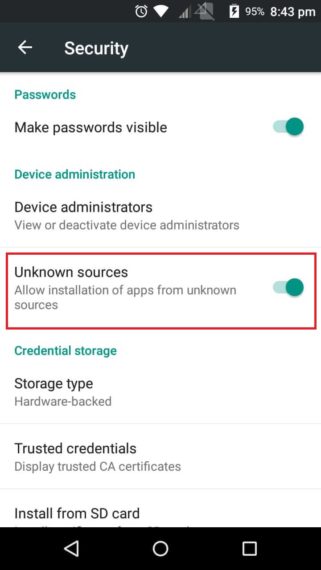 For Android P 9.0 and higher
Go to Settings and select Apps & Notifications.
Tap on Advanced.
Select Special app access.
Scroll down and select Install unknown apps.
Choose the app that you will be using to download the APK file.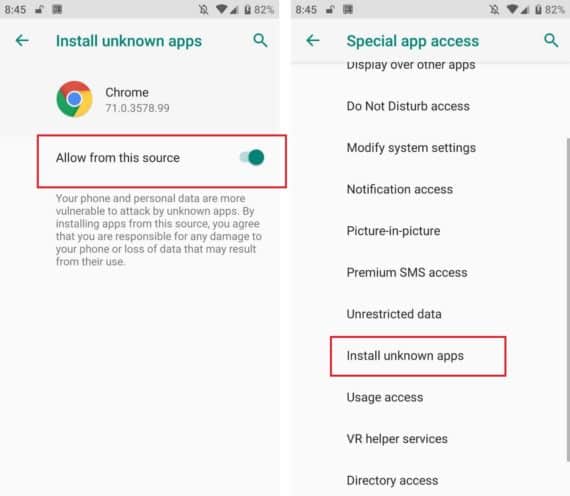 For Android Pie 9.0 and above, to download any alternatives for Google Play Store, you need to first download an APK file from a web browser. So we are enabling unknown sources permission first for Google Chrome. Once you download and install a Google Play Alternative, you need to repeat the same steps to enable the permission for the new app.
Now you have successfully set up your Android device to install APK files directly. Continue reading to know the list of alternatives for Google Play Store which helps you in downloading the apps and games which are not available on Google Play.
1. Amazon App Store
The Amazon App Store is Google Play's biggest competitor in terms of size and reach. With the Amazon name supporting its cause, the Amazon App Store has thousands of free as well as paid apps. Amazon in an attempt to gain more users gives away the paid app for free to its users every day.
You might find the app you were looking for but didn't want to empty your pockets? there is a great chance you find it on Amazon Store for free. Apart from giveaways, in order to give Google a good fight, they put a lot of discounts on apps and games and thus you can find apps priced for a lower price than the Google store here.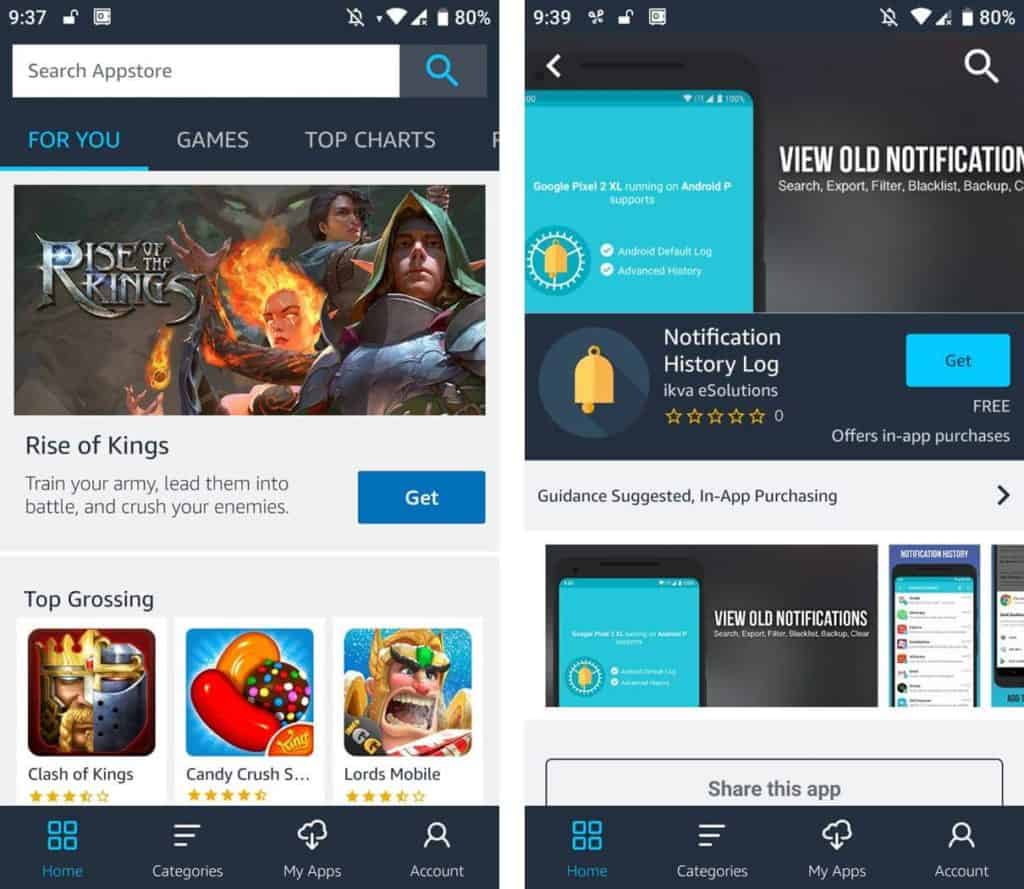 Aside from apps, the Amazon store features all the latest movies, books and songs. Most of these products are available for a lower price than Google making it very appealing for users who invest heavily on paid apps.
It features a For You tab and Top charts similar to Google. There is a categories section where you can easily browse for the application you want. The store is easy to navigate and the interface is very user-friendly.
Amazon App Store can be accessed using their official app which is (surprise, surprise) not available on the Play store. You need to download it from the official website. You need to have an Amazon account to access all the above-mentioned perks and features.
Pros:
A wide library of apps, games, movies, songs, books and much more.
Lower prices and heavy discounts than the Play Store.
Trustworthy service.
Cons:
The database is still substantially low when compared to Google.
Some not so popular apps and games not available.
2. Samsung Galaxy Apps
Samsung Galaxy apps is an app store made by Samsung for its own devices. Galaxy apps were created by Samsung as a direct competition to Google's play store. Samsung has always been knowns for attempting to make their own operating system exclusive to Samsung devices so that it would no longer have to rely on Google's Android. The Galaxy apps can be seen as one such attempt.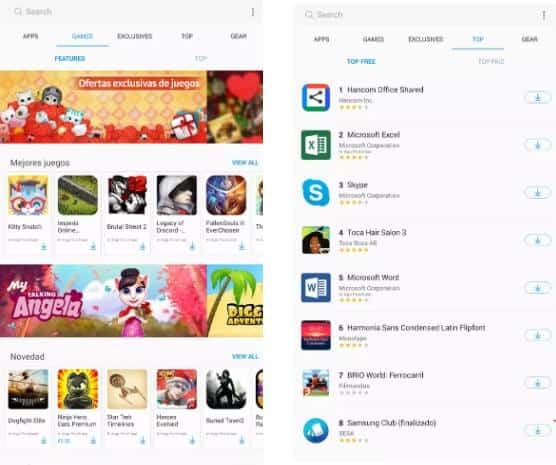 The Galaxy app store is developed exclusively for Samsung users. So if you have any non-Samsung device, then this app store is not for you. But if you own a Samsung device, then Galaxy apps can be quite useful as it comes with apps and games curated especially for your smartphone.
Galaxy apps come preinstalled in every Samsung smartphone. You just need a Samsung account and you are good to go. There are separate categories for both Galaxy devices along with Gear devices so that you can find all the apps in one place.
The app store has the best picks for your device and Samsung gives out huge discounts for its users. If you own a Samsung device, we would recommend you to use Galaxy apps as your go-to app store.
Pros:
Apps are curated for your Samsung device.
Huge discount.
Familiar UI.
Cons:
Not available for other devices.
3. F-Droid
F-Droid is a developer haven and the best app store for people who want to have a look at the source code of the app that they use. The app store has only free and open source apps. It is running on donations and contributions by developers who put their work for people and making them available for free.
This gives huge power to the users who can customize the app to their liking and can even be used by aspiring developers to get some essential code for their app if they want. There are no ads in the apps and no in-app purchases.
The F-Droid app on Android features a simple looking UI with a categories section and a search function. You can even access the repositories of the apps directly from mobile to give the source code a quick look.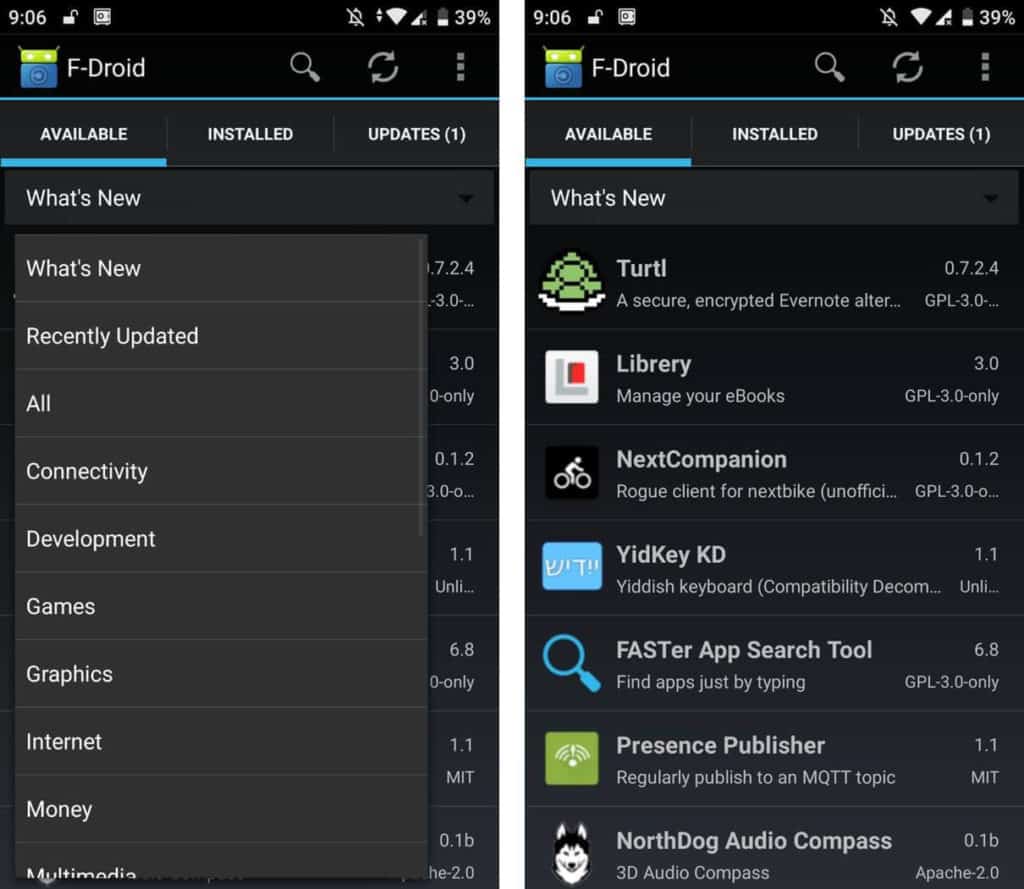 F-Droid is full of utility apps that can help you with many day-to-day tasks and provide functionality that you won't find on the Google Play store. It doesn't even require you to log in or sign up to download and install the apps.
The app doesn't feature any reviews or ratings so you won't know for sure if the app you are going to download will work on your Android device or not. You can search for reviews on Google and other websites if you wish to know.
Most of the apps found on F-Droid are made for practical purposes and generally have a very basic looking user interface. You can also download the F-Droid app from their website since it isn't available on the Play Store.
Pros:
Open Source and Free apps.
Ad-free.
A very large and helpful community of developers.
No sign in required.
Cons:
Most apps have a basic and outdated user interface.
Popular apps are not available.
Apps are curated mainly for developers.
4. ApkMirror
ApkMirror is a very popular and trusted website to download APK files and install them on your Android device safely. The website doesn't have any official apps and the only way to download the APK files is by using their website.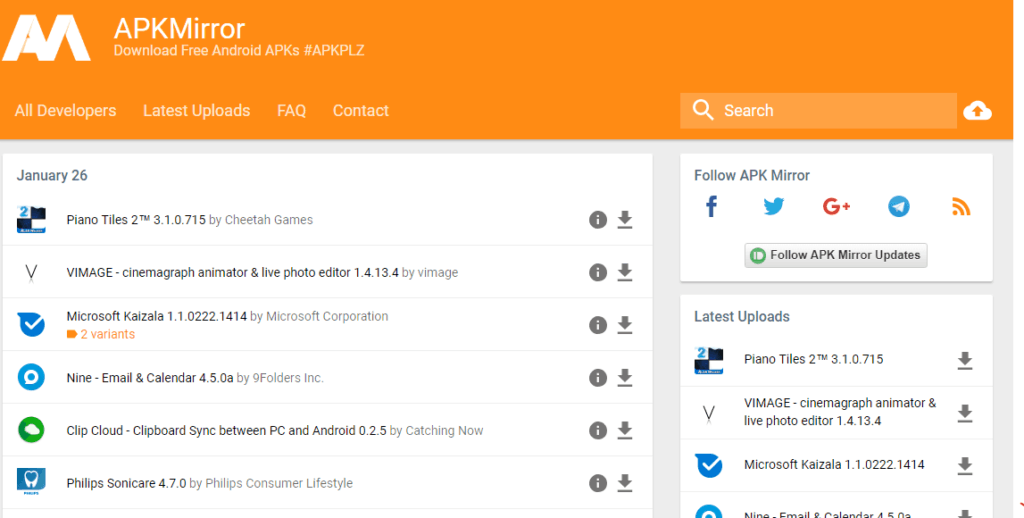 ApkMirror features almost all the apps available on the Play Store and all of them are free to download. Since the only way to download apps is to use the website, you'll have to face ads and won't have the smooth and easy experience that an app can provide.
APKMirror has an impressively huge library that also houses older versions of apps. You can download the latest version or download a previous version depending on your choice. The previous versions are listed according to their release date on the same page making it very easy to download.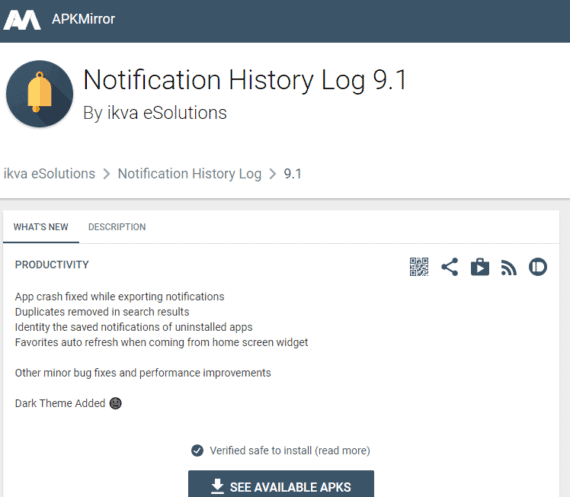 APKMirror is a prominent website and better than any other APK hosting website. You can easily browse the apps and the search function works great. You'll always find the latest versions of the apps that might not have yet released on the Play Store. You can even download APK for apps that aren't available in your country.
Pros:
Huge library of apps.
Previous versions of apps easily available.
No paid apps.
Cons:
No official mobile apps are available.
Need to download APK file from the browser and install it manually.
5. UptoDown
UptoDown boasts of an app store with over 2 million apps that are virus free and totally safe to install in your phone. It is a very safe Google Play alternative and it works best with their Android app. It uses Virus Total to automatically scan the apps and games with 50 anti-virus software to provide the user with a safer experience. They even have a website which lets you download APKs of the apps directly from your browser.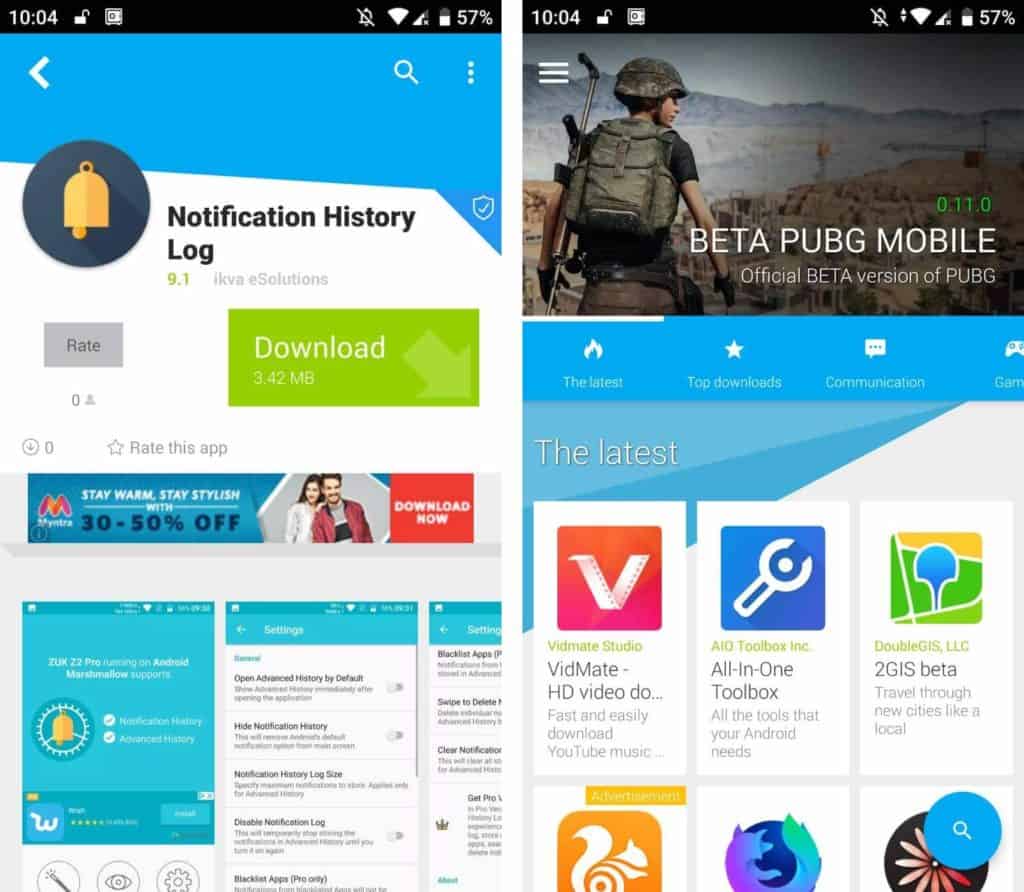 The UptoDown Android app will keep your apps updated. It has a Rollback feature which is our personal favorite since it lets you rollback to a previous version of the application installed. This can be quite useful when an app update comes with fatal bugs or has a new feature/limitation that you dislike.
The app has a user-friendly interface with separate pages for different categories and a very powerful search function. They even give an option to download your app on SD card or internal storage. UptoDown is a very safe Google Play Store alternative that won't put your phone to any risk or harm.
Pros:
Virus free applications.
Easy to use interface.
Very large database with different apps and games.
Cons:
Applications show banner ads.
Downloaded APK needs to be installed manually
6. Aptoide
Aptoide is a Play Store alternative that looks a lot like Google Play itself and has many features like app ratings, screenshots of the app and much more that gives it a familiar feel. It features most of the apps found in different app stores and works like a central market that features products from all the different markets and put them in one place for easy access.
The Aptoid app for Android allows easy installation of apps on your Android device but remember to enable Aptoide to install apps on your device as mentioned at the beginning of this article.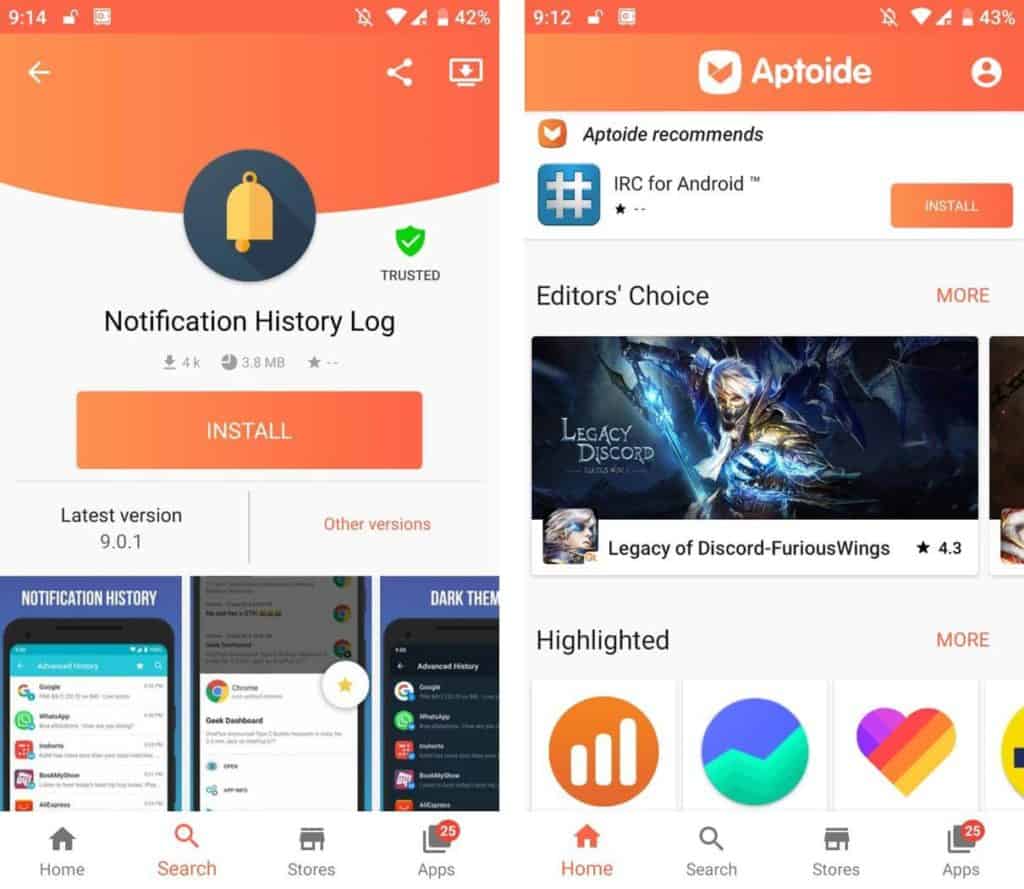 Aptoide has a unique feature where every user can basically create their own app store. You can have a specifically curated App store that has apps to your liking. You can even follow other stores that are similar to your taste and search for apps within those stores.
The Android app features an app manager where you can see pending updates and even uninstall already installed apps on your phone. Aptoide features many third-party softwares which are not approved in the Google Play Store.
Downloading unknown apps from Aptoide can put a risk on your Android device. Aptoide even hosts pirated software that could infect your phone with malware. Good research is needed before installing anything from Aptoide to your device.
Pros:
A very large market featuring almost all apps.
Easy to install with one click installation.
Familiar user interface.
Curated stores just for you.
Cons:
App features ads.
Contains apps that could harm your phone.
7. GetJar
If you have been downloading games from the Nokia era when the only games available were Java games, then you must be familiar with GetJar. It is the world's largest app store with over 2 billion downloads. GetJar is one of the oldest websites to provide games and apps for mobile devices ranging from Android, Blackberry, Java, Symbian, and mobile web. You can find almost any app and game available on GetJar due to its large size and its support for developers.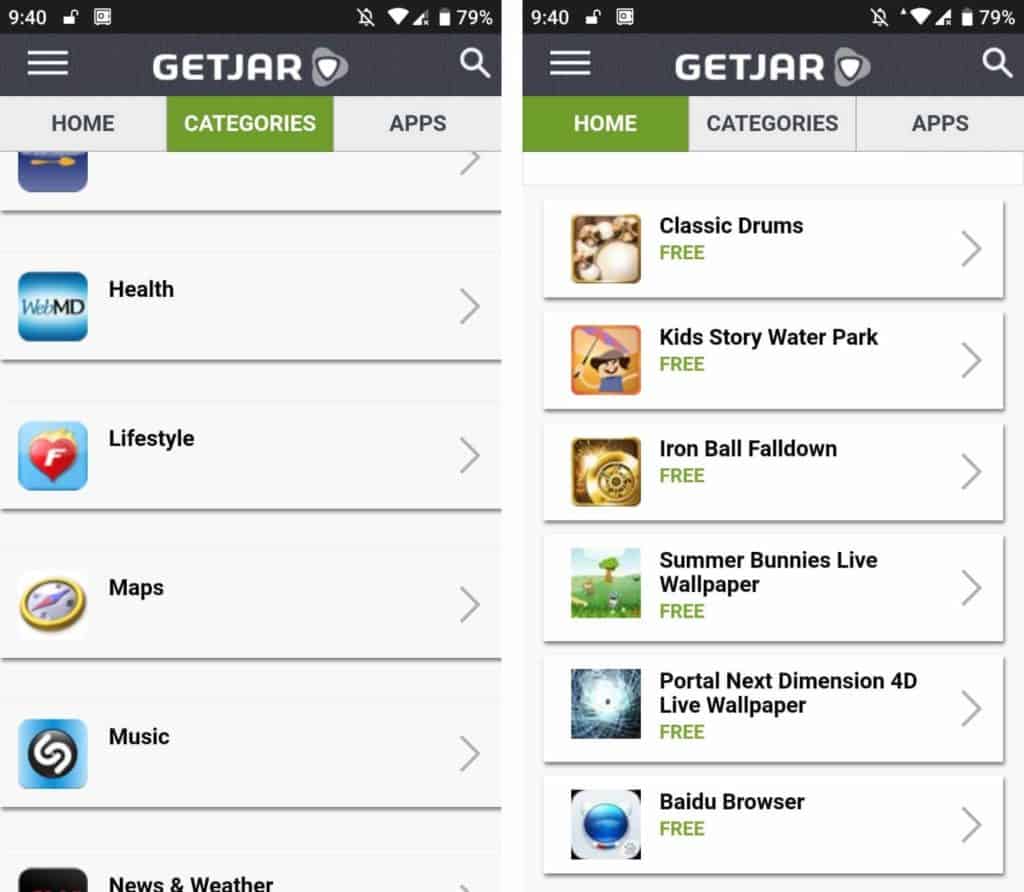 You can download apps from the official GetJar website or download their app store on your mobile to instantly access its library of applications for free. The GetJar mobile applications work basically as a browser to access the GetJar website.
There are a lot of different categories for you to choose from. The app also has a few hotkeys to access Reddit, Facebook, Twitter, Google, and Wikipedia directly from the app without closing it. The only downside to using GetJar is the number of ads that it shows. The website and the app are plagued with banner ads. But its a very minor inconvenience considering the millions of apps that are available to you to download for free.
Pros:
Supports different platforms along with Android.
Huge diversity.
Great support for devs. and users alike.
Cons:
The app is built on web views.
A huge number of annoying banner ads.
8. Mobogenie
Mobogenie is another Google Play Alternate that is good for finding apps and games that cannot be found on the Play Store or are not available in your region, It features many application and games that are only available on Mobogenie.
The Mobogenie application is easy to navigate and features all the apps and games it has. You'll be recommended to download a few games and apps the first time you open Mobogenie but never try those recommendations. Because they are ads.
It even features a reward and coin system where you can redeem the coins to buy paid services.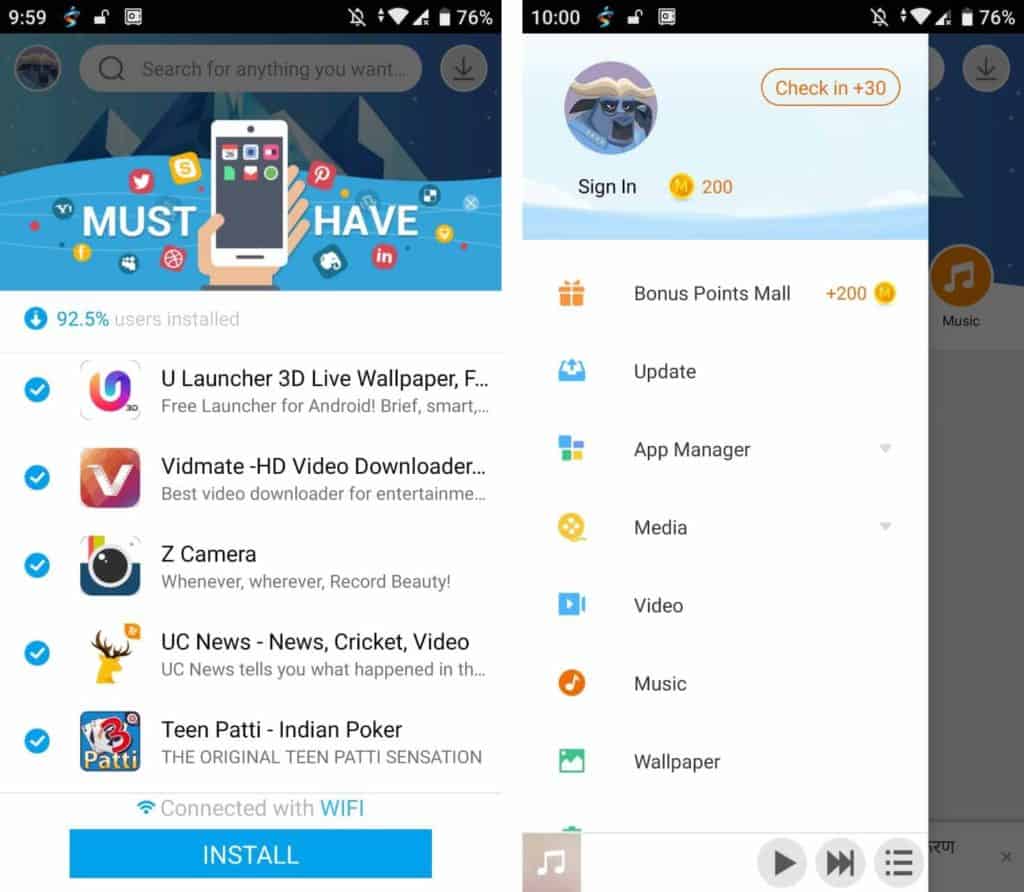 Mobogenie app comes with a built-in app manager which can be used to download and uninstall apps. It also had a built-in media player that can be used to play songs. These added features seem unnecessary for an application that focuses on downloading other apps and games but might come in handy in many situations.
Mobogenie is absolutely free but features banner ads. These ads are not at all intrusive and don't affect your browsing experience.
However, Mobogenie cannot be installed on Android devices running on 8.0 (Oreo) and above. In order to install it you need to open the Play Store => Go to Menu => Select Play Protect => Uncheck both Full Scanning and Harmful App detection.
This is an added security from Google that prevents users from downloading an alternative app store that can install harmful malware on your devices. Mobogenie is a trusted application and can be installed on your device. But make sure you re-enable Play Protect after installing Mobogenie.
Pros:
Built-in app manager.
Big library of apps and games.
Coin system is good for offers and redeems.
Cons:
Too many ads.
Some official apps cannot be found.
9. AppBrain
AppBrain is a service that hosts apps by developers who want to promote their work. It usually features free apps from developers that want to give their product some exposure. AppBrain is essentially an app publicizing service which is great for both developers and users trying to find new apps to try. AppBrain both have a website and an official app that is available on the Play Store.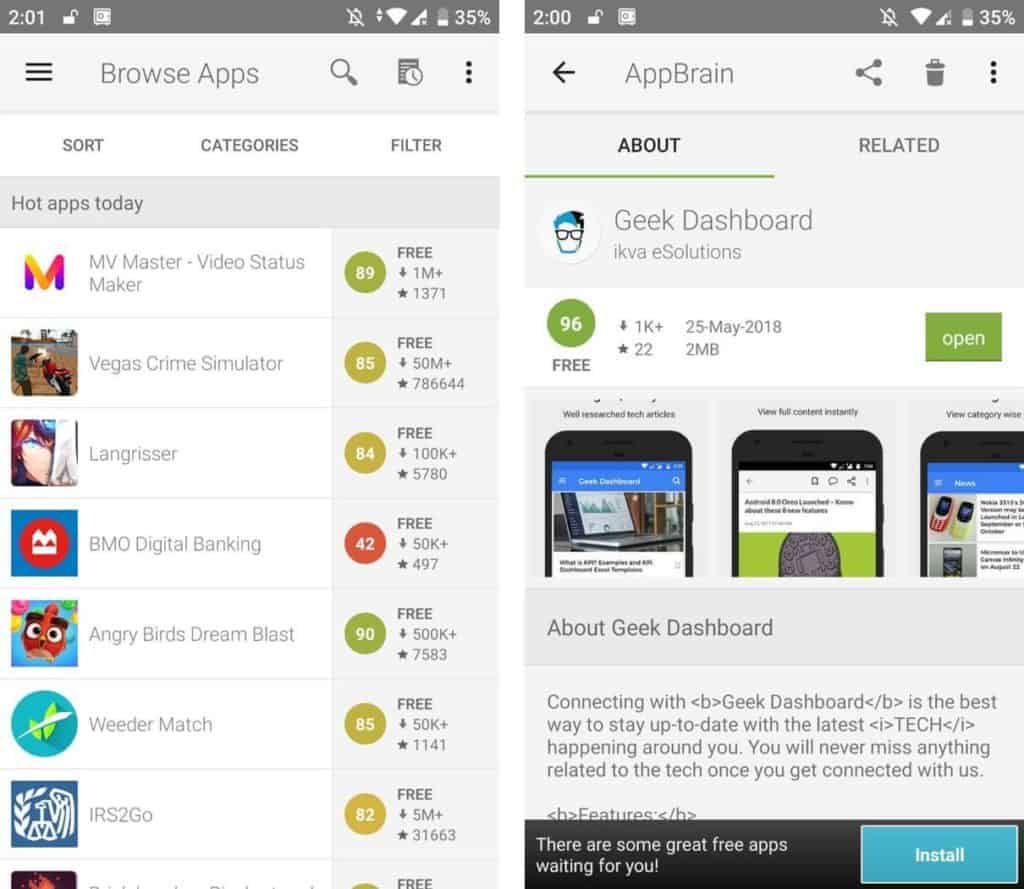 The AppBrain app needs a login before you can access its database. It also syncs your preferred app lists with its website and gives you recommendations according to your use and choice. You can log in using your Gmail or Facebook and create a username for yourself.
AppBrain is similar to all the app store apps with a categories section and a recommended app section. There is a filter and a sort option to refine your search further. There is even an app manager inside that can help you update apps and uninstall them easily. It is totally free to use Google Play Store alternative.
Pros:
Genuine and good recommendations.
No Ads.
Cons:
Need to create an account to use AppBrain.
No in-built installer.
10. APKUpdater
APKUpdater functions more like a service that updates your apps rather than a Google Play alternative but it has to be in this list for one simple reason. It allows you to download and install updates sooner than any other app store.
Not only can it update apps but it can also download and install new applications directly to your Android device but the app doesn't show any app images, reviews or even ratings of the app you are installing. It is a must-use app for the people who always want to stay up to date with the latest features and that too as soon they are released.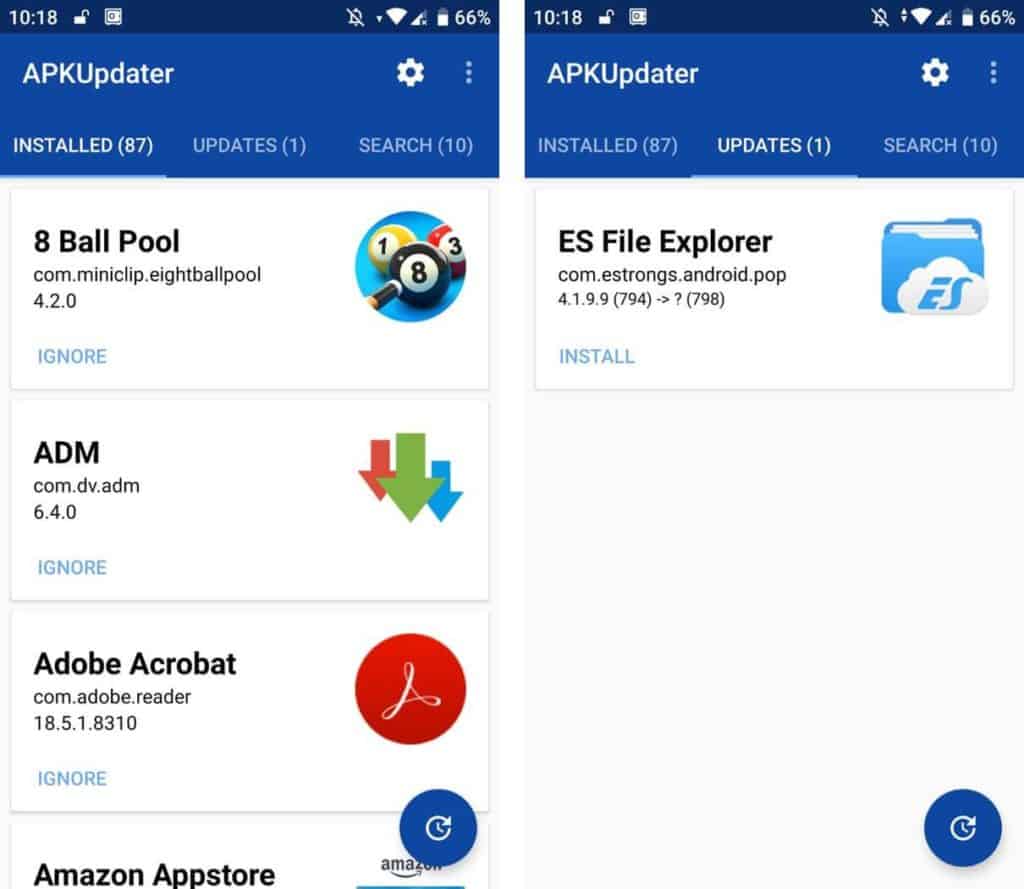 The application itself is quite simple looking with an installed tab where you can ignore certain apps and APKUpdater will stop checking the updates for that specific apps. There's also an update tab which shows all the applications that have new pending updates and a search tab where you can search for new applications.
The app works by finding the latest updates from a number of different APK hosting websites as well as from official app stores. It is common for developers to roll out updates slowly to a fixed audience to make sure the new update is bug-free (We do the same for our Notification History Log application). APKUpdater can shorten the wait time and provide you with the latest app updates regardless of the country you live in.
Pros:
Provides app updates sooner than other app stores.
Simple UI.
No Ads.
Cons:
Doesn't provide ratings, reviews, and screenshots of the apps.
Final Thoughts on Google Play Alternatives
Google Play alternatives can have some quite useful features that you won't find on the official app store. Newer apps, latest updates, previous versions, rollback features, open source applications are some of the few benefits of using app stores other than Google Play.
Each alternative of Google Play Store has its own unique feature that sets it apart from the other stores. Tell us in the comment section which app store do you like the best and which one do you use currently.