The RCS messages support on Google Messages has become an essential option for many users that text. The Rich Communication Services platform opened many features on the Messages application for Android users. The tech giant plans to bring an emoji reaction option for text messages.
The reaction option has been available for pill-shaped text exchanges in the messages application in a testing stage since September 2022. However, the testing version of the reactions featured only a few emojis to react.
The Google Conversations app's Rich Communication Services (RCS) platform allows you to exchange longer messages, share more extensive video and image assets, receive read receipts, use end-to-end encryption, see a typing indicator, and more.
New Emoji Reaction Feature on Google Messages
Google Messages users will soon be able to react to a message by sending any emoji if they have enabled the RCS. Recently, the company has allowed a few beta testers to check out the new emoji reactions feature. Users can react to messages by long-pressing on an RCS-enabled chat with seven emojis.
However, the selection of only seven emojis is thumbs up/down, smiling face with heart eyes. A face with tears of joy, an open mouth, a crying face, and an angry face limit it. In the recent beta updates, only some users have gained access to all the emojis to react to their messages.
The pill-shaped icon pops up whenever a user tries to react with a text message on the RCS-enabled chat. Previously, there were only limited options of seven emojis, as mentioned above. Beta users now have access to all the available emojis by tapping on the plus icon in the reaction tab.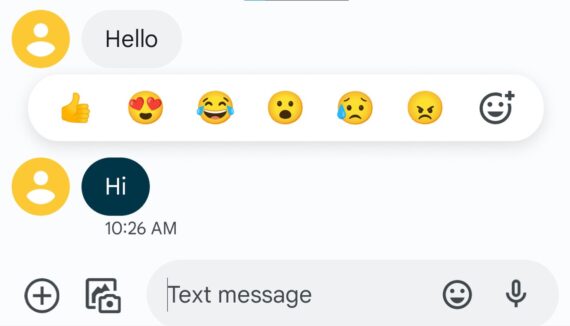 The new features from Google for its Messages users only work when both texts are in an RCS-enabled chat. Like Apple iMessage, Google will not support these features for traditional SMS texting.
Google has pressured Apple to bring RCS support for iMessage to break the green bubble disparity. The efforts are in vain as Apple is not bringing the support of RCS, and the blue bubble and green bubble controversy still prevail.
You can check the Google Play Store to see whether the feature has gone live if it isn't already on your Android device. Or you can wait until it does and make sure you have the most recent Google Messages beta version installed. You can sign up as a Google Messages beta tester to try out the features.