Google will bring the Gmail dark web monitoring service for all the users that reside in the United States. Gmail users will now have the vicinity to run scans on their accounts to check their presence on Dark Web. The program will provide detailed guidance for users on the actions to take for protecting themselves.
The extra security measure was first made available only for Google One subscribers in the United States. Currently, the tech giant has made this program open to all Gmail users in the country. The feature should roll out to all the users in the next coming weeks. Let's check out the full details of Dark Web Monitoring and how the tool can help users.
What is Gmail Dark Web Monitoring and How does it work?
The dark web is a space that is not accessible by regular search engines. The dark web requires a special browser such as Tor Browser to access that space and there are no other options. It's used by US Intelligence officials as this section of the internet has more anonymity and more layers of security than the regular internet.
However, on the other side of the internet lurks the cyber criminals that exchange stolen data and other confidential personal information of the users. These pieces of information include online account login data, financial data, and medical and corporate information. These criminals steal the data by making cyber attacks and then sell them on the dark web.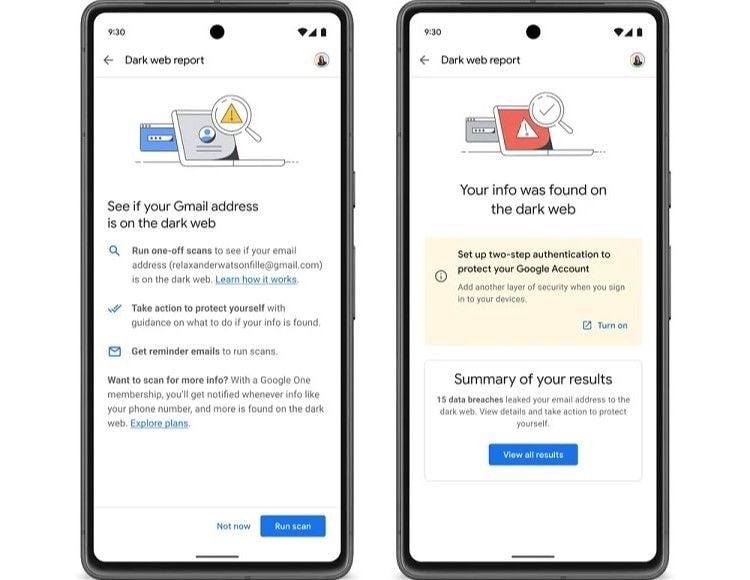 The new Gmail Dark Web monitoring feature will help you keep a check on your personal data. In any instance, if your Gmail address gets found on the dark web, the tool will notify you regarding a breach of your email address. After this, as a user, you'll know the ways to go through the account and check out the activities that caused the breach.
The tool will let you know only about the breach of your Gmail address on the dark web and not any other information. The users need to subscribe to the Google One program to get more information regarding the breach apart from the email address. The subscription will provide information such as if there is a compromise with the phone number or social security.
You may now benefit from an additional security measure for free as a Gmail user who lives in the US. Additionally, there's a good probability that users will soon appreciate this function if they're in another country. You can stay one step ahead of harmful actors with Gmail dark web surveillance!