Google AI Search Generative Experience comes as an experimental way of searching backed by Artificial Intelligence. This version of the Search Engine from the tech giant will now start receiving some key updates with its search results. The search engine will feature integrated videos after every AI-generated search made by users.
The users signed up for Google's Search Generative Experience will soon be able to interact results with the media. The search results will include images and videos to interact for showing the users the exact answer in a much better manner. For example, the search result for a Yoga pose would showcase a text description as well as videos from the internet regarding the same.
Google AI Search Generative Experience with Images and Videos
After the introduction of Open AI's ChatGPT, the AI chatbot that gives human-like responses and integration with Bing, the AI spectrum has taken a huge leap with every company trying to catch up with the AI race. Google has launched their Bard AI chatbot as a rival for Bing and ChatGPT which is a big deal, as Google has much more reach to the information and resources.
The new update for the AI Search Generative on Google is the inclusion of images and videos in the search result. This new move from Google will help users to have boosted visual learning through AI-gathered images and videos.
In another example, the users can type in a question such as "the largest dog breeds" and the search engine will generate images and videos related to the same question.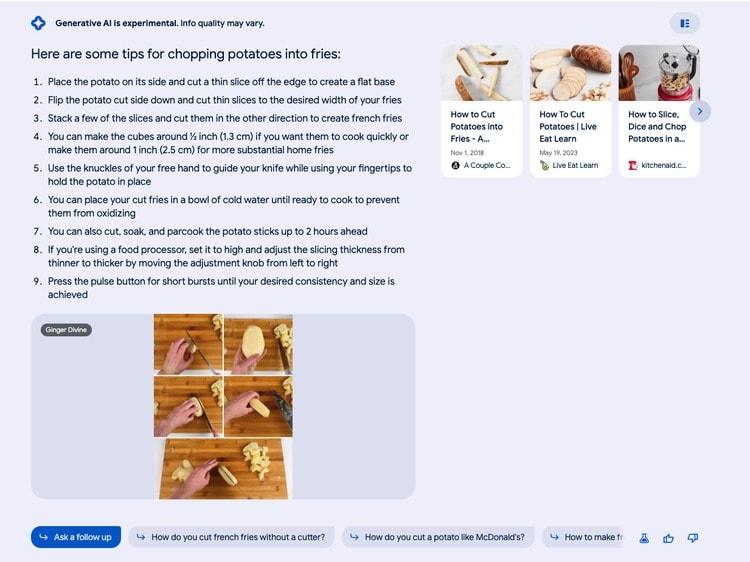 Along with the showcase of images and videos, Google has added a Speedy AI overview to each search result. This update will help in providing more efficient searches for the users while using the Search Generative Experience (SGE).
As per Google's claims, the feature will reduce the time to generate summaries by taking advantage of the AI system. This helps for faster response times and search result loading.
On the other hand, users will have quick glance at the dates the information was published on the internet. This allows the users to have more precise and accurate information at their fingertips. These were the advancements and improvements made for the SGE to make the experience much better for Google AI searches.
What are your views on Google's AI Search Generative Experience? Which AI search engine would you prefer? Do let us know in the comments section.