E-commerce websites are booming in recent years and to talk about one of the best with its services is Flipkart. Founded in 2007 by Sachin Bansal and Binny Bansal who registered their company in Singapore but the main Headquarters is in Bangalore, Karnataka.
What makes Flipkart one of the best e-commerce websites in India?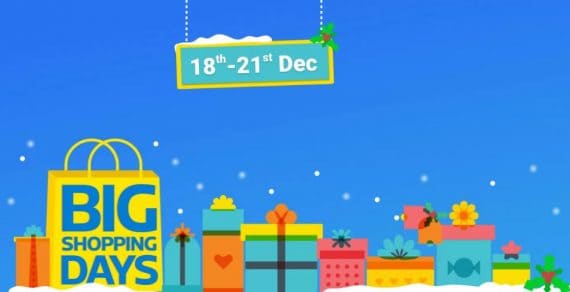 If you are addicted to online shopping as we all are, then you know that there are like 100 of e-commerce websites available in the market from which you can purchase anything of your choice. Flipkart is also one of them but they are doing it differently. They have the wide range of Genuine products which is available with the different mode of payments with free and easy returns. They have collaborated with all the banks which gives us an ease to make the payments in EMI's. My personal favorite is that they always come up with season sale which offers you wide range of original products at affordable prices. In October 2016, Flipkart came up with great surprise to its customers, as they offered three sale events. We are knocking the door of 2017 but Flipkart surprised us again. Mr. Smrithi Ravichandran, director of category design and operations announced that they will have another Big Sale of 2016 which will start from December 18 to December 21.
Flipkart's Last Big Sale of 2016 is Here:
This time they have signed some big and exclusive brands which are not available on all the websites which include Lenovo K6 Power, Moto M (Recently launched), Lenovo phablet in Mobiles, Converse clothes, LED's, Louise Phillips in clothing and many other. Flipkart recently added Smartbuy option which gives you the best available product at reasonable price and Mr. Ravichandran informed that this will not be a part of discounted products. Other categories like Electronics, small appliances, Books, Home & Furniture will also be included and will add to the sale volumes.
Effects of Demonetization:
Every Industry including E-commerce has affected by Demonetization. Confirmed by Mr.Ravichandran that they suffered 50% dip in the product confirmation in first two weeks but they are getting back to their original status. There are many pin codes in India which are not covered by cash on delivery option and that is the sole reason why it affected these websites. Due to lack of cash circulation, people are not confirming the orders. To resolve this situation Flipkart has tried to cover almost all parts of India with their own logistics team served as Ekart and to digitalize it they accept card payment at the time of arrival of the products.
In October 2016, Flipkart claimed to sell 15.5 million units and expecting to cross that mark in December. It is again a festive season as Christmas and New Year is just around the corner which makes them confident to cross that mark.
Don't Miss on the Opportunity
Flipkart has gained a lot of customers because of its services, values, and happy to help customer service. They have genuine products with premium quality and a wide range to choose from. This Last Big Sale of 2016 gives us a chance to fulfill our desire at very reasonable price. It is a great initiative by the founders to make India Digital and go cashless. It is convenient for customers to give cash once they receive the product and now Ekart will carry swipe machines. The last Big sale of 2016 will have the discount range from 40% to 70% on all included products with special offers on different credit and debit cards. Flipkart fans will be more than excited to have this offer from the 18th of December. No one can miss it as it has some of the most awaited discounts and sale in the pipeline. Beat the winter this season with heavy sale exclusive for shopaholics. This is once in a lifetime steal for the offer and letting it can be a big miss.
Here are best offers in Big Shopping Days:
 Happy shopping!