If you're an ardent PS4 gamer, then you must know the value of a wireless PS4 controller in the overall gaming experience. Just imagine the scenario when your PS4 controller won't turn on and doesn't charge anymore. This is also the most common problems with the PS4 controller as it stops charging after regular usage. Well, we don't have one or two but 7 different solutions to fix PS4 controller not charging issue.
There could be many reasons leading to the PS4 controller charging error. Hence, there's no straightforward solution for this issue. Let me share a few troubleshooting methods that would help you fix PS4 controller not charging issue.
7 Solutions for PS4 Controller Not Charging Issue
This guide will show you different possible solutions to fix PS4 controller not charging problem. PS4 controller is the steering wheel for a PS4 console and the whole gaming experience becomes useless when the controller malfunctions or stops working. You can always replace or buy a new one if you don't want to lose on the amazing list of games you can play on PS4.
You should try out these simple ways to fix PS4 controller not charging issue before replacing or buying a new device.
1. Reset PS4 controller
The simplest trick to fix your PS4 controller is to press the reset button. The rest button will override all the settings on the device and set it to factory defaults. To reset the PS4 controller, Place a safety pin inside the small hole which is present at the left side of the right screw on the back of the controller and press it for few seconds. This will rest your PS4 controller and you can try plugging the controller for charging.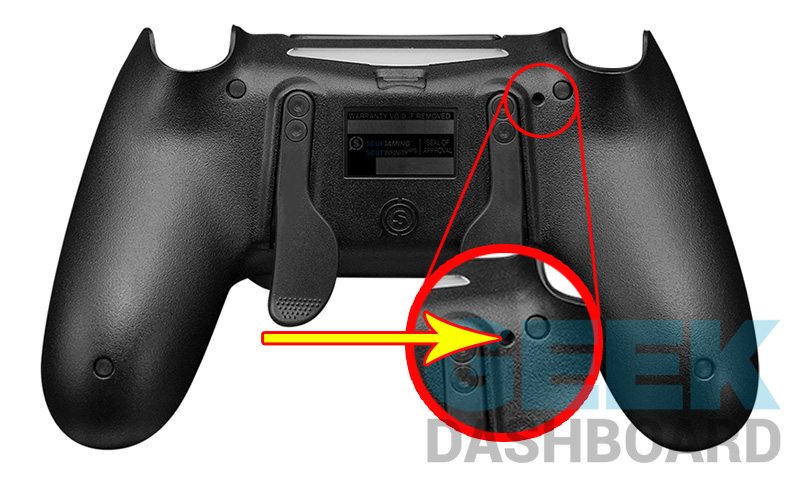 2. Supply Power to USB Ports
Enable the Supply Power to USB Ports option on your PS4 settings. Go to Settings -> Devices -> Power Saving Settings -> Set Functions Available In Rest Mode and enable "Supply power to USB ports". Now PS4 can charge your controller even in rest mode.
3. Change charging cable
After the rigorous or rough use of the charging cable, it must have withered over the years. In short, PS4 Controller mustn't be at fault here but the charging cable. The best way to check this is to try charging another PS4 controller with the same cable. If it charges, then your PS4 controller is at fault but if it doesn't then you can try another charging cable. You can borrow it from another PS4 user friend.
4. Charge the PS4 upside down
Charing the controller upside down may sound funny but it has worked for many PS4 users. If your PS4 controller is not charging with no lights turn on, then try charging it upside down. Considering the fact that it has worked for many people over the years, this method is worth a try.
5. Replace the PS4 controller battery
The PS4 controller uses Lithium-ion cell battery. These batteries have limited number of charge cycles. Once the limit is reached, these batteries run out of all the juice. If you're an extreme PS4 gamer and continuously charge the controller, then it is the root cause for your PS4 controller not charging anymore. The battery is dead and you must replace it with a new one to continue using the PS4 controller.
6. Hardwire charging cable to PS4 controller battery
Sometimes it's not the PS4 Controller or the charging cable but the charging port is faulty. Due to excessive usage, the charging port may be damaged and the power isn't passing through the battery. Well, in this situation, replacing the PS4 controller seems the only way. However, if you want to try an alternative way, then you can hardwire the charging cable directly to the battery.
It can be tricky and there's no guarantee if it works for everyone. Here's a YouTuber, who has successfully hardwired his charging cable to the PS4 controller battery and it worked like magic.
7. Let PS4 Controller cool down
If the PS4 controller is heated up due to excessive gaming, then you will face the PS4 controller not charging problem. Charging adds up more heat and most electronic devices are programmed not to function over a set temperature level. If your PS4 controller feels unusually hotter, then you can wrap your controller in a plastic bag and put it in the freezer for 10-15 minutes. Take it out and try charging it. Make sure that you don't keep the PS4 controller longer than 15 minutes in the freezer as it can be damaging.
Final Words
Try out these methods to fix PS4 controller not charging issue and continue enjoying your PS4 gaming. If you know any alternative method to fix PS4 controller not charging error, then feel free to share it with us in the comments below.