Ever wonder what your child is doing when they are out of your sight or what they are searching for when they are on their personal smartphone? Raising a child is not an easy task these days, especially when you are a working parent. And as a matter of grave concern, parents cannot have an eye on their child's activities due to their busy schedules. Therefore, FamiSafe, got you covered.
FamiSafe is an online application and the most reliable parental control app. With the help of FamiSafe application safety features, parents can have full access to their child's activities, whether outside or inside the house.
What is FamiSafe All About?
You can call it a tracker app that helps parents to keep track of their kids' location, explicit content detection, activity report, screen time, browser history, inappropriate pictures, and many other controlling features.
You can easily download them from PlayStore or Appstore for regulating your kids' smartphones. It is a popular app for monitoring and keeping an eye on kids' devices for reasonable time limits for their device usage. Hence it maintains a balance and creates healthy digital habits.

Other than tracking time limits or screen time of your children on their tablets or smartphones, parents will have full access to their kids' whereabouts'. FamiSafe also protects your children against potential risks of cyberbullying, explicit or appropriate images, and sexual predators by giving alerts on parents' devices every time any inappropriate images or videos pop up on child devices.
FamiSafe is a subscription-based application, although you can download them free for your Android and iOS devices.
Get Started with FamiSafe
The first step in the registration part is to register/create a FamiSafe account on the website or app after installing the FamiSafe app on both parents' and kids' devices. Parents can connect their smartphones to their child's devices and then have full access to them.

Simply put, after installation, parents can process and connect to the child's devices. From there, parents have the authority to control their child's devices by selecting the data and features on their phones over which they like to monitor their child's activities.
Thereby, parents can access their child's location, browsing history, and screen time; they can directly restrict sites or apps on their child's devices that they feel are explicit or hazardous to child security.
FamiSafe Salient Features
These salient features help you evaluate the software's performance and ensure better understanding and monitoring of child activities on phones.
1. Activity Report
Through Activity Report, parents will get to know where their kids are going in their absence or when parents are not around. Figuratively you will know how much time your kid spends on the phone, what they are doing currently, and which app has been used regularly. The best part is parents will get to know what stuff is attracting their child's interest.

2. App Blocker
Access to different apps is suitable for general knowledge, but it gets harmful if they have left indecent images or corrupt ideas in child actions and beliefs. And therefore, FamiSafe provides a one-step feature that locks all apps that are not suitable for your kid. You can keep an eye on which app has been installed and uninstalled. It helps to keep your kid away from age-restricted apps.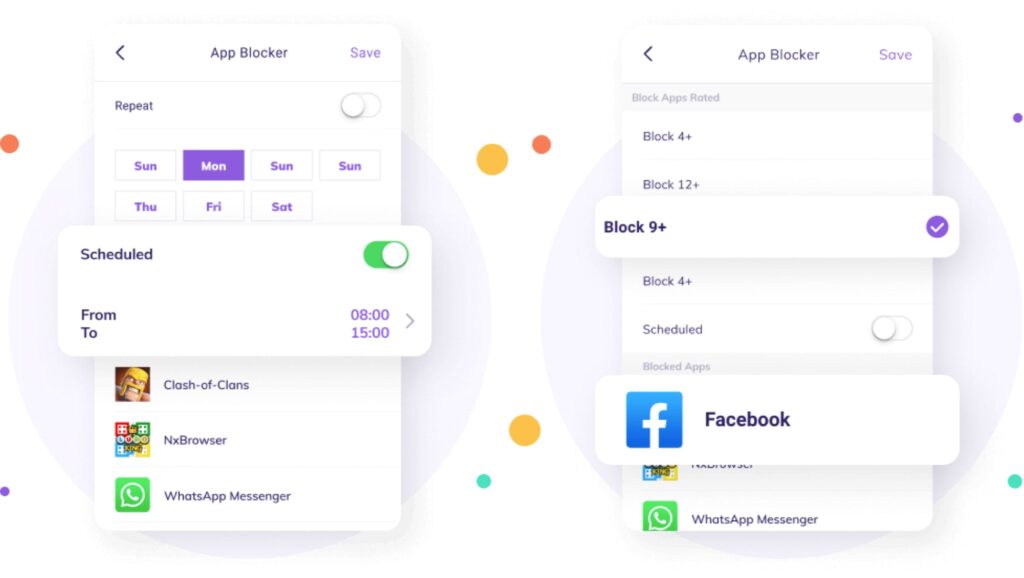 Customize the list of blocked apps and choose for how long the app will be restricted. The parent will have the full authority to block any app they want on their kids' devices. In fact, parents will be notified if their kids try to access any blocked app.
3. Screen time
FamiSafe empowers parents to supervise kids' screen time according to their will. Here in this feature, you will get notified how much time has been spent by your kid at a specific time. You decide to set screen time limitations from the options given in the interface, which will help to curb the usage of the specific app or device.

4. Online Safety
The journey from kids to teenage is the reflection of what your kid learned from the outside world. And by the outside world, I meant the internet or online environment through which kids learn something new every day. When FamiSafe is there, your child is under complete control as this app creates a safe and healthy searching environment for your child under your surveillance.

FamiSafe is not only limited to providing safety features regarding safe searching on search engines, but it also lets the parent know the entire browsing history of their child. FamiSafe will enable safe search to block search results that show or contains explicit contents. Add healthy keywords to search engines for savvy results.
5. Other important features
Other essential features include parents' alerts, Real-time location, Content Management, and Geofences, among others. Parents, through parents' alerts, will know the real location of their children. If your children's coaching time is 5 P.M. and the reaching time is 5:15 P.M., you will get an alert strictly at 5:15 P.M. when your child reaches the coaching center.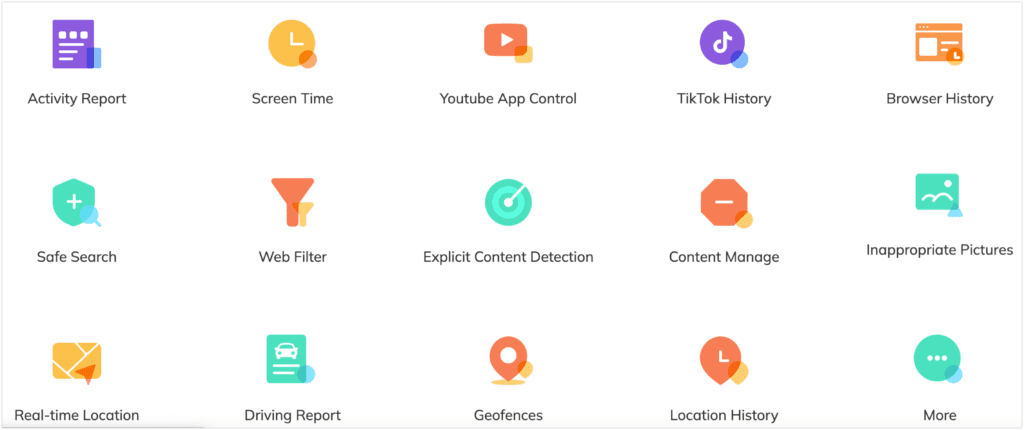 Advantages and Limitations Check
Pros 
Provide real-time location and alerts on parent's devices
Age-appropriate online environment and safe searching
Access to browsing history and screen time
Set schedules on when and for how long to use a certain app
Block any irrelevant sites, apps, or search result
Cons
The child can delete the app
Not so virus proof
Third-party VPN tools encroachment
Worth buying Subscription
FamiSafe has been felicitated with awards like Best Innovative Tech Product for Children 2021, 2020 National Parenting Product Awards, Family Choice Awards 2021, and Mom's Choice Awards, among others.
FamiSafe helps spy on your child's activity when you are not near them or keeping an eye on them. It provides so many features that help to monitor almost all the activities one kid can do so in their phones or tablets.
Furthermore, it has an advantage to your pocket as you will be guided to know your child's interests and actions that prosper your child's behavior. You get the power to extract knowledge about your kids; through this, you can guide your child in becoming a better human being.