What we think about
FamiSafe
FamiBot

8
Screen Time Management

9
App Blocking

10
Geofencing

9
Driving Monitoring

8
Activity Reports

9
Web Filtering

9
FamiSafe is a powerful parental control app from Wondershare. It offers screen time management, app blocking, geofencing, web filtering, and much more. The AI-enhanced FamiBot is a standout feature and the pricing is also reasonable. Overall, it's a solid choice for parents.
The internet is a tech innovation that has become home to almost everything we consume. From entertainment, sports, and academics to socializing, the list of activities on the internet is endless. While it has many merits, it may be a big distraction or a hive of vices we hope our kids avoid.
You may want to shield your wards from the internet's negative influence without them missing out on some beneficial content. Since you do not have eyes on them every minute they pick up a smartphone or use a computer, opting for a reliable parental control app is recommended.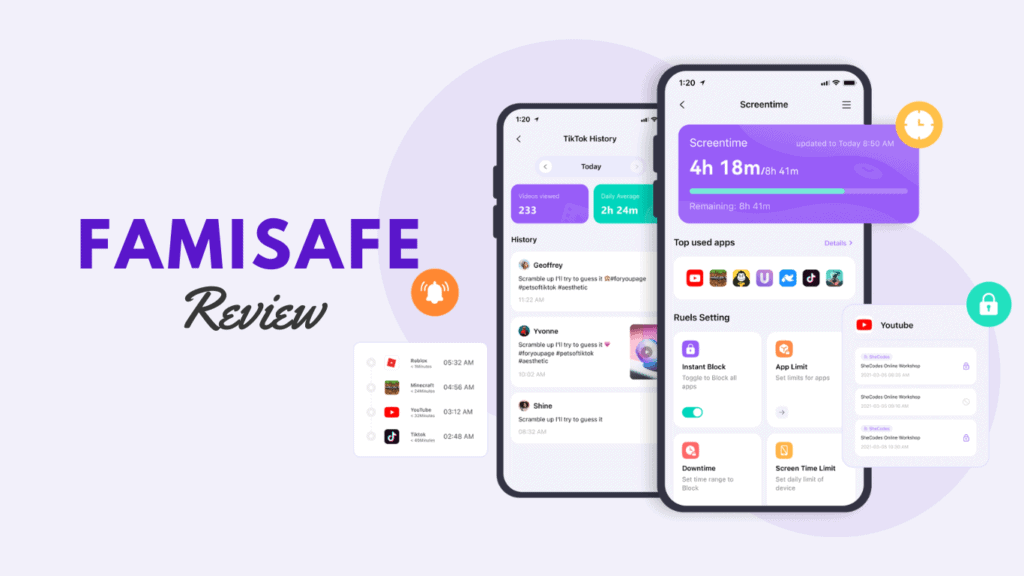 We were able to get access to FamiSafe. We explored every part of the service, including the new version 7.0 that comes with FamiBot, an AI assistant and companion capable of answering any questions by the parents and sending messages when inappropriate content is detected.
Overview of FamiSafe
FamiSafe is a parental control application created by Wondershare Technology, the company behind valuable services like Recoverit, Filmora, DVD Creator, Dr.Fone, and more. This app gives parents helpful resources to aid them in navigating the challenging road of parenting. They can monitor device activity and lock the devices remotely when needed.
The app is available on several devices, including Windows, Mac OS, Android, iOS, Amazon Kindle, and Chrome OS. While all the above devices can be monitored, the parent needs to use the Android or iOS versions to be able to monitor other devices. They may also use the FamiSafe web interface for device monitoring.
Getting Started with FamiSafe
To get started, you must download the app on the device to be controlled as well as on the controlling device. We used an iOS device as the controller and a Windows 11 computer as the device to be monitored.
Downloading and Installing FamiSafe on iOS (Controller Device)
Search for and install FamiSafe Parental Control from the App Store.
Launch the app.
Skip the first 3 screens and hit Start.

Click Agree on the Privacy Policy & EULA page.

On the Login page, click Login if you already have an account or choose any other option to create one.

Take note of the code on the Connect your child's device page. You will need it after installing the app on the child's device.

Downloading and Installing FamiSafe on Windows (Monitored Device)
Navigate to the FamiSafe website and click the Windows option.

Double-click the downloaded file, and click Install.

Click the Start Now button.
Enter the Pairing code from step 6 of the iOS installation process, and you may begin monitoring the device.

Include a Name and Age, then pick an avatar and click Continue.

Click Finish.

Now, you may monitor the computer from your mobile device's Famishare app and enjoy all the features described below.
However, before proceeding, we must note that the service is very easy to use. Even though you are pairing multiple devices, FamiShare allows you to complete it seamlessly.
FamiSafe Features
Let's have a closer look at the most interesting and useful features of FamiSafe:
1. Screen Time Management
FamiSafe allows parents to manage how much screen time their children have on devices. This flexible feature lets the parent choose daily preset times or custom values.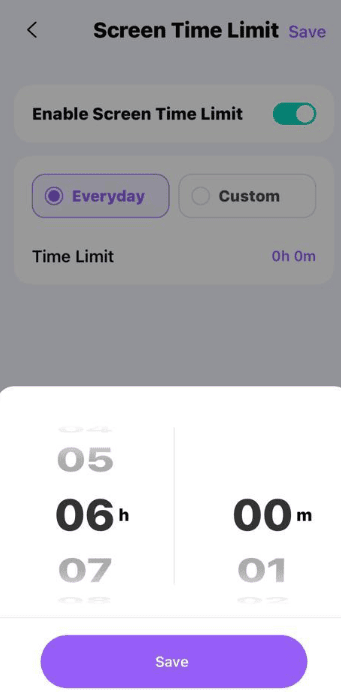 Once the allotted time is reached, the child's device use is automatically restricted. The app also includes a setting for downtime. This will trigger a block on your kid's device at specific times. You may specify fixed daily ranges or create custom ranges.
2. App Blocking
The application also offers an app-blocking feature. This feature comes in very handy if there are specific applications of the device you do not want the kid to access. Once you click on the App Block feature, you are presented with an app list, and you block the apps by simply toggling on specific switches.
If you do not see an app on the list, you may use the search box to find the apps you need to block.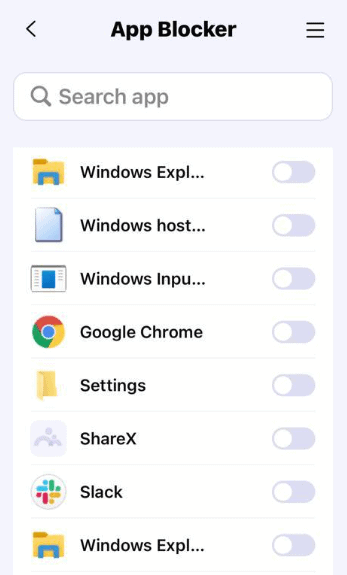 3. Geofencing
With FamiSafe's geofencing, a parent can create virtual boundaries for their kids around specific locations. These may be used to identify when they are at school, home, or a friend's house.
Parents will receive notifications anytime the phone gets into a specified geofenced location or leaves it. This feature is a simplified method to keep track of your kids movement and ensures they are safe at all times.
The geofence setup is very easy. Once you click the Features tab and select Geofencing, you may add a location, and specify the distance within that location you need the geofence to cover.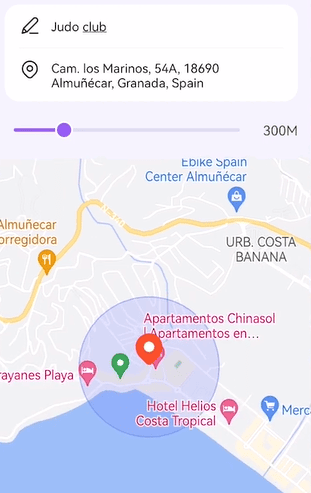 4. Web Filtering
The FamiSafe web filtering feature is very comprehensive. It allows you to block websites by categories. Some categories include violence, adult, discordant content, and drugs.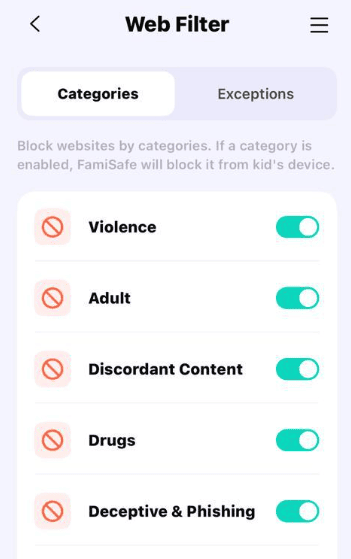 You may also include web filtering exceptions. This means even if a visited website belongs to a blocked category, it will specifically not be blocked if it's in the exception list. This flexibility means a parent can guide the child's content on the web.
In addition, the FamiSafe app offers a comprehensive browser history. This means that you may always keep track of the websites visited by your kids.
The browser history is sorted by days, and you may select specific days to view their browser history. This means even if you do not follow up on some days, the information is not lost, as you can return to the history of previous days.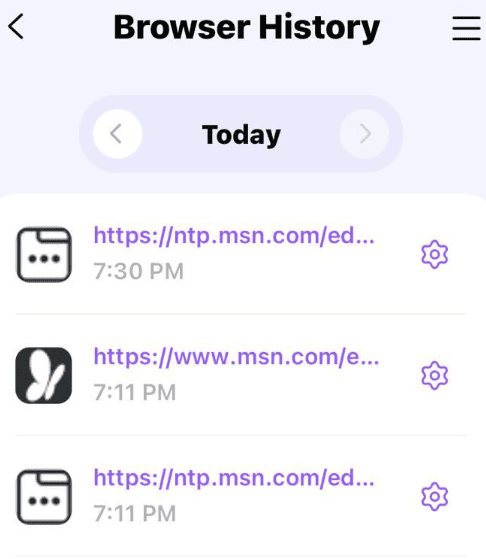 5. Suspicious Content Detection
The FamiSafe service comes with a feature for safe web searches. This feature picks up on suspicious terms your kids may be entering into search engines. It blocks these suspicious search results and sends you notifications of this activity.
This feature works on major search engines like Google Search, Yahoo, and Microsoft Bing.
6. Inappropriate Pictures
FamiSafe provides a tool that enables parents to find suspicious images on children's devices, such as naked selfies and pornographic images. This feature will instantly send alerts, uploading the image to the parents, helping them easily block porn on phones.
7. TikTok History
We loved this feature, especially since social media is a big influencing factor on kids and teenagers in the modern era.
On FamiSafe, you would be able to see the video your child has watched and follow their entire watch history. Now, you will be able to caution them and guide them away from inappropriate videos.
8. Driving Monitoring
This feature was not available at launch but has been added to FamiSafe. The driving report helps a parent monitor and view a teen's driving habits. This report includes elements like top speed, the number of times a speed limit is exceeded, and hard-breaking reports.
Parents can review driving report summaries for different time ranges. With this report, they may understand how to guide a child and allow them to form good and safe driving habits.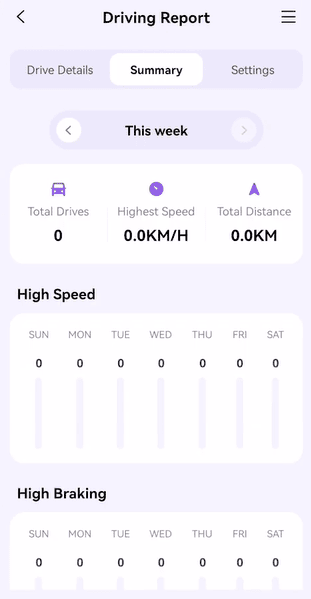 9. Activity Reports
One of the features we loved the most was the activity report. You are able to see important activities in a timeline format, including phone usage, like apps used and times when they are used.
You can view activity reports for as much as the previous 3 months. Using this feature is very intuitive. You may scroll to specific dates or use the date picker to input the dates you wish to view.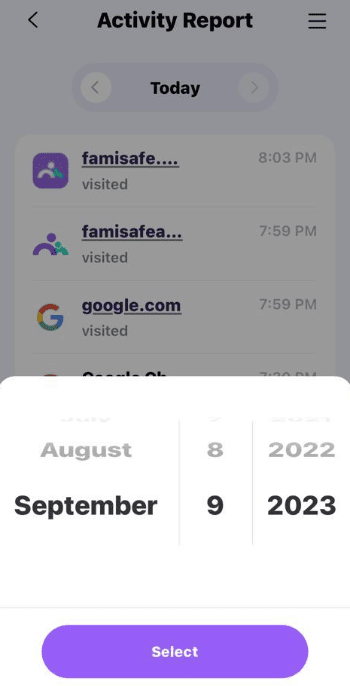 10. FamiBot
We hinted at this feature at the start of the article. It comes with the version 7.0 of FamiSafe. This AI-enhanced bot serves as an assistant and companion.
Leveraging AI, it answers any question you may pose in a ChatGPT-like fashion. You may ask questions to know if the uptime of a child's computer is healthy or any other related matters.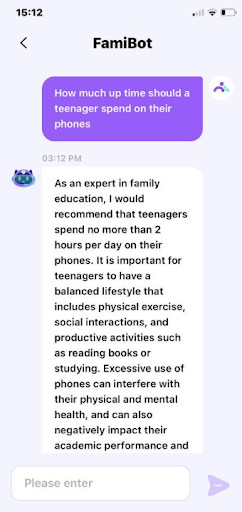 FamiSafe Pricing
FamiSafe comes with a range of pricing options grouped into School and Family categories.
The Family pricing options are as follows:
Monthly Plan: $10.99 / Month (Offers all protection features for up to 5 devices)
Annual Plan: $60.99 / Year (Offers all protection features for up to 10 devices)
Quarterly Plan: $20.99 / Quarter (Offers all protection features for up to 10 devices)
The School pricing options are as follows:
Monthly Plan: $ 39.98
Annual Plan: $ 119.98
Quarterly Plan: $ 239.98
The above school pricing options are for between 11 and 20 devices, and the price goes up with additional protected devices.
The school plans let you simultaneously manage multiple devices, filter inappropriate sites, and set up smart schedule student plans, among other benefits.
FamiSafe Review: Pros and Cons
We have loved testing out this service but while the benefits are overwhelmingly encouraging, we did find some drawbacks. Below are our observations.

Pros
It has a comprehensive set of web filtering options
The geofencing feature works seamlessly at all times
It has great app-blocking and scheduling features
The app is remarkably easy to use and intuitive
Cons
While we love how extensive web filtering is, some unwanted content may slip through
You may experience occasional slow syncing
Our Verdict: Do We Recommend Famisafe?
When reviewing a service, measuring it by how well it delivers on the features it offers is important. Generally, FamiSafe has a robust feature set, and in most cases, they are very effective in carrying out their functions.
We also like that it is decently priced. Compared to products like Qustodio, Bark, and Norton Family, it offers more favorable monthly and annual plans.
We also love the AI chat integration. We love you to try it and let us know your thoughts.
Once you look past the fact that there isn't a desktop app for monitoring, the tool is solid and an excellent option for any parent in the market for a parental control application.
That is all we shall cover in this FamiSafe review. Please leave your thoughts in the comment section below.
What we think about
FamiSafe