Fairywill is a Chinese manufacturer of electronic products and was quite unpopular. Over time, the brand got recognition for its electric toothbrushes. Recently, it became one of the recognized brands in the market competing with brands like Oral-B.
Today, we will take a look at their newly launched Fairywill Pro P11 Ultrasonic toothbrush. While Fairywill has a lot of budget electric toothbrushes, the Pro P11 falls under the premium category of electric toothbrushes.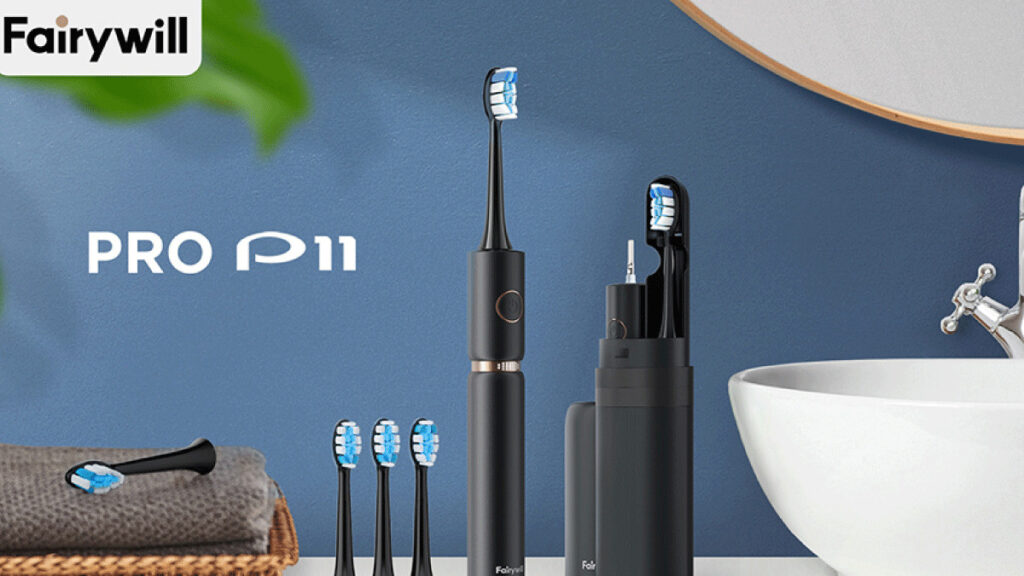 Fairywill Pro P11 is an ultrasonic toothbrush and comes with a great set of features. We'll take a deep dive into the Fairywill Pro P11, and will see what you'll get from this Ultrasonic toothbrush. Let's get right into the action.
Why Fairywill Pro P11 Ultrasonic Toothbrush?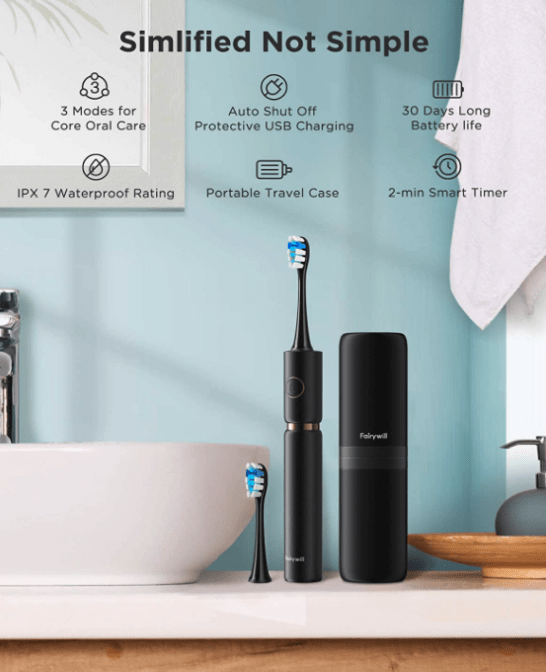 Before getting into the lengthy details, let's start away with a basic question — why should I go for the Fairywill Pro P11? Here are a few reasons to consider.
1. Value for money
2. Beautifully crafted design
3. Three cleaning modes
4. Built-in timer and pacer
5. Great battery life
Fairywill Pro P11 Review
Now let's get right into the details of the Fairywill Pro P11 Ultrasonic toothbrush.
Packaging and Design
Once you unbox the Fairywill Pro P11 packaging, you'll find the Fairywill Pro P11 itself along with eight brush heads, a travel case, a charging cable with its adapter, and a user manual.
If you compare Pro P11 to other Fairywill products, this one is quite large. It would be too bulky for a child, but comfortable for an adult. You might say 770 grams is bulky, but the weight distribution makes it quite comfortable to hold.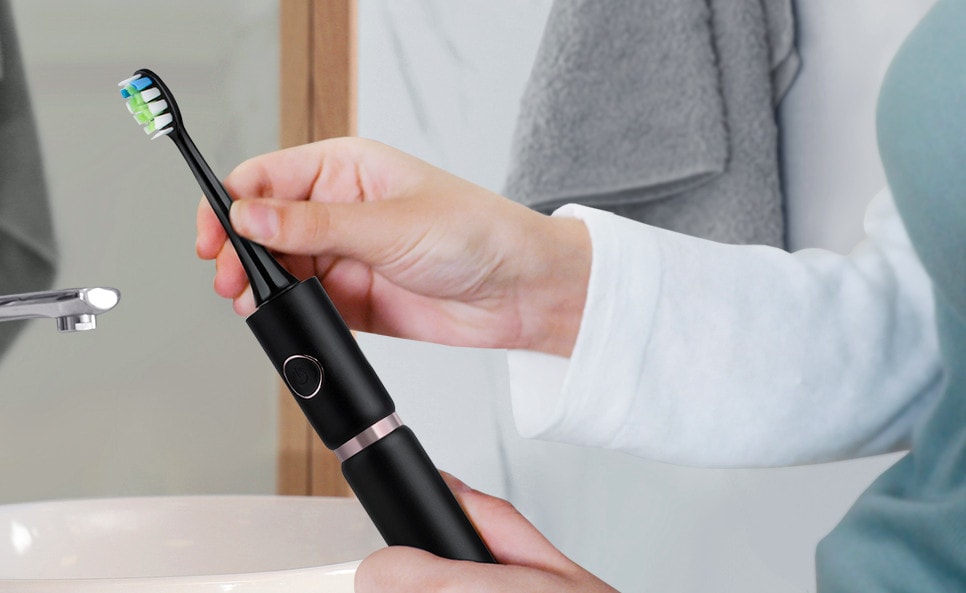 It has a black or white body with gold accents, depending on the color you get. The Pro P11 looks premium in all aspects. There's no doubt why it has won the reddot Design Award for 2020.
Features
Being a premium electric toothbrush, the Fairywill Pro P11 doesn't hold off from offering a ton of features. Just like the other Fairywill toothbrushes, you get a Two Minutes Smart Timer; it reminds you to have a healthy two-minute brushing as recommended by the American Dental Association. You get reminded to change your cleaning position every 30 seconds in that two-minute interval.
Apart from that, Fairywill Pro P11 offers three different cleaning modes — Clean, Gentle, and Massage. Moreover, there's a Display hidden in the ring of the body, that displays the mode that's being used right now.
The Pro P11 is driven by a 3rd generation Maglev Motor, which delivers up to 62,000 brush movements on every cycle. As a result of this, the Fairywill Pro P11 offers ten times better removal of plaque from your teeth eventually giving you cleaner teeth.
The body of the Fairywill Pro P11 Ultrasonic toothbrush is certified IPX7 waterproof. The design is a unique patented design that locks the water from touching any electrical. So you need not worry about the water reaching its electrical systems damaging them.
Alongside, you get a travel case in the packaging, so you need not worry about damaging the toothbrush while traveling. You get 8 replacement brush heads in the box. Let's say if you replace your toothbrush every 3 months, you wouldn't need to buy one for at least 2 years.
The American Dental Association approves it, and their results show that it is good at removing plaque. Simultaneously, they also found that it helps prevent and reduce gingivitis if you use it directly.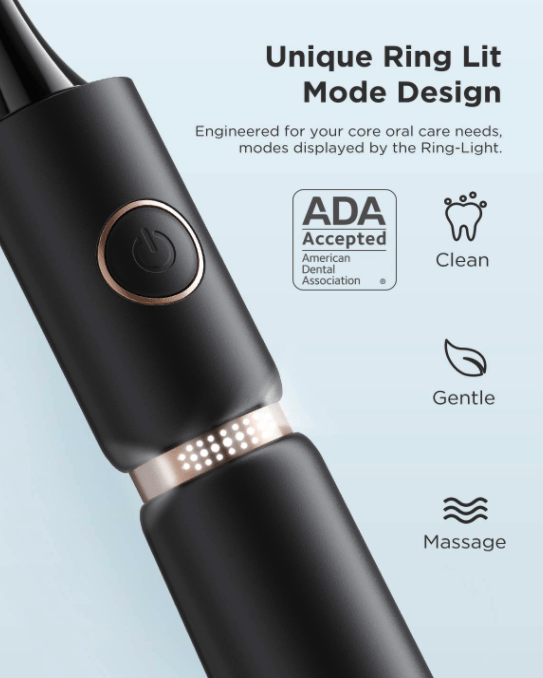 Battery Life
The Fairywill Pro P11 Ultrasonic toothbrush has USB accessories to charge the toothbrush via USB ports.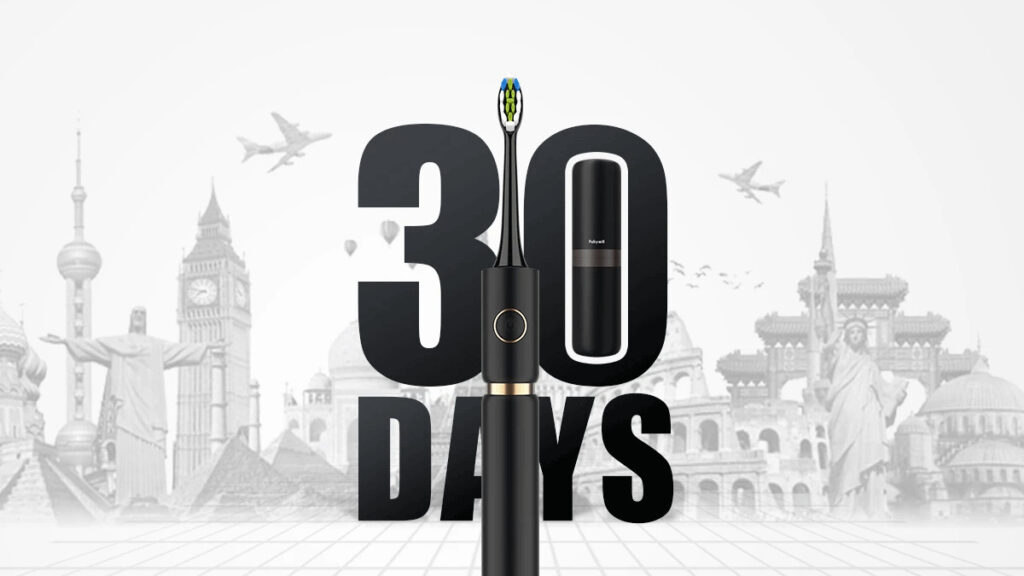 Since we're talking about charging, let's talk about the battery life. The battery lasts for 30 days with just a single 2 hours of full charge. So you need not worry about taking it on a trip and not having a charger with you.
Pricing and Exclusive Coupons
The Fairywill Pro P11 is priced at $39.95 in the US. If you are planning to buy the Fairywill Pro P11, then you can find it at Walmart.
For the readers of GeekDashboard, we grabbed an exclusive discount code for you.
If you use the code 2ZXV7PCX while making the purchase, you'll get an additional 35% off the original pricing. After using the code, the effective price will be only $24.57.
For more info, you can visit Fairywill's official website at www.fairywill.com
Frequently Asked Questions
1. How often do you need to change the brush heads?
You don't need to change the brush head often, but it's recommended to change it every 3 months. Since Fairywill Pro P11 offers eight brush heads out of the box, you don't need to get a new one for at least 2 years.
2. How long does it take for the brush to charge completely?
It takes around 2 hours to completely charge the Fairywill Pro P11. The full charge will last up to 30 days.
3. What is the warranty on the Fairywill Pro P11?
This Fairywill Pro P11 set comes with a 60-day no-hassle money-back guarantee and 2 years warranty.
4. Is the Fairywill Pro P11 suitable for adults or children?
The Fairywill Pro P11 is suitable for those above the age of 12. If you have any other dental concerns, it's best to consult your dentist.
5. Is the Fairywill Pro P11 washable?
Yes, the Fairywill Pro P11 is completely washable. It has a waterproof rating of IPX7.
What are the Users Saying?
Here's what a user on Amazon has to say about the Fairywill Pro P11:
If I was buying an electric toothbrush name? It probably wouldn't be Fairywill. If I was the average American consumer trying to save 75% on my purchase? I would buy the electric toothbrush that was the sleekest looking, technologically advanced, and most powerful rotation/vibration motors. Fairywill is the current manufacturer that fits that description. I've always used the Soni—- brand until I didn't.
They cost so much more and perform so much less compared to the Fairywill electric toothbrushes. I've spent thousands of dollars on my smile. I won't trust it to a brand that's not actually keeping my teeth their whitest. In comes Fairywill: I'm literally amazed at the cleaning power and high-velocity vibration motors in this electric toothbrush. My teeth feel like a dental technician, paid cleaning service smooth after each brush. Thank you for Fairywill for giving me the reason I needed to switch Brands. I won't be going back to the high dollar, low-performance Brand ever again. I've discovered a better way to keep my smile 100% percent bright.
Here's what another user has to say about Fairywill Pro P11:
A great surprise! A strong and very fast motor. Lots of brush strokes, more than any others that I saw. What is unbelievable is the charge time. I initially fully charged it, used it twice a day, and over a month later it was still running! I highly recommend this toothbrush. It also came with a lot of extra brushes and a hard-shell travel case. No charger, just a cord that can be plugged into any USB charger. After over a month of use, my Dentist even mentioned that my teeth and gums were in great shape. That was the first!