If you didn't know, Fairywill produces electronic products and electronic toothbrushes are one of their expertise. The brand came into existence a few years ago, and in no time, it became one of the known brands in the electric toothbrush market.
If you're looking for an electric toothbrush for yourself, then you might find a ton of toothbrushes on the internet. It's not easy to find an electric toothbrush that is budget-friendly and packs in features simultaneously.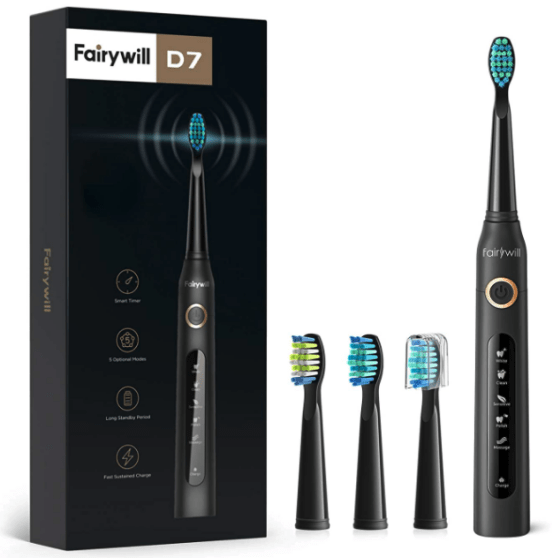 Fairywill 507 is one such electric toothbrush to grab your attention. Today, we'll take an in-depth look at the Fairywill 507 Electric Toothbrush. Let's get right into it.
Why Fairywill 507 Electric Toothbrush?
Before we dig into the details, let us tell you a few reasons why you should consider this electric toothbrush in the first place.
Incredible Pricing
Longer Battery Life
Great Build Quality
Cheaper Replaceable Heads
Light in weight
Fairywill 507 Electric Toothbrush Review
Let's get right into the details of the Fairywell 507 electric toothbrush.
Packaging and Design
Once unbox the Fairywill 507, you'll see how lightweight the electric toothbrush is, indeed. It weighs only 55 grams in weight, making it lighter than most regular toothbrushes.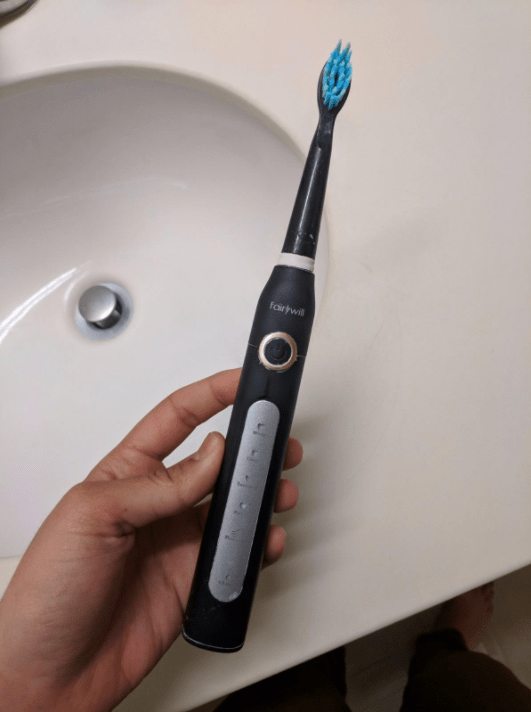 The longer neck lets you reach unreachable corners of your mouth so that you won't leave anything.
Moreover, the medium-soft bristles on this electric toothbrush are better in avoiding scratches on your teeth, enamel, and gums. If you plan to travel, the bristle cover included in the box will ensure that your toothbrush is protected while it's in a bag.
Features
Fairywill 507 has a great set of features. There's a Two Minutes Smart Timer on this electric toothbrush. It reminds you to have a healthy two-minute brushing as recommended by the American Dental Association.
Since brushing for too long or too short isn't beneficial for you, it's a healthy way to keep your teeth healthy. Moreover, it reminds you to shift your brushing areas at 30 seconds of intervals, so you don't brush one spot for a long time.
The toothbrush has five different modes — White, Clean, Sensitive, Polish, and Massage. These modes are available to suit the needs of multiple conditions of teeth and gums. For instance, if you've healthy gums, you can choose the White/Clean mode.
The Fairywill 507 has a lower noise profile than other electric toothbrushes, thus not disrupting your experience. This electric toothbrush is IPX7 waterproof, so you can even take a shower or bath while brushing.
Talking about the bristles, they change their colors when it's time to replace them. You'll find it very handy since you won't have to remember to change the brush head.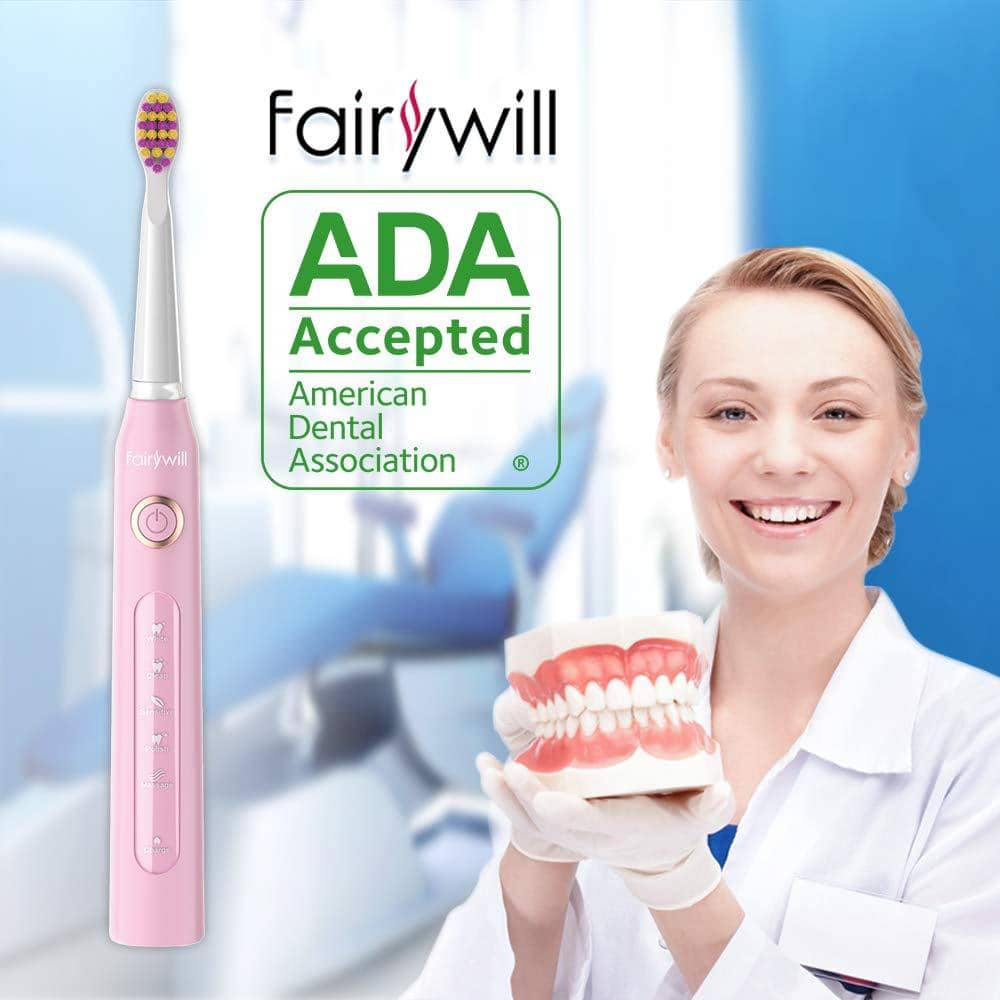 The American Dental Association approves it, and their results show that it is good at removing plaque. At the same time, they also found that it helps prevent and reduce gingivitis if you use it directly.
Battery Life
The Fairywill 507 Electric toothbrush has USB charging, so you can charge it with any USB charger you can find.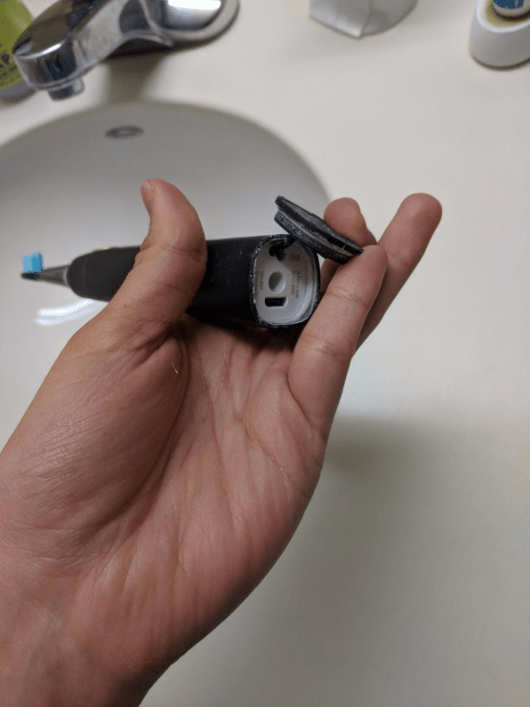 Since we're on the topic of charging, let's talk about the battery. On a single 4 hours of charge, the Fairywill 507 lasts for 30 days, and it is self-explanatory.
Furthermore, you might not need to bring your charger when you're traveling.
Pricing and Exclusive Coupon
The Fairywill 507 is priced at $25.95 in the US. If you are planning to buy the Fairywill 507, then you can find it at Walmart.
For the readers of GeekDashboard, we grabbed an exclusive discount code for you.
If you use the code IQS6E3ND while making the purchase, you'll get an additional 44% off the original pricing. After using the code, the effective price will be only $15.76.
For more info, you can visit Fairywill official website at fairywill.com
Frequently Asked Questions
Is the Fairywill 507 waterproof?
Yes, the Fairywill 507 is rated IPX7 waterproof. You don't need to worry about cleaning the toothpaste stains or even going for a shower or a bath while brushing.
How long do the Bristles last on the Fairywill 507?
You won't see the wearing of the bristles, usually. It is recommended to replace the brush heads every three months and not more than six months. The replacement is to stop the growing bacteria on the toothbrush.
Does the Fairywill 507 come with any warranty?
Yes, Fairywell 507 comes with a one-year warranty starting from the day of your purchase. If you have any problems with your toothbrush, you'll find a replacement soon.
Is the Fairywill 507 good for kids?
Fairywill 507 doesn't harm a kid's teeth; moreover, they'll love it over other electric brushes.
Is it easy to find replacement brush heads for Fairywill 507?
Yes, it is effortless to find replacement brushes for the Fairywill 507 electric toothbrush.
What are the Users Saying?
Here's what a Dental Hygienist has to say about Fairywill 507:
I am a dental hygienist, so hopefully, my personal and professional opinion is helpful to everyone. The packaging was very nice and professional. The brush itself is a bit lighter than the Sonicare. It is also a little louder than the Sonicare. However, I believe this is a great brush for the money. I believe the brush works just as well as the Sonicare. My teeth feel very clean, slick, and tingle clean afterward. I wish I could sell these at the office. I think patients would be more apt to buy this brush than the $120 Sonicare we sell. Get this brush! It's worth every penny.
Another user's review on Amazon says this:
Wow. This toothbrush is INCREDIBLE! I am a previous Sonicare toothbrush gal (I have also used Oral B but didn't care for it), and my toothbrush recently broke. I wanted to try something new/different,/cheaper, and SO unbelievably happy with this product. The toothbrush is super light, which is great for traveling with it, and just in general, it's straightforward to hold and to use. It has five nice settings, depending on what type of brush I want. I drink a ton of coffee, so my go-to's are the clean mode, and then I do the polish mode for 30 seconds. My teeth are noticeably whiter, which is great.