The most difficult challenge faced by Mac users is the lack of free software for various utilities. One such service is editing, mixing, or cutting videos for either personal use or to upload on social media platforms such as Facebook or YouTube. Well, not anymore! If you are looking for a decent, efficient, and most importantly budget-friendly video editing software, then let me share Joyoshare Media Cutter for Mac with you. While it is also a premium application, there's also a handy free trial option available.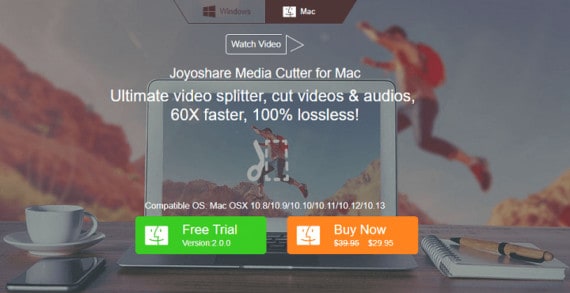 Today, everyone is vlogging and uploading their videos to YouTube and Facebook. It's not just a crazy trend but an excellent way to share your life, opinions, and talent with the world. However, creating videos is not as easy as recording and uploading. To create better videos, you need necessary editing skills and proper editing software.
Also Read: Best Photoshop alternatives for editing images to your video slides
There are many premium video cutting and editing tools available, but they will cost a fortune. What the current new breed of video makers need is a cheap editing option that offers excellent quality output at best possible pricing! And, a free trial version can help you get your hands on premium software easily.
Joyoshare Media Cutter for Mac Review
To help our readers and especially the Mac users to understand better about this free trial, I decided to review the product. At times, the cover may seem exceptional but the product inside doesn't live up to the expectations. The best way to check the quality of a premium tool like Joyoshare Media Cutter for Mac is to try it personally, and the free trial version is just for that.
Overview of Joyoshare Studio
Although a new entrant in the digital world, Joyoshare Studio is a renowned name as one of the pioneer software companies offering a wide range of video and audio tools. Currently, the company provides tools such as video converter, media cutter, HEIC converter, and screen recording apps for both Windows and Mac users.
The best thing about Joyoshare Studio is the fact that they offer a free trial version of each product in their store.
Excellent Features of Joyoshare Media Cutter for Mac
Joyoshare Media Cutter for Mac is favorite across the globe for the attractive features it offers. The surprising fact is that it doesn't compromise on these features in the free trial version. The only limitation is that it allows only five opportunities to cut and convert videos.
However, in those five opportunities, you can check the excellent features of the tool as follows:
Simple and Easy User Interface with multifunctional video/audio cutter options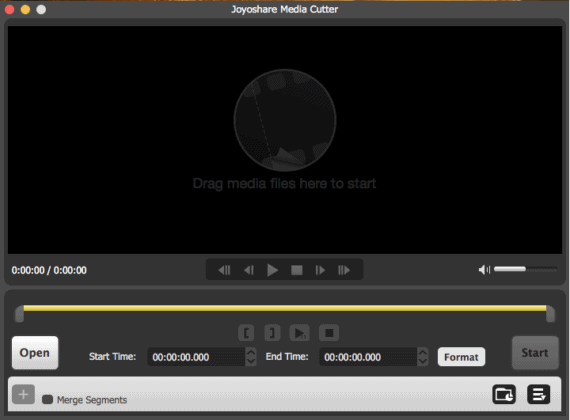 Once you have installed and launched the tool on your Mac device, using the Joyoshare Media Cutter for Mac is like eating a piece of cake. The simple user interface lets you either drag-and-drop or upload media files to the software and allows you to cut, split, and merge video clips as per your needs. Also, if you like any favorite scene or music from your favorite movie or TV show, you can just cut that part and export it to your device. With a wide range of video and audio cutting tools, you can do a lot more with raw videos.
Lets you Cut and Convert videos/audios to all popular formats and devices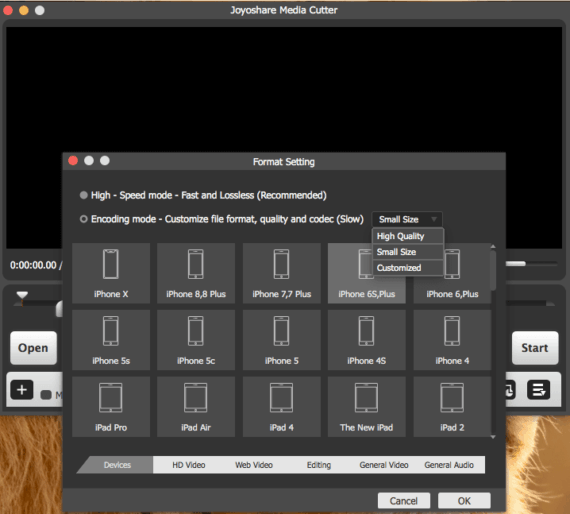 Today, we have some different gadgets, and each device supports specific video or audio formats. With Joyoshare Media Cutter for Mac, you get a vast range of format options based on gadgets, HD compatibility, web platform, all audio/video formats, etc. Just choose what's best for your application and start editing the videos accordingly. You can have multiple outputs based on your preferences.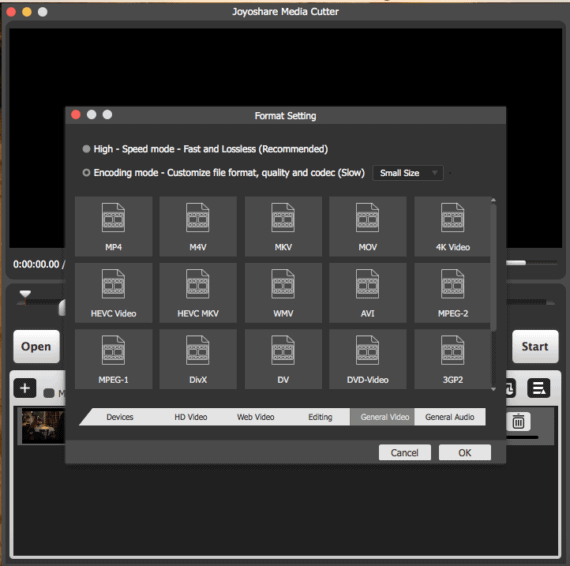 Offers 60x faster speed with lossless quality
You must be aware that splitting or cutting a high quality into several parts tampers with the video quality as most tools couldn't balance the conversion speed with quality maintenance. However, Joyoshare Media Cutter for Mac uses an innovative acceleration processor which makes it sturdy enough to work at 60x faster speed with lossless quality.
In short, Joyoshare Media Cutter for Mac can cut and convert videos/audios at 60x speed making it one of the quickest and simplest video trimmers in the industry.
Improve the efficiency and accuracy of cutting videos/audios
While it may seem complicated at the start, the process of trimming or choosing the wanted segments from the videos is quite easy. There are two ways to split the sections. You can either use the control buttons on below the player to set segment start time and set segment end time. You can add as many segments and later merge these segments accordingly.
However, there's an alternate method that allows selecting video segments manually. Merely drag the segment markers on the video timeline to your preferred timing and cut them as per your preferences. The manual method helps you improve the accuracy to a millisecond.
Over to you!
The features mentioned above are merely the tip of the iceberg. There are plenty of other essential features you can enjoy with Joyoshare Media Cutter for Mac. It is one of the best media cutting and video editing tools that help you edit, improve, and stylize your videos as per your preferences.
Try the free version of Joyoshare Media Cutter for Mac today!