Admit it; most of us face the challenge of creating the best resume while applying for different jobs. However, not anymore! There are several websites available on the internet that simplify the whole process and help you create a resume online using different worthy templates. To create a resume online, all you need to do is find the right template, replace the data with your own and that's it.
Nobody can argue with the fact that "First Impression is the Last Impression" and while applying for a job, the resume is your first impression as a candidate to your recruiter. Most of the time, we simply copy the resume format by borrowing a template from a friend and end up having that boring unattractive resume that doesn't appeal to the recruiters at the first sight.
In today's competitive environment, you must be one step ahead of your competitors and the best way to do that is by creating a resourceful resume, which doesn't only display your educational qualifications and skills required for the job but also showcase your creative side, thereby improving your chances to secure the job.
Useful Websites to Create Resume Online
So, without wasting any more time, let's check out some of the best web resources to create resumes online.
LinkedIn is not just a happening social networking platform for professionals across the globe, but it is also a great online resource to hunt jobs and if used well, it can also be your best resume online.
Now, if you have an account on LinkedIn with detailed and accurate information about your qualifications, skills, and work history, then you can always go to your LinkedIn edit profile page and click the small drop-down option just beside the "View Profile as" button and go for the option where it says, "Save to PDF". That's it. Your online resume based on your LinkedIn profile will be downloaded on your PC.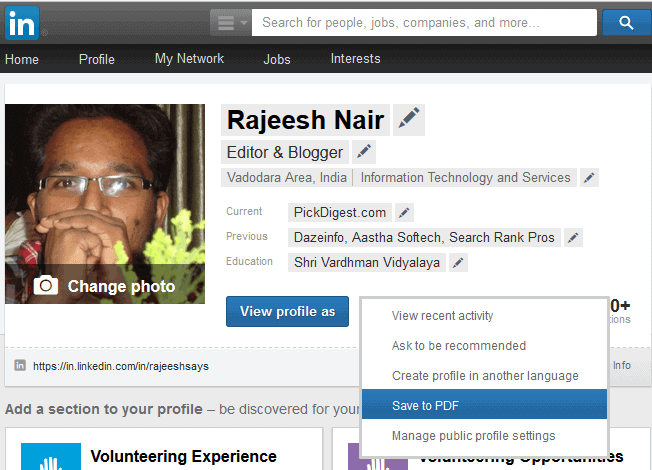 CV Maker is a free online resume builder tool that allows you to create a resume in 17 different languages. Simply visit the CV Maker website, hit the "Create a CV now" button, and follow the step-by-step process to create a resume online.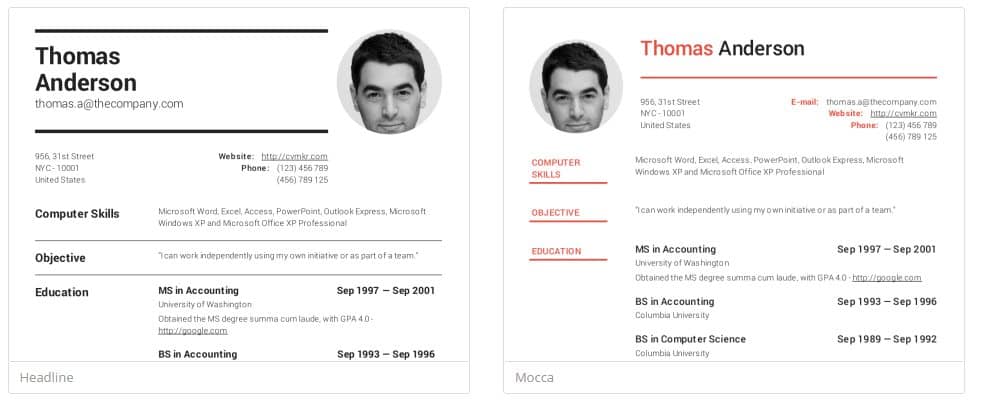 With CV Maker, you don't need to worry about the format or the sections to include as it takes care of all that within its resume builder tool. Well, you can use the tool for free with basic options, there's also a premium version available for advanced customization options.
Visual CV is an excellent online resume builder tool that helps you extract information within your LinkedIn account once you link your LinkedIn account with Visual CV. It will also allow you to create resumes online from the beginning with its user-friendly tool after simple registration.

You can create the resume and download the CV in PDF format to send it to different companies and apply for the job. However, the only flaw in this resume builder tool is that the free version would include a Visual CV badge at the end of your CV. You can always remove it by upgrading your account to a premium version or you can try PDF editors to remove the badge.
The resume builder from ResumeCoach is an advanced easy to use online tool to create your resume in just less than 10 minutes. You can design your logo quickly by selecting the pre-made templates and filling in your details.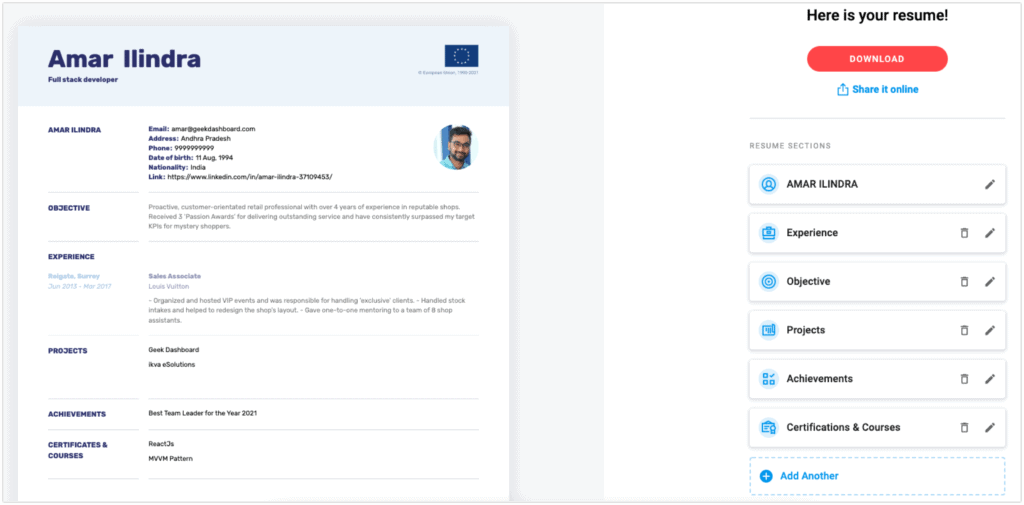 With ResumeCoash, you can build resumes in multiple languages including English, Portuguese, Dutch, etc. The best thing about ResumeCoash is the availability of multiple templates, custom sections and you choose your desired colors, typography, line heights, and many more.
If you wish to add your image to your resume, ResumeCoach AI analyses your uploaded image and suggests improvements if required. This comes in handy to make sure your resume looks professional.
How to Write a Resume.net is a simple resume builder tool that would create your resume online in just 5 simple steps. However, they have only one basic sample template available for free and you must upgrade to their premium account in order to get different template options in their database. The website also lets you submit your resume to distribution networks for free to expand your reach for job openings.
Resume.com is yet another simple online resume builder website that lets you create resumes online within minutes. Once you sign up for free, the website will guide you through the whole process by following a step-by-step procedure that includes adding basic contact details, selecting the right template, and finally submitting the detailed information that you wish to include in your resume. Once posted, you can access this resume from anywhere and apply for future job openings instantly.
Online CV Generator is an automated resume builder platform that would guide you through a simple procedure to create your resume online. All you need to do is register for a free account at Online CV Generator and click the "Start Your CV" button to proceed to create your CV.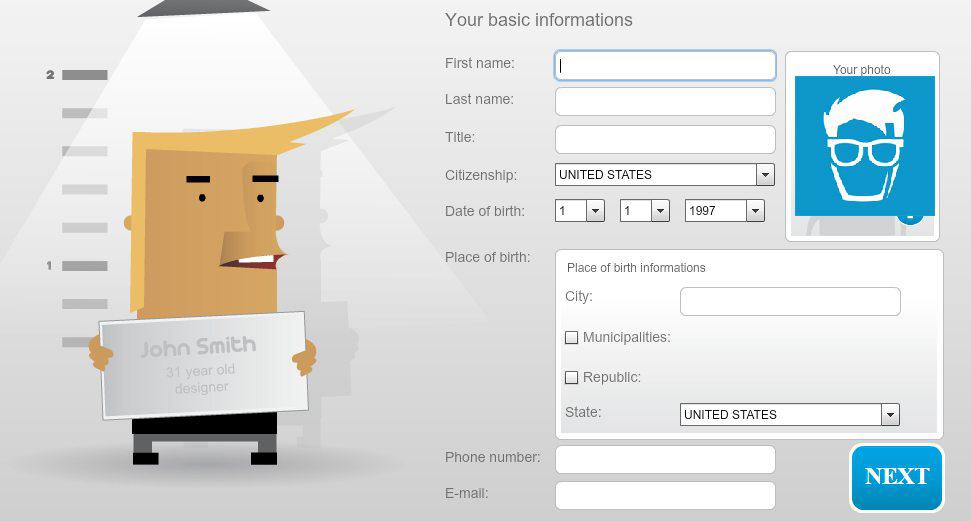 The resume builder tool will launch and ask for all the necessary details regarding your CV. Once all the details are filled in, the tool will automatically sort all the sections and details about your qualifications and work history and help you build a creative resume to fetch interview calls from your dream companies.
Touted as America's top online CV maker platform, Live Career is undoubtedly one of the best platforms to create resumes online. Once registered, Live Career will help you create a resume that's effective, attractive, and looks creative in all sense. You can also edit or update the details of your resume in the future using the same tool that you used to create the resume.
Well, to be honest, too much fancy resume can work negatively for you as per my own personal experience. However, if you belong to a creative industry, then it may also serve as a boon during your job interview. Here's an online resume builder tool called Do You Buzz, which allows you to design your resume with different color themes.
You can choose the color of your choice and design your resume as per your preferences, adding that x-factor to your resume. Once registered on Do You Buzz, you can also link your LinkedIn account to import your LinkedIn data to create a resume online or you also get an option to start building a resume from scratch based on the different color themes and templates available on this fancy online resume builder tool.

If that's not enough, then you also get a personalized shareable URL with your username working as the handle for your online resume that you can share with everyone by simply sharing a link such as "doyoubuzz.com/username".
Similar to Do You Buzz, Resumesimo also allows you to build your resume with colorful designs. This online resume builder tool offers an array of different options including colorful template options to customize your resume and add some life to your otherwise quite boring CV.
While most of the online resources mentioned on the list allow you to import data from LinkedIn, Resumesimo goes an extra mile and allows data import from Facebook as well in addition to LinkedIn. Again, you are always free to build your resume from the scratch.
You can either share your resume with others via a public profile link or you can download it in PDF format to apply for your desired job openings.
Resunate also requires user registration in order to create resumes online. With Resunate, you get three different options from which you can choose anyone to create your resume.
The first option allows you to upload your old resume and lets you customize the information with better fonts and formats.
The second option is to import your LinkedIn profile information and create a resume based on the details mentioned on your LinkedIn account.
Else, you can always go for the final option and build your resume from the scratch. No matter what options you choose to create the resume, you can use the many templates, formats, and fonts to customize your resume and download it in PDF to apply for different job openings fitting your job profile.
Over to You!
That's it. These are the top online resume builder tools that are simple and easy to create resumes online for free. A quality resume can amplify your chances of getting a selection at the job interview and there can't be any easy way other than these useful resources to create a resume online.