If you are an avid internet user, then you must be aware of the importance of user handles or usernames. The usernames become your identity on the internet and most of us want to use pseudonyms as usernames instead of our real names. However, sometimes we simply use our real name or a meaningless pseudonym as the username and plan to change it. While most platforms allow changing usernames, Minecraft has some limitations when you need to change Minecraft username.
Minecraft is one of the most popular video games in the gaming world with over 91 million monthly active users around the globe. The game is created by Swedish game developer Markus Persson and later developed by Mojang, a leading game developer, and publisher based in Sweden. Minecraft appeals to the creative minds as it involves building structures in a 3D procedurally created world. The game features multiple game modes which make Minecraft even more exciting for the players.
Gaming is a huge industry now and people are investing in gaming essentials such as 4K Monitors, game screen recorders, microphones for YouTube gaming and commentary etc. Hence, every gamer wishes for each element of gaming to be perfect, including the username.
If you are one of the Minecraft gamers and wish to change Minecraft username, then continue reading this tutorial where we have explained how to change your Minecraft username in 9 simple steps.
How to Username of Your Minecraft Profile?
Most platforms in the digital world such as social media networks or gaming sites allow users to change the username. While some allow a limited number of changes, a few others limit the username change only once. However, there are many digital platforms which don't force such limits. On Minecraft, the gamers are allowed multiple Minecraft change name.  However, there is a 30-day lock period for usernames as the game disables the Minecraft change username feature for the next 30 days once the gamer has changed his/her name.
The 30-day lock period for Minecraft usernames also implies on new accounts. So, if you are trying to find a way to change Minecraft name without 30 days waiting period, then we are sorry to inform you that it is not possible on Minecraft as it is against its gaming policy.
Step-by-Step Guide to Change Minecraft Name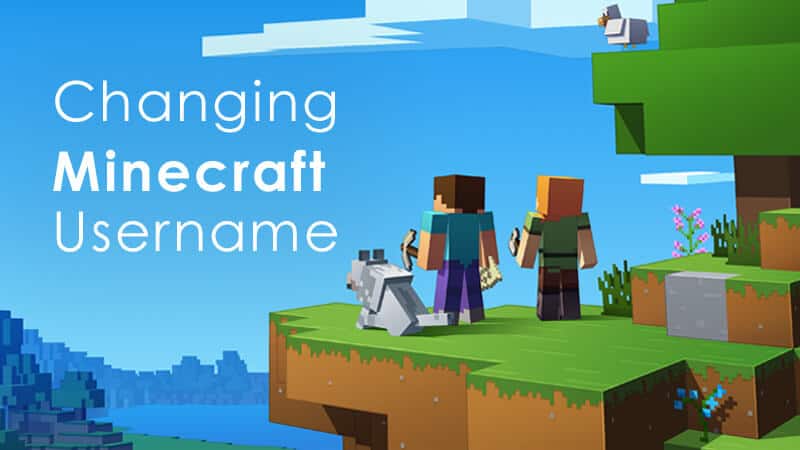 If you wish to learn how to change Minecraft username, then follow the next set of instructions to change the name:
Step 1:
Open Mojang official website on your web browser.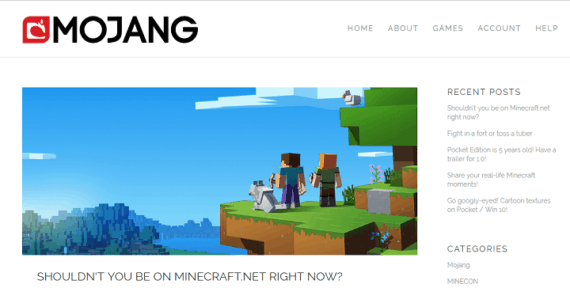 Step 2:
Click "Account" button on the top of the Mojang home screen.
Step 3:
Clicking "Account" will take you to the registration page. Considering that you are an existing user, we will simply ask you to click "Login" button on top for this step.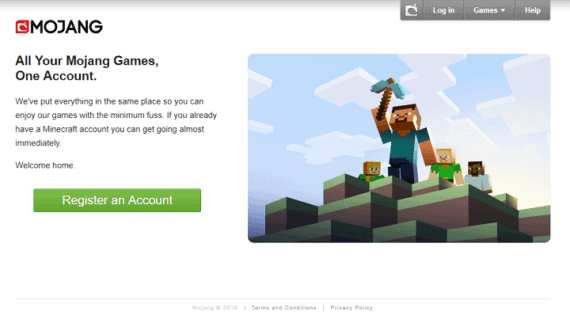 Step 4:
Fill in your E-mail and Password on the Login screen and hit "Login" button below the Login form.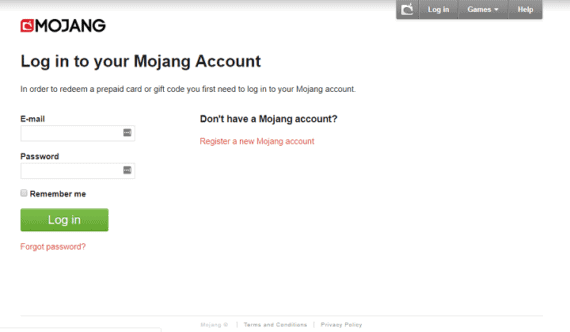 Step 5:
After Logging in, you will be redirected to My Games section where you can see all your games on Mojang.

Step 6:
The My Games section will display your current usernames of all available games. Click "Change" on the right side of the Minecraft username.

Step 7:
You will be redirected to "Rename Profile" area. Here, you can set your desired username as per the availability.

Step 8:
Once you enter the desired username, hit "check availability" to verify the if username is available. Your desired username can be assigned to you only if it is available.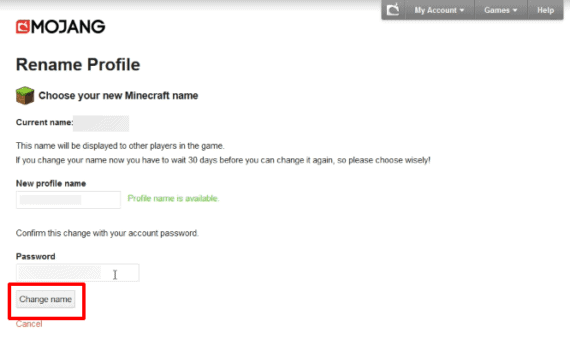 Step 9:
Once you have zeroed down on the available username, you will need to verify the change with your account password. Fill the password box with your password and hit "Change Name" button below.
That's it. You will see the new Minecraft username in your next login.
Limitations While Changing Minecraft Username
Well, Minecraft username change isn't that difficult if you look at the tutorial. However, there are few limitations when it comes to username change on Minecraft as follows:
30-day lock-in period for Minecraft Change Username
There's a 30-day lock-in period for usernames. You can only change Minecraf username if you haven't made any changes to the Minecraft username in the last 30 days. Also, you have to wait 30-days after a fresh signup or registration for Minecraft name change.
Username Availability
You will be assigned a new username based on its availability. If the desired username is already taken by another user, then you need to find another username for your profile.
7-day window to retrieve old username
Well, if you decide to go back to your old username and consider the recent Minecraft name change as a mistake, then there's a 7-days window to retrieve your old username. Within 7 days, you can revert the change and get your old username back.
In-game Minecraft username change doesn't affect Minecraft website profile name.
Remember that this tutorial for Minecraft name change only applies to the in-game Minecraft username. It doesn't change your Minecraft website profile name.  
Over to you!
We hope that this solves your query on how to change Minecraft username once and for all. Let us know in the comments below if you have any solution on how to change Minecraft name without 30 days limitation.