Some applications on our smartphones are not given as much importance as others like games, but people need to understand that these apps are of more importance to some people than to others and Calendar apps for Android, Notification Log are few of them.
These calendar apps are very useful for people who have a busy schedule in business or just want to set their schedule and try to maintain a routine. Whatever your reason is, it is important and becomes a part of our daily life if used frequently.
Top free calendar apps for Android devices with schedules and reminders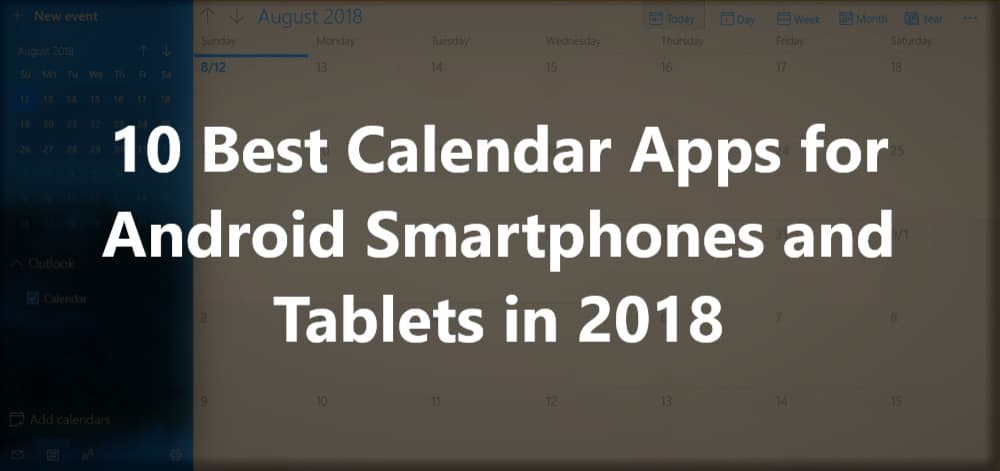 We have gathered a list of top calendar apps for Android smartphones and tablets:
1. Google Calendar
You have to admit that Google Calendar is by far, the best free calendar app for Android. It is one of the most simple Calendar apps for Android with a friendly user interface, animations, and graphics. If you link your Google account with it, it can automatically add birthdays to your calendar and can also add festivals automatically depending on your region.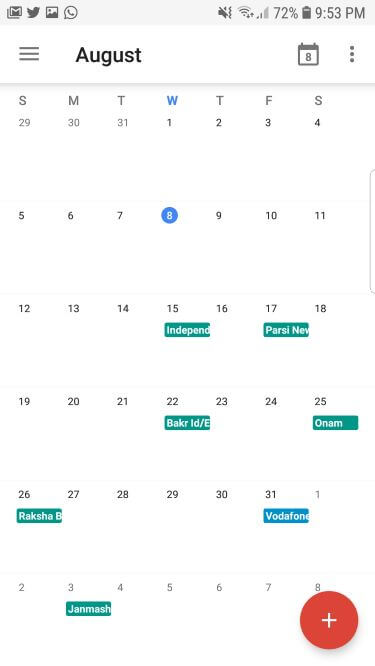 Availability: Google Calendar is available on Android and iOS devices
Features: Easy to use UI, simple and sophisticated
Price: Free
2. Microsoft Outlook
Microsoft Outlook is an app with a bunch of features. This app acts as an inbuilt inbox for your email where you can add multiple accounts. It also becomes a messaging and contacts app where you can read your messages and contacts. Also, the reason it is on the list, it works as a calendar with automatic addition of festivals and birthdays of your contacts, just like Google's.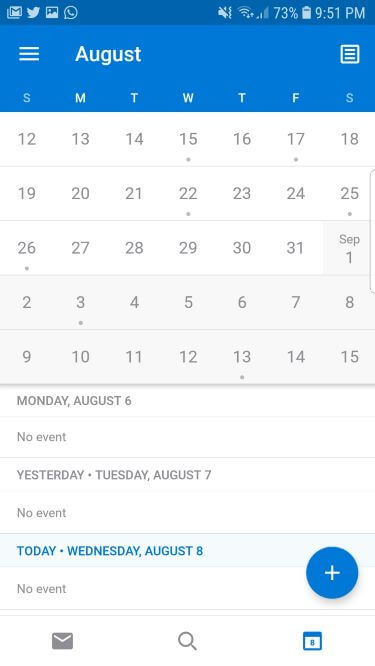 Availability: Microsoft Outlook is available on Android and iOS devices
Features: Clean build, multiple features in one app
Price: Free
3. TimeBlocks
TimeBlocks Calendar is an app made for specifical people who have a lot to do in a very less time (I think so!). This app is easy to use, fun and can add multiple things like a reminder, events, birthdays, etc. on a day. It also has a to-do list where you can list your tasks.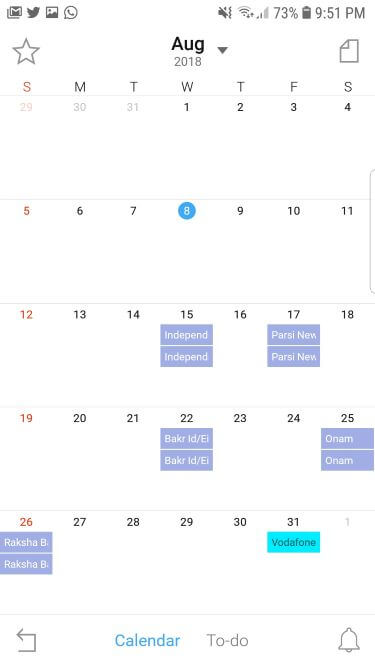 Availability: TimeBlocks is available for Android and iOS devices
Features: Intuitive UI, Colourful Interface
Price: Free, with in-app purchases
4. Calengoo
Calengoo is one of the first calendar apps for Android in the list which has three versions – Calengoo Trial, Calengoo which is the paid version, and Calengoo Lite. This app is a serious one with support for Google Calendar and has a bunch of features but it keeps it minimal. The UI is also minimalistic with basic colors and kind-of dull look.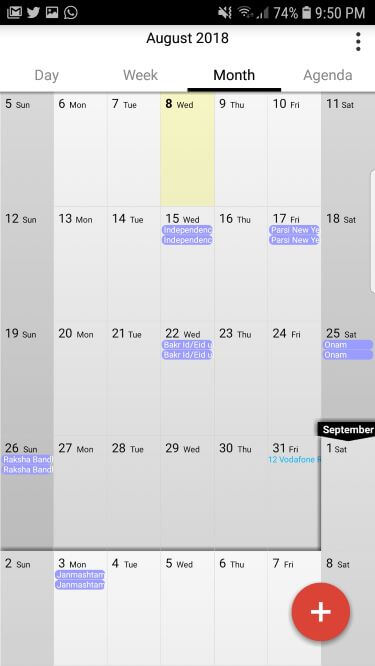 Availability: Calengoo is available on Android
Features: Support for Google Calendar and more, minimal but useful UI
Price: Calengoo Trial is free for 5 days while Calengoo paid version is for Rs.99. Calengoo Lite is Free
Also Read: 10 best Chrome download accelerators to boost download speed
5. Business Calendar 2
Business Calendar 2 is made for serious business persons and people with a very busy schedule. This app has a ton of features with different tabs for holidays, events, meetings, birthdays so you can see what you want just by holding on it and the app will show just that. It has the option of personalization by changing the colors of the tasks. It also has Pro version in the app.
Availability: Business Calendar 2 is available for Android
Features: Interactive UI, Tons of Features
Price: Free, with the option to go Pro for Rs.190
6. aCalendar
aCalendar is an app that looks like a basic app but it has lot more in its sleeve. When you start the app, it shows the basic days and events in the corresponding days. But the different feature it has that no other calendar apps for Android in this list have is the moon phases. Another good thing about the app is that if you upgrade it to the Pro version or purchase anything from the developer of this app, Tapir Apps, it donates 10% of the revenue to World Land Trust to protect rainforests.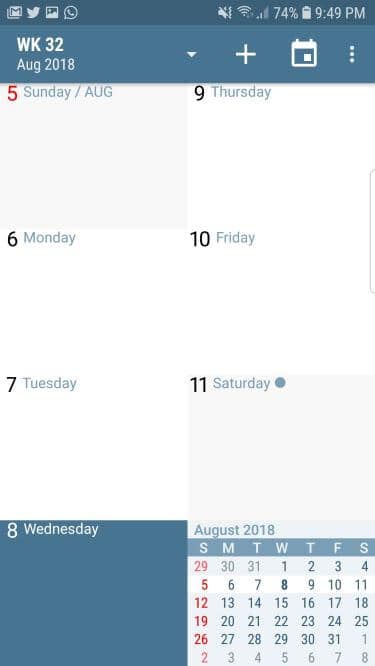 Availability: aCalendar is available on Android
Features: display of Moon phases, Feature-full
Price: Free, with in-app purchases and can be upgraded to aCalendar+ for Rs.200
7. Any.do Task Manager and Calendar
Any.do Task Manager and Calendar app is an app full of fun and interactive experience. It has a very colorful UI with the ability to update the themes in different colors. Also, it has a Missed Call Reminder feature which notifies you about your missed calls so you don't miss important calls and it can also connect to Amazon Alexa. It can also be considered one of the best planner apps for Android just because of its features.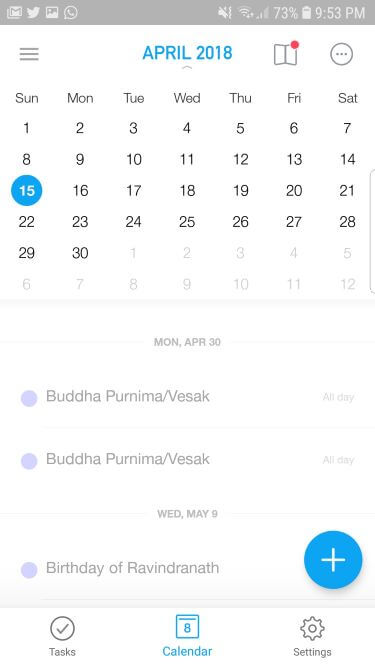 Availability: Any.do Task Manager and Calendar is available on Android and iOS devices
Features: Plan My Day feature, simple and clean UI
Price: Free, with 7 days free trial of Premium which is billed annually after the trial at Rs.75.82/month
Also Read: How to Send Large Video Files over Internet for Free
8. DigiCal Calendar
DigiCal Calendar is also one of the fun apps that many people would love to have on their devices. An interactive UI with a light and dark theme also helps with this app. It also has a weather feature within the app with 6 intuitive widgets to add on your home screen. It also has a pro version which can be upgraded which unlocks more features.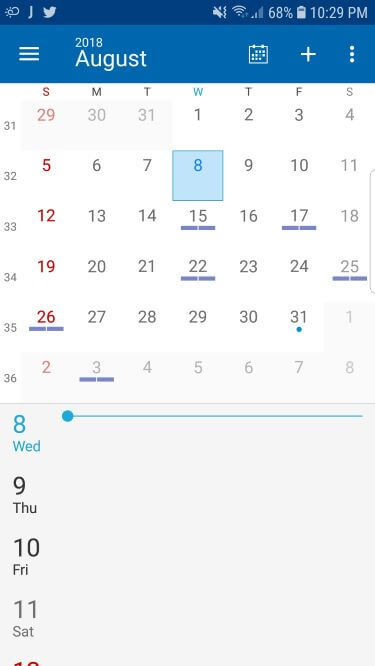 Availability: DigiCal Calendar is available on Android
Features: Weather indication, several widgets
Price: Free, with a paid DigiCal+ version at the price of Rs.180
9. Simple Calendar
As the name suggests, Simple Calendar app for Android is minimalistic in terms of looks as well as features. It offers a customizable theme option with the ability to import and export .ics files. This app is for the people who want a simple but different calendar app than the stock one.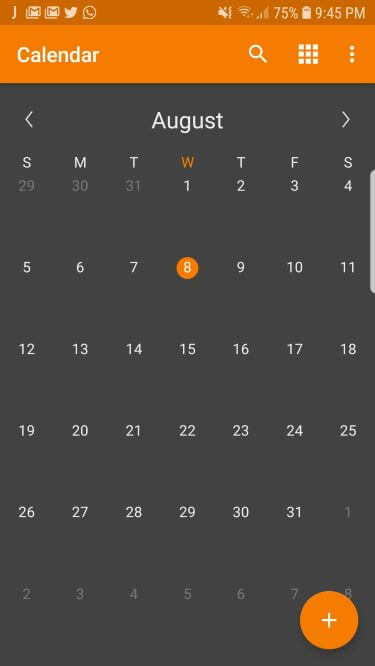 Availability: Simple Calendar is available on Android
Features: Simplicity, able to export and import .ics files
Price: Free
10. Time Tree Calendar
Time Tree Calendar app is a very peaceful looking app with loads of features. It has a task manager, ability to add multiple calendars so you can add one of your mates and don't mix it up. It has a very fun and interactive UI with good looking animations and animated characters. Currently, the developers are inviting people to a group where you can give feedback and ways to improve the functionality of the app.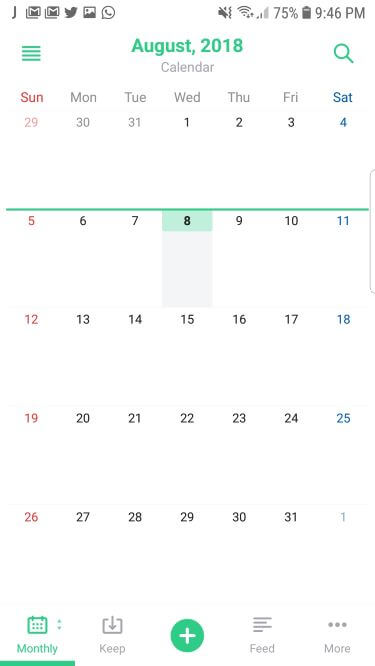 Availability: Time Tree Calendar app is available on Android and iOS devices
Features: Ability to add multiple calendars, creative UI
Price: Free
Conclusion to Calendar apps for Android
In the end, all I have to say is that people have different needs and with different needs, comes different products. Everyone doesn't like the stock look of Google Calendar, everyone doesn't like the feature-full calendar like the aCalendar, so it all depends on the needs of the people. What do you think is the Best Calendar App for Android from the list above? Let me know in the comments below.