When it comes to listening to music, people love apps that could let them listen to music while being off the grid. Offline music apps could be a great and tension-free way to listen to your favorite tunes and music as it has various benefits like saving your internet data, battery life, and much more.
This can be beneficial in situations like on a road trip where access to the internet is limited, traveling on flights, and many more. However, most of the apps that are currently available in the app store can perform various functions like streaming music, downloading music, or doing both at the same time.
Many of these apps have multi-platform availability, i.e. some of these apps are available on both Android and iOS platforms while some are limited to one. In addition to that, another great thing about offline music downloaders is that you can adjust the sound according to your needs using the equalizer.
People who like bass-heavy music can turn the bass all the way up, while others who like to listen to the instruments played in the background can turn that up.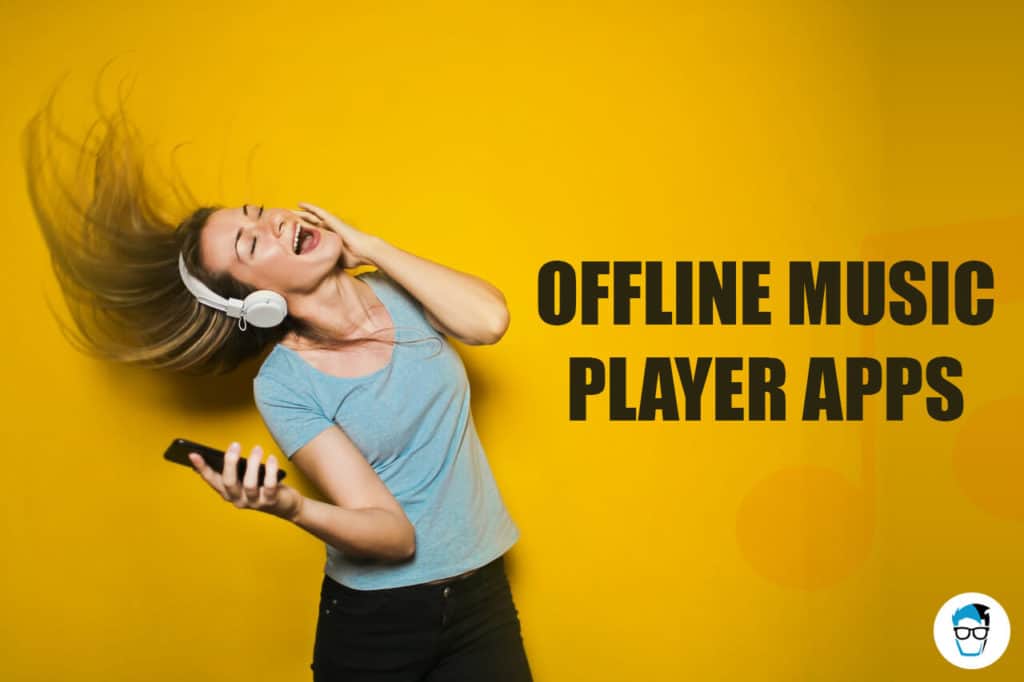 Best Offline Music Apps That Require No Internet
In the list mentioned below, you will find the best offline music apps that you can download on your device to listen to your favorite songs without using Wi-fi or internet data services.
1. Rocket Player
Rocket Player is the first one on our list of offline music apps. This is because of the various functionality features that led it to the number one spot. Its features include a wide variety of supported formats, 10 different band graphic equalizer for precise tuning of audio, embedded lyrics of songs, multiple selections of songs that allows to create a playlist or set up a custom equalizer setting for the selected group, bookmark support for podcasts, Chromecast support, and much more.
If we look at the design of this app, it contains a stealthy look with a black background on almost every page with popping accent colors on the navigation bars of the app. It also has some material designing options that you can download as an additional app.
Supported formats: .wav, .ogg, .mp3, .3gp, .mp4, .m4a, .alac, .tta, .ape, .mpc, .wav, .flac, .wv and .wma.
Pros:
Customizable themes and looks
10 Band Equalizer for extensive use
Ability to playback videos
Batch selection for playing multiple tracks
Cons:
UI is somewhat restrictive
Very basic-looking UI
Download on Google Play
2. AIMP
AIMP offline music app has similar features to the Rocket Music Player but some of its features makes it look apart. Starting with the 29 band graphic equalizer which makes fine-tuning the songs that you are listening according to your preference. Cross-fading the tracks that you have on your device is another feature that could be useful to many music-editors who are just starting out and many other features regarding professional audio editing are also present.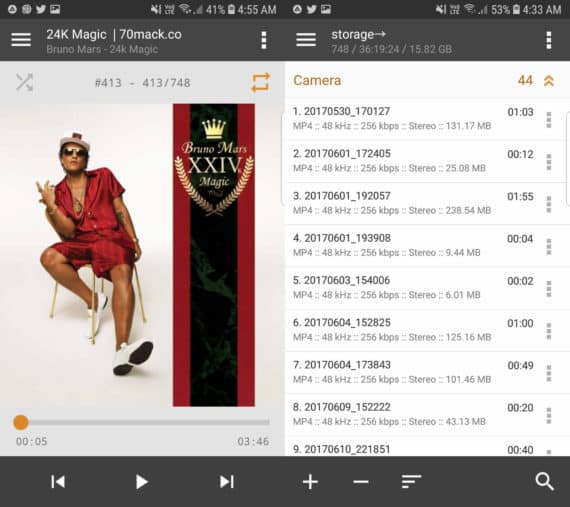 Design-wise, it looks fairly good with a white background that starts with the app. There are many accent-colors that are available. App primary, secondary and accent colors can also be changed according to your preferences from the app settings. Likewise, there's also a dark mode available which might be good for those who love to listen to music in the dark hours.
Supported formats: .ape; .mpga; .mp3; .wav; .ogg; .umx; .mod; .mo3; .it; .s3m; .mtm; .xm; .aac; .flac; .mp4; .m4a; .m4b; .mpc; .wv; .opus; .dsf; .dff; .tta
Pros:
29 Band Equalizer available for thorough customization
Ability to live stream via HTTP
Many professional-grade editing tools built-in to the app
Smart Playlist creates playlist based on folders
Cons:
Does not have music library built-in, uses playlist approach
UI might be a hit-or-a-miss for some users
Download on Google Play
3. Pulsar Music Player
Pulsar Music Player is another one of the offline music apps which allow users to listen to music without internet. This app is one of the modern looking apps that you would find in the list. It's packed with many useful features like displaying the lyrics while playing, speed adjustment of songs, Chromecast audio commands support, crossfade support, ad-free and many more.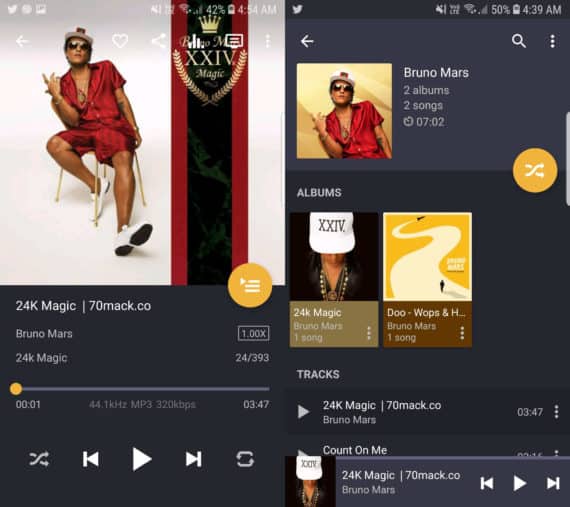 Furthermore, in the visual department, it looks pretty good. It's modern and sleek looking User Interface with the ability to support multiple themes and color sets is a great way to customize your music player. Also, it could automatically download your music or album's images if you like having images of the songs playing.
Supported formats: .mp3, .aac, .flac, .ogg, .wav, .3gp, .mp4, .m4a, .mkv
Pros:
Modern looking UI
Free of advertisements
Good range of supported formats
Small download size
Cons:
Equalizer is not that good
Had to download other expansion apps to support some features
Download on Google Play
4. BlackPlayer Music Player
As the name suggests, BlackPlayer Music player is one stealthy looking player that you could find. Features-wise, it is packed with many features that many people would find useful like the inclusion of 5 band audio equalizer, highly customizable UI, supports embedded lyrics and the ability to add lyrics with a .lrc file, ability to edit tags, albums and artists, crossfading and many more.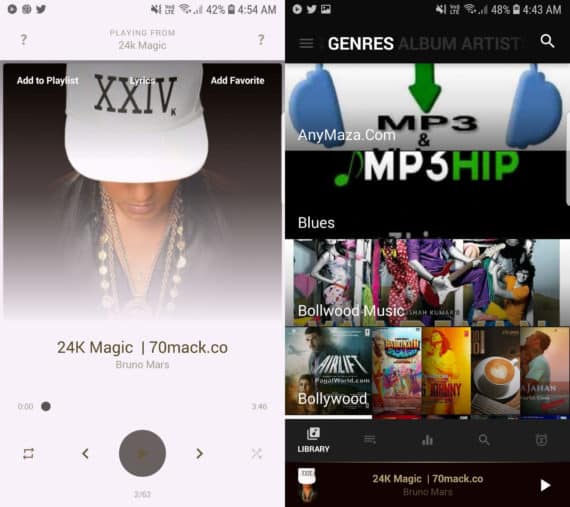 In terms of looks and UI, it looks stealthy with a dark black background with various accent colors styling it around the app. It also supports high-quality images and covers for the songs which you have on your device along with the adaptability of its UI makes it a complete package of offline music apps.
Supported formats: .mp3, .wav, .flac, .m4a, .ogg
Pros:
The dark theme all over the app may impress most people
Many voice enhancing features present like BassBoost, 3D Surround Virtualizer, and Amplifier
5 Band Equalizer
Support for CrossFading
Cons:
Fewer options to customize as compared to others
Less supported formats of audio
Download on Google Play
5. JetAudio
JetAudio is the first offline music apps for iOS on this list with a dominant set of features that many people would fall in love. It is jampacked with features like the ability to find music on YouTube, X-Wide, Reverb, X-Bass sound effects, AGC (Automatic Gain Control) to avoid music fluctuations between the songs, CrossFading support, control via Bluetooth headsets and headphones, various physical actions like a flick to skip tracks, etc.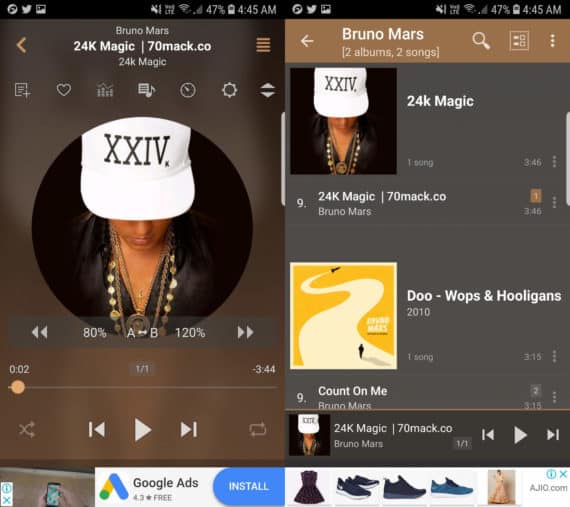 Carrying a modern and futuristic look, it definitely gives a vibe of an app made in the future. Other than that, the player looks pretty good with all the helpful options like settings, equalizer, volume enhancer can be found alongside the music you are playing. Images and covers of the music can be displayed as a background of the player with a faded effect which looks really good in my opinion.
Supported formats: .mp3, .wav, .ogg, .flac, .m4a, .mpc, .tta, .wv, .ape, .mod, .spx, .opus, .aiff
Pros:
Numerous supported formats of audio
Lots of features for music editing and professional-grade audio editing
Physical gestures that might come handy
Futuristic theme and UI
Cons:
Many of the features that are really good are available on the paid version
People with little or no knowledge of professional music editing would not prefer this app
Download on Google Play
Download from App Store
6. Pixel Player
If you want simplistic offline music apps that get the job done, Pixel Player is made for you. This app has various features with the inclusion of it being an audio player, video player, an online podcast player and a radio player. Also, other features include a 5 Band equalizer with Bass Boost and 3D Audio, support for lyrics of tracks, automatic and manual Album cover images, the ability to customize themes, animations and much more.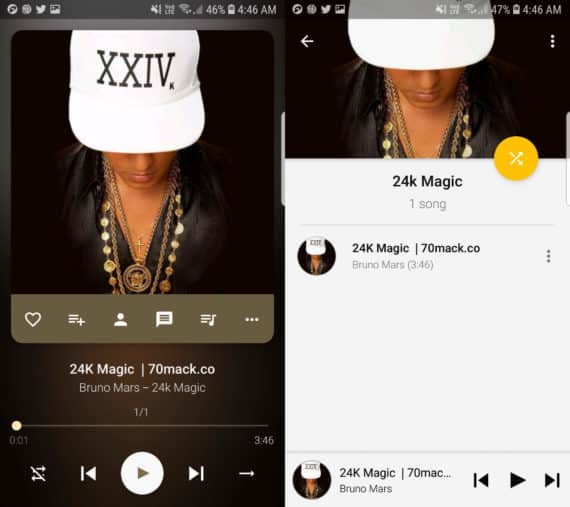 As you would expect from its name, the UI looks pretty much like you would find on a Pixel device but with a few tweaks that make it more interesting. Firstly, the option to change the theme to dark, grey, and light makes a huge difference in terms of looks. Then comes the option to customize the accent colors of the app which is a welcome feature.
Supported formats: .mp3, .mp4, .m4a, .alac, .ogg, .wma, .flac, .wav, .ape, .wv, .tta
Pros:
Clean and minimalist UI
Various options to customize the looks
A good set of features
Options to play online radio and podcasts
Cons:
Sometimes it might lag a little bit
Equalizer option is fewer as compared to others
Download on Google Play
7. Music Player – MP3 Player
Recently updated in the year 2019, Music Player – MP3 Player is a great app with modern-looking UI and a good set of features. Starting off with the features, Powerful equalizer with bass boost, reverb effects, automatically scanning for music and audio tracks from your device, wide support for widgets on a device, various customizable options, and many more.
In the looks department, it looks apart from most of the music players you would find on this list. It supports a very cool, gradient-colored look at the background with the option of customizing it to your preference. Along with that, when you have a tracks' cover/image matching with the background of the app, it really looks beautiful.
Supported formats: .mp3, .midi, .wav, .flac, .aac, .ape and many more
Pros:
Looks completely unique and modern from the rest
Features-wise, it is good
Many audio customization options available
Cons:
Does not have a strong equalizer for customization
Lyrics display is not supported
Download on Google Play
8. Google Play Music
Coming straight from Google, Google Play Music mainly comes pre-loaded with almost every Android phone that you might find these days. Also, the main reason for its coming into every smartphone is its usability and simplicity. Likewise, in terms of features, it is packed with basic stuff like a basic equalizer with some custom presets, acts as an offline music downloader and users can purchase music as well, its membership includes YouTube Music Premium, ability to download podcasts, and so on.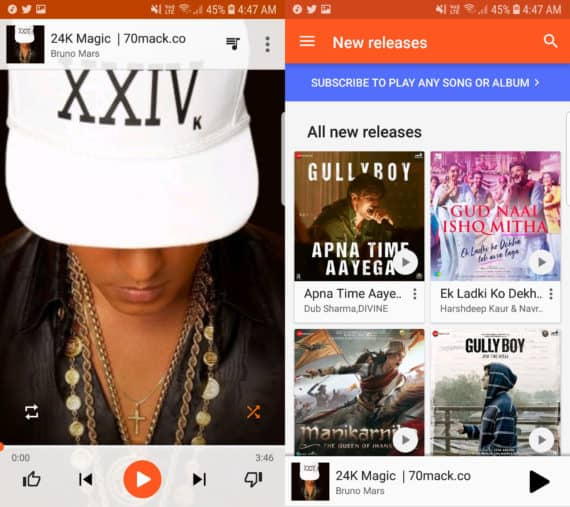 So, recently Google has revamped the looks of its app which made a huge difference. Before the app had a basic orange-white theme with basic looks. But recently, as Google has been revamping its UI in every sector, it made this app a whole lot better with card-type info, more richer text, and more color-combinations introduced.
Supported formats: .mp3, .aac, .flac, .ogg, .alac, .wma
Pros:
Simplistic and easy-to-use UI
Ability to buy and download songs and albums
Free YouTube Music Premium subscription with its membership
Ability to listen to podcasts and radio online
Cons:
Supported formats are fewer as compared to others
Membership might be costly for some people
Download on Google Play
Download from App Store
9. Poweramp Music Player
If you are more into a more professional type of music listener who loves to tweak almost every bit of its track to get the best experience, then the Poweramp Music Player is made for you. This app has a lot of extensive features that are built for hardcore music listeners and tweakers.
These features include a new DSP with updated 10 Band equalizer, CrossFading support, lyrics support along with lyric search via a plugin, ability to download missing album covers/image, numerous skins available on the Google Play store for customization, and much more.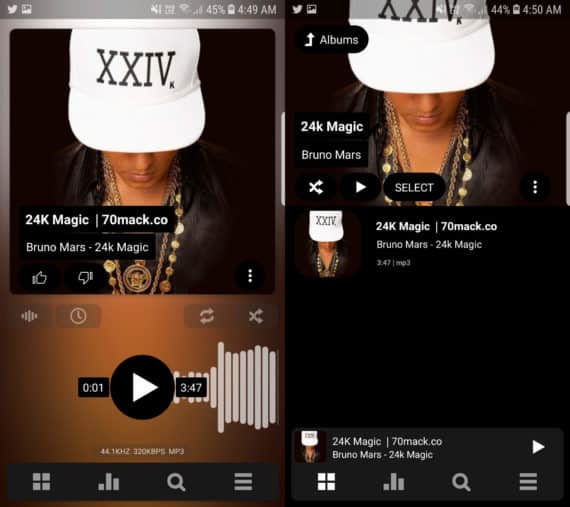 Furthermore, if you look at the UI, you would find that this app is for the "prosumers" means this app supports a number of different ways to tweak a track which only a professional would know how to use it properly. Along with that, when you look at it, you will seem to find that a lot has been going on in the app. When you go into the tweaking, you would find a number of options where a normal user would get confused. So, this app is mainly focused on professional users rather than normal users, both feature-wise and in terms of UI.
Supported formats:  .mp3, .mp4, .m4a, .alac, .ogg, .wma, .flac, .wav, .ape, .wv, .tta, .mpc, .aiff, .opus, .dsd, .mka, .tak, .flv (audio)
Pros:
Huge range of supported audio formats
Numerous ways to tweak tracks
Professional UI
Cons:
The free app is only usable to 15 days
Complex UI which might be difficult for a normal user
Download on Google Play
Download from App Store
10. Stellio Player
Stellio Player is the last contender in our list of free offline music apps, but it's not the least. This offline music app for Android looks like a calm and concentrated app which has many good features like a 12 Band equalizer with various audio effects and presets, CrossFading, lyrics support with offline access after accessing the internet, automatically and/or manually cover images, includes physical gestures like shaking the phone, ability to edit tags, and many more.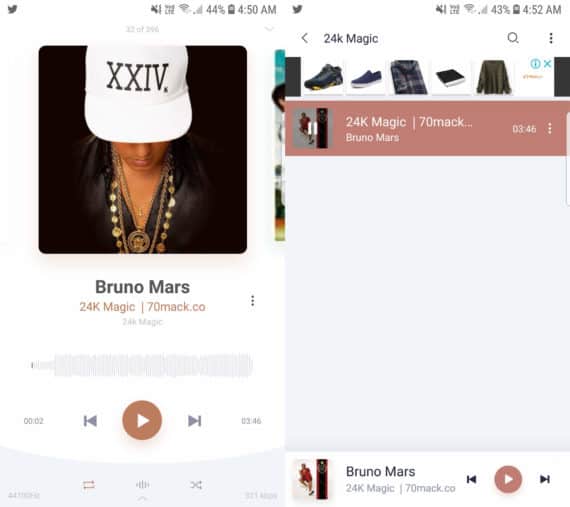 As I said before, when you open up this app, it gives the vibe of calmness as the app's base color is white with light colored text on it which looks soothing to the eyes. In addition, it supports a wide range of themes including an option to buy themes from their website, and various animations for home and lock screen.
Supported formats:  .flac, .mp3, .cue, .ape, .m4a and others
Pros:
Calm and concentrated UI
12 Band equalizer with various audio effects
Supports various themes
Cons:
Themes are kind-of expensive if you want some customization
Ads sometimes can become irritating
Download on Google Play
Conclusion
In conclusion, here I present you the best offline music apps that you could get on the Play store or the App store. In this list, we have included various kinds of apps that range from simple and minimalist that anyone could use to the apps that are solely meant for professional audiophiles and music editors with a bunch of options to customize the tracks and various kinds of formats that are not normally supported by simple apps. Along with that, some apps allowed online streaming of podcasts and the ability to purchase tracks and save it on your device which could come quite handy.
Similarly, many of these offline music apps also had different types of UI and look. Some were made to look simple and easy-to-use with rounded buttons and easy-to-read text, while others are built with various options to edit the UI that could help the pros to use the app more easily and effectively.
So, do you find your desired music app where you can listen to the music app without internet? Do you think we missed an app that might help our readers? Please do leave them in the comments below.