If you think that iTunes is the sole media management platform for your iPhone or iPad devices to transfer photos, videos, and music, think again. There are plenty of best iTunes alternative tools designed specifically for iPhone/iPad devices to let you transfer your media. Today, I am going to share some of the best iTunes alternatives designed to help you manage and transfer your multimedia data to and from your devices.
iTunes can be quite complicated and restrictive sometimes to transfer and manage your photos, videos, and music files on your iPad or iPhone devices. At this juncture, it is quite fruitful to have various different alternatives to iTunes and lifts such restrictions.
Best iTunes Alternatives for managing iPhone, iPod, and iPad Files
Here are the 12 best alternatives for iTunes to manage photos, music, videos, and apps on iPhone, iPod, and iPad
1. DearMob iPhone Manager
DearMob iPhone Manager is an iTunes alternative you need to manage everything on your iPhone and iPad. Solving all iTunes and iCloud limitations, DearMob iPhone Manager will let you create full incremental backups in a jiffy. You can copy/move photos, music, videos, files, and more from your computer to iOS/iPadOS devices and vice versa.
You can also easily switch from an old iPhone to a new iPhone without worrying much about data loss. The company claims it can transfer 100 4K photos of about 20 GB in less than 10 seconds. Since Apple started saving captured images of iPhones in HEIC format, DearMob iPhone Manager will take care of converting HEIC to JPEG format making them accessible easily on Windows devices.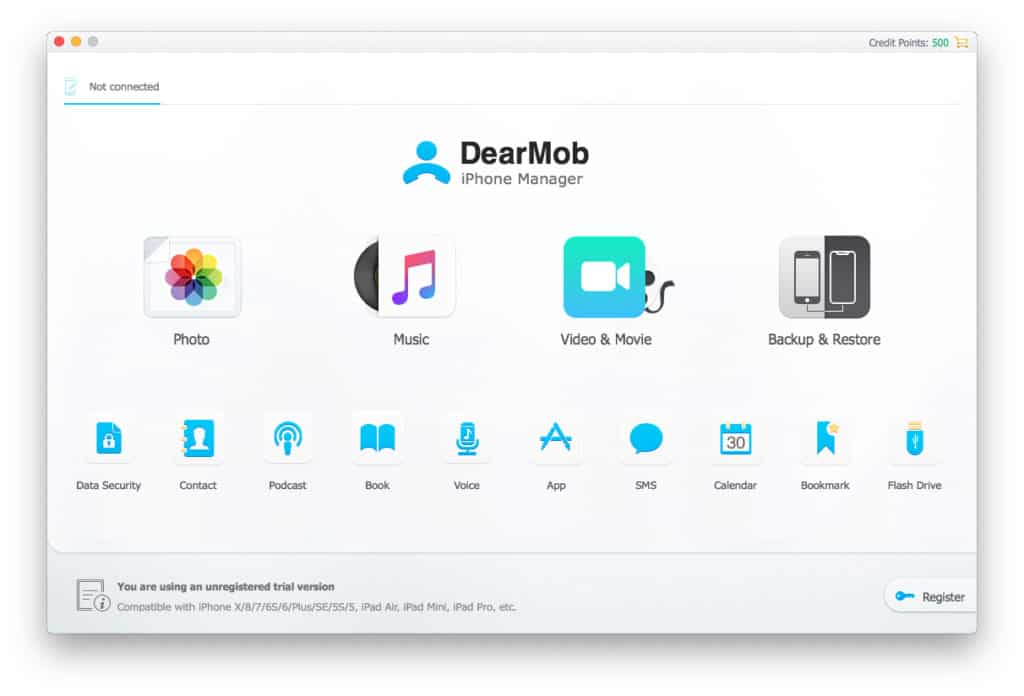 Apart from these, it also has many more features including but not limited to converting OGG, FLAC, WMA, and WAV files to MP3, creating and transferring ringtones using iPhone Music, compressing large video files, and rotating videos by 90 degrees for full-screen playback.
The free trial of DearMob iPhone Manager is available for both Windows and Mac devices. Try now for free and once you are satisfied with the product, you may choose to purchase the license starting from $39.9
2. EaseUS MobiMover
EaseUS MobiMover is a freemium iTunes alternative that comes in both free and Pro versions. However, the free variant EaseUS MobiMover Free can do all tasks iTunes do. With this tool, you can transfer any data like pictures, videos, music, contacts, text messages, notes, books, etc from iPhone/iPad to PC/Mac and vice versa. Transferring data from an iOS device to another iOS device is also supported.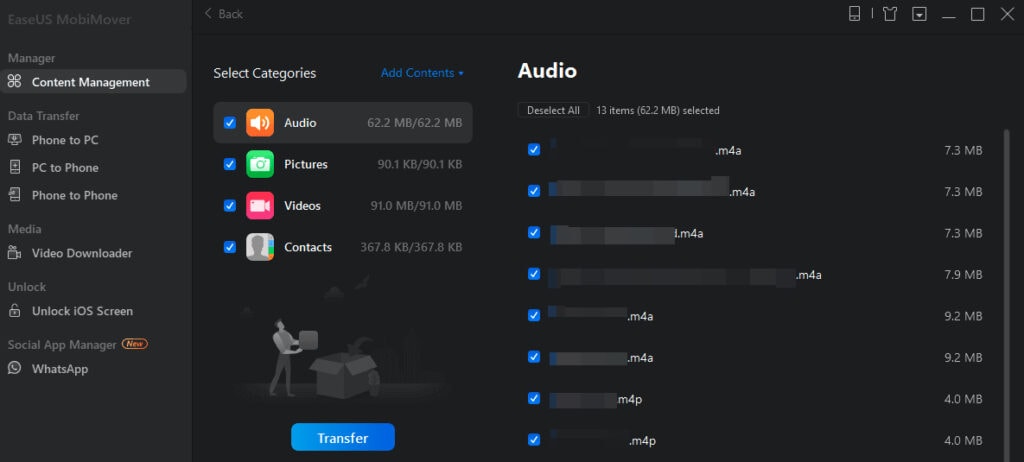 You can use this tool on both macOS (including OS X) and Windows OS. Users with the free version of EaseUS MobiMover can only transfer 20 files in a day. If you are a Windows user and using the Pro version of EaseUS MobiMover, you can transfer WhatsApp chats from one device to another with it. However, this feature is not yet available for Macs.
Another Windows-only feature is the iPhone Backup and Restore, where you can back up your iPhone data and restore it on any iOS device. This feature comes in handy when you are upgrading your iPhone.
3. Cleanup App – Phone Cleaner
The Cleanup App – Phone Cleaner works as a management aid for your all data stored on the iPhone. You can install the application easily from the App Store and start using it with a few taps. The application helps to declutter the storage on your iPhone. Cleanup has the ability to detect images and videos that are similar and deletes all of them with just a single tap.
There's a Secret Album space on the application in which you can store your private photos and videos, hiding them from the Gallery. The application can do even more by compressing the videos and making space for more storage on the device.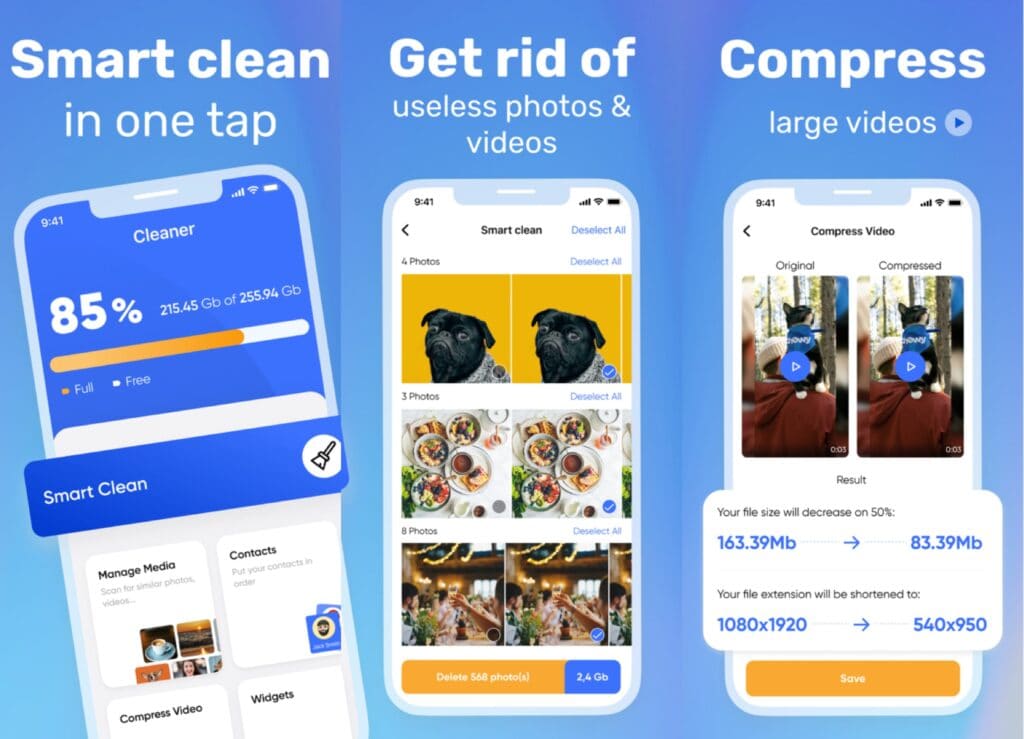 Cleanup application on the iPhone will come in handy in situations like organizing your contacts. The app can even store these contacts in the Secret Space along with important documents and files. Additionally, you can protect the Secret Space that includes all your data with a Password for a more secure experience.
The application has both a 1-month subscription and 1-year subscription to choose from for additional features as an in-app transaction. You can even try out the app as a free trial and enjoy an ad-free experience along with an Ad Blocker provided.
4. TunesGo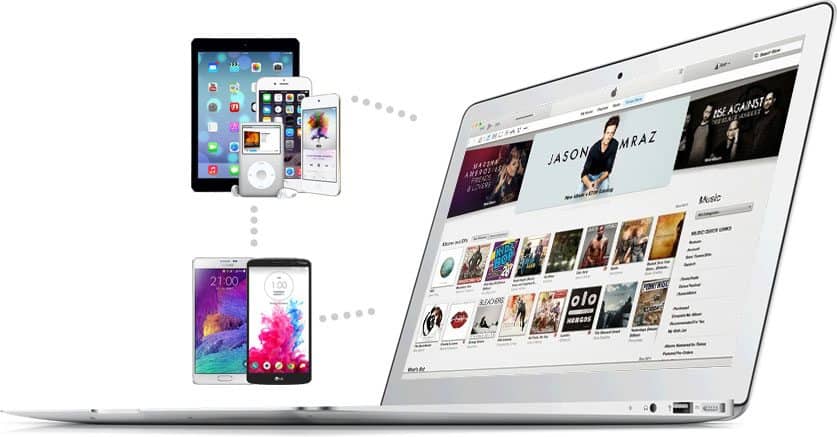 TunesGo is a product from Wondershare, which is a leading name in the software industry, and hence it makes TunesGo, a trustworthy app for all your media transfer on iOS devices. With this app, you can simply drag and drop your media files to and from your iOS devices and computer. In addition to the media transfer feature, the app also lets you back up contacts, messages, and other media data on your computer. TunesGo was previously known as Wondershare iOS Transfer and it is one of the iTunes alternatives available in the market today.
5. SynciOS

SynciOS can do wonders with your iOS devices. It is much more than just any iPhone manager or iPad manager tool out there. Besides letting you manage and transfer media files from your iPads or iPhones, it also comes with some effective tools such as a video/audio converter, backup manager, ringtone maker, file manager, and others. It connects your iOS device via USB cable and the program will automatically detect your device to get you started. However, in order for SynciOS to work, you need iTunes on your computer.
6. Documents 5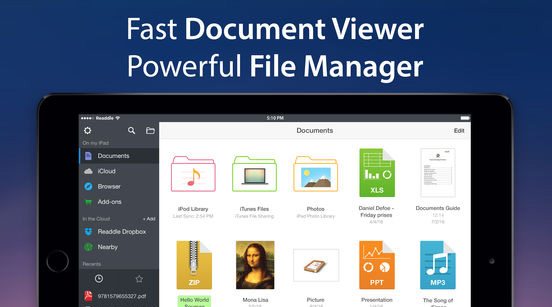 Documents 5, as the name suggests, is a file management tool. Being universal file management software, it can also become one of the best iTunes alternatives as it lets you manage and transfer not just media but all kinds of files to and from your iOS devices. This platform also comes with a preview tool for files in addition to a media player to test your music and videos before transferring.
7. Appandora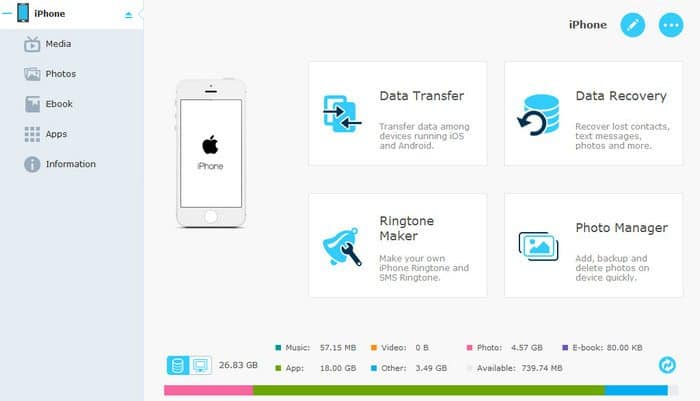 Appandora lets you manage and transfer all your files to and from iOS devices and Windows PC. It's a free platform design to do amazing things with your iPhone and iPad. Besides being one of the best iTunes alternatives, Appandora also brings in Ringtone maker and Audio/Video converter features onto the table. You can do much more than just manage your media files and transfer them to and from your iOS devices.
8. FoneTrans iOS Transfer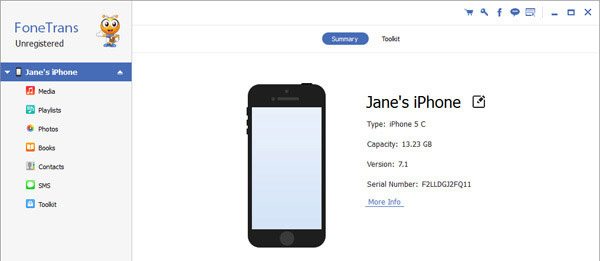 FoneTrans iOS Transfer is one of the best iTunes alternatives that work as an effective iOS transfer and management software for all your iOS devices. This platform is also highly compatible with desktop platforms such as Windows and Mac. In addition to being an iTunes alternative, the app is also bundled with an amazing list of other features. FoneTrans also shows a preview of all the media on your computer to make it easy to manage and transfer all your data. Being an Aiseesoft product, you also get the advantage of their iPhone Data Recovery tool which can help you recover any data loss from your iOS devices.
9. AnyTrans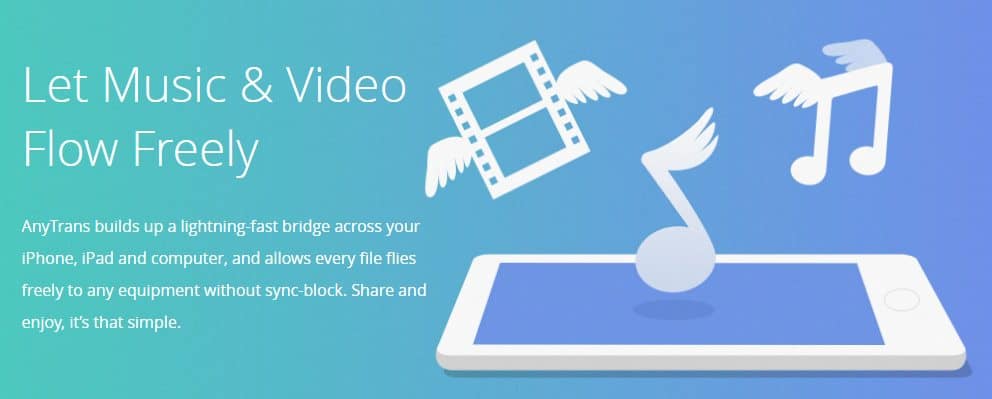 AnyTrans is a wonderful iPhone or iPad manager platform and the best iTunes alternative to letting you do more than just manage your iOS devices. Besides just transferring files to and from your devices, you can also use AnyTrans to clone your iOS device and simply use it to sync with any new iOS device you own in the future. You can also share and control all your personal data on your iPhones or iPads and sync it with other iOS devices. In addition to that, you can also watch YouTube videos offline, especially during traveling on flights.
10. iMazing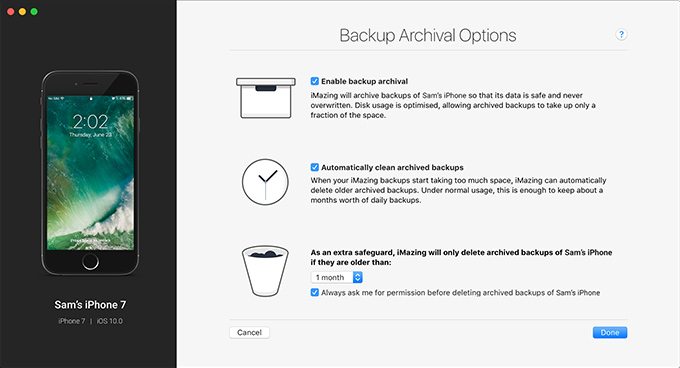 iMazing, previously known as DiskAid is an excellent iTunes alternative software compatible with both Windows and Mac OS. Besides letting you transfer files to and from your iOS devices, this tool also comes with features such as Backup and Restore, iTunes Library Manager, File Manager, iCloud compatibility, and more. You can sync all your iOS devices in one place and manage all the files from a single hub. However, iMazing is not totally free and there are a few limitations in the free version of the tool. You can always check out the paid packages to explore more about iMazing.
11. FonePaw iOS Transfer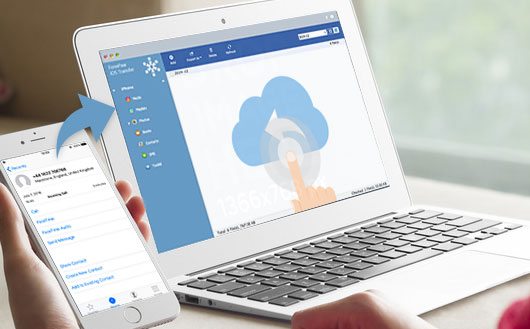 FonePaw iOS Transfer is a free platform that lets you transfer files to and from your iPhone, iPad, Windows PC, Mac, and iTunes. The best functionality of FonePaw is that it will convert the files to supported formats based on which device the file is transferred to. All you need is to install the software on your Windows or Mac system and connect your iOS device to manage and transfer files as per your preferences. This iPhone manager tool supports iPhone, iPad, as well as iPod devices.
12. Dropbox

Dropbox is a well-known name in the cloud storage industry and being a storage platform compatible with iOS, it also lets you transfer files to and from your iPhones and iPads. It also comes with a free 2 GB storage space in the cloud. Besides transferring your media files, you can also categorize your photos as well as preview them offline.
Well, if you are also fed up with being limited by iTunes to manage your media files on your iOS devices, then you must check out the amazing list of best iTunes alternative tools above. If you find any new best iTunes alternatives apart from this list, then do let us know in the comments below.