Call recording apps can be very handy at crucial times. Well, I don't mean that you must record every time a friend or relative calls. However, you can use this kind of apps for recording important discussions or if you wish to save a call recording to be used as proof in the future. In short, it is always wise to keep a voice or call recorder app on your Android phone. Play Store contains a good load of different such apps but we have sorted the best call recorder apps for Android to explore.
Call recording apps for Android must be feature rich and easy to use. Hence, we have ensured that all the best call recorder apps are up to the mark and quite user-friendly.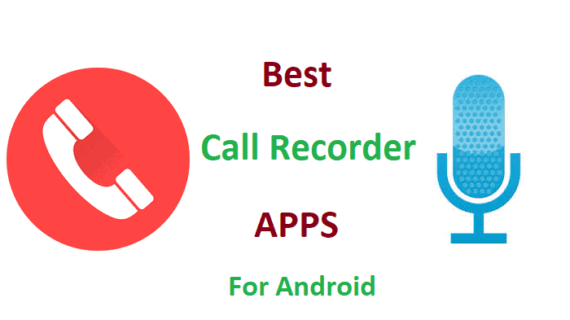 Free Automatic Call Recorder Apps for Android
1. Cogi Call Recorder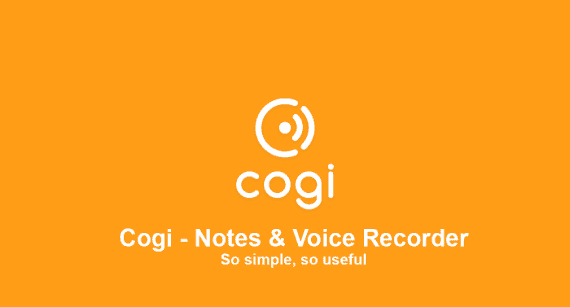 Cogi is an excellent automatic call recorder app and is specifically designed to take notes. The call recording feature in the app easily records the important part of the conversations. While you can use the app to record important calls, Cogi can also be an excellent notes manager. You can easily record your thoughts or ideas with the help of Cogi. With call recording feature, you also get an option to record specific moments during the conversation rather than recording the whole stuff.
2. Automatic Call Recorder by Appliqato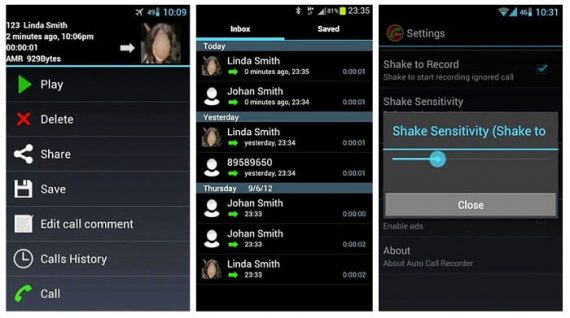 Automatic Call Recorder adds an automatic layer to the call recording functionality and takes it to a new level. With this app, you can choose the numbers in your contacts that you want to record and the others you want to ignore. You can manage these call recordings and integrate the app with Dropbox or Google Drive to store the recordings. Besides the free version, you can also opt for automatic call recorder pro version with added features and functionalities.
3. Call Recorder – ACR by NLL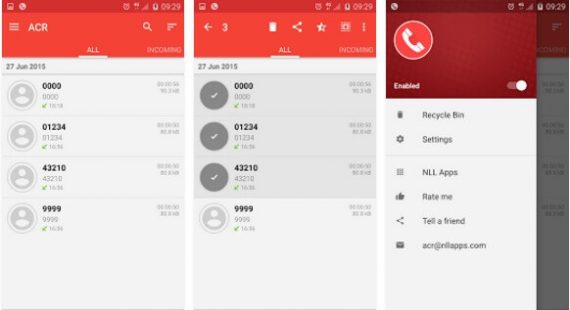 One of the best call recorder apps in the Android ecosystem is Call Recorder – ACR. The app is bundled with an amazing list of features and is compatible with almost all Android versions. With Call Recorder –ACR, you can set up either manual or auto call recording. Besides that, you can also password protect your recordings as well as set up auto deletion of old recordings. You can also mark specific call recording as essential and skip them from auto deletion. The app supports audio recordings in MP3, 3gp, WAV, AAC formats.
4. Auto Call Recorder by Quantum4u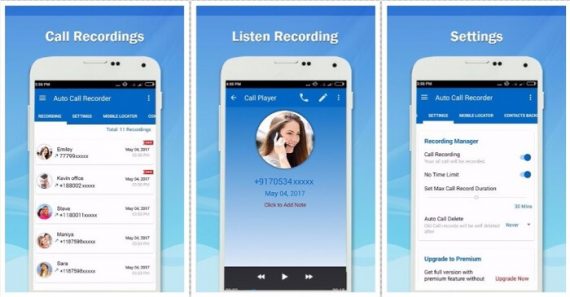 With over 3.5 million users across the globe, there's no doubt that Auto Call Recorder by Quantum4u is one of the best call recorder apps available for Android currently. The app is efficient in recording both incoming and outgoing calls with superb quality. The app also comes with some additional features such as contacts backup, password protection to keep your vital data safe and secure.
5. TapeACall – Record Calls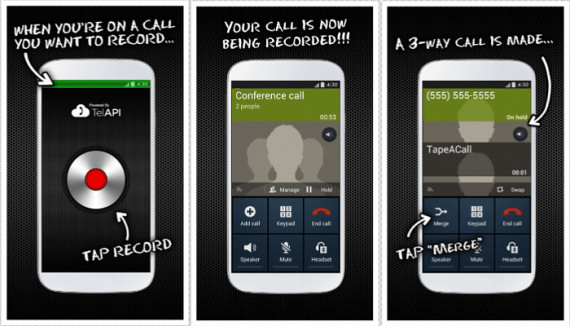 TapeACall, as the name suggests is an automatic call recorder which lets you tape or record conversations. This app has all the basic features needed for a call recording app. Most importantly, you can record both incoming and outgoing calls without any limit. All the recordings are stored in the cloud and could be easily downloaded to your computer.
6. Automatic Call Recorder for Me by Apalon Apps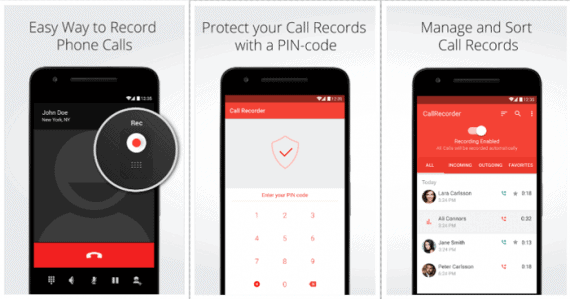 Automatic Call Recorder lives up to its name perfectly and is one of the best call recorder apps for Android with flat UI. Being one of the easiest call recorder apps among the list, this app automatically records your conversations. This app is considered easy because of its smooth management features which let you organize your recordings on the device. You can either set it automatic or choose manual recording option as per your preference. The call recordings can be sorted and organized by date or time as per your need.
7. Record My Call Android Call Recorder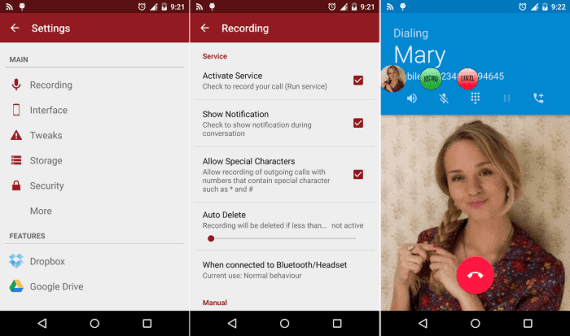 If you are looking for a simple call recording app and not concerned with other features, then Record My Call is the best call recording app for you. It's a simple call recording app that would let you record phone conversations. The app doesn't support auto call recording; hence, you must enable to start call recording.
8. Call Recorder by Lovekara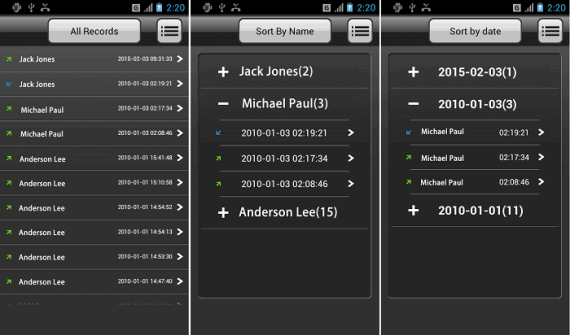 If you are looking for an easy solution to save your conversations during the call, then Call Recorder by Lovekara is the ultimate choice for you on Android. There's no need to activate or enable the app to record the calls. All you need is to install the app and Call Recorder will automatically record your calls. You also get an option to download these recordings as Mp3 files on your SD card.
9. Auto Call Recorder by Green Apple Studio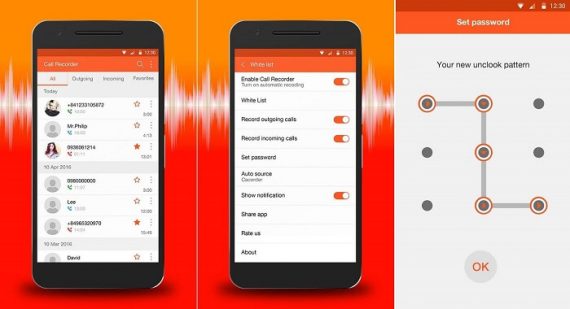 Auto Call Recorder by Green Apple Studio is an excellent auto call recorder for Samsung mobile. It offers the basic call recording features such as recording incoming and outgoing calls, automatic call recording, organize and manage call recordings, marking important recordings, excluding numbers from call recording, password protection, and more. The recorded files can be shared and stored in the cloud via Google Drive or Dropbox integration.
10. Call Recorder by C Mobile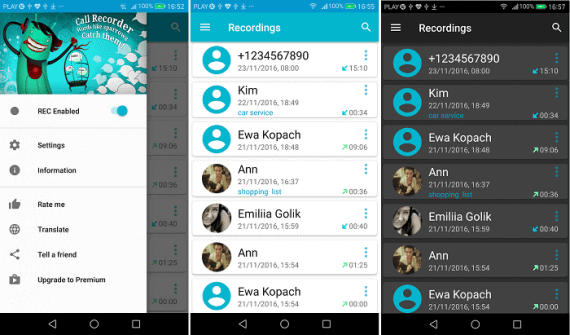 Call Recorder by C Mobile is an intelligent call recording app for Android that lets you enable/disable call recording as per your preferences. You can simply record your phone conversations, delete them, and organize them for a future hearing. With advanced features such as locking, you can lock the recording to prevent them from auto-cleaning. Although this app has some configuration issues with some Android phones, you can easily sort that out with the help of the helpful developer support team behind this app.
Over to you
Most of the smartphones are bundled with some exciting features including the call recording feature. However, to enjoy some added features and exploring the functionality further, it is advisable to check out these best call recorder apps for Android.