What we think about
Audials One
UI

9.5
Price

9
Support

9.5
Features

9
Speed

10
Audials One is an ultimate software package that would fulfill all your entertainment demands. Read the Audials One Review and check it for yourself.
The world has gone digital and our entertainment resources are dominated by online videos, songs, movies, podcasts and even radio stations. So, today we have brought an amazing software product for the multimedia fans like you that would help you enjoy your favorite videos, movies, music, and podcasts. Yes, Audials One is an all-in-one package that would change your life and make it simple when it comes to entertaining yourself. So, let's check out Audials One review.
Now, the major problem that each one of us faced in our day-to-day life is finding the specific song, video or a movie, and then look for the options to either record or download it. If you choose to download then there are chances that the file format is not compatible with your device, and you must convert it into another format to make it playable.
Well, all these tasks require different resources, software and a lot of time earlier, but not anymore. Audials One offers a complete package, where the user can easily find, record, download, stream, or convert the audio/video file. We will try to cover each and every aspect of this complete package during this Audials One review.
We will try to cover each and every aspect of this complete package during this Audials One review. However, before we get onto the Audials One review, let's know a bit more about Audials One.
More About Audials One
Established in 1998 under the banner of RapidSolution Software, the company stepped into the software industry with a standalone product, Tunebite, the first in the RS Audials product series. Well, over the years, the company has introduced several different products based on the specific user preferences such as Tunebite and Radiotracker. However, the company decided to offer a complete package called Audials One with all its products merged into one single suite for its users since 2006.
Today, Audials One remains the flagship product of the company offering all Audials Worlds and Feature Tabs. Let's move on to the Audials One review now.
Audials One Review
Now, that you are aware of the history behind Audials One, let's move on to the full review of the product. As informed earlier, Audials One is a complete suite, where the company has merged all its products into a single package offering a sure shot solution to the users for all their entertainment needs.
Being a premium software, you must have the license key to use this software. However, you can download the installation file for Audials One from the product page on their official website. The installation process is quite simple. Just follow the instructions and within a couple of steps, Audials One will be installed on your Windows PC.
To run Audials One smoothly on your PC, you need Windows XP (SP3) or higher versions of Windows with at least 1 GHz CPU, 1 GB Hard Disk space, 1 GB RAM, and of course an internet connection.
You can also use Audials One of your Mac, only if you have Windows installed on Mac OSX or you can run the software with Parallels on your Mac.
Excellent Features of Audials One
Well, as discussed already in the introduction part itself, Audials One is an array of different software solutions blended into a single software suite. Hence, we decided to test this software extensively covering each of these solutions in this Audials One review.
This is also the reason why the basic features of Audials One also cover these different software solutions and how they aid the users with respect to their entertainment demands.
So, without wasting much time, let's check them one by one:
Music Unlimited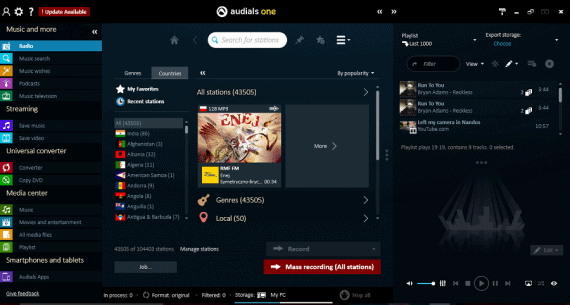 The primary feature of Audials One is that it offers unlimited music streaming and recording from authentic sources, so you wouldn't have to worry about any copyright claims or malpractices. With Audials One, you can get legal and free access to 10,000,000 music tracks from 1,000,000 albums by 870,000 artists worldwide. Audials One can help you listen to the latest music ranging from the latest hits to the yesteryear classics of the past era. Simply choose your favorite out of the 120 genres available on Audials One.
Record And Save On-the-go
Having an account with iTunes, Pandora or Spotify restricts the user within that ecosystem. Not anymore! With Audials One, now you can record your favorite songs or playlist right from your popular music streaming accounts and enjoy the music whenever you want.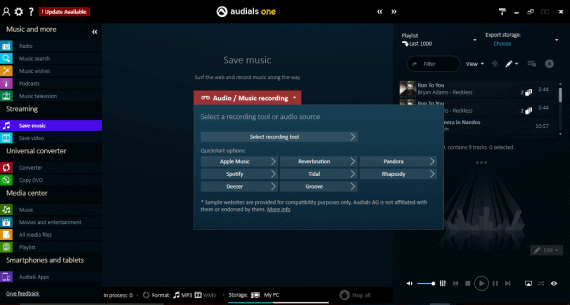 Are you a Hulu or Netflix user? If yes, then you must be knowing the hazards of endless streaming and buffering to watch your favorite movies on these movie or video streaming services. Well, you wouldn't need to face any such frustration now on.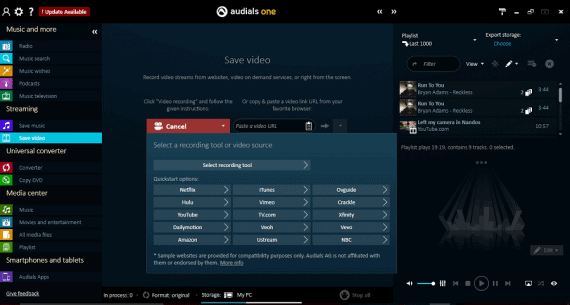 With Audials One, you can record and save your favorite movie or TV series and watch it later whenever you please. You can also record music from music websites or streaming services. Most importantly, you can also record videos directly from popular video portals such as YouTube, Vimeo, DailyMotion etc.
Universal File Converter
Another amazing feature of Audials One is the Universal File Converter. With this file converter, you can convert almost any file to any other format as per your preferences. Whether the file is in a video, audio, book or DVD format, you can choose from 85 different file formats for all media and 84 different profiles available on Audials One. With this Universal File Converter, Audials One helps you enjoy your media seamlessly on any device you own.
Music & Video Library
Audials One also offers a media center that offers easy management of all your media files in a single place. You also get the options to configure all your files to a cloud storage system or filling up your tablet or smartphones devices conveniently from your PC storage. The Music & Video library helps you manage and browse thousands a file easily with basic features like sorting by genre, Artists and auto-tagging features for movies in addition to the editor for manual changes. This type of sorting would help you search for your favorite music or movie easily without any trouble.
Numerous Functions
Well, we have discussed the excellent features above already. However, the USP of Audials One must be the different variety of functions that it offers to its users so they can operate and manage all the entertainment data easily. You get to choose the genre of the music or the country of the station while listening to the radio stations, whereas you can search your favorite song by the Artist name or genre. In addition to that, you also get an option to record and save these songs or videos at will so you could enjoy them later. The best factor in recording and saving the files is that you also get to choose the destination of your files, whether you wish to store these data onto your computer storage or a device attached to your computer such as an external drive, smartphone, etc.
Other Features:
In addition to these amazing feature list, Audials One is also a smartly developed software solution, which is designed to take care of your needs even though you don't demand them. For eg., they have an inbuilt frame-rate detection algorithm that allows the software to determine the best frame rate per second for the downloading video to offer the best quality output. Also, while searching for songs of your favorite artists or genres, the software suggests similar artists, genres or albums, making it easier for you to discover new songs as per your preferences. With Airplay feature, you can also play the videos or audios on your connected devices such as TV, Smartphone, or other devices.
Our Verdict after Audials One Review
I regret not having a Netflix or Hulu account to test out the downloading or recording of a movie through Audials One. However, I did try out a few YouTube videos of varying length and it downloaded these videos for me quite effectively. Later, I tried to download the latest episode of Permanent Roommates from TVFPlay, which wasn't as smooth as the output of the YouTube videos. The reason could be the load on the servers at TVFPlay and hence it is recommended to use the record and the download feature of Audials One on bigger portals such as YouTube, Netflix, and Hulu for better usability and performance.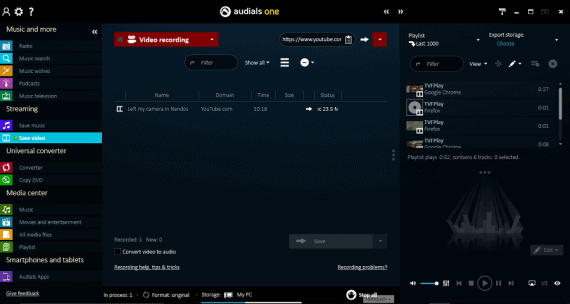 I also tried out the different radio stations, both audio and video versions and the experience were quite great as there was no lagging or any sort of disturbance while playing the radio tracks. Also, I was under the mindset that being an internationally targeted software suite, I would have difficulty in finding Hindi/Telugu songs through Music search feature of Audials One. But, I was wrong. I didn't just find those songs, but I also downloaded a few of them and the quality was awesome.
Most importantly, the software can be easily synced with your Smartphone or tablet devices whether powered by Android, iOS or Windows easily using the respective app available for free from their respective stores.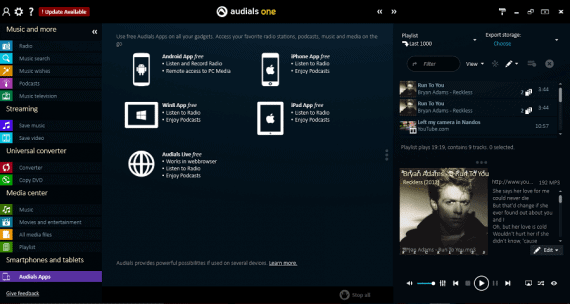 Check our Video Review:
Final Verdict:
All in one, the verdict is very positive after the Audials One review as this software suite package offers an authentic way that takes care of all your entertainment needs under a single hood. So, if you are convinced with our Audials One Review, I would suggest getting this premium software suite and enjoy unlimited music as well as record your favorite movies from your movie streaming subscription and fulfill all your entertainment needs.
What we think about
Audials One