AQFiT W9 Quad launched in the Indian smartwatch space with Bluetooth calling and a voice assistant support out-of-the-box. The company has a wide range of smartwatches at different price points and this new W9 Quad watch comes as an affordable option from the lot.
The Indian-based manufacturer brings this new smartwatch with a touch screen in the shape of a square. Speaking of the design of the W9 Quad smartwatch; it comes with a Zinc Alloy casing build and the display features a 3D curved surface. You can expect the usual health and sport tracking features on the watch with help of the SpO2 sensor.
AQFiT W9 Quad Smartwatch Specifications
The AQFiT W9 Quad Smartwatch sports a 1.69-inch curved HD display along with 3D curved edges on the sides. The Zinc Alloy casing of the smartwatch comes with IP67 rated certification that keeps the resistance from water splashes and dust. You can even find a side button on the side along with a microphone hole on the smartwatch.
The new smartwatch from the brand can show notifications from the phone directly onto the watch via Bluetooth connectivity. Users can check text messages, calls, reminders, and any type of notification from their mobile. Moreover, the connectivity of Bluetooth allows for a calling option where users can directly answer calls from the watch.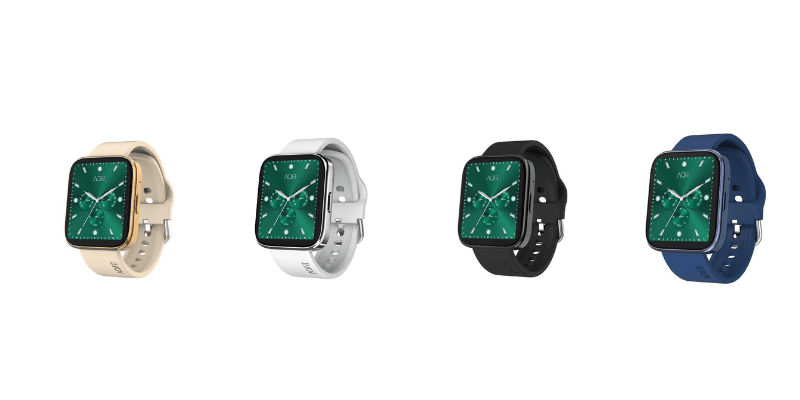 Also, the Bluetooth connectivity from the watch to the phone will allow the users to control music and camera shutter directly from the watch. Furthermore, the watch supports a voice assistant, and users can command the watch and control the above-mentioned features effortlessly.
Apart from the features, the watch comes with many different sports activity modes; that allow for easy health tracking right at your fingertips.
The sports on the W9 Quad smartwatch include running, sit-ups, trekking, and outdoor gaming activities such as tennis, badminton, and many more. Besides, some of the health trackings features on the smartwatch include a SpO2 sensor.
The sensor helps in tracking the heart rate, sleep; as well as SpO2 levels in the body of the users and gives accurate results on the watch. The battery of the W9 Quad watch will last for 7-10 days on a single charge.
Price and Availability
The newly announced W9 Quad smartwatch from AQFiT has entered the market with affordable pricing of Rs.2999. However, early purchasers in the first-week sale of this new smartwatch can avail of a discount of Rs. 200 which brings the price of the watch to Rs. 2799.
The W9 Quad watch flaunts in four shades; Black, White, Blue, and Off White (Gold) color options. The smartwatch is currently available for sale on Amazon and AQFiT's official website.