One thing that went viral from the day of Google I/O 2014 is Android L. Finally they revealed what that "L" stands for. It is Lollipop. Yes! The latest version of Android operating system is Android 5.0 Lollipop. People started asking "will my phone get Android 5.0 Lollipop update?" Most of the flagship devices announced recently are getting Lollipop update by the end of 2014. Here is a list of Android phones and tablets which are getting Android 5.0 Lollipop update sooner or later.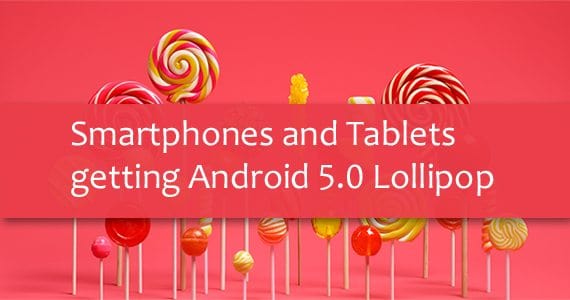 List of Android devices getting Lollipop update
The list mentioned in this page is not complete and we are trying to update this list based on official announcements. People who are using below mentioned devices will proudly say "I have Lollipop in my pocket" in coming days.
For quick navigation, select your mobile company
Android One
Google announced Android One devices along with Android L in I/O 2014 event. These devices are mainly designed for budget android mobiles under $200. Karbonn, Micromax and Spice released Android One devices and Google promised to push new updates for all Android One smartphones.
Karbonn Sparkle V
Micromax Canvas A1
Spice Dream UNO
HTC
HTC announced, their devices(which are confirmed) will get the Android 5.0 Lollipop update within 3 months of its release. Mostly Lollipop update hits the HTC devices by the end of January 2015. Check out the list of HTC devices getting Android Lollipop update
Confirmed devices
HTC One Mini
HTC One M7
HTC One M8
Expected devices 
HTC One Max
HTC Butterfly S
HTC One E8
HTC Desire 816
HTC One Mini 2
LG
LG haven't made any official announcement regarding the LG devices getting Android 5.0 Lollipop update. However rumors says, these devices are expected to get the update later.
LG G2
LG G2 Mini
Lg G2 Flex
LG G3
LG G3 Stylus
LG G Pad 8.3
Motorola
After Google acquired Motorola, shocking devices are being released with jaw dropping pricing. It started with Moto G and later Moto X, Moto E and now 2nd Generations of Moto G and X. All these Motorola devices are getting Android 5.0 Lollipop update by the end of this year.
Moto X (2nd Gen)
Moto G with 4G LTE
Droid Maxx
Droid Mini
Droid Ultra
Nexus
Whenever there is any update for Android, Nexus devices stands first in the race. Rolling of updates starts from Nexus. Here are the nexus devices that will get Android Lollipop update in coming weeks.
Nexus 6 (Releasing with Android Lollipop)
Nexus 9 (Releasing with Android Lollipop)
Nexus 5 (by the end of this November)
Nexus 4 (by the end of this November)
Nexus 7 (by the end of this November)
One Plus
One Plus one is the only device in their list and it will get the Android Lollipop update by the end of January 2015.
Samsung
Samsung disappointed their users this time a lot. They haven't made any official announcement yet. Here is an expected list of Samsung smartphones and tablets getting Android lollipop update. Please note this list of Samsung devices is just a wild guess.
Rumor 
Expected
Samsung Galaxy S4
Samsung Galaxy S4 Mini
Samsung Note 4
Samsung Note 3
Samsung Galaxy Tab Pro 10.1
Samsung Galaxy Tab PRO 8.4
Samsung Galaxy Tab 12.2 Pro
Sony
Sony officially stated that all their Xperia Z devices are getting the update. Here are Sony Smartphones and tablets that will receive the latest Android update.
Sony Xperia Z3
Sony Xperia Z3 Compact
Sony Xperia Z3 Tablet Compact
Sony Xperia Z3v
Sony Xperia Z Ultra GPE
Sony Xperia Z2
Sony Xperia Z2 Tablet
Sony Xperia Z1
Sony Xperia Z1 Compact
Sony Xperia Z1S
Sony Xperia Tablet Z
Sony Xperia Z Ultra
Sony Xperia ZR
Sony Xperia ZL
Sony Xperia Z
We will keep updating the list when we get any conformation news. Let us know whether your device is in the list or not. If you can't find your phone above, comment with your device model number and we'll let you know the current status.
Information source: PhoneArena