Who don't love selfies? I have seen a lot of people searching for cool selfie apps for a perfect picture. In this modern-day world, owning a Smartphone isn't a luxury anymore. Today, every other individual carries a Smartphone with dual camera and uses the device to its fullest, especially taking selfie snaps every now and then to update all over social media. Although the trend of taking selfies is quite hit among the female users, the male counterparts are not far behind either. Hence, today we will check out some of the top quality Android selfie apps available for your devices.
Now, you must be wondering why you would use a selfie app when you already have a quality front and rear camera. Well, selfie apps are designed to enhance the quality of your picture, add effects, beautify the image to improve the quality, and sometimes it allows you to add funny doodles to make your selfies look attractive and unique from others. Well, using a selfie app is not mandatory to capture profile pics, but there's always an added advantage of using a selfie app if you are fond of taking selfie snaps every now and then. I strongly suggest you make use of the best selfie apps available for Android in the market.
There's no doubt that Android dominates in the gadgets industry throughout the globe with an array of different Smartphones and Tablets powered by Google's own mobile operating system. The popularity of Android can also be seen within its App market at Google Play Store, where users can choose from a variety of different apps for every single activity. The same applies to Android Selfie apps.
Most of the times, an Android user gets confused to select the right app from a huge list of different Android selfie apps available all over the web. To help you solve that problem, I have compiled a list of best Android selfie apps for you to choose from.
Best Android Selfie Apps for Android Users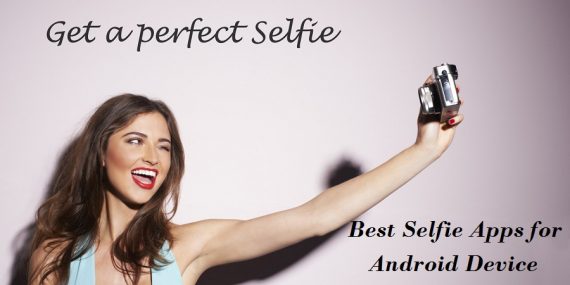 YouCam Perfect Selfie Pro
YouCam Perfect Selfie Pro is the first on our list of best selfie apps for Android. With YouCam Perfect Selfie Pro app, you can improvise your snaps with hundreds of collages, frames, stickers and other fun stuff. The beautification feature lets you remove the blemishes and bring out the real beauty of your face and skin. This top-notch selfie app will also let you create videos and video selfies of 4-8 seconds using cool filters to add it to your vine library. The real-time beautifying feature also lets you see how the pictures or videos look before shooting videos or taking snaps.
Download on Google Play
Retrica
Retrica is second on our list and it is undoubtedly one of the best selfie apps that let you capture vintage style pictures. With more than 125 handpicked filters offering unique styles, the app lets you create pictures or videos in ways that nobody can even imagine. In addition to that, all these 125 filters offer a real-time effect to let you capture what you see on screen. You can also create photo collages or use the timer feature on the app to take pictures at small intervals while you make different poses with your friends.
Download on Google Play
Selfie Camera: Facial Beauty
Developed by Yahoo Japan Corp, Selfie Camera – Facial Beauty is designed to do what the title of the app suggests. The app lets the user beautify the snaps captured to give it a better and enhanced look. Similar to YouCam, this app also features over 20 different filter options that make you selfies look great. You can use the skin and complexion settings on this Selfie Camera app to enhance the glow of your skin as well as set better skin tones on your pictures. This is one of the best selfie apps for Android I have used so far.
Candy Camera
Candy Camera is currently one of the most favored selfie apps on the Android platform in terms of installs. Similar to most of the selfie apps on the list, Candy Camera also allows the user to use the real-time filter option and lets them choose the right filter after analyzing the results even before taking snaps. With over 100 different filters to choose from, Candy Camera is a must-have Android App on your device to make your selfies feel out of the world.
Download on Google Play
Perfect365: One-Tap Makeover
While most of the apps on our list of top Android selfie apps emphasize on the filter feature to enhance or beautify the pictures, Perfect365 – One-Tap Makeover, on the other hand, is more inclined towards virtual makeup. With a good list of expert artist partners and in-house Beauty Squad, the app is perfect for any makeup and fashion enthusiasts. With just one tap, you can choose from a different range of glam looks, whether you opt for the Red Carpet, Fashion Week or simple makeover.
Download on Google Play
Starcon – Star&Me Fun With Faces
Despite the selfie mania spread across the globe, there are still a lot of people who aren't really confident about sharing their selfies with others. Starcon-Star&Me is a selfie app just for those people. With this app, you can easily animate your pictures by using different filters and stickers available within the app and share it across your favorite social networks. The app is available for free on Google Play Store with a lot of free stickers to choose from. Also, new stickers are added every week. Starcon-Star&Me is the best alternative to create your own animated profile using your selfie snaps if you aren't comfortable sharing your real selfies with others.
Photo Editor Selfie Effects
Another awesome selfie app for Android available on Google Play Store is the Photo Editor Selfie Effects app. The app lets you choose from a variety of different filters, including a few retro effects and funny stickers. With this app, you can easily perform actions like cropping, rotating and flipping the images you captured. The Photo Editor Selfie Effects app also lets you add text caption or graffiti easily to your selfies to give it a personalized effect.
Camera Zoom FX
No matter how great your phone's secondary camera is, you can't possibly have DSLR settings or features on the snaps you capture using it. However, it can all change with the Camera Zoom FX app now. With this app, you get full manual DSLR controls right on your device with many other excellent advanced photography features. Because of its top quality features and uniqueness, the Camera Zoom FX app was declared as the Best Camera App for Android by popular online tech publications such as LifeHacker, Gizmodo, and SlashGear.
Download on Google Play
Insta Selfie Cam Pic Collage
Insta Selfie Cam is yet another top-notch app to feature on our list of best Android selfie apps. This app specializes in creating photo collages and lets you edit your selfie snaps with different photo effects, including photo frames. You can easily choose from a list of 30 different templates to enhance your selfie snaps. The in-house social media integration also allows you to share your selfie creations on popular social networks like Facebook and Instagram with a single tap.
Download on Google Play
Line Camera – Animate Stickers
Next on our list is one of the most popular and most downloaded Android selfie apps from Line known as Line Camera – Animated Stickers. This quality selfie is available for free at Google Play Store and boasts an array of excellent editing features. With this app, you can edit your snaps using 1000 stamps, over 100 different frames and fonts. You can also play with different filters available within the app and create photo grids with ease. For selfie maniacs, the Line Camera – Animated Stickers is a must-have app on their Android device. If you are a selfie addict, it is recommended to try this one of the best selfie application for Android.
Download on Google Play
RetroSelfie – Selfies Editor
RetroSelfie – Selfie Editor is another selfie app for the Android users, who wish to add a retro effect on their selfie snaps. The app is quite simple to use and it allows you to add different effects on your pictures such as changing frames, drawing art on photos, balancing colors, cropping, adjusting contrast and brightness as well as add focus effect. The RetroSelfie – Selfies Editor App also allows sharing your snaps on social media sites from within the app.
Download on Google Play
Final words about Best Selfie Apps for Android
Well, today to blend with the modern-day world, it's a must to be active on social media sites like Facebook, Snapchat or Instagram. And, the best way to be active on these social networks is by taking selfie snaps and posting them all over social media regularly.
To add an extra layer of beauty and to enhance your selfie snaps, you must try out one of these best Android selfie apps and rock your social media circle. Also, let us know in the comments below about your favorite selfie app, whether it is mentioned or not on our list of best Android selfie apps.