Zoom Immersive View is a new feature of the video communications company for users. Users from many countries across the globe are maintaining social distancing and staying at home. This has given rise to the Work from the Home culture leading to rising of many videos calling apps. Zoom has become a very useful software for users for making a meeting of above 100 people.
There are other video meeting apps like Google Meets, Skype, Microsoft Teams, and many more. These software firms bring in a lot of new updates for the users that enhance their experience to a new level every time. Above all, the new feature from Zoom will allow meeting hosts to arrange up to 25 participants into a single virtual background.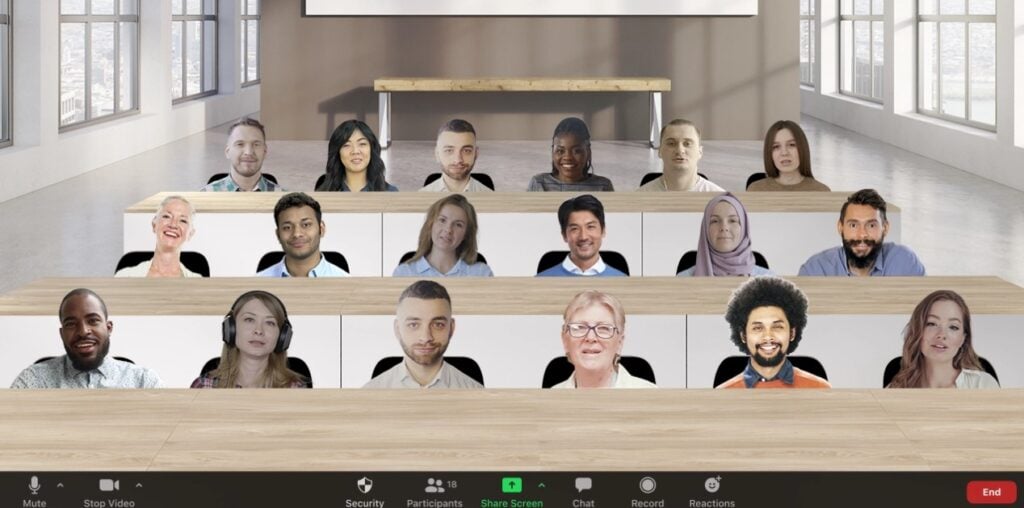 Enabling Zoom Immersive View and Details
The Immersive View feature helps the host of the meeting to lay up to 25 participants on to a single virtual background. Besides, the host has an option to select an immersive view. The same process as selecting the speaker or gallery view. Although, Zoom has given an option to automatically or manually place participants into a virtual scenario of their choice.
Furthermore, the host of the meeting has an option to easily move participants around that scene. They can even resize a participant's image for a more natural experience to the users. Zoom has even enabled an option for more than 25 participants that are placed in a thumbnail strip above the scene. The host can even select a gallery view in the case where the count of participants is above 25 users.
How to Enable Immersive Feature in Zoom
Sign in to the Zoom web portal
Go to the navigation menu.
Click Account Management and then choose Account Settings.
Select the Meeting tab under the In Meeting (Advanced) section.
Enable Immersive View option.
Apart from these features, Zoom has even given some nifty options for hosts. The options can change the scene or revert to speaker or gallery view at any time while in the Immersive View mode. Besides, the host of the meeting has full control over the virtual background of the meeting. The host can select their own scenes by uploading the pictures or just select a scene provided right in the options.
There is a catch to the newly announced feature for Zoom. Not only the host, but the participants on the Zoom Web App need to update their software to the new version 5.6.3. Only then the participants can experience this new feature on Zoom.
Although, other Zoom desktop and mobile users that don't support this feature will automatically land on a gallery view or speaker view. The users are welcomed with a simple black background.