Zoom AI Companion tool was released as a free trial for most of the firms across the globe recently. The tool was made available for use on the video conferencing platform only for limited users. However, the company has now started bringing the AI companion tool as an included feature for paid subscription users.
The new AI Companion tools provided on the Zoom video platform will come as a tool that requires no additional cost in the paid subscription plan. The tool will arrive as an existing option for users who have already paid for the video meeting service's subscription. Moreover, a few of the features will roll out immediately while other options will arrive in the later stages of the updates.
Zoom AI Companion Enables a Plethora of options for a better experience in Video Meetings
The AI companion tool on the Zoom platform will be incorporated with the Team Chat, Meetings, Phone, Email, Whiteboard, and many more features on the roadmap. The Zoom AI's Companion tool comes with new capabilities. One of the features includes allowing users to have a query session automatically even before the user joins the meeting.
Besides, after the meeting ends users can have the ability to check the  Zoom recordings with highlights and smart chapters curated separately. On the other hand, the feature will auto-generate meeting summaries only if the host enables the option. In the coming days, the Zoom AI tool will provide real-time feedback. The feedback would be provided according to the way the users communicate in the meeting.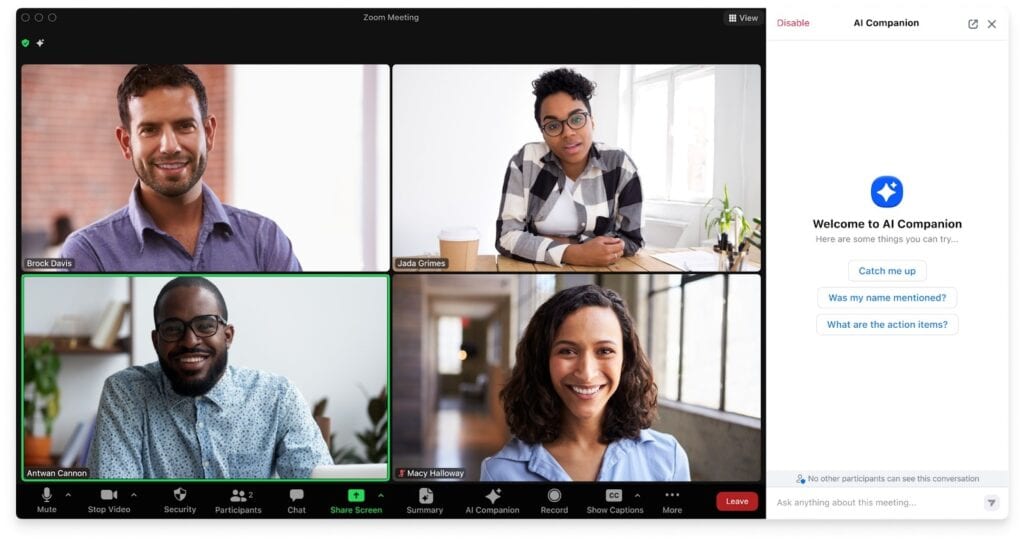 The feedback tool has the ability to analyze the user's overall body language during the meeting. This helps the user have better conversations and presentations on the video conference. Along with these features, Zool uses its own large language models to make these features work efficiently. In fact, the video meet service even uses the Llama2, OpenAI, and Anthropic languages.
The other features of the AI companion tool include the AI summarization for Team Chat which will arrive in the coming weeks. Apart from these, there's the auto-complete and meeting scheduler from chat options that will launch by early 2024 on Zoom. However, these tools don't use video, audio, or any other data from the tool to train their artificial intelligence.
What's your take on the new AI Companion tool on the Zoom? Would you prefer the regular video meetings or the AI-powered features enabled Zoom conferences? Do let us know in the comment section below.