Xiaomi is mostly known for their budget and mid-range smartphones in the Indian markets. Xiaomi also launched their flagship phones in India but it failed to get the response they expected. However, the company has not stopped producing flagship smartphones at all.
Xiaomi releases flagship smartphones in the Mi and Mi MIX series every year. Now, we know that 2019 will see a lot of smartphones with bezel-less designs with notch or sliders.
We have also seen smartphones coming out with Hole-Punch displays this year already. But Samsung is known to release a smartphone with a foldable display named Galaxy M. Similarly, we reported that Moto Razr is making a comeback next month with a foldable display.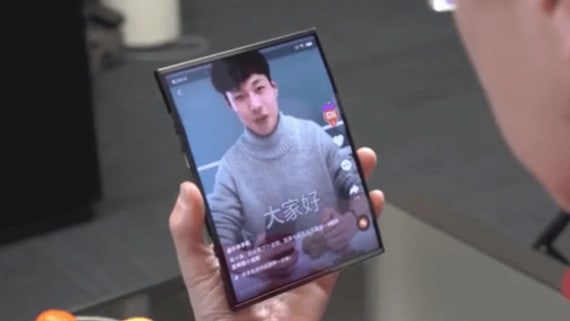 We now have a video shared by Xiaomi President Bin Lin where he shows off Xiaomi's foldable smartphone. Interestingly, Xiaomi's foldable smartphone can be folded on both the sides by the looks of things.
Xiaomi's double foldable smartphone teased in a video
Xiaomi's President and Co-founder Bin Lin shared a video on Weibo yesterday. In this video, he shows off a smartphone which has a foldable display. However, the interesting part here is that he folds the smartphone from both the sides. This means that Xiaomi's upcoming foldable smartphone can be folded from both sides.
In the same Weibo post, Bin Lin shares details about tweaks which are needed for a foldable smartphone. The tweaks include foldable covers, changes to MIUI for adapting to different scenarios and more.
Check out this special video from #Xiaomi President and Co-founder Bin Lin, showing off a very special phone prototype… ?

What does everyone think we should name this phone? ?#InnovationForEveryone pic.twitter.com/1lFj3nM7tD

— Donovan Sung (@donovansung) January 23, 2019
Later, Donovan Sung from Xiaomi shared the video on Twitter which is embedded above. It clearly shows that the smartphone which was in a tablet form is converted into a smartphone form-factor. But we can notice that the smartphone in Bin Lin's hands is not sitting flat when unfolded. After folding, the software of the phone messes up just a bit and then resets itself. Therefore, the software needs to be adjusted and tested before the smartphone gets released.
Also, Xiaomi's Global Spokesperson has publicly asked for suggestions to name this smartphone. On the other hand, Xiaomi's CEO Bin Lin has also asked for suggestions and also suggested two possible names, Xiaomi Dual Flex, and Xiaomi MIX Flex.
Now, we think that Xiaomi MIX Flex is more suited as it falls under the Xiaomi Mi MIX lineup. But we would suggest that the name should be tweaked a little bit to 'Xiaomi MIX Dual Flex'. Xiaomi is still testing this as a prototype and not a pre-release device to evaluate public interest. One thing that could go against foldable smartphones is their cost as the technology is new and very costly as of now.