Xiaomi has amazed everybody with the minimized bezels on the first generation Mi Mix. Following the footsteps of the company, many manufacturers went on to launching similar devices. However, it was Vivo who really pulled the trigger with their Nex series to release a working device with 91.24% screen-to-body ratio and no notch.
Going by the leaked images, they will launch Mi Mix 3 with a Nex-like popup camera in September, around the same time Google announces their Pixel 3 series.
Xiaomi to Launch Mi Mix 3 with a Pop-up Camera in September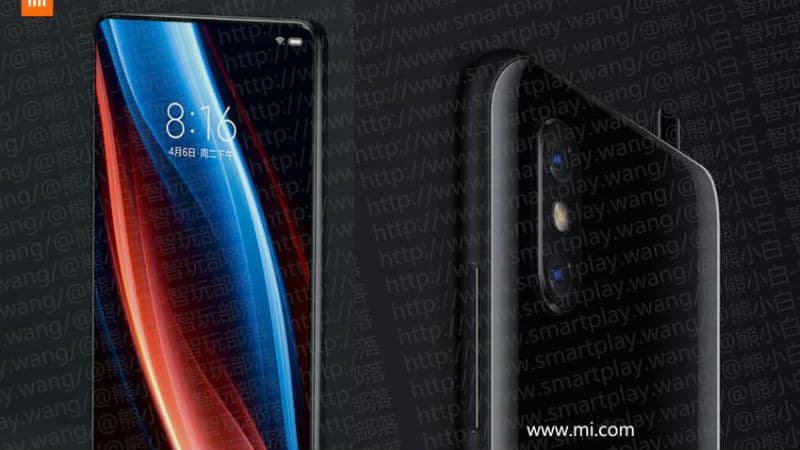 Xiaomi launched Mi Mix 2 in September 2017 and the rumors suggest the new iteration will come around the same time this year. According to the fresh leaks that surfaced online, the smartphone will have a pop-up camera, just like the one we saw on Vivo's Nex devices. You know it is the smartest way to remove the notch and increase the screen-to-body ratio.
The leaked images of Mi Mix 3 indicates the higher screen-to-body ratio along with the presence of a pop-up front camera. You will also get an LED flash along with the camera if the images turn out to be what we actually get. Xiaomi filed a patent in 2015 for the same camera design.
Along with the front shooter, the leaked renders throw light at the back as well. We spotted a rear dual camera setup placed vertically with an LED flash between the two modules. It didn't show anything similar to a fingerprint scanner. So, it is a sign to the introduction of an under-screen fingerprint scanner.
One of the leaked images read "2018.9", which we see as an indication to the launch in September. Ever since the previous Mix launched, many things have been changed in the smartphone industry. Obviously, we can see a lot of new features (for the company) coming to the device including the under-display fingerprint scanner.
If you are keen to know the specifications of Mi Mix 3, we haven't managed to get any reliable information. One sure thing is they will include the latest flagship processor from Qualcomm, which is Snapdragon 845. Obviously, there is a chance for them to release multiple variants in terms of storage and RAM. Maybe, they will launch two variants; with and without under-screen fingerprint scanner.
For the pricing, we don't see a point in Xiaomi going off the grid. So, you can expect an affordable price range for Mi Mix 3. We expect them to offer a tight competition to OnePlus 6 in terms of pricing.